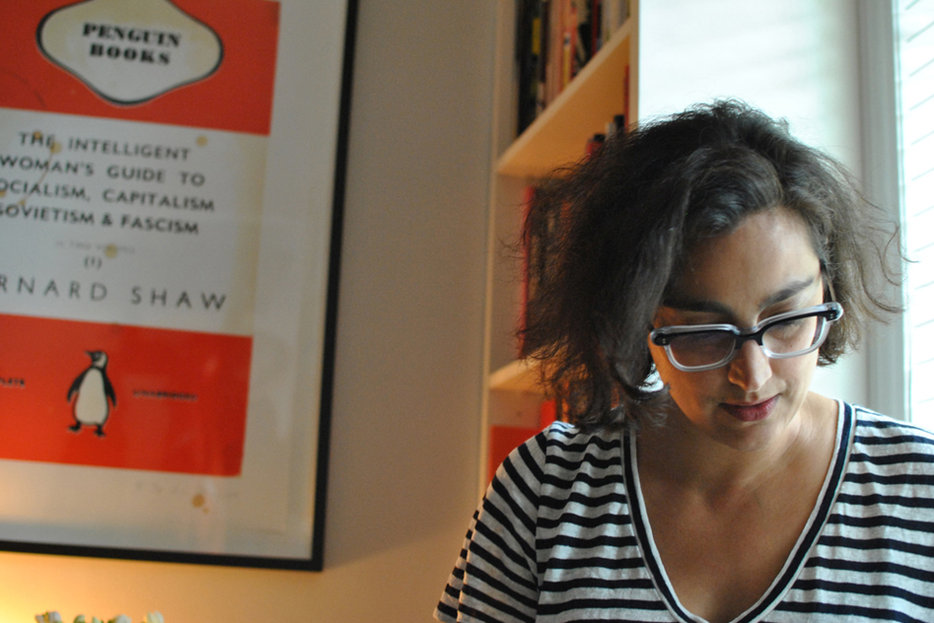 Shelf Esteem is a weekly measure of the books on the shelves of writers, editors, and other word lovers, as told to Emily M. Keeler. This week's shelves belong to Nathalie Atkinson, who is an award winning journalist and the Style editor of the National Post. Her books are in the West Toronto home she shares with her husband, Peter Birkemoe, the proprietor of Toronto's beloved comix shop, The Beguiling. They have neat shelves in every room, and the walls of the house are lined with art. Atkinson moves quickly from room to room, up and down stairs, as if dancing through her library.
There are books everywhere, but I don't keep a ton of books. If it's something I'm going to keep, I have to love it a lot. Plus I buy a lot on digital. It's kind of insane, actually: Peter can order me anything I want from his two bookstores, I get tons of books sent to me at work, I can ask for pretty much any book I want at work and it'll get sent to me, plus I use the public library to the tune of three or four book-holds a week. And I still buy books in store. It's kind of bad.
There are no books in the kitchen, though there probably will be. There's this great app called Eat Your Books. You enter all the ISBNs of your cookbooks and they're all indexed in one place. It's a website, and you pay $25 a year. So when I get a new cookbook, I put it in, and say I have two ingredients in the fridge, I can enter them and it'll tell me which books have recipes for them. And it works for magazines, too, which is good, because I have, like, the entire run of Gastronomica, and all the Cook's Illustrated going back 15 years. But I was able to get rid of about 50 cookbooks just because I could see that I really wasn't using them.
There are more books downstairs. I wouldn't say that this is the primary library, but I would say these books are mostly mine. I have all the books that I had as a kid, plus some university ones. When I moved from Halifax I realized I had spent most of my free money in four years at King's, at Dowels, which is an incredible second-hand bookstore that has since moved to Dartmouth. I spent a fortune there over four years. When I left, I sold most of the books back to them. It's still the best second-hand bookstore I've ever been to, and I've been to a lot.
When I worked at Book City, we were allowed to take books home overnight if we were careful with them, and we also had a discount—both of which were bad for my book-hoarding habit. But, like I said, I've gotten a lot better about not keeping them.
People started buying me Nancy Drew books for no reason. I'm very hard to shop for, so it became a a thing, like, Oh! It's Nathalie's birthday! Here's a Nancy Drew Cookbook. I do sort of have a Nancy Drew thing. I really wanted to go the annual Nancy Drew Convention in Boston in May—I just couldn't swing it. It was four days during the week and I couldn't get away from work. I'm fascinated by the syndicate, more than the actual books. I have an old magazine Peter got me that has an illicit Nancy Drew short story. It's really dirty. I think the syndicate sued the magazine, so it's quite rare to have a copy.
And then there's Sweet Valley High. I used to go the Coles at the mall in Timmins, and I cold read Sweet Valley High just siting on the ground. I would read the Jessica and Elizabeth Wakefield stories without having to buy the books. My grandmother was a big romance novel reader, totally. And my grade ten english teacher wrote one under a pseudonym. And I've never found it. That was my first big brush with authorial fame. She just did it to prove that she could, I think.
I didn't have a lot of books of my own, growing up. We didn't have a lot of money, so I used the public library a lot. But when I had books, they were always really fancy and well taken care of. Shel Silverstein… well, my whole thing was Shel Silverstein. Seriously, those are probably still my favourite books to this day. My dad would cover them all nicely.
I worked at Book City in the late '90s, and that's where I met all my close friends, which is sort of odd. I don't know if it was the books, or the age we were, but I like to think it was the books. I don't really know. But Matt Cohen had written a book called The Bookseller, and I was convinced he had written it about Book City, the owner and his wife. When I was starting out as a journalist, I was really sad that I never got to meet him because he died. It's such a Toronto book. It's all gone now, for condos. He's talking about walking down Spadina, and the Chinese food signage.
I have a lot of biography. I love biography. The Mitfords? I'm obsessed. And old Hollywood, the studio system, all that. And then here's the shelf from when I went through my Alain de Botton period, which was extremely sentimental; not the stuff now, the stuff from before. He sort of was that one-day guy of the '90s, and I loved him. I have How to Think More About Sex, the little mini that he did, but the last couple of his books I just couldn't get into. I think it's 'cause I did a classics degree, and he was writing about all these classics and philosophers, so I was just like, Oh, he's so dreamy. Whatever.
Anne Carson, though. My number one person, of all time. I was working at Book City when her books were first coming out, I was just in grad school, and she'd taken all these themes I was thinking about, and she's so smart.
In my office, I have a lot of fashion books, but I don't treat them like coffee table books. I'm actually kind of irritated with fashion publishers, because they make these ginormous books that are clearly for interior decorating magazine shoots, and you can't actually put them in any book shelf. It's ridiculous.
I keep the poetry in the bedroom. Not for any particular reason. I read a lot of poetry. I have an extra copy of the Shel Silverstein, because I don't want to be reading the copy I grew up reading in bed, so I keep two. Oh, and Whylah Falls, by George Elliot Clarke. This is my second copy, the glue came apart on the first one because I read it over so much. It's honestly one of the best poetic Canadian books. I feel like it's been forgotten a little bit. And David Berman.
I feel like I need to do some culling, a little bit, actually.
Shelf Esteem runs every Tuesday.