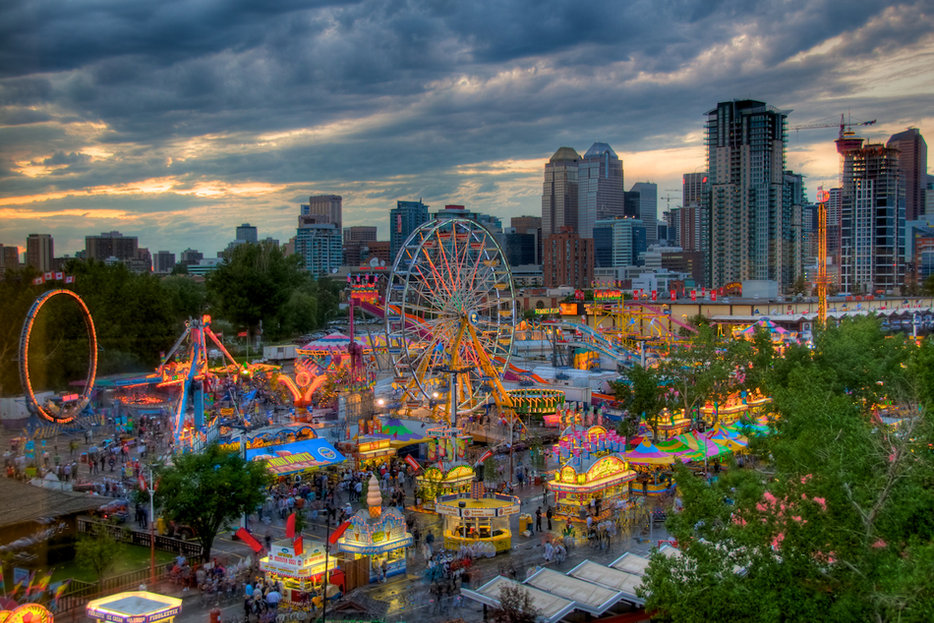 In 1912, Guy Weadick founded what would become "the Greatest Outdoor Show on Earth," a rodeo even then of gigantic proportions both in size and bravado. Today, the Calgary Stampede is a ten-day cultural event, though some have been known to categorize it more as a lifestyle—a rodeo, yes, but also a grandstand and a midway and a ten-day vacation for the city of Calgary wherein plaid and jeans are worn to work and normally subdued people can walk around the downtown saying "Yahoo!" Calgary, most are surprised to learn, is not like this all the time. Normally it's a young, ambitious city that takes pride in being the business hub of Canada's oil and energy sectors. But for a week in July, it's a stereotype.
My memories of the Stampede almost inevitably include walking through the Indian Village, a part of the event kept separate from the rodeo and midway, at the south side of the grounds. The Indian Village and its cringeworthy name are as old as the event itself: Weadick wanted the First Nations communities that surrounded the city involved in his production, and the answer to that was a constructed village of tipis and staged powwows. It remains a popular part of the Stampede to this day.
That feeling you get walking through? It's colonial guilt and cultural insensitivity, all churned up. It's the feeling you get when "authentic" cultural imagery is presented in a glass showcase for your own quick understanding.
In his book The Inconvenient Indian: A Curious Account of Native People in North America, Thomas King argues that shows like the Stampede prove there's no great difference between past and present: "While we have dispensed with guns and bugles, and while North America's sense of its own superiority is better hidden, its disdain muted, twenty-first century attitudes towards Native people are remarkably similar to those of the previous centuries."
At the Glenbow Museum a modern exploration of similar issues of colonial imagery and cultural stagnation has been launched to coincide with this year's event. At the end of May, Cree artist Kent Monkman opened his new exhibition, "The Big Four," commissioned to mark last year's Stampede centenary. It's a perfectly Monkman twist on tradition and reality, challenging our perceptions of cultural progress and First Nations imagery.
"The Big Four" (the name's a nod to Stampede founders and Blackfoot spirituality) revolves around four junker cars that sit with their tires dug into dirt and tall flowers. The vehicles—a truck, two sedans, and a bright yellow van—are a physical manifestation of the relationship that marginalized communities have with freedom of movement, or lack thereof, both physically and socially. Each of the vehicles features a recreated "res pass" on their dashboard. In 1912, Weadick had to arrange for these passes, to make sure he could populate his Indian Village—at the time, First Nations people were effectively incarcerated on reserves, unable to freely move without permission. One of Monkman's passes, placed in a red sedan playing Stampede footage from a TV in its trunk, allocates the driver $5 spending money to spend at a powwow.
Monkman's exhibition turned into a reflection of systemic incarceration rates among First Nations communities, and how the physical act of movement regulates First Nations behavior even today.
The cars, all located in one room, are also located in place by projections of landscapes shot from moving vehicles, projected onto the walls. Three of these filmed scenes depict mountain and prairie as seen from a car window. One is of a getaway car, zooming away from a high-walled penitentiary—Monkman's nod to staggeringly high incarceration rates among First Nations populations. The car speeding away features a mannequin dressed in bright orange prison garb, a police procedural playing on a TV propped on the backseat. If you look at the bright yellow van from just the right angle, you see the female mannequin (in true Monkman style, a male mannequin dolled-up in make-up and pigtails) dangling her legs out of the back of the van as it speeds along the highway.
"[Junker cars] are a symbol of struggle through to the present," says Monkman. "Outside, they're kind of seen as ghetto. But it's also kind of a time-warp idea—why wouldn't that tradition be important today?"
Monkman's take on the Stampede and Indian Village, in the halls of the Glenbow, provides us with a modern day showcase of history as it repeats itself: Movement and stagnation, incarceration and freedom, the sale of the "authentic" paired with modern possessions. It's a genius view of Prairie existence—the urgency to speed away, the ease of which immense travel over vast lands can also trap you in space and time.
In research for his installation, Monkman toured the Village in 2012, guided by a woman whose family had run a tipi there for generations. Monkman spoke extensively with a Native man at the village, who believes that the Indian Village is a critical form of cultural representation and preservation. "It gives First Nations an impetus to keep cultural heritage alive," Monkman tells me from his Toronto studio. We spoke while I sat in my car, a few blocks away from the Stampede grounds, where, just last week, I watched as the tipis were erected. A week before, those grounds had been submerged entirely in water by the flooding that recently struck Calgary. When the water receded, everything was covered in silt and improbably destroyed. A campaign to clean up the grounds took off almost immediately—the show must go on, after all, and it did this past weekend.
"Representation is better than disappearance," he says. "Powwows are not mainstream, but the Stampede is." Still, Monkman's insistence that showcases such as the Indian Village are empowering is not exactly easy to swallow.
King addresses Indian villages in Inconvenient Indian, noting their popularity in travelling Wild West shows. "Indians were the scary, unknown element that brought in the crowds…they were an essential part of the Western spectacle, the Western myth," says King. "It would not be an exaggeration to say, 'No Indians, no show.'" The Stampede is all the perceived glory of the Wild West, continuing forth into the 21st century. "Whatever else the shows were, they were an intriguing alternative to being locked down on a reservation or sitting alone in a prison cell," writes King. Paired with Monkman's installation, large-scale entertainment and large-scale imprisonment turn out to be linked.
King argues that much of the inherent racism tied to the modern Wild West stems from our romanticizing of "Dead Indians"—not in the literal sense, but in how we view full feather headdresses and beaded buckskins. "Whites have always been comfortable with Dead Indians," he explains. He describes attending a tour of an adobe house in Acoma Pueblo, which had a TV showing cartoons. The set enraged a fellow tourist: "This was supposed to be a real Indian village, she complained to the rest of the group. Real Indians, she told us, didn't have televisions."
Given the grey reality that blurs fact and fiction, it's tough to take a definitive stance on the Indian Village debate. If a family that owns a tipi finds it beneficial to their cultural identity, who am I to walk away from it? But that doesn't alleviate the feeling that comes when watching a sea of cowboy-clad families wander amongst them, peering over women making beaded belts in the hot July sun.