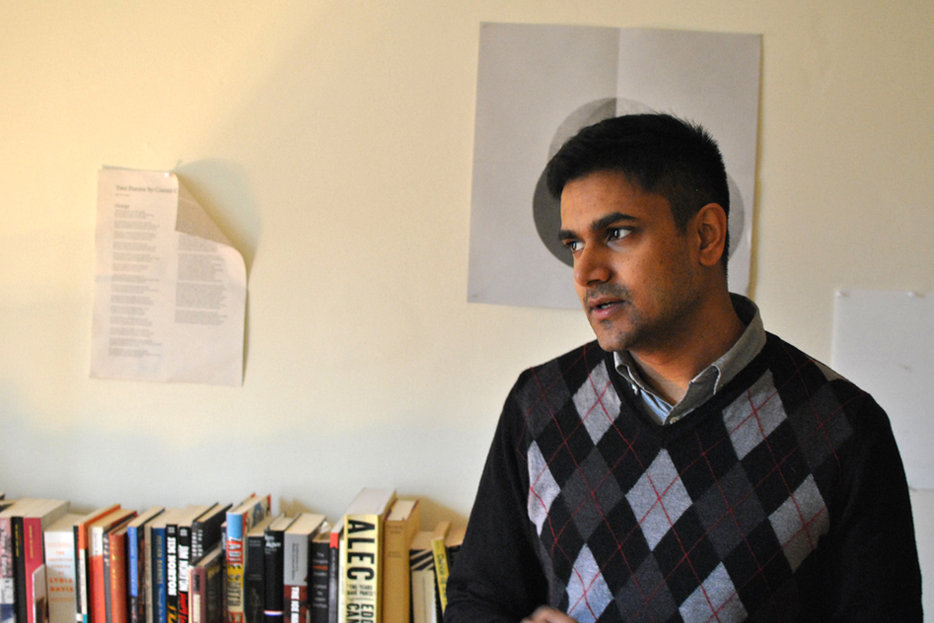 Shelf Esteem is a weekly measure of the books on the shelves of writers, editors, and other word lovers, as told to Emily M. Keeler. This week's shelf belongs to Naben Ruthnum, who was recently awarded the $10,000 Journey Prize for his short story, "Cinema Rex." Ruthnum's books are in his apartment in Toronto's Parkdale neighbourhood. Before the interview, Ruthnum asked me to walk with him to a convenience store to pick up cat food for his grey tabby. It was the first cold day of the winter, and with a wry smile he mentioned that I might be disappointed with his comparatively diminutive library. I wasn't.
A lot of my books are still in Vancouver. When I went to McGill I moved a lot of my books with me, and I had the painful experience of moving back west with them. So I decided I wouldn't do that again until I found my forever home. So other than say, 10 books, these are all books I've gotten in the last year and a half. I've read, I think, 90 percent. So this is actually a really good, condensed look at my reading life over the last year and a bit: some Julian Barnes, some comedy.
For some reason, I wanted John Cheever's journals, so I brought them out with me. I just felt like this was a book I'd look at a lot. And I do; I haven't come close to reading it through. That was sort of the threshold for books that made it into the one box I brought: they had to be books I knew I'd look at again and again. The Notebooks of Henry James. Do you know this book? Every writer should have this book. Just watching him come up with his ideas and work through them is amazing. Sometimes he would just list a bunch of names of things he might use at some point, and there are outlines of things he never wrote. Even if you're not a huge Henry James fan, it's really interesting.
I have a few notebooks, just messy ideas. I rarely write at length longhand. I just write down, like, what if this guy did that thing? My Journey Prize story started out like that. But almost immediately I put it in the computer.
I've been really into comedy the past couple years. There are those two idiotic Jim Norton books. You might remember he did this debate with Lindy West? About rape jokes? He's also on The Opie & Anthony Show. He's just a really sharp comic who details his awful perversions at length—in Happy Endings, especially. Sex addiction. Massage parlours. Not that these are terrible things, but one doesn't usually have the window open that widely onto it. And he's really funny about it, it's great.
Shirley Jackson. It seems like she always thought of herself as a victim, which is usually not a great aspect of a person, but it resulted in some pretty good books. We Have Always Lived in a Castle. And the story where there's a woman who keeps on writing gossipy notes to her neighbours, but anonymously, and then somebody finds out it's her that's been doing this, and the neighbours destroy all her tulips. That one's really good—I can't remember what it's called. "Mrs. Somebody's Tulips"? It could be "Flower Garden." We may never know… I'll find out for you, at some point. When you're not photographing me.
Oh, Conan. That came as well. Just because that book rules. It's the same time as Hammett and Lovecraft were publishing. That's a really important literature to me—early American pulp. I get a lot from that. Conan, in particular. There was a short list of movies that were banned to me, as a kid. The 1982 Conan was on the list, even though I'd seen other Schwarzenegger movies. My dad's secretary, back in 1982, said, Never let your children watch this. I don't know why. But I was allowed to read virtually anything. Like, Clockwork Orange was, fairly enough, banned. But I read the book when I was 11. It's surprisingly pretty easy to get into the language of that one when you're young. The forbidden factor helps.
Robert Aickman is one of my touchstones. A mid-twentieth century ghost story writer. I think he really perfected the form of what it should be. There's the M.R. James classic ghost story, which is usually about some man on a walking tour of England, encountering some sort of spectre, and if you read deep into them you can see, well, this is really about the guy's discomfort with, say, being homosexual. Or discomfort with any sort of human contact. Robert Aickman was a much more conscious writer—he knew that all these ghosts were really anxieties. So he has all these great anxiety stories. I'd put him close to Kafka. Notably, he also—Kingsley Amis is one of my favourite writers, and he married Elizabeth Jane Howard, who actually co-authored a book of ghost stories with Robert Aickman. Howard also had an affair with Aickman right before marrying Kingsley Amis. Which is so odd because I couldn't imagine two more different writers than Aickman and Kingsley Amis. But they're both important to me, so maybe me and Elizabeth Howard are similar people. She, by the way, wrote one perfect ghost story; Three Miles Up is the best one, ever.
I certainly end up thinking about a writer's biography, as a reader. Martin Amis was recommended to me by a friend in university, and I picked up Experience: A Memoir. In that he talks about Saul Bellow, but it's mostly about his father and his father's work, and that was how I got into Kingsley Amis. In a way that would be very unbecoming of a modern critic—I think about biographical details a lot—but I'm not a critic.
I went through a big Graham Greene period this year. He wrote some "entertainments." That's kind of what I'm trying to do under my crime writing pseudonym. He managed to do both under his real name. Nowadays, I think people are less willing to believe in an author who does both things. Like, my crime novel is in its final redraft now… it's not overly literary. It's meant to be an airport novel. I like those kinds of novels a lot, when they're done well. The style is still very important to me, the sentences must be nice, that's important, but I think it doesn't really compute to a lot of people that someone could write like that and also write a story like "Cinema Rex."
It comes down to the level of language, sure, but also I think in the way language is delivered. Like, Lisa Moore's latest novel is in many ways a crime thriller, but if it were an airport novel it would have started many pages later in. The Hunter, by Richard Stark, for example, which became the film Point Break—the first chapter has a guy getting out of jail and doing many many small heists, so he can pile up some money so he can do what he needs to do next. And Lisa Moore's book does that over the first, probably, 80 pages or so, whereas in Stark's it's in the first 15 pages or so. In Moore's book, we're learning about four or five different characters; it's much more internal. I mean, you learn a lot about the guy in the first pages of The Hunter, just from how he acts, but I think that's a good comparison between popular and literary approaches.
If there's something I'm smug about, reading-wise, it's the diversity of my taste. I read so much stuff that might be considered trash, but it's not trash. Most of it is really good. I'm a fast reader, and I have time. It's good to be a fast reader, it frees you up. I started a Tumblr, Simultaneous Reads, as a testament to fast, finicky reading tendencies. Oh, are you going to take a picture? That's great.
Shelf Esteem runs every Tuesday.