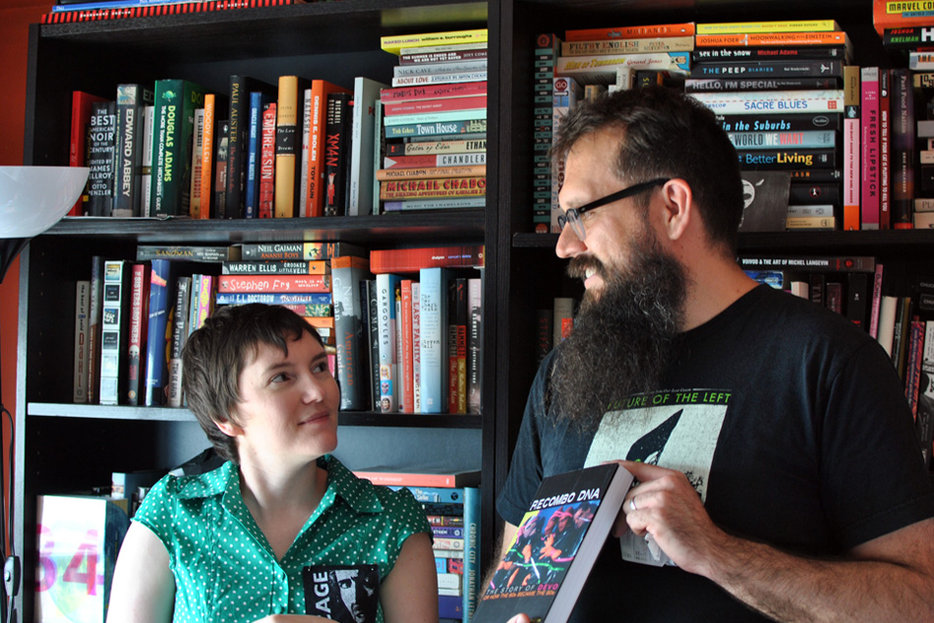 Shelf Esteem is a weekly measure of the books on the shelves of writers, editors, and other word lovers, as told to Emily M. Keeler. This week's shelf belongs to Lindsay Gibb, who is the editor of Broken Pencil, and the library services coordinator for beloved Toronto comix shop, The Beguiling. She shares her life and bookshelves with her partner, cartoonist and illustrator Matthew Daley. His comic, The Pig Sleep, has been nominated for the Joe Shuster award this year. Gibb kept looking toward Daley for verification on details having to do with their shared book collection, and near the end of my visit, I asked if they both wanted to be photographed. Gibb said, "You talked, Matt, so you're probably going to be in this." He did, and is, along with their cat, Mistress Muffin.
We keep all our bookshelves in Matt's office. We kind of reorganized the space this year. We used to have the bookshelves in the living room, but then decided that we have a lot of art and needed a spot to put it. And Matt really likes that he has the library in his office. It's all combined, except for one shelf. We keep all of the graphic novels and children's books on this shelf. Most of it's Matt's, but some of this stuff belongs to me. I think most of the comics I've brought in, I bought after we put this here. He rules this, and I don't really know how it's organized. Right now, I think it's organized by size? I always have to ask Matt if I want to read anything that's on here, and he'll find it for me.
I have a lot of film studies books. We have a shelf in our bedroom—I had my film studies books in there, and some writing-related books, and and some photography books, and knitting books. The knitting books are still in there, but everything else is here. We have fiction arranged in a sort of alphabetical order, and then non-fiction is kind of by subject. Let's see, this looks like job-related stuff, here's some comics-related stuff, and over here there's music, and here there's kind of, um, thought-related stuff… Psychology, philosophy, cultural studies. And then knitting stuff that isn't patterns.
We've gotten better at trying not to hoard things in general, trying to sell some things.
Matt: I'm getting better about that with music, other things, but books are still… If I end up at [Toronto second-hand bookstores] BMV or She Said Boom, I'm definitely going to come back with two or three books.
Lindsay: Now that I work at the Beguiling, I borrow books from there. I don't buy things so much. It's the librarian thing I was telling you about: Librarians don't really buy books. So I'll let Matt buy things, since I'm not doing it. If he's like, I know you'd like this, and then buys it for me, then I don't have to do it.
I think I've read less than 50 percent of these books, the books on this shelf. I'll borrow books from people, or the library, and I'll read those. But I feel like the books that I own, well, I own them, so I can read them any time. And they just sit there forever.
Now, where is Socks for Supper? Here it is. This is the book I've had the longest—this is the book I actually learned to read with. A friend of mine had a kid, and she was like, bring us your favourite kids book. So I had to find another copy of this book, because there was no way I'd be giving her mine. I probably didn't really learn to read with this book, I just memorized it from my mom reading it to me so much. It's basically about a farmer who doesn't have that much money, so he can't eat anything except what he makes, and then there's this other farmer that has, like, a cow. So he trades socks for cheese and milk. His wife was knitting socks out of his sweater, and then at the end he has no sweater. And then the neighbours give him a sweater at the end, made out of the socks!
The other book I've probably had the longest is The Outsider. This was my mom's book—I think she had to read it in French and then she bought the English translation, maybe to help her understand it. I really loved it when I read it in high school, and I have to read it every five years, because I'm always like, I LOVE THIS BOOK, but then forget everything about it, so I have to read it again. It belongs to my mom, but I got to keep it.
Matt: Your mom's not a big keeper of things.
Lindsay: It's true. I get my hoarder tendencies from my dad, and my joy of organizing from my mom.
Everyone thinks I'm talking about this book when I mention The Outsider, and I'd never read The Outsiders—that's why there's a book mark in it, because I'm reading it right now. A friend gave it to me, she's moving away and wants to get rid of some of her books. She's also training right now to become a librarian.
When I was younger, I collected Irvine Welsh's books. I read most of them—Filth was the last one that I started reading, but I just couldn't get into it. I still bought Glue and Porno, even though I haven't read them. And beside those… I took a film class on auteurs, and so there were a lot of biographies assigned.
Matt: Occasionally we'll recommend something to each other. I tend to read a lot more genre fiction than Lindsay.
Lindsay: If Matt recommends something to me, I'll usually like it, but I don't know that we have too much crossover in what we like. I had a period where all I was reading was non-fiction. But I've gone way back the other way—I'm only really reading fiction now. He reads way more often than I do. He has more time, freelancing and working from home, and I'm not good at making time for that.
Matt: TV tends to relax you more than reading does.
Lindsay: Yeah, that's true. So bad. I think it's that if I start a book, I'll think that I also want to read another book, and then I'm reading five books. There's a number of books that are on the shelf, that I'm like, Oh yeah, I never read that, even though I started it.
This came into the Broken Pencil office, and I often try not to just take the things I want, because I know I'm usually too busy to review the books, and I don't want to take something away from a reviewer. But this one, The Outlander—it was actually a different copy, it had a slightly more awesome cover—looked too good, and once I picked it up I couldn't put it down. At library school, I was in a reader's advisory class. At the end of the semseter, we did this thing where we sat in a circle and traded off our favourite books. This was the most popular one, everyone kept stealing this one, and that's why I had to buy a new topic.
Matt: I think this year I'm a bit more conscious of reading more because of the Goodreads challenge.
Lindsay: Oh, me too. I've challenged myself to read 50 books, and I'm at 25 now, so I think I'll be good. Then it [Goodreads] will tell me that I'm six books behind, so I'll madly read a bunch of books to catch up.
Matt: Yeah, I'm ahead of schedule, but I read about 50 percent graphic novels.
Lindsay: Which are just faster to read.
Matt: I could read five in a weekend if I wanted to.
Lindsay: I work at the Beguiling, and at the Little Island in particular, so I read a lot of kids books for my job. But I feel like those count—I mean, they're books, so they count. But I have friends who work as children's librarians, and they're like, Oh, I wouldn't count children's books for my Goodreads thing, and I'm like, but it's still a book! You should know the value of a children's book, you're working with them all the time!
These are our little floating shelves. I like the spines of these books, so that's more what it's about. This one's all music stuff, except for Toilets of the World, which is just… I don't know. I think I pulled these because… I'm not sure if it was by colour, or because I specifically really like each of these bands.
Matt: The Nick Cave one is prized, because he signed it.
Lindsay: That was exciting! Also, I really like Kate Bush, and I liked that the spine was purple. And we both love Devo. Whenever we go on road trips, we only listen to Devo while we're in the car, because sing-a-long Devo is great.
Matt: Last time we went to Montreal, we listened to 200 Devo songs.
Lindsay: Oh, this is Mistress Muffin. If we put a book on the bed, she'll sit right in the middle of it. I guess that's a cat thing, though. We did a photo shoot in here for Broken Pencil once, for a poet that had written a book of poems about fast food. So we had a junk food back drop, and she jumped up here, and now we have a portrait of her surrounded by fast food.
Shelf Esteem runs every Tuesday.