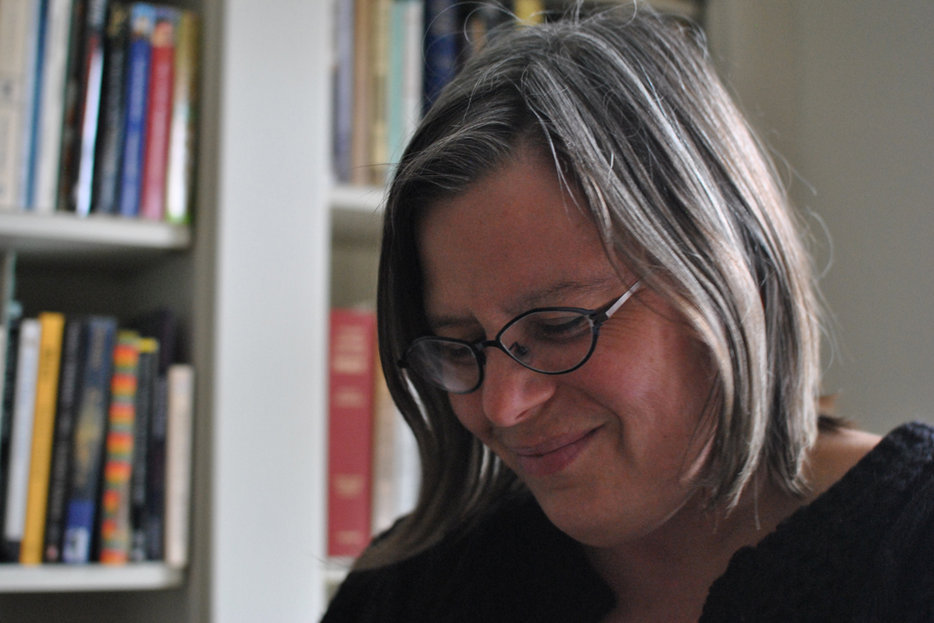 Shelf Esteem is a weekly measure of the books on the shelves of writers, editors, and other word lovers, as told to Emily M. Keeler. This week's shelf belongs to Kathryn Kuitenbrouwer, award-winning creative writing instructor and the author of four books, including All the Broken Things, which will be published in the spring of 2014. Her books are primarily in her bright office, with ancillary shelves in the hallway and bathroom keeping control of the overflow. Kuitenbrouwer's office is in her west-end Toronto home, which shares her home with her husband Marc, two of their three sons, and a very friendly, big brown dog named Chester.
I generally don't keep any books on the main floor of the house, because I wouldn't be able to have a proper conversation; I'd be admiring my own embodied knowledge. It's just an act of vanity to be sitting on a couch, having conversation with somebody, meanwhile glancing at—there's this great scene in The Autobiography of Alice B. Toklas, in which Stein talks about how she had this dinner party with all these famous artists, between the wars. She and Alice were worried, or I guess it's Gertrude and Alice, they were worried about the artists arguing. So they organized the room so that each artist was sitting opposite his own art. Of course, their house was full of all these beautiful paintings. But because the artists would only be glancing at their own beautiful works of art, they couldn't argue apparently.
Upstairs, there are books everywhere. Even in the bathroom. I don't want to put too many books in there, though, they'll get to sucking up water. In the hall it's kind of just overflow. There are a lot of kids books here. And then the kids each have their own bookcases, with more books in them. Which is basically me, cheating by having my children's books in their rooms. I kind of buy books for them, in the hope that when they leave home they leave the books here. None of this was here when we moved in. It was just walls. Marc built it for me, and as soon as he built it, I had half of it filled. I thought Oh, this is great, I'll never fill it. And now I have this and overflow as well, and overflow on the side tables. Yeah. So I guess I have a problem.
Theoretically it's alphabetized until about here, to Alissa York, and then it stops and just becomes stuff I'm using in school or stuff I'm using for my writing, or stuff I'm just using all the time. Like the annotated Oxford Bible, and then this is just overflow. My reading copies, and weird manuals that I'm very fond of. Like this one, which is called Games for the Playground, Home, School and Gymnasium. It's full of all these fantastic games that no one plays anymore, with these beautiful illustrations. Let's see if I can find a good one. I like books that are illustrated. "Fire on the Mountains! 10 to 30 or more players"—can you imagine playing a game that had that many players? And this one, I actually kind of wanted to show you. This old Baedecker's of Belgium and Holland. I also really like books that have maps in them. I'm not that interested in the maps, I just really like the way they're folded in. And they're all done differently.
I used to work in antiquarian books, when I was first in university, and I didn't have a lot of money so I didn't buy a lot of the books, but I bought a few of them because they were irresistible. This is an interesting book, or I find it an interesting book. It's horrifying; I can hardly open it. A History of Torture Throughout the Ages. I used to know this bookseller in Ottawa who had about five or six copies of it because every time he came across a copy he would buy it and put it behind the desk, and not sell it. He felt he had an ethical responsibility not to sell this book. Which I thought was cool. I don't really open it.
Richard Nash, at Red Lemonade, recently published this book of short stories by Lynne Tillman. It's packaged in this beautiful, crazy, kind of modern… the cool thing about it is that each story is a seperate tiny book. You can play with it, and make it pretty, and make it what you want. I just got it, I haven't read it yet. I don't know if there's an order. Aren't they sweet, though? They're so adorable. It's a great idea, and it took him forever to get it together, but it was worth the wait. I guess they only made 275 copies.
So I guess I do collect books, but I don't collect books like some people. I'm not like a person who needs to buy every edition of everybody's books. But this book I bought in part because, you know Derek McCormack underwent surgery—he was quite ill, and at some point there was a fundraiser for him. Well, one of the items on the silent auction was this collection of a bunch of Lynne Tillmans. So I bid on that, and won. Now I sort of have this Lynne Tillman collection happening. This one is really cool because it's got Kiki Smith's drawings in it. Do you know her? She's so awesome. She does these really beautiful fairy tale drawings.
This is a journal handmade by a woman named Jennifer Borges Foster, and look at how beautiful it is! This is the second issue of Filter. She makes them all by hand entirely herself. It's a journal of all different writers, I think I found out about this on Facebook. Oh, these are erasures, I love this kind of poetry. Where the poet's, you know, from a found text has removed the words that aren't in the poem and left the ones that are.
Imagine making this by hand? It's an insane labour of love. She had a call for submissions and I ended up lucky and being chosen, and I'm showing this other issue to you not because I'm in it, but because it's really quite exceptional. The cover is done like a paint-by-number, and then inside every story is separate. This my story, with art by Frank Fiorentino, who's re-envisioning one of my stories into a comic. These are the animals from High Park parading through Roncesvalles village.
There's certain books I read over again, but I'm not much of a re-reader. Sometimes I lament that I'm not. I re-read children's books. But adults books not so much. Oh, and I've re-read this Lydia Millet over and over again. Partly because I teach it, but also because it's a fantastic book. It's a really really sad story about a young woman who just falls through the cracks in every possible way. So obviously it's ironically entitled My Happy Life. It's really an interesting book because the protagonist is so joyful. She only sees beauty and justice in her world, in spite of the fact that there's nothing but the opposite. And it ends really beautifully. It's a slender perfect little book.
I was trying to bring all the books about writing into one spot. And some Foucault and Derrida ended up in there too. It's funny, before I started teaching I didn't have any books about writing. I almost had a phobia. I never thought I'd have a "How to Write Fiction" book. And then I started teaching fiction, and I realized I didn't really have a proper vocabulary to talk about what I was trying to teach my students. I didn't have a way to talk about it, because it was so instinctive. I really like reading essays about literature. I like Calvino's essays a lot. Last year I came across a really fantastic article by Maurice Blanchot, who's also a fiction writer. But I've never really read him. I haven't read all of this yet, but the essay that really excited me is called "Literature and the Right to Death." Which is a rather brooding title, but it's also, in my opinion, a really brilliant essay about how writers only really exist in the moment of writing.
When I was teaching online it was with the New York Times, and because it was the New York Times brand I had this great calling card to ask authors to speak to the class. I'd sometimes asked authors, if they were to choose one of their books for me to focus on which would it be. And they would sometimes choose books that I wouldn't have chosen myself. I don't know if I really want to say anything—it's kind of rude, right? But it doesn't really matter; I find that the books I teach that I don't find so fabulous, my students often love them. There's so much subjectivity in the medium, so much variance.