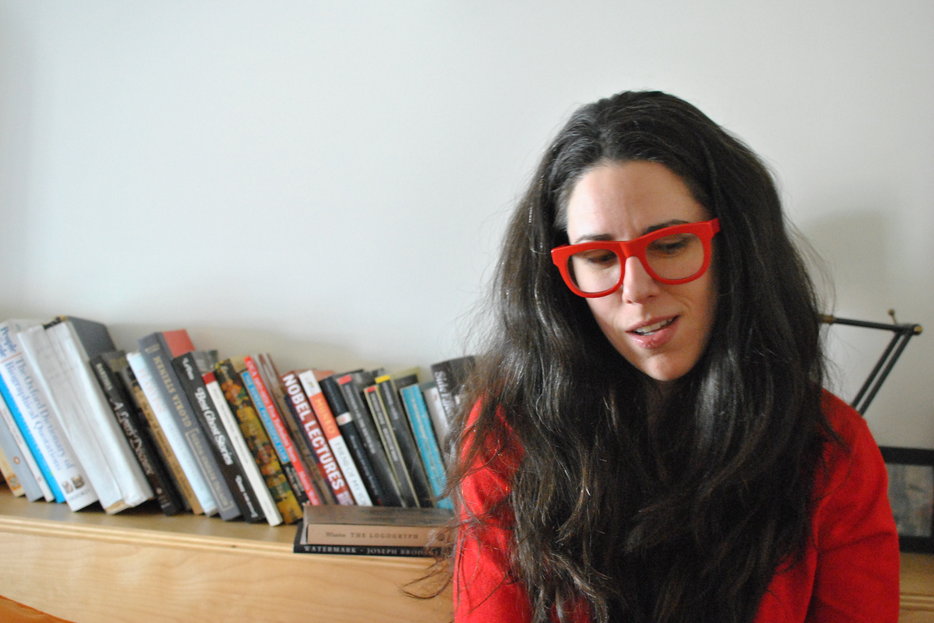 Shelf Esteem is a weekly measure of the books on the shelves of writers, editors, and other word lovers, as told to Emily M. Keeler. This week's shelf belongs to Jessica Duffin Wolfe, the editor-in-chief of the Toronto Review of Books. Jessica is also an academician of print culture in the 19th century, and recently built a digital encyclopedia of readerships with some of her students at the University of Toronto. She also founded an interdisciplinary learning initiative called WIDEN. Jessica's bookshelves are in her downtown loft, which she shares with her fiance, Daniel Goldbloom.
I moved in in 2005. I came with a lot of books—I used to work in bookstores, [and] ever since I was a kid I've picked up books. I have almost the same number of books at my parents' house. Maybe not quite as many. When I moved in here I couldn't fill these shelves, [but] I felt that since I had the shelf space, I might as well have bought some more.
But now, I find I buy books still, just not as actively as I used to—now I like finding books. There's a haphazardness to how these all are arranged. That shelf is kind of well-organized. Sort of. There's like, British Poetry together, and plays, and ancient literature.
In these sections, I feel like there are weird books that you wouldn't necessarily expect to see together. How funny is it that there are two copies of A Practical Wedding in that shelf? By the cookbooks. That's so funny. And, because I'm doing my Ph.D. in English, these two shelves are more academic, doctoral needs. Over here, I've got reference. This is one—I really love this book. It's so useful. And you see all these weird coincidences.
This shelf, I feel like a literary scholar could come in here and say, Yes, Jessica, you need to organize your books, but at least you've got the right ones. For the most part, I think I'm just attracted to books. I don't actually have—you might think that because of the TRB I might want to systematically have all the important books that have been published in the last five years. But… I just want books around me. And I don't really mind what they're about. Does that make sense?
I was really thrilled with this one. Look at how beautiful this is: The Encyclopedia of Social and Commercial Information. It was five dollars. I found it in the used book bin at Robarts's tiny little used book shop that sometimes opens, to support the university. There are all kinds of strange and wonderfully undervalued books in there. I think they know, but it's not necessarily their mandate to try to profit massively off of these—they're just selling them for five bucks. Like, look at this! There's Christmas paper being used to keep the binding together. There are all kinds of funny topics in here: "How to Preserve Your Health," "The Language of Flowers," "Golden Rules," "Etiquette of Mourning," tables of rainfall and mortality… just everything you need, you know?
And I really like books about non-verbal things. I told you already I like references, books about quotations, these books that gather lots of information into them, but I love it when it's non-verbal information. This one is a collection of building forms. It's just shapes, which are wonderful. I do design sometimes, too, so it's very useful to have. I'll be like, Hmm, what's a good shape. For the same reason, I also really like this colour index, which I use a lot. It just has colours in it, if you need to look up any colours.
What percentage of these books have I read? I've flipped through a lot of them. There are a couple of books up here I can show you. This one's really beautiful, Thomas Wharton. Andrew Steeves designed it, I believe, from Gasperau Press. Thomas has called it a dictionary of imaginary books—no, a bibliography. Here's a great writer, you don't hear about him so much these days. I think he did his own illustrations. And it's an account of childhood reading, and that kind of thing. It's books like this that you would like to have near you. Is Watermark up here? I love this book. It's so beautiful. Joseph Brodsky. It's a book about Venice, an essay about his relationship with the city over 20 years. He's a gorgeous writer. It's just really poignant. I want to write books like this. I like sleeping beside these.
This is very good. You must practice Bibliomancy? Sherwin Tija used to do it with his book of haikus. It's a kind of divination using books, so you flip through them, and some people have a kind of incantation that they say. So what's a question that you have? [Your correspondent gives her question: What should I do next?, and Wolfe flips through Warhol's diaries, opening the tome to somewhere right in the thick of it. She begins to read:] "You know the eternal flame, I left and the bouncer got me a cab and I tried to give him $10, but he wouldn't take it. The cab was $2.50." Does that help? There was a sentence before, which I should've read! "But when I look into a flame, I see the face of my uncle." Bibliomancy! It's very serious. I like all of these books. That's the truth. The books by my bed, I just really like.
This is the most unique book in this place. This is one of the newest editions. We're getting married in June. I just got this book a couple weeks ago. My mum gave it to me—she made this book. And the cover photograph is my mother's mother's mother, in 1910. This is kind of amazing. This woman had five sisters, five bridesmaids, and none of them got married except for her. This was a surprise. My mom put it together over several months; she got in touch with everyone in my family, and everyone in Dan's family, and all of our family friends, and got everyone to send in their wedding photos. I love this—there are the parents of my sister-in-law, and her grandmother. Her name's Bernadette, she had to take a bus to Kamloops to get married. And there are Dan's parents. It's very cool.