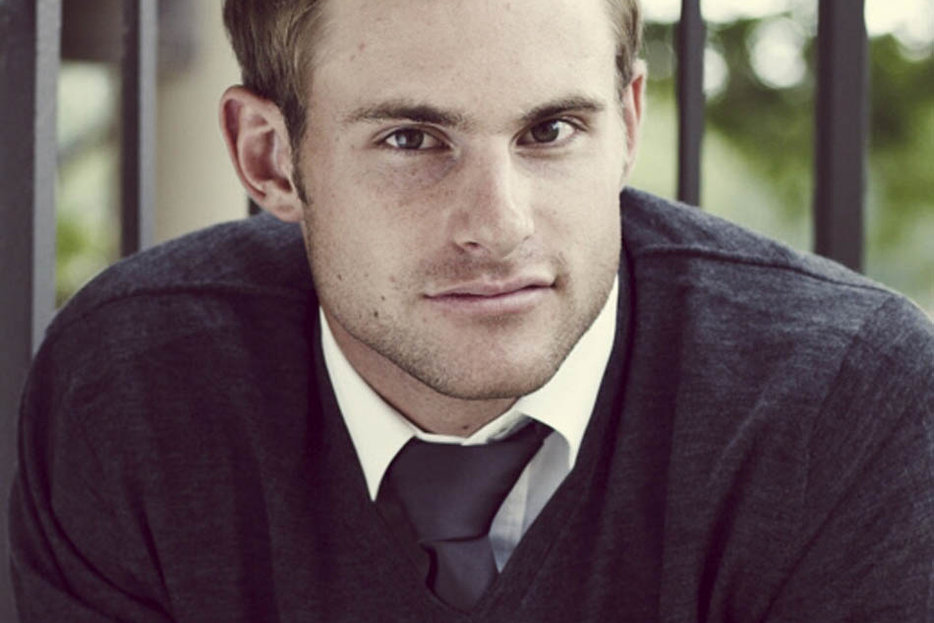 Pictured above is Andy Roddick how I remember him best. Or rather, how I hope to remember him best. This is Andy Roddick looking rather "business casual," implying that he's still got some hours to put in at the office. Keep in mind though, this is not a picture of Roddick not winning tennis tournaments. It's a picture of transition, of Roddick becoming something other than just a player, taking on another role in the game of tennis. I would also like to see a picture of Roddick 'transitioning' into Charles Barkley, but we'll get to that.
Since day four of the 2012 US Open, we've been on Roddick watch. It was that day—Thursday, August 30, and his thirtieth birthday—when Andy Roddick announced that this is going to be his last tournament. He is retiring from professional tennis.
The atmosphere leading up to Roddick's match last night against Juan Martin Del Potro, under the lights at Arthur Ashe, was thick with anticipation. Then it was postponed due to rain. When Roddick announced that this US Open would be his swan song, we watched his matches knowing it might be his last. Maybe it's that American media knows how to hype American athletes (sorry Kim Clijsters, the noteworthiness of your retirement will have to wait), but watching Roddick beat Fabio Fognini on Sunday (wagging his finger like Jimmy Connors and so on) kind of had me feeling like writing in my diary "can you believe I got to see Roddick play again today?"
Roddick has never actually fascinated me as a tennis player. Roger Federer is the best player alive and the nexus of intrigue that represents the triangular relationship between Federer, Nadal and Djokovic is far more compelling than Andy Roddick as the torch-bearer for American tennis. So why am I wrapped up in Roddick's impending withdrawl from the sport? It's not Roddick's grand finale at Flushing Meadows that really matters. Rather, it's what Roddick has a chance to do from this point on that's really going make a lasting impression. Or not. Because with any luck, he can now be welcomed into the Charles Barkley club.
The Andy Roddick/Charles Barkley comparison begins with some obvious career sign-posts. But that only has to be the beginning (because Charles Barkley is a role model). It's not that their careers have been identical, but generally that they are both recognized as being among the very best in their respective sports, while having never been a consummate champion on the professional stage.
In 2003 Roddick won the US Open— it would turn out to be the only major championship for his entire career. Barkley never won a championship but in 1993 he led the Phoenix Suns all the way to the NBA finals, after being named MVP of the regular season. I feel like the math is good on this: the season in which Roddick captured 1 of 4 majors equals Barkley getting the MVP award and leading his team to the finals but not winning. Barkley's team was beaten in the finals by the Chicago Bulls, led by none other than Michael Jordan. Andy Roddick's Michael Jordan was Roger Federer. Federer played the role of Michael Jordan to a lot of good tennis players, he was simply the player on the men's side whose accomplishments kept everyone else from being able to do much winning of their own. It's noteworthy that the comparisons between Roger Federer and Michael Jordan might be more apt, and dominating, than those between Barkley and our man Roddick. But Barkley's career path since retirement provides a model for a much more meaningful relationship between the two.
The best moment of Thursday's press conference, during which Roddick announced his intentions to retire, was when Roddick said he was glad that a reporter brought up Federer, because he wouldn't have wanted to go a whole press conference without hearing that name. Everyone in the room laughed. Charles Barkley didn't exactly plan a press conference, he had planned to play out a final season, at the end which he would retire. But he got hurt. In 1999 Barkley was playing for the Houston Rockets, and they were playing in Philadelphia where Charles had begun his career and made his NBA reputation. Early in the game he suffered a knee injury and he says that he knew right then that his career as a basketball player was finished. It ended as it was supposed to, right back where it started. He gave a tearful speech after the game and said that everything he ever got in life came from basketball. But before he got to all of that he muttered to the cameras that were following him as he was taken off the court: "Just what America needs, another black man unemployed." Coming from Charles Barkley, that's really funny.
Barkley's humour is outrageous. It always has been. In fact, Barkley's at his best when he's outrageous. Everything about him from his outspoken nature to his style of play on the court is best appreciated on a scale of being larger than life. But it's in retirement that we've really seen the greatest of Barkley's talents come to light. The reason why Barkley is described as great, even if it's in the context of being the benchmark for a sport's great players who were never quite able to win it all, is because he's managed to take control of how he's remembered. No one dwells on the symbolic importance of the moments when Barkley fell short, or on what he failed to do. He's remembered for everything that he gave to his sport and to his fans, and everything that he keeps on giving. He's an icon of being lovable, even though he's far from always likable. As a commentator, he's on Inside the NBA every Thursday night, and his halftime banter is a TV ratings juggernaut. He's probably more of a public face for the NBA at this point than even Michael Jordan. Despite being outrageous, he's actually listened to now. He's refused irrelevance.
Right now Andy Roddick is a one-time US Open champion, he's a huge server, he's belligerent when faced with the authority of umpires, and he can smile for the cameras when called upon. But Charles "The Round Mound of Rebound" Barkley was no stranger to showdowns with referees, conflict with other players, with the law. Charles also wears fishing hats, kisses the rear end of farm animals, calls out the NBA's top talent of today, and he does it all in the service of the game that gave him so much.
As his days as a player come to an end, Andy Roddick might really be able to take control now. It's a matter of whether or not he can follow Barkley's lead as a hand that shapes its own legacy. I think the question concerning Andy Roddick is whether or not he can get us to listen to, and make us care about, what he has to say about tennis and the way he played it. Charles Barkley, you see, is a member of a club made up of players fondly remembered for things other than what they didn't win.