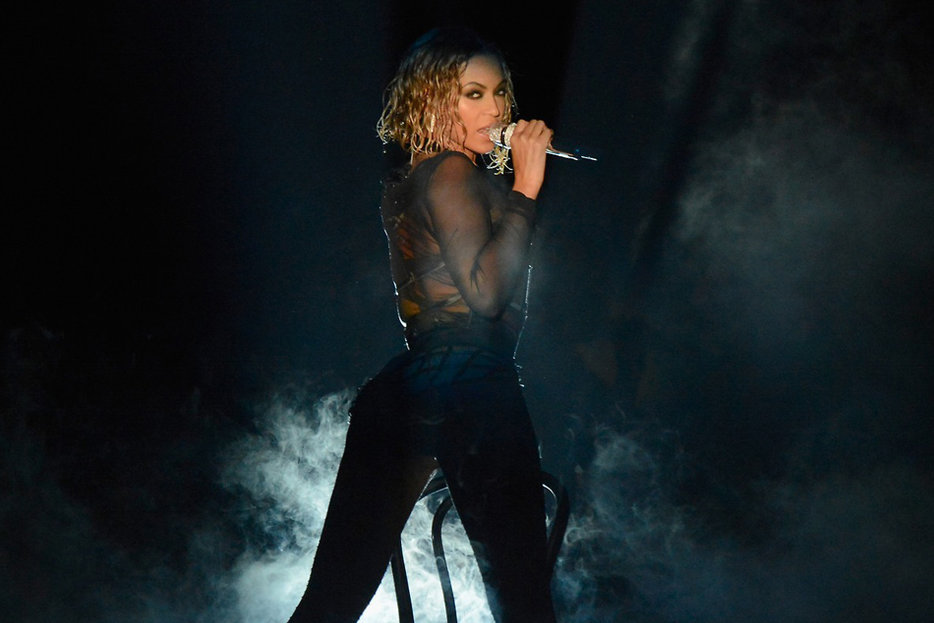 Last night's Grammy Awards ran more than 200 minutes long, and not nearly enough of them involved Beyoncé. After a slinking, dewy performance of "Drunk in Love," where Jay-Z showed up to clarify "hello, I inspired this song" and saw his dubious guest verse end up as an admiring irrelevance, she retired to front row centre, content to bask in the Internet's adoration. Imagine being obliged to follow Beyoncé while she regally sips wine several feet away, ignoring your dumb presenter banter about her intricately translucent dress (everybody on Twitter was thirsting like a cartoon skeleton). I don't wish that fate even on Katy Perry. In the spirit of charity, maybe she should've rigged up the music videos with PowerPoint and sung the entire Beyoncé tracklist. We at least needed a few dozen more "surfborts."
"Drunk in Love" is a song about the evidently considerable joys of a mature relationship, which made it unusual at this ceremony. The Grammys' predilection for musicians who last tried anything new around 1988 remains unshakeable, but lately, as pop came to dominate the music industry, they've been randomly swinging to the other end of the actuarial tables. Because no actually existing human shares the jury members' collective tastes and sense of history, this shift yielded both Taylor Swift's Album of the Year trophy and A Tribute to Dubstep Featuring Dave Grohl.
Lorde was this year's beneficiary, and as a former gothy-minded 16-year-old myself, it's hard to consign her to novelty status just yet. I don't fuck with "Royals," but it is succinct, a virtue some of her elders might do well to rediscover. I understand inviting Paul McCartney to play whichever new song he's written at these things, even if it'll be forgotten by ceremony's end, even if Dave Grohl had a hand in it. I understand why you'd want his former drummer on the premises, too. But Ringo really shouldn't be allowed to sing anything, especially not when his piece of choice sounds like one shapeless and interminable chorus. I began to wonder what might lie underneath Pharrell's towering hat: his Grammy for Justified? Another, smaller Pharrell? An artificial oasis? A jeweled abacus?
The redeeming merit of the Grammys as spectacle is that another, better performance might always come around soon. My favourite last night was "Get Lucky," featuring Stevie Wonder, a beatific Nile Rodgers, several brilliant session musicians, Pharrell's second hat, interpolations from "Le Freak," and, almost incidentally, Daft Punk, costumed like a pair of luxurious modernist vibrators. After multiple categories where nobody seemed to remember the name Chic, their tribute to Rodgers's sublime disco group felt elegantly understated.
Earlier, Taylor Swift had attacked her piano keys with bombast more familiar to a show where Stevie Wonder always takes your calls. Kacey Musgraves, the pleasantly surprising winner for best country album, played "Follow Your Arrow" amidst a visual representation of the Magnetic Fields's "Two Characters In Search of a Country Song." And Kendrick Lamar's virtuosic collaboration with Imagine Dragons suggests that I might like Imagine Dragons if Kendrick Lamar replaced every existing member. Maybe one day, around the same time they decide to start televising the hip-hop awards, the Grammys will no longer feel compelled to have a bearded white guitarist shadowing rappers onstage—though the marginalization did prevent me from seeing Macklemore and Ryan Lewis sweep all those awards at Lamar's expense.
As for the 33 couples, gay and straight, who got married during the latter duo's "Same Love," I only hope they don't come to rue the insipid, self-serving homily that served as their first dance. Even the featherlight "Open Your Heart" got subordinated to Macklemore's messiah complex, rearranged to leach all the disco from it and lead Madonna through various cringeworthy key changes. It's not that the MC was merely cynical, using these lovers as props—one of them was his producer's own sister. What makes his sincerely held politics so obnoxious is the absence of deference and humility, his inability to recognize that he's lecturing oppressed people rather than representing them. After Macklemore lamented "have you read the YouTube comments lately?" while mugging like he thinks a preacher does, a few dumb old tweets of his own circulated anew. I mention this not as a rote accusation of hypocrisy, but to demonstrate that political liberation requires more than convincing some obviously bad and wrong bigots that they're bad and wrong—for example, resisting one's complicity as a straight white men. He could try foregrounding that queer woman who sings the only part of his song nobody hates.
The Grammys like to do things retroactively, whether laureling mediocre new albums by '60s survivors or acknowledging entire genres and movements long after they emerged. Thirty-five years after disco got demolished, dance music finally won Album of the Year again when two very rich French eccentrics decided to hire all their heroes. Random Access Memories is a conservative, fetishistic record, but at least Daft Punk treated the collaborators that obsessed them with respect, whether or not humility fits their shtick. Frank Ocean or Prince & The Revolution did not rate a primetime celebration for their portrayal of queer love, and we all know why. Perhaps in a decade or two, the Grammy producers will realize how gross it was to mark Lou Reed's death with Jared Leto semi-seriously pretending to be Candy Darling, and lionize another annoying white guy for his brave message that trans women are women.
Last night, though, our current model texted Kendrick Lamar to attest he "robbed" him of Best Rap Album, and then posted the text on Instagram so everybody could note his bashfulness. Well, if Macklemore has such ostentatiously strong feelings about it, I'm happy to look up a good engraver.