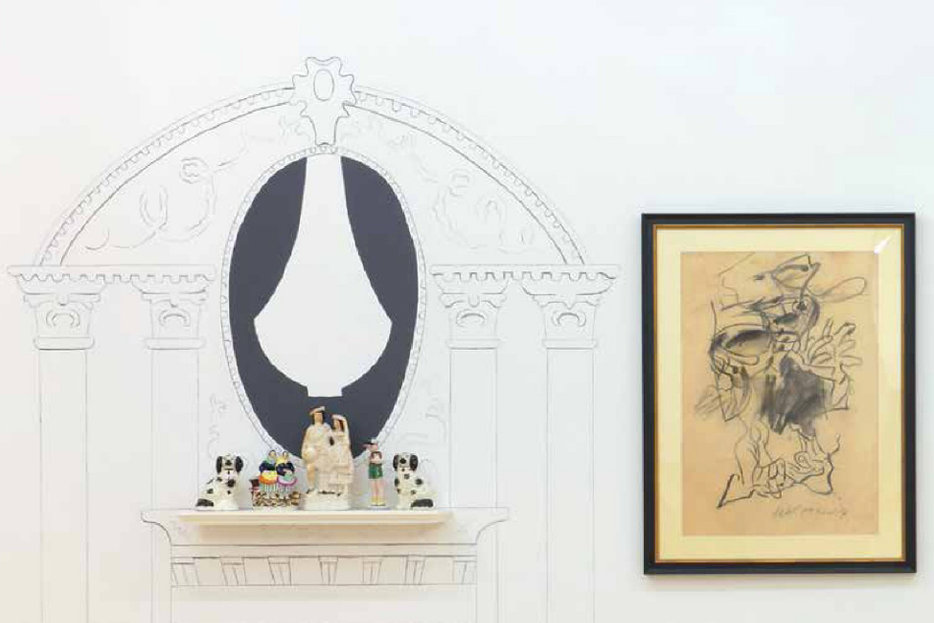 One of my favourite John Ashbery poems, "Instead of Losing," ends with these lines: "Or is right now the answer—you know, the radio / we heard news on late at night, / our checkered fortunes so pretty. / Here's your ton of plumes, and your Red Seal Records. / The whole embrace." The inscrutable elder of American poetry resists guiding reception or interpretation of his writing, but if you happen to be passing through New York this month, you can at least gawk at his stuff.
John Ashbery Collects: Poet Among Things, which continues at Chelsea's Loretta Howard Gallery until November 2, raided its subject's Hudson, NY, house for paintings, portraits, books, collages, furniture, toys, and a warping convex mirror. There are stanzas alongside them on the walls, but the exhibition eschews crude X/Y associations to try to display a process stilled.
Ashbery is a prolific art critic while being a constant poet, and old enough to have collected modernist painters like Willem de Kooning when their works were new. Not opposed to artificial distinctions between high and low culture so much as aristocratically unconcerned with them, he sometimes in this writing arrives at the most heightened version of his urbane, amiably witty style. The exhibition includes pieces by his late friend Joe Brainard, an artist Ashbery once suggested was too nice, too affectionate for the art world, who quit it altogether and spent the last decade of his life "consecrating his time to his two favorite hobbies, smoking and reading Victorian novels."
The objects I really fixated on in the gallery were the most ordinary ones. Felix the Cat toys. Postcards collaged together by Ashbery himself. The sturdy black typewriter he still composes all his verse on. A bookcase filled with admired antecedents (Henry Green, Ronald Firbank, The Spoils of Poynton), close friends (James Schuyler, who co-wrote Ashbery's only novel A Nest of Ninnies, and Harry Mathews), and intriguing strangers (Marjorie Perloff's The Futurist Moment). It's a genial, allusive, and frivolous collection, like many of his literary ones. The exhibition, which was curated by two younger poets, doesn't even tag any items, let alone attempt to explain them in theoretical language. I peered at a glass desk several times before realizing that it belonged to the gallerists, not their guest. Like Ashbery's sharp turns on an enjambment, they've made the quotidian disorienting.
They get a little cute at times, pairing Japanese prints with an excerpt from "37 Haiku," but the curators don't try to draw clean parallels or a unifying diagram. With these poems, animated by broad abstractions and the sensory palpitations of consciousness in motion, why bother? What so often annoys Ashbery's detractors is his disinterest in furnishing the traditional poetic ideal of inert, parsable images. (A frequent avant-garde tendency, though not a new one: what is "The Sick Rose" about?) Curator Adam Fitzgerald suggests that Hudson house might be "arguably Ashbery's most fully realized artwork," a charmingly perverse claim, because it's also impossible to reproduce. The exhibition never tries, never flails at direct representation, like a Colonial Williamsburg version of the 1950s Cedar Tavern. Instead you walk through notional environments, bounded by Matthew Thurber's camp wall illustrations of two-dimensional fireplaces and pianos. It's a mental living space: "The room I entered was a dream of this room."
Amongst the things is a cabinet of VHS tapes, including Celine and Julie Go Boating. But what's playing on loop is a collection of Looney Tunes shorts, specifically the great "Duck Amuck," cartooning as surrealist torment. You can trace faintly towards Ashbery's poem "Daffy Duck in Hollywood," which never outright alludes to the lisping mallard or the company town, yet it's the parallel rhythms sticking in my head, poet and animator alike in their abruptness, shucking ink as easily as they drip it. Even some of the dialogue might be Ashbery stanzas: "Ladies and gentlemen, there will be no further / Delays, so I shall attempt to entertain you in my own inimitable fashion." John Ashbery Collects rightly invokes his line from "Convex Mirror," that surfaces are "not superficial but a visible core." It embraces the whole.
–
Find Hazlitt on Facebook / Follow us on Twitter