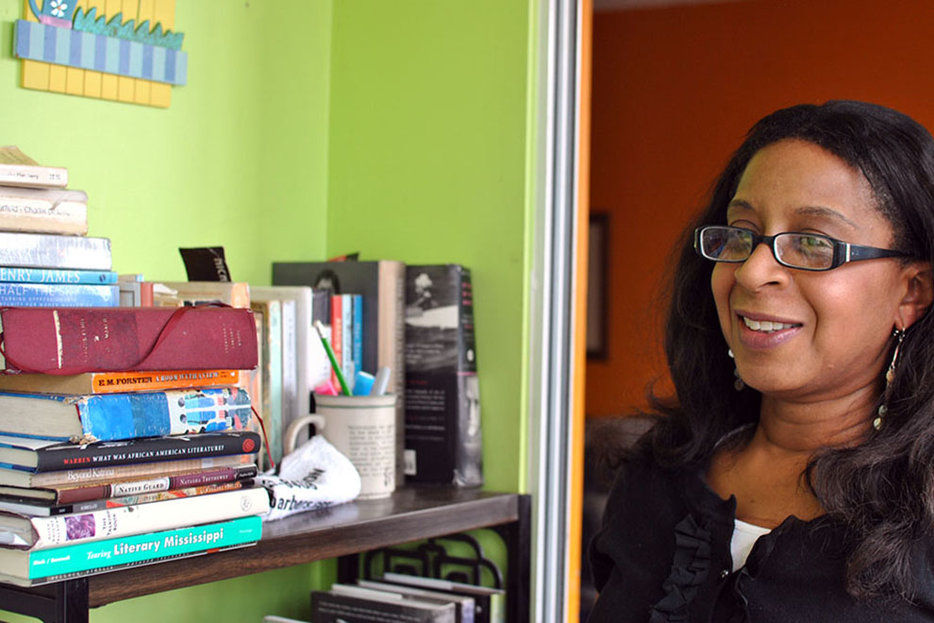 Shelf Esteem is a weekly measure of the books on the shelves of writers, editors, and other word lovers, as told to Emily M. Keeler. This week's shelf belongs to editor, literary journalist, and critic Donna Bailey Nurse. As the editor of the anthology Revival: An Anthology of Black Canadian Writing, and author of What's a Black Critic to Do (parts I &II), Nurse's dedication to literature cannot be overstated. She told me she's always kind of reading her favourite book, Middlemarch, as we stood in front of each of her many book shelves, which are in the the sunny down town Toronto apartment she shares with her two children.
This is the situation: I mostly work in here, in the sun room. I'm working on a book on the American South, and I'm growing my plants at the same time. This is my favourite room to read in, and these are the books that I like to have close by, just because I love them. Or the books that I'm reading, working towards what I need to know, researching for my book. And of course, I'm always—every time you think you're closed to finished, you're just not. So you end up buying more books, and having to read more and more. But this is the room where I do my work, I get up in the morning and come here first thing, sit there in the corner by myself and have my tea.
I wasn't always working on the book, but eventually this just became the place where many of the books for my book gathered. But many of these, the books for the book, are books I love anyway. My book on Mississippi is a literary book about the stories that drew me there anyways. I love books about the South, especially black literature about the South. But also, y'know, white, and any literature about the South. It's like living history.
I was always drawn to the South, and it was very bizarre, and I wondered why. And then I realized I was pretty much always, or very frequently, reading Mississippi. When I went to Jackson for the first time, they have, in the main library—which is named after Eudora Welty—they have all these posters of the faces of writers from the South. Looking at them, I realized I'd always been reading Southern writers, even when I was reading books to my children. I didn't realize what was drawing me there, but it was my own reading that was taking me there. I can't say when it really began, what initiated it, but I do remember when I read One Writer's Beginnings, and Song of Solomon, by Toni Morrison. It was a story about how black people going South was a way of reconnecting to their heritage, and getting to know who they are. And that's exactly how I felt, so that's a main book for me. Toni Morrison is just magical with the word. The word itself is this magical thing for her, and we probably both feel that way too. I'm drawn to any one who feels that way. I just feel like that's where my heart is.
I actually move my books around a lot. Except for the ones I love the best. This is my favourite book, here, Middlemarch. You can't read it; it's worn-out. All of my favourite books look like this. My best books look like this. I'm not kidding. I actually have to buy them again all the time. This is one my very favourites, I don't even mind if you take a picture of it as it falls apart. Robert Hughes, his essays on art and artists. I read it to death. I have to buy it again. It's not because they're old, though, they are old…it's because I love them so much. Probably I'm like a little girl with dollies, that's how I am with my books.
I'll show you another shelf that I like—these are books I like to see. Most of them are books I've reviewed, or written by authors I've met. Some are books I've come to cherish, like The Book of Negroes. But also, Joseph Boyden, and Jamaica Kincaid. My Garden Book is another favourite. I have a lot of black women writers here, in the office, but also on this shelf. Alice Walker, Rachel Manley…most of these people I've met, so it gives me a warm feeling to see these books.
I love Alice Munro. She's probably my favourite writer. It's hard to pick a total favourite—probably my favourite Canadian writer is Alice Munro. Oh, how original is that? Pretty original. Another Canadian writer I really love—not that many people talk about her, but I think she's just wonderful, a lovely writer from the East Coast, is Beth Powning. Do you know her? Oh, she's so good. She's a visual artist, and her writing's not super-duper lyrical or anything like that, it's just that it's very, very vivid. The Sea Captain's Daughter is one of hers, it's about a sea-faring husband and wife. The woman practically stows away on her husband's ship to be with him. It's a fantastic, fantastic story. It was just riveting. I can't wait for her next book to come out. Although, in my opinion, if you write one gorgeous book in your life, that's amazing! People are like, Oh, that second or third book wasn't as good, that tenth book wasn't as good as her ninth book…Oh my god. It's unbelievable.
I really love Edwidge Danticat. Are you familiar with her? She's a Haitian-American writer, her first work was called Krick? Krak!. Do you remember the boat people? The refugees fleeing Haiti by boat? She wrote about those people, and at the time Haitians were sort of washing up on the shores of Florida. The way that the newspapers were reporting it, the way that television was reporting it, it was so inhuman. It was framed as how bothersome they were, with a sense of, like, who are these people? They didn't even realize—they didn't talk about what these people were suffering, how much courage it took, and how deadly it was live there and how deadly it was to leave there. But anyway, Danticat brought that so beautifully to life. She's a very modest person, she herself has quite a dramatic story, but she always asks like everyone else's story is more important than her own. And she always really works to get other's stories down. She's amazing. I have all of her books.
This writer is amazing too, Maryse Condé. She's just a gorgeous writer. She's Guadeloupean, her work is very dark. She really writes a lot—in a very different way—about interracial struggle. What I mean by that is that she sort of lays no blame anywhere. I'm not always cool with that, but that's how she approaches the subject. She's basically like, you know, you can only go so far back in history, who gets the blame? Because it's too late to talka bout all that. Now, I don't necessarily agree with her, but she really writes in an original, beautiful, almost tactile way. You can almost taste it. And her writing is gorgeous. She's so so smart.
Of course I love The Book of Negroes. It's very dear to my heart. I saw it coming along—Lawrence Hill was always going, This book is never gonna be written. This book is never gonna be written. And to see it burst out and see it be such a wonderful black Canadian story, a story from a black Canadian perspective on slavery, it was just awesome. For any Canadian, but if you're a black Canadian, it's an amazing feeling. We're friends, we've known each other for—oh, I don't even want to tell you how long we've known each other. Maybe, going on 35 years. I met him when I was 18 or 19, when I first heard about the Ontario Black History Society, and I wanted to join. When I called them up, they were like, okay, you can join but you have to go to a training session. What we had to do then was to go around and visit older black Canadians, and ask them their stories. So, Larry was one of the trainers, and when I was 18 a big bunch of us went to his apartment, and that was the first time I met him. We'd meet in these little tiny ways for years, until finally we both ended up in the literary world, and became friends. I've watched him grow, and it's been exciting to watch that. And it's exciting to keep our friendship, because if you don't always like what your friends write…I've lost quite a few friends, but I haven't lost him because I always like what he writes!
The Paris Notebooks is one of my favourite books of criticism. I love this! Do you have this one? Now listen, I loved this one so much and my copy was all broken down for years. The cover falling off, just destroyed. I would look every single time I went to a bookstore for a new copy, I would just look and look and look. I thought I would never find it, and then one day—it hasn't even been a year yet, oh, I'm overwhelmed, I love this book that much—but I went in, and it was on the shelf, hard cover, I couldn't believe it! I was dazzled! It was $9.99 at a used book store, and I grabbed it immediately. I was so excited! And that's the thing, it's a hard knock life but I really, really enjoy it. It really makes me happy.
Practically all of Austin Clarke's books are here. The Polished Hoe, and More, which is a very good book and I need to go back to it. I'm beginning to see the ways in which this novel, not unlike a number of black Canadian novels, really refers to The Invisible Man, by Ralph Ellison. And because the book is about a woman, it took me a while to get to that. You know how you only have a week to read the book, and a week to write the review of it? There isn't enough time to think the way you would like to think. I do my best to show respect to the authors and the books, and I give them as much time as I possibly can, but how much time can I give them? I wasn't thinking hard enough, and that really frustrates me because you finish writing your review and then here it is, three years later. And oh, it's too late. And in thinking about More, I've realized I didn't write about in the way I'd like to. It's definitely a book I need to go back to, to talk about how much it has to do with how much it shares in common, how much it derives from The Invisible Man. That experience is a very black Canadian experience, even though it's an American book. Just think about the title. The Invisible Man. We're always talking in Canada about visible minorities, but the fact is we're basically a kind of invisible culture. And I think that's why that book speaks to black Canadian writers so much.
If you don't tell the truth, they're not going to respect you. It doesn't matter if they like you. Of course, if you're a nice person you want them to like you, but if you're doing your job they have to respect you. Be as nice as you can, but if they don't respect you, your word will be worth nothing. And that's all you've got as a reviewer. I'm a criticism fanatic. I adore it. It's just so enriching, and it's a delight to be in other people's minds. To delight in other people's thoughts.
–
Shelf Esteem runs every week.

Find Hazlitt on Facebook / Follow us on Twitter