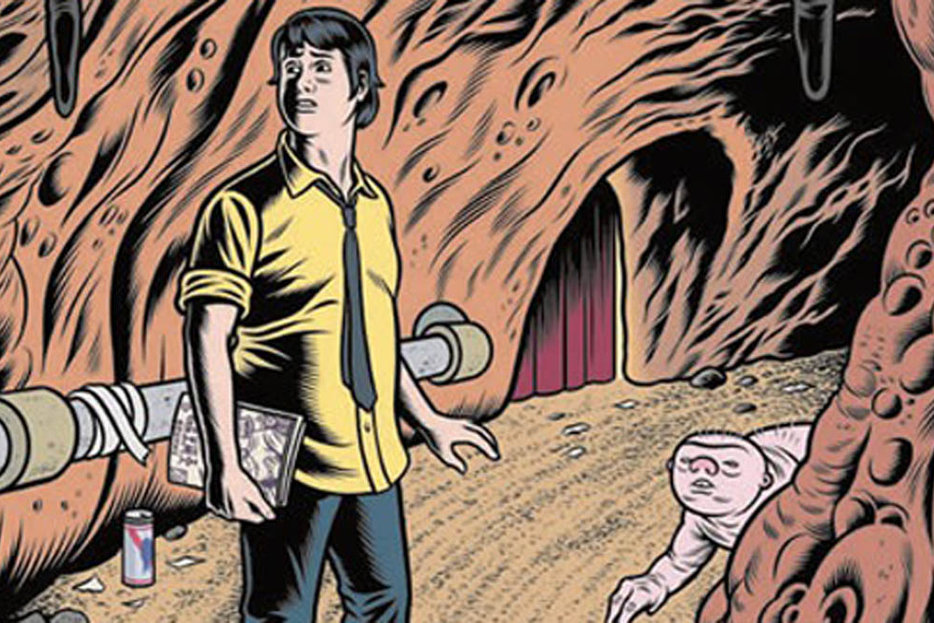 It may be fitting that The Beguiling's 25th anniversary celebration was a little shambolic. That pulp-choked house in Mirvish Village wouldn't be the best comics shop in North America if not for its unsurpassed breadth—graphic novels, superhero books, classic newspaper strips, manga and bande dessinees in their original languages, risographed art objects and filmy zines—a selection that attracts similarly diverse readers. The sheer number of comics crammed inside that space can feel divertingly chaotic at times, and so was last night's event, as hundreds of people waited on technical issues for half an hour outside the Bloor Cinema. But where else would they be able to see Chris Ware, Charles Burns, and Adrian Tomine on the same stage?
Eventually, with the projector still not working, it was decided that the roundtable discussion would just happen first. The Beguiling's longtime owner Peter Birkemoe announced the reversed timeline while paying tribute to his store, its employees, and "the woman I share my life with," who he met while she was covering its 15th anniversary. The three guests went onstage, along with our local moderator Seth, as Charles Burns deadpanned: "We're called Kraftwerk." Without anything immediate to discuss, Seth simply asked his fellow artists about how they came up. Despite their age differences (Burns was born in 1955, Tomine in 1974), they belong to the same generation in one sense: they all began making comics just as the medium first crawled towards literary respectability, or at least underground cachet (though only Burns is old enough to remember when a $400 Village Voice back page might cover two months' rent).
There are gradations and genealogies in that shared history; Ware recounted a seminal teenage moment at his favourite Omaha comics store, searching for porn in the back (ostensibly) and stumbling across the avant-garde anthology Raw, where Charles Burns was emerging. And Seth noted that, if you glance around any comics-n-graphics festival these days, the old dichotomy between zines and "real," dignified publishers has all but closed. A certain amount of stigma persists, even inside comics itself; Seth still seems wedded to notions of "junk culture" and the guilty pleasure, admitting that he feels extra-snobbish or protective about genre fiction, whereas the fledgling cartoonists I've met tend to be omnivorous, gleefully applying formal experimentation to trashy action comics. As the youngest person on stage, Tomine may understand them more intuitively: he testified that fatherhood has left him watching lots of Hoarders.
By this time the theatre's tech was operational again, so Burns, Ware and Tomine got out their slides. The differing presentation styles were revealing. Burns focused on source material, influences, and process, showing us the notebooks he fills with resonant images and gives names like "DOWNER BUZZ"; after one Louise Bourgeois drawing, a literal "house-wife," he displayed some vintage '70s photos of a half-naked girlfriend ("or a friend I wanted to be my girlfriend") wearing a model home. Ware did close readings of his new book Building Stories with familiar self-deprecating wit ("Acme Novelty Library, a really good example of why you shouldn't name anything in your twenties"), becoming suddenly moving when he rhapsodized about the near-sentimentality of a favourite Mary Cassatt painting.
And Tomine, whose new collection brings together illustrations for The New Yorker and other places, described working with that magazine's great art editor Francoise Mouly: "She's very well-versed in the psychology and neuroses of cartoonists." His first contribution was finally inspired by Mouly's suggestion that a New Yorker cover should be readable, that it should carry a hint of narrative. He went on to read a dryly funny strip about his misadventures at the magazine's holiday party, and I left thinking of something Tomine said earlier: "Comics may not be an ideal medium for me, but it's an ideal way of life."