Mickey Mod and I are walking around the San Francisco Armory basement late one February night. We're both staying here to participate in the last week of Kink.com film production that will be taking place in this building. The BDSM-themed porn company, also known as Cybernet Entertainment, has owned the 200,000-square-foot historic landmark fortress for ten years. During that time, they have shot approximately eleven thousand hardcore sex scenes within its brick walls.
Every available room and in-between space is piled with the fetish costumes, outrageously high-heeled shoes, sinister customized props, and other ephemera that employees have claimed. It reminds me of an apartment the day before roommates move out, except instead of appliances, people are putting masking tape labels on rubber tongue fucking machines and olive green latex military uniforms. Just beyond a cart stacked high with vintage encyclopedias is a large disco ball resting in a metal hydrotherapy bath. A collection of rusty chains has been piled into a wheelchair. If the Armory is haunted, I could imagine the ghosts trapped here finding all this poltergeist-ing material a little on the nose. 
Mickey knows his way around better than I do. He shot his first scene as a Kink model in 2009 and has been one of their most consistent male stars ever since. He's a tall, slender, down-to-earth man with a very dependable nine-inch cock. 
Mickey flips the heavy light switches just inside a set called the Gimp Room. Many of the rooms are some variation on this dungeon design: wooden floors, custom crosses and stockades, chains hanging from the ceiling. Much of the atmosphere comes from the building's natural decrepitude, while some elements have been customized for either decor, like false electrical boxes, or functionality, like the many o-ring tie off points available to the bondage-rigging directors. There's a seven-foot-tall metal cage built into the wall, which opens up into another set, the Training Room. Walking through this cage, I feel like I'm in a dream, or a dream sequence, where each threshold leads to a completely different environment.
My boots echo on the concrete floor as we head down another hallway, past a venetian blind-covered window that peeks into a noirish office, to a vast pillar-lined cavern called The Roman Baths, past which is a phony wooden sauna with swinging doors that open into a locker room.
Next is the Abattoir, a serial killer slaughterhouse complete with prop pig carcass hanging from siding hooks. Beyond that is a room containing an enormous boiler. "There's lots of rooms here meant to look like a sinister place you might be taken to," Mickey says. "But this is the one that makes me feel like if I was brought here, no one would ever hear from me again."
We make a loop through the Shooting Range, groundwater from MIssion Creek running through the cavernous space. It's rooms like these, where the dusty air gives me an instant asthma attack, where the foundations seem close to crumbling and the walls are slimy with water stains, that remind me this building is over one hundred years old. If it had been purchased for any purpose other than making highly dramatic dungeon movies, rooms like this probably would have been redeveloped by now. 
They might, in fact, be redeveloped very soon.
*
The history of Kink.com is well-told at this point. CEO Peter Acworth's grad school dorm room experiments with bondage films. A late-1990s Internet environment primed for successful niche membership sites. Then, in 2006, the purchase of the National Guard Armory and Arsenal at 14th and Mission, a historical landmark which had stood mostly unused for decades.
In an out-of-the-way prop supply room that could be mistaken for a Salvation Army, Mickey and I come across a stack of photo stills printed on 9 x 12 inch gator board, analog evidence of Kink.com's early days.
In one of these pictures, a woman, naked except for a leather waist cincher, stands in five-inch chunky-heeled black pumps with her opaque white thigh-high stockinged legs apart. Her ankles are tied with white rope, the ends of which disappear, taut, out of either side of the frame. Another length of rope attached to two dumbbell weights wraps between her naked vulva. Her hands are attached above her head to suspension cuffs, so called because the straps run along the wrist and palms, putting less pressure on joints than simple circular cuffs. She is wearing a red ballgag from which several straps wrap along her eyes, partially obscuring her identity. A rod is attached to her breasts by nipple clamps.
Behind this model, a slender pale man wearing jeans but no shirt crouches, holding what may be a vibrator between her legs. The man is wearing a simple black mask that covers his entire face.
"That's Peter's old garage," says Mickey. Indeed, in the background, which you would be forgiven for not noticing right away, is a washer and dryer.
"And that's definitely Peter," he says, pointing to the man in the mask.
*
The first Kink.com site I modeled for was Wired Pussy, which is now called Electro Sluts. The same year, 2009, I was also cast in Men In Pain, which is now called Divine Bitches. I was very proud to be on Kink as both a submissive, struggling in an electricity-conducting copper cage while Lorelei Lee sat on my face, and as a dominant in a red latex bra, strap-on fucking Danny Wilde in the ass.
My sex-work life at the time was all over the place, in dungeon studios and hotel rooms around the Bay Area, switching outfits and personas, catering to the varied taste of an endless stream of men. The Armory was, for me and many other people I knew, a single destination to make dependable money. It was intimidating but welcoming. The work I did there was usually more intense than the average "direct service" client session, but it paid more, on a legit W9 tax form. Plus, I was playing with other sex workers who had more skills and generally got me wetter than my clients did.
Mickey and I climb four flights of marble stairs—past the second floor talent lounge and cam show rooms, past the third floor which is mostly devoted to tech and marketing offices—to The Upper Floor, the top level that has been modeled after an Edwardian mansion. He points to a particular room and we tease each other fondly about a Public Disgrace shoot a few years back, where he fucked me on that pool table in front of a crowd. Lorelei, who was directing, had brought me in at the last minute as a submissive model. I amazed myself that day with how much attention I could demand and money I could make by navigating erotic overstimulation. 
At the end of the shoot, Lorelei gathered me up in a terrycloth robe, looked deep into my eyes and said, "You're a superstar." It was at this, after hours of willfully submitting to negotiated degradation and pain, that I burst into tears of relief. The performance of objectification didn't make me feel vulnerable: being praised by a powerful woman did.
Lorelei understood that no matter how much good we do in our lives, women don't know if we are enough. For some of us, the overdetermined melodramatic glamour of BDSM work is our refuge from uncertainty.
Like the joke goes, porn is the only job that you only have to do once to be a star.
* 
Friday, February 24, 2017 was the last day hardcore porn was filmed at the San Francisco Armory. 
Both Matt Slusarenko, the director of marketing and business development, and Alison Boden, the vice president of technology and operations, explained the decision to me as primarily a business one. While much of the Armory is used for Cybernet offices and production, there is plenty of untapped potential to the space. The 40,000-square-foot Drill Court can host sports, music, dance, and theater events. Numerous rooms could be rented to startup offices; one could easily imagine entire floors transformed into trendy co-working spaces. Securing permits for this kind of re-zoning starts to present conflicts, however, such as the California law prohibiting alcohol sale in an establishment that also provides fully nude entertainment.
I was told many stories about vendors revoking contracts when they caught so much as a glimpse of leather or nudity, and some potentially lucrative clients that simply refused outright to do business with a space in which BDSM porn is filmed. This despite the fact that you could definitely spend the entire day in the building and never know a hardcore film shoot was underway beyond the blinking red partition lights.
Considering, however, that the 2016 Republican Party platform declared porn a "public health crisis" and that the box office success of the Fifty Shades franchise hasn't reduced institutionalized stigma against BDSM practice, many businesses simply prefer to segregate themselves from adult entertainment. Few mainstream companies see the value of preserving sex subcultural history, even as their brands enjoy the edgy weirdness of San Francisco. Still others see Kink's content as an outright nuisance.
When Acworth moved Kink operations to the Armory in early 2007, members of the local community protested them as a morally corrupting force. Most of the accusations from the Mission Armory Community Collective, such as Cybernet creating "dead end jobs," were baseless, ultimately perpetuating the very stigma they feared. It is in response to this kind of hand-wringing that Kink.com has made their sexual values explicit, largely unheard of in porn companies of their size. As of this writing, Kink.com has approximately fifty thousand paying site members. 
Their mission—To demystify and celebrate alternative sexualites by providing the most ethical and authentic kinky adult entertainment—is prominently displayed on the site and in the public parts of the Armory. Every Kink scene, including every free trailer, begins and ends with an interview with the models, emphasizing the consent, interests, and boundaries of the submissive performer. Community tours, which are led daily throughout the building, combine Mission history with frank discussions of the dynamics of BDSM.
No other porn company has ever housed its production, talent, IT, marketing, and management departments in the same building. Slusarenko tells me that the thing he'll miss the most is "seeing a database engineer talking to a dominatrix about selling her content. It doesn't exist anywhere else."
The company is hardly without dysfunction, but their centralization is tied to their transparency. In my vision of a post-decriminalization America, more sex work would be done in such places: physical locations with the possibility of community for the workers and accountability for the management. Not a utopia, just a realistic adult business in every sense of the word.
So in some ways, the Armory's imposing physical presence has been a stalwart icon of a fading San Francisco, the queer mecca whose leather shops and dyke bars are shuttering under pressure of a thriving tech economy. Yet in other ways, they are leaving because they were never fully embraced there in the first place. Kink.com, then, finds itself between a neighborhood rock and an ideological hard place.
Another battle facing Cybernet is the ongoing question of model safety and how it's defined. The regulation of condom use in the California porn industry has been the subject of a contentious legal and political battle in recent years. In 2012, Measure B passed in Los Angeles, requiring the use of condoms in all porn videos shot in that county. In 2016, Proposition 60 would have expanded that law statewide; however, it was rejected by voters. The majority of working porn performers oppose condom regulations for many reasons: they trust their own Talent Testing Service to keep them aware of their STI status, and they assert that prolonged performative sex under hot lights dramatically alters the efficacy and comfort of barrier protection.
The co-author of Prop 60 is Michael Weinstein, President of the AIDS Healthcare Foundation, who has poured years of resources into mandating condoms in porn, while inviting the ire of other HIV advocacy organizations for, among other gaffes, dismissing PrEP as a "party drug." 
Weinstein has specifically targeted Kink.com in his efforts to introduce legislation ostensibly designed for performer safety, despite the fact that organizations such as the Free Speech Coalition, the trade association for the adult film industry, have consistently opposed these regulations. Maybe this is because of the extreme nature of Kink's content, or the fact that they work with many "crossover" performers who shoot in straight, gay, and trans genres. Or it might be because almost every Kink video was obviously shot on an Armory set. 
Ironically, the centralized nature that establishes obvious protections to workers—accountability, familiarity, consistency—also make the company a sitting duck for those who oppose it.
Kink has spent countless hours and resources on fighting these forces: one estimate I was given approached a million dollars in a few short years. They're proud of their victories, like a hearing last February where Cal-OSHA rejected proposed condom mandate legislation after five hours of passionate testimony from adult performers. But they are weary, too. 
*
"Now that I've gotten off on my filmmaking," Maitresse Madeline Marlowe announces, "the boys are allowed to come, too!" 
It's 5:45 p.m. on Friday. I've been watching Madeline and her crew prepare and shoot non-sex content all day. Two scenes of innuendo, mostly to establish the Twin Peaks parody plot and characters.
I ask a few people if they think this production value makes a difference to the members who will jerk off to the sex, or if it's mostly for Madeline's directorial satisfaction. Everyone agrees it's the latter, but no one seems particularly annoyed.
Even the male talent, who have been lounging around since 11 a.m., accept this as part of the experience of working for Kink.com. They look at their phones, they nap, they mutter their lines under their breath until they've memorized them. Will Havoc, one of the performers, who is also Madeline's real-life romantic partner and production assistant, tells me that the men know not to get into any serious conversations. They basically have to hurry up and wait to be bored for hours until the women decide they're ready for them.
Madeline wiggles out of her velvet costume dress and maroon stilettos, pulling on cotton leggings, flats, and a T-shirt that declares, in white letters on black background, the name of the website she's shooting today: HARDCORE GANGBANG.
A Kink.com gangbang is a group of men having sex with one woman; the site's tagline is "Where all women's hardcore gangbang fantasies come true." On Hardcore Gangbang—which was originally called Bound Gangbang when it was started in 2011 by Princess Donna Dolore—the focus is on the woman. Practically, this means the woman is the bottom, the one who is penetrated, the recipient of any erotic pain or erotic humiliation. It also means that everything from the website copy to the script is centered on the fulfillment of the female performer's desire. 
Amber Ivy, a 23-year-old performer who got her start in the industry three years ago on the tattooed alt girl site Burning Angel, has a look like Jessica Rabbit combined with a very pretty bird. She is slender and creamy-skinned with big breasts and big eyes. After being booked for this shoot, she emailed Madeline requesting a Twin Peaks theme. She wanted to be Audrey Horne so much that she made her own costume, sewing red fluff onto a snow-white lace robe and hot-glueing a dozen red bows with craft pearls to her white corset. The Kink costume department set her up with white opaque stockings decorated with black aces and red spades. With her long cascading maroon hair and tattoos, she doesn't really resemble the actress Sherilyn Fenn, but her look is pure brothel chintzy cheesecake. 
Tommy Pistol, a natural goofball, is perfectly cast as psychiatrist Dr. Jacoby in his Hawaiian shirt and different-colored sunglasses. Will is playing Bobby Briggs, wearing a short-sleeve shirt over a long-sleeve thermal and another plaid shirt tied around his waist. He didn't put his usual product in his hair, and it flops around, giving him the perfect '90s dirtbag look. Owen Grey, thin as a rail, is James Hurley in aviator sunglasses and motorcycle boots. Jon Jon plays Leo Johnson in a lumberjack shirt, and Mickey is sleazy Ben Horne in a blazer which he constantly shakes off his shoulders as he chomps on a cigar. These outfits do exactly what a group Halloween costume should: separately, you wouldn't peg any individual character, but together it's delightfully obvious who is supposed to be who.
The night before, eating sandwiches in our pajamas in the talent lounge, I had asked Amber what she was excited about for the shoot. She told me confidently that she loves group sex, but that she's never done an on-camera gangbang before.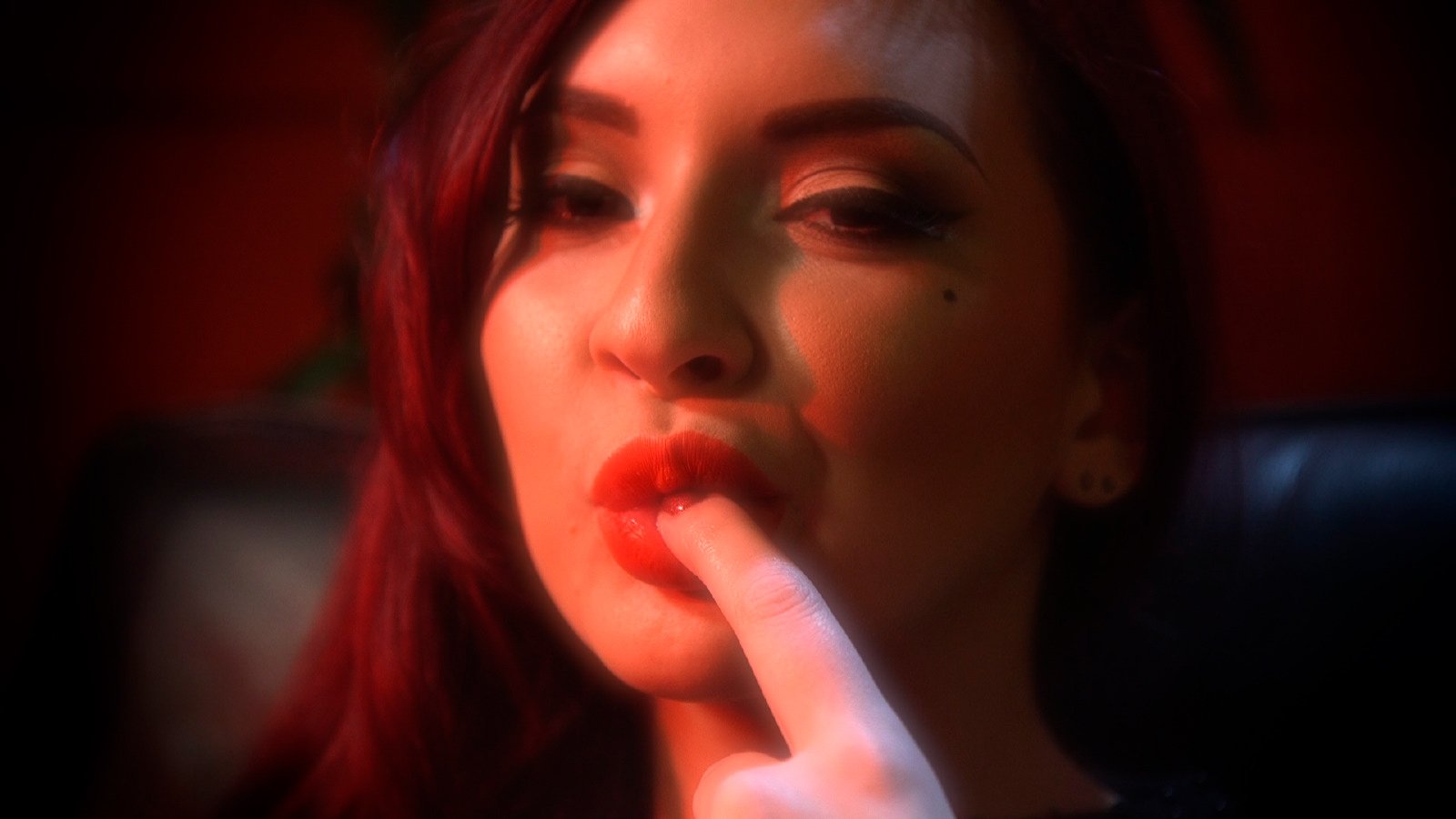 "I think being the focal point is the charm of it all," she grins. She was nervous about taking dicks in her vagina and ass at the same time, but was looking forward to working with a company that understands "in a BDSM scene, the power comes from the bottom." 
It's a tight squeeze on set: me, the camera woman Minako, the production assistant Rhia, Madeline, a reporter from Vice, the five male performers, and Amber. All of the porn stars are given their own robe, flip flops, and a reusable water bottle with their stage name written in Sharpie on masking tape.
The set dressers have arranged a carefully surreal tableau. A blue strobe light flutters above our heads. There are several taxidermied deer, one of which is sticking out of an ornate toilet, and an expressionless white mannequin. There's a vintage '50s TV, an ancient metal table fan, and a number of pink flamingos. A concrete buttress angles up into the ceiling; according to the building's tour guide, this was originally the primary support for a thousand pound artillery rifle.
Madeleine gathers the performers and crew to review Amber's limits from the forms she filled out that morning. She doesn't like nipple pain and she doesn't want her face slapped. At her request, this is a no condom shoot. Every performer has submitted their required STI test, which is no more than two weeks old. Her safewords are yellow and red.
I glance over at Tommy, who is sitting in a dark corner. I've been around so many sex toys all week that I think he is holding a dildo in his lap. It takes me a moment to realize he has his actual dick out of his pants and is slowly stroking himself, staring into the middle distance. This is the first moment of actual explicit sex I've witnessed in my week at the Armory and I'm surprised how jarring it is to me.
The crew does a couple of takes in which Tommy drags a struggling Amber into the light. Mickey rips gaffer tape off her mouth, which looks like duct tape but doesn't hurt or mess up her lipstick.
Owen steps forward, holding Amber's chin in his hand, and delivers his line from Madeline's script in a perfect angsty teen tone.
"Sometimes riding on my motorcycle into the night, I punch off the headlights and roll the throttle and just rocket blind into the dark. I'm going to do the same with your tight virgin cunt."
Tommy pushes Amber down, where she kneels on a pad that has been hidden underneath the rug. While the crew preps the shot, she throws her head back and spreads her knees wide. The men gather around her. She starts putting dicks in her mouth before Madeline can call action again.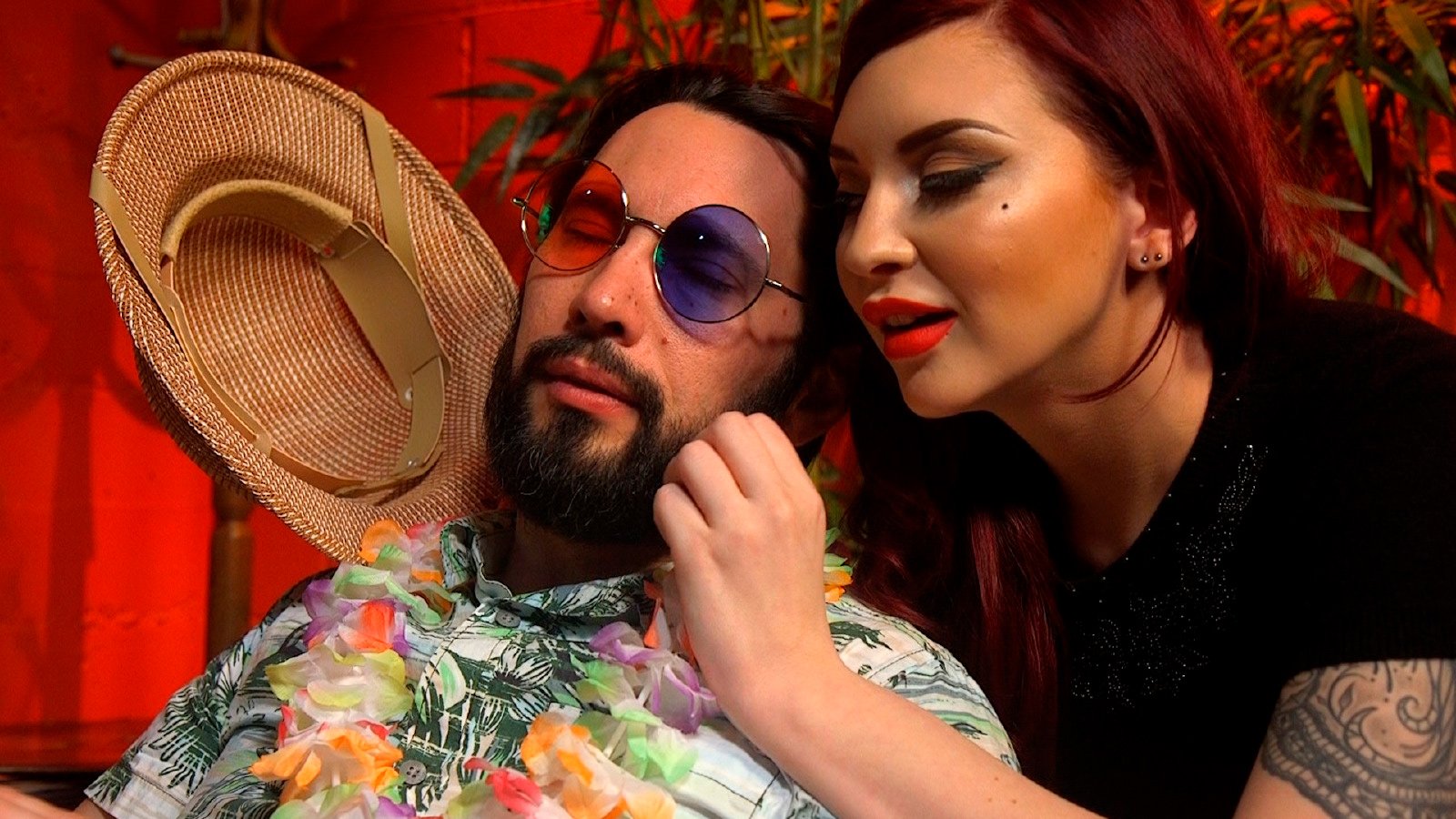 A Kink.com gangbang is a formulaic ritual. Blowbang, vaginal, anal, double penetration, pop shot. The men have their moves, they know how this goes. Minako knows when to go for a wide, medium, close up on genitals, closeup on face, POV from the guys, POV from the the girl. She climbs with her camera onto an applebox, confidently towering over the men in her Vans sneakers and jeans. Only Amber has never done this before.
"Just let go," says Madeline. "Tommy will support you from behind."
"And I'll support you emotionally!" Will jokes and everyone laughs.
"Let's get her on the fuckbox!" Madeline yells. The boys drag a large wooden box covered in leather cushioning under the lights and hoist the now-naked Amber onto her back.
I start to become aware of certain well-practiced moves. The energy of the men is always directed heterosexually towards the woman but their work is distinctly, even homosocially, collaborative. An arm around her torso. A knee bracing her hips. Holding her open for the camera and one another. They remove their pants but put their shoes back on for traction. Mickey starts rhythmically sliding his hand along his own waist, and it takes me a second to realize he's wiping lube off so he can keep a grip on Amber's ankles as he fucks her.
Will slaps Amber in the face and she says quickly and loudly, "No, I don't like that."
"I'm sorry, I'm sorry, I completely forgot." Will steps back.
Amber gasps. "We can keep going." But Madeline says, "No, no, I know what face slapping does." The shoot pauses for a minute while the men back off and Rhia gets Amber tissues and water.
Owen lays on the floor and stares at the ceiling, edging himself. Will checks his phone with one hand while holding his erection in the other.
Amber requests an off-camera warm-up for anal sex. Mickey asks what position she'd prefer.
"Can we spoon?"
Everyone else takes five while Mickey and Amber climb onto the fuckbox. They both lie on their right sides as Mickey rubs silicon lube on his cock and slides it inside of her. They are facing away from me but I can see him whispering in her ear and holding her gently.
After a few minutes she says she's ready.
As I watch Amber straddle Will while Tommy fucks her ass, I remember how nervous she was about being double-penetrated. Now she seems both ravenous and relaxed, comfortably letting the men flip her on her back, on her stomach, on her knees.
This might be the right time to acknowledge that gangbangs are my go-to masturbation material. When I watch this genre of porn, I always identify with the woman as a complete object of desire and an object that completely desires. I'm in awe of what her body can do.
I had expected to be distractedly turned on, but my arousal has been replaced by wonder. Madeline has established a choreographed sequence repeated over and over, because both novelty and familiarity drive the business of desire. In this sequence, the subjectivity of the woman is meticulously established precisely so that she can give herself over to abandon.
The negotiation, the trained crew, the paperwork, the plot conceit—these preparations are like bungee jumping harnesses, like an acrobat's net, like telling someone where you'll be when you go on a hike or a Tinder hookup. They don't create a completely safe space and they don't pretend to guarantee that. They create a risk-aware environment, mitigating for worst case scenarios, in which everyone agrees that the risk is worth it because the rewards—the honest money, the ecstatic experience, the pride in making subversive erotic art—can't be achieved without risk.
Madeline has the sex footage she needs, so it's time for the pop shot, or money shot. The guys take turns ejaculating on Amber's face. Their control and timing is breathtaking. The next morning over coffee, Madeline will tell me that the thing the members love most is seeing the girl "destroyed." When I press on her what she means, she describes the way that Amber went from a pristine, smiling young woman in a costume she sewed herself to a gasping, sweaty, smeared, open, ecstatic mess.
"They love to see her looking like a toaster strudel," Madeline laughs.
But here's the thing: Amber is not literally destroyed by this gangbang. She is not damaged. Wrapped in her cozy robe for her on-camera recap, she says, "There's so much adrenaline in me right now!" Three hours later, after a shower and some whiskey and a vegetarian burrito, she's dancing gleefully to Amy Winehouse at the bar. Tomorrow she's getting on a flight back to LA and moving apartments. Exactly one week later she will tweet: Remember those Nerds Ropes candy? That was my jam.
It's 8:10 p.m. A crowd of staff members and porn stars burst onto our set ready to celebrate the final night at the Armory. They've been drinking champagne and eating catered chicken wings and crackers and grapes and cubes of cheese on the Speakeasy set, which tonight is functioning as a real bar. Most of the liquor bottles are props filled with water, and everyone who wants a drink has to open a bottle and sniff it to determine if it's real or not.
* 
Saturday morning, February 25, is likely the last time I'll ever wake up at the Armory. I get enviable sleep when I spend the night in the talent department dorms: my room has a queen-sized bed, no windows, and the kind of deep silence that seems to go on forever, like a tomb.
The communal bathroom floors and counters are the same marble as the stairs and bannisters, white with tie-dye veins of grey. These shelves, like every bathroom in the building, are stocked with industrial-sized jugs of Dr. Bronner's liquid tea tree soap, yellow toothbrushes with bristles so soft they press up against your gums, burn-inducing navy blue plastic razors, mint toothpaste, mint shave gel that looks exactly like the toothpaste, rows of fleet enema kits with orange tips like traffic cones, and stacks and stacks of big black fluffy towels. The floor-length urinals always seem like they're standing at attention, waiting.
I head downstairs, out into the neighborhood seeking coffee.
On the first floor landing is a life-sized photograph of Lorelei and Madeline. They're dressed in severe business attire, lounging on a pile of $84,000 in real cash like two femme domme Scrooge McDucks, gleefully relishing their deserved fortune. Although there's no explicit nudity in the picture, Lorelei tells me that renters often ask for it to be covered during their events. 
"It represents the physical power of actual cash, which is simultaneously, absurd, utterly constructed, and absolutely real," she texts me. It was originally taken to celebrate an auction the two women held in 2014, for which an anonymous man paid $42,000 to each of them for a one hour cam show, which he never claimed.
"I think people are very threatened by that photo," Lorelei adds.
Through the wood framed glass front doors, I walk down twelve marble stairs to three long concrete steps on Mission Street. You actually have to look both ways when you exit lest you collide with the teenagers endlessly filming each other grinding their skateboards along the steps, which they call 3 Up 3 Down.
It's been raining most of the week but now it's so bright and warm I barely need my hoodie. From the outside, the Armory is an imposing Moorish fortress. Bricks from the original Western Addition Armory—which was destroyed in the 1906 earthquake—jut out from the rest of the structure, making tempting climbing holds for show-off drunks.
If you walk west on 14th Street, you pass a gas station, a biker bar, and a dissonant combination of brightly-painted Victorian rowhouses and sleek generic new condos. Turning left on Valencia, you pass pretty much all the clichéd markers of gentrification including a spacious yoga studio and a cafe where a macchiato with homemade almond milk is more than five dollars and also definitely totally delicious. Turning left again, heading east back to Mission street, you won't fail to notice the congregation of a different kind of San Franciscan. Tent cities are set up like modern Hoovervilles and people are openly smoking crack on the sidewalk. Folks stand on trash cans, screaming about salvation.
I stare up at the flags fluttering on the Armory's turrets: the American stars and stripes, the rising brown phoenix of San Francisco, the rainbow of gay pride, and the black and blue beneath the red heart of leather pride.
The final reasons for the end of production here, which many people would tell me only off the record, were along the lines of, "Peter is tired of fighting," "Peter is trying to get his kid into pre-school," "Peter is going through a divorce," and "Peter is burned out on fetish porn."
According to employees, some days Acworth says he wants to preserve Armory rooms for sex parties, and the next he'll demand everything with the signature red "K" be stripped down. One day he'll say he wants to mount a traveling art exhibit of props and devices, the next that everything should just be put on the street.
One thing is clear: the screams of catharsis, the ingenuity of predicament bondage, the collaboration of devious queer minds will no longer fill the rooms and hallways of the Armory. Beyond that, the future of Kink.com is still unwritten.