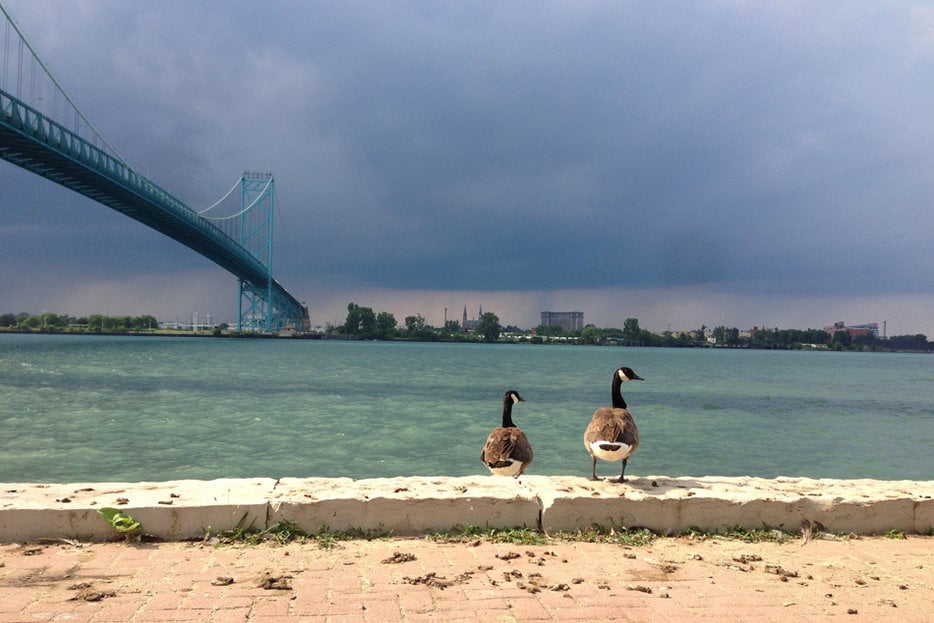 The waterfront park in my hometown of Windsor, Ontario, is a five-kilometre long stretch of lawns and gardens that runs along the Detroit River. There's even a remarkable collection of public art sculptures—a flying saucer, a mermaid on a pole in the river, a giant hand holding a green apple, but the only superstar here is Detroit, its Gotham-like rump of a skyline there on the other side. Its considerable bulk appears on the horizon as you approach Windsor by car, visible before its closer Canadian neighbour. Even the Queen, when she visited Windsor in 1984, looked across the river at Detroit and mistakenly marveled aloud at our impressive skyline; the far-flung edges of empire get as blurry as the border itself in a place like this. With Detroit declaring bankruptcy, it's like an old friend we've all watched decline over the decades has taken another very public fall; if a city could wince, Windsor certainly would.
Detroit preoccupies Windsor. Windsorites go to the river and watch the lake freighters float by in front of Detroit. Detroit newspapers are read. The local ginger ale, Vernors, is consumed. The 72-storey Marriott Hotel in the middle of the Renaissance Center, a 1977 collection of skyscrapers meant to rejuvenate a declining downtown Detroit, helps Windsorites know which way is north. Meteorologists on Detroit TV channels come into everybody's home and teach Fahrenheit so well that we will forever be converting Celsius in order to really know what the temperature feels like, as I do even though I've been living in fully metric Toronto for thirteen years.
Windsor's waterfront provides the best view of America from anywhere in Canada, but the relationship is much deeper than just the skyline. People in Windsor know Detroit the way they know their own city. In many ways, it's the same city—just one with a rather inconvenient international border running through the middle, requiring citizens to produce papers for a customs agent, a kind of less-fraught Berlin Wall experience ever since 9/11 complicated once-easy border crossing. There's cross-border dating, cross-border friendships, families that fall on both sides of the river. Sundays in Windsor, cars with Michigan plates will be parked in driveway after driveway, no shortage of international domestic mixing on people's downtime. On weekday mornings, rush hour crowds both the bridge and tunnel as Windsorites head to Detroit to work as nurses, teachers, engineers. Some radio stations in Windsor even cater to an American audience, running Detroit commercials and less Canadian content than other parts of Canada are required to play, thanks to a local CRTC CanCon exemption.
Windsor folks were some of the luckiest in Canada during the 1980s and '90s, able to slip over the border late in the evening to go to techno parties thrown in old factories or warehouse buildings where legendary Detroit DJs would spin. Those industrial spots were some of the few places, like sporting events, where Detroit's incredible racial divide and de facto segregation above and below 8 Mile Road didn't seem to matter. Windsorites have always gone to Detroit for culture, to see big-name concerts and smaller-venue bands. Trips to foreign films at the ornate Detroit Institute of Arts theatre are part of Windsor life, too, as were the trips we made to jazz bars deep in Detroit where sometimes we would be the only white people in a crowded club but were always welcomed warmly.
You haven't been to a dance party or rock show until you've been to one in Detroit, borne witness to an enthusiasm that isn't always present in other cities. It's like what Bob Seger famously said on his 1976 album, Live Bullet, recorded in concert at Cobo Arena downtown: "I was reading in Rolling Stone where they said Detroit audiences are the greatest rock and roll audiences in the world. I thought to myself, 'Shit, I've known that for ten years.'" Even the hipsters move at concerts in Detroit. On either side of 8 Mile Road, the split between Detroit and its suburbs, between black and white and rich and poor, there's a pride of place and loyalty to the region that is remarkable and fierce.
In Windsor, "America" is never abstract, as it is for many Canadians farther removed from the border. In the mid-1990s, a Windsor friend's boyfriend lived with a housemate who was a Gulf War veteran. When we went to their house for a party, the Stars and Stripes were flying on a pole off the porch. The roommate had served in Kuwait and Iraq in 1991. Until then, I hadn't met anybody of my generation who had experienced anything like that. Yet, at the same time, he also looked like the singer of a rockabilly band and worked as a bouncer at a Detroit goth-industrial spot called City Club, still housed in the once-grand ballroom of a decaying 1927 hotel downtown. He'd ask to see patron's packs of Marlboros or Camels and sniff them deeply, looking for a whiff of something illicit inside. I never did get the courage to ask him about the war, only about four years removed at that point, as I got the feeling he didn't like talking about it. But whenever that war comes up now, I think of him first. He's my connection. Windsor is all about these kinds of connections.
When General Motors and the rest of the automobile industry collapsed in 2008, the world's attention suddenly turned toward Detroit. The shock and awe that continues to hit people as they come to understand the scale of what happened and is happening in Detroit seems to surprise everybody except those in southeast Michigan and the southwestern tip of Ontario. They've watched the city struggle since it was at the height of its powers from the 1920s into the 1950s, when the city reached peak population. Windsor and Detroit have ridden the same economic roller coaster together, and for many decades the big three automakers all had factories in Windsor, including my mom's GM plant. Production on either side of the border was closely linked. When hunting season opened in Michigan, so many workers would cut out that the factories shut down. Mom and the rest of her Windsor plant got the day off, too.
GM no longer exists in Windsor, and the factory where my mom worked is now an empty field. Both cities felt the boom and bust cycles acutely, though not every struggle was shared. Windsorites, like my dad, remember standing on the waterfront in 1967 to watch the smoke rise across the city and Michigan National Guard vehicles drive down Jefferson Avenue during July riots set off by a police raid on an after-hours, unleashing years of pent up tension. But the shared sense of histories, these two towns that saw epic union struggles that won rights for people far beyond the region, fostered both a deep empathy for this Detroit and quiet gratitude for some fundamental differences.
Windsor may have the same economy, but the city hasn't collapsed the way Detroit has, despite being beaten up by the very same economic forces. People still live downtown in large numbers, walk the sidewalks, expect garbage to be picked up and fires put out. It's here that America and Canada are at their most similar, economically and socially, but also where the profound difference of the Canadian models of health care, land use, transportation planning, and general social and economic security are most starkly seen, though there are those warning Canadian cities could fall into the same trap as Detroit.
Windsor has watched Detroit's troubles for the last 50 years from relatively stable ground, and its residents have gotten to know a Detroit that continues on in spite of the abandoned skyscrapers, decaying churches, bombed out homes, and other images of what Detroiters call "Ruin Porn" that have flooded another media cycle after this bankruptcy declaration
Detroit has to change, and it will. Those who say let it go, let Detroit fall because it's too far gone, have not seen what people from Windsor have seen for decades: A great American city that still has life and will figure itself out. It's why I always get goose bumps when I watch that Eminem/Chrysler "Imported from Detroit" Super Bowl commercial and think of the human spirit it shows: Resiliency in the face of another round of economic devastation they did not bring upon themselves, a continued love of the city despite the bruises and open wounds, of never being ashamed to be from a place that makes its people incredibly strong.