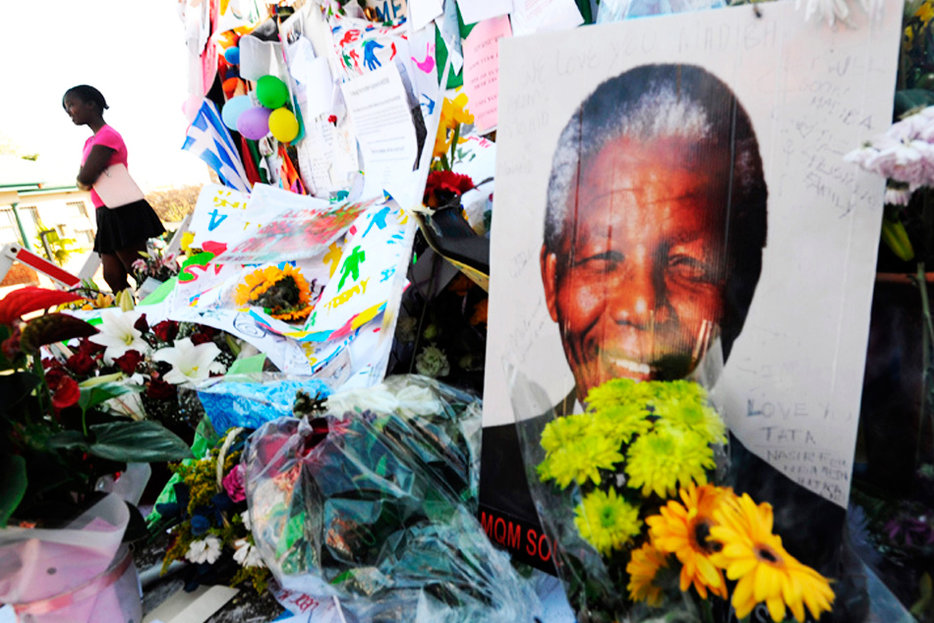 Editor's note: Nelson Mandela died yesterday in Johannesburg at the age of 95. As the first president of a democratic South Africa, he led a peaceful transition away from Apartheid—at a time when many predicted protracted fighting and no small amount of bloodshed—calling for forgiveness rather than retribution. Despite leaving office in 1999, Mandela's presence alone has often been credited with bringing balance to South Africa, leaving some to wonder what effect his death will have on the nation's politics. Earlier this year, Bert Archer spent several weeks in the country when reports of Mandela's poor health began to circulate, and wrote on that very subject. Here's his look at what South Africa might expect after Mandela. 
I've spent the last two weeks less then a kilometre west of the house where Gandhi developed his theories of non-violence. I've also been about the same distance east of the house where Nelson Mandela lived before he recently entered the hospital, where he has remained in critical condition. It's an almost exclusively Jewish part of town, and has been since Gandhi was here. Last night, I stayed in the Mandela Rhodes Hotel in Cape Town—a hopeful name for a sprawling business hotel, emcompassing both a root cause of and the embodiment of the solution to all of South Africa's ills. The Apartheid hangover is evident everywhere white and black people interact in even the smallest ways. This is a complicated place, and it's about to get more so.
Mandela is a nearly unique figure in modern history—equaled only, arguably, by Gandhi, who was born and died in India, but spent his formative years in South Africa, and was activated here by the peculiarly distilled form of injustice he found. Gandhi had a high-born, self-confident sense of outrage, cultivated by circumstances peculiar to this nation, behind the rest of the Western world in matters of race even in 1893. He thought he understood the world he lived in, and that it was a world that could create a man like him: Indian, educated, respected along European lines for European-style accomplishments. It lulled the successful young lawyer into a sense of having arrived, of having won the game on the terms set by the people who made the rules. Then he was thrown on his ass, an indignity that set him on a path towards becoming the only secular saint to win actual political freedom for his people based almost entirely on a moral imperative.
Mandela is, of course, unlike Gandhi in many ways. He started the African National Congress's military wing, for one, and set it on a decades-long campaign of explosive sabotage that led to many deaths. (It's the reason Amnesty International never lifted a finger to help him during his three decades in prison.) But they're similar in a way that counts a good deal more. High-born himself, part of the Thembu royal family from the Transkei, Mandela developed a sense of purpose, a strength of character, and a knack for leadership early on. He slowly moved through the ranks of the ANC, becoming its centre even while in prison, when the title of ANC head officially belonged to Oliver Tambo, in exile as long as Mandela was imprisoned.
Perhaps most importantly, however, he developed a serene sort of confidence that he was right, that his enemies were wrong, and the world would eventually come to see things the way he did. (Sound familiar?) It was this serenity that let him see those enemies without the hatred and contempt the rest of the ANC (and the nation's black citizens) justifiably did. When the time came, he was the one the whites thought they could talk to, the one who was able to make the sort of compromises that are the lifeblood of politics, the one who was finally able to get the job done.
It's this vanishingly rare combination of qualities and opportunities that led South Africa to revere Mandela as much as it does. He's on every note of their currency. There are pre-mortem memorials to him everywhere: The nation is covered in surfaces bearing his name, from a square to a bridge to an entire conurbation. The ANC, which has governed South Africa in a virtual one-party system since South Africa became democratic in 1994, derives much, and possibly most, of its power from being the party of Mandela. He returns the favour: In his autobiography, he wrote that he would live as a member of the ANC and would die as one, too.
The second part of this equation is now upon him. South Africa and India are, of course, very different nations, and they're losing their moral compasses in very different eras. But there are enough similarities to consider that an analogous tumult could follow his demise.
Like India, South Africa is a synthetic nation, a raft of tribes and their territories yoked by colonial violence into an uncomfortable union, 11 official languages with no clear majority in a nation of 50 million. While that colonial party was in power, these disparate people were forced to behave as if they were one. When democracy arrived, they were united under the hero that was Mandela, more myth than fact by the time he got out of prison. Most people who voted for him had heard of him but never actually heard him: Both his image and words had been banned for nearly 30 years. By the time he was released in 1990, however, the entire Western world was singing "Free Nelson Mandela"; he joked he'd heard that in the UK, teenagers at Mandela rallies thought his first name was Free.
He briefly lived up to the hype: giving good speeches, playing the savvy negotiator, and personally ushering in the freedoms he'd spent his life fighting for. But by the time this apotheosis occurred, he was in his 70s, having served only one term. He's been followed by men of a different generation, men to whom, unlike Mandela—whose marriage to Winnie ended amid ultimately successful charges of kidnapping and murder against her—scandal sticks. But hey, Thabo Mbeki's father was in prison with Mandela. And Jacob Zuma? Well, the party of Mandela itself chose him, so how bad could he be? They've both been able to wrap themselves in Mandela's legacy when necessary. So what happens when Mandela fades back into myth, when he's no longer here to receive visits and give tacit blessings to leaders when their popularity teeters?
Two new political parties formed recently, one of them, Agang (pronounced Ahang), founded by someone else with the whiff of legend about her: the widow of anti-Apartheid activist Steven Biko, who was martyred in the '70s. Then there's the slightly older party, the DA, with its mostly white membership, but which just got its first black leader—another potentially powerful force in a country whose economic heft is still mostly wielded by whites.
Race hatred remains evident everywhere. The black and coloured (the still-used South African term for anyone who's neither white nor black) people with whom I spoke welcomed what they saw as the impending death of the Afrikaans language (despite its many non-white speakers). Whenever I would bait someone—again, black or coloured—with some anecdote regarding the almost universally peremptory nature of Afrikaners' dealings with non-whites, their tone would become acid. For their part, whites—Afrikaner and otherwise—would regularly tell me that their maid, or their gardener, or their waitress, had told them that things had been better under Apartheid.
This is a nation united not under one party, or one idea of itself, but under a man—a 94-year-old man in critical condition in a hospital bed in Pretoria.
Sure, it's unlikely we'll see the millions of deaths that clouded the last year of Gandhi's life, as Pakistan separated from India and Hindus slaughtered Muslims and vice versa. But could the Zulus, who worked with the Apartheid National Party in that regime's dying decades, acting as killing squads sent out to eliminate obstreperous ANCers, decide they want a bigger piece of the pie than they've got? Could one of their leaders turn into South Africa's Muhammad Ali Jinnah?
Mandela and his colleagues in what's still known as The Struggle worked hard to convince members of the various tribal factions not to fall for the Apartheid regime's attempts to divide and conquer. They were even mostly successful in getting them to turn down offers of forms of autonomy in favour of a united resistance under the ANC. But as the ANC drifts towards being just another political party, tribal and regional autonomy may start to sound good again.
Ironically, the country's recent ugly troubles with xenophobia could keep such movements from becoming a reality. Black South Africans, it seems, are not fond of some of their neighbours, and since 2008 have taken to attacking and killing some of the Zimbabweans and Congolese who have come to South Africa as refugees in search of a piece of its relatively bigger economic action. It speaks to there being a sense of South Africanness, but also suggests the place remains a tinderbox of violence, tainted by the racial hatred instilled in it by one of the world's most hateful political systems, which ended only 19 years ago. Almost everywhere remains scrupulously segregated. There are restaurants where whites go, and restaurants where blacks go—ditto bars, parks, and suburbs. Post-Apartheid, the walls around the houses in the white parts of town have grown higher, crowned with electrified fencing and razor wires. Every one of them has a sign advertising which private security company they've signed up with, each one of them offering immediate armed response. The streets are regularly patrolled by black SUVs with Tactical Response Unit painted in urgent yellow across their sides.
Of course, maybe South Africa's sense of its own history is greater than its sense of revenge, vindictiveness and tribal entitlement. Maybe Mandela's rubbed off on enough people that everything will be just fine. Maybe the Zulus and the Xhosas and the Jews and the Afrikaners will continue on their slow, peaceward trajectory. Maybe the grand experiment in truth and reconciliation will work. Maybe South Africa will be a multicultural beacon to the rest of the continent. Or maybe it will split into the equivalent of India, Pakistan and Bangladesh, a region in perpetual danger of collapse and war, but without the density of population to keep its head mostly above the economic waves.
I had two brief conversations in my final hours in South Africa, both in Cape Town. The first was with a man I met in St George's Cathedral, Archbishop Emeritus Tutu's old church. A friendly middle-aged white guy who looked like he hadn't shaved that morning (and possibly the one before), he said he stops in all the time for a little peace and, these days, to pray for Mandela. He was a high school teacher, he said. He told me about one grade 12 student he had recently, a Xhosa—Mandela's language group—who said to him one day, "You know, teacher, I respect you during the week, because you're my teacher, but on the weekends, I might kill you."
On my way to the airport later that afternoon, the car I was in passed by a road named for Jan Smuts, the man who put Gandhi in prison. I asked my driver, Galid, what he thought about that, and all the statues of triumphal white men that still stand so egregiously in front of places like Pretoria city hall and the big art gallery in Cape Town.
"I don't mind it," he said. I'd been hoping for a little vinegar, but OK. Then he started waxing Mandelian.
"I don't think we should hate anyone," he said. "They're part of our history. It's where we come from, and where we don't want to go again."
Photo credit: GovernmentZA via Flickr