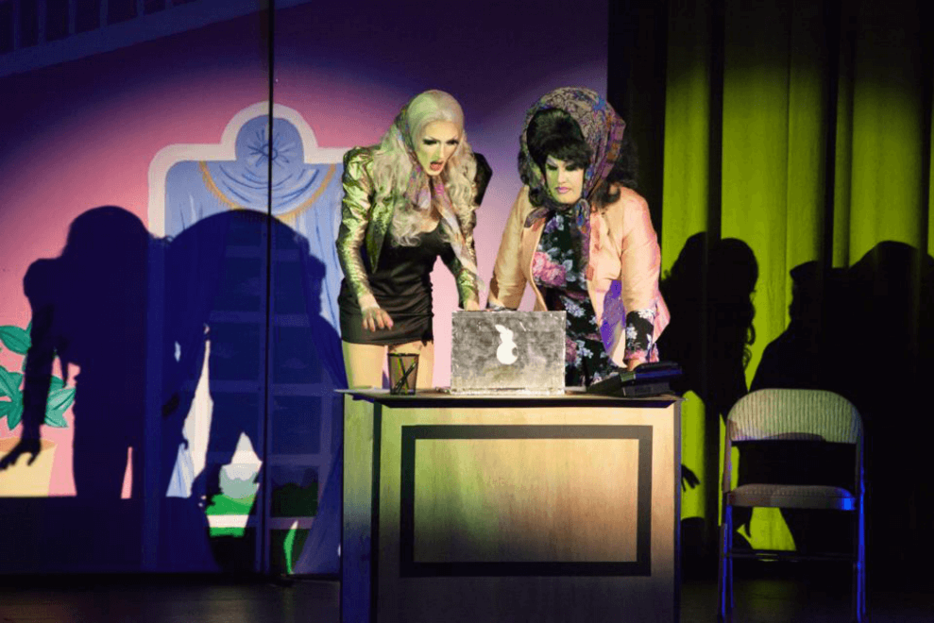 Photograph via Joshua Grannell
In fall of 2014, Heklina, a drag performer and owner of the San Francisco club Oasis, visited Facebook's headquarters in Menlo Park, California. Joined by local queens and politicians, Heklina sought to challenge the social-media giant's "real-name" policy, which determined account authenticity based on the use of legal, rather than chosen, names.
"One of the head cheeses of Facebook was on a video screen talking to us, and we had a tour around the campus," Heklina says. "There was lots of talk about, 'We're going to change this,' and then it didn't change." Soon after, she and the other queens found themselves lobbying against the policy at San Francisco City Hall. Facebook finally relented, issuing an apology to the frustrated LGBTQ community.
This battle over recognition was hardly an isolated incident. Rather, it's an emblem of the complex dynamic between the historic San Francisco drag scene and the behemoth tech industry that's gripped the city's socioeconomic landscape.
*
In the early to mid-nineties, San Francisco was the centerpiece of the alternative Zeitgeist. Armistead Maupin's novel series Tales of the City—fueled by tropes of pot, sexual fluidity, and faded hippyism—had been adapted into a television miniseries in the UK and US. The Real World: San Francisco, the third series of MTV's reality-show franchise, presented the first televised same-sex wedding (between cast member Pedro Zamora and his partner, Sean Sasser), while chronicling Zamora's battle with AIDS. Beloved for its identity as a queer- and sex-positive artistic breeding ground a generation before, the birthplace of performance-art collectives such as the Cockettes and the Sisters of Perpetual Indulgence was in the midst of a pop-cultural renaissance.
"When I was growing up, I wanted to know about gay culture," says Heklina. "I read Tales of the City and all that stuff. I was very aware of the huge gay history of [San Francisco]. That's why I moved here." Originally from Minneapolis, Heklina found an apartment in San Francisco's Tenderloin district in 1991 for $500 a month. Drag started as a hobby, and she worked side jobs to fund her performances. A few years later, Joshua Grannell, then a recent Penn State graduate, moved to the city at the urging of John Waters, whom Grannell had met while hosting a film event.
"I had no money, a one-way plane ticket, no job, no place to live," says Grannell. Shortly after, he began to perform as Peaches Christ in Heklina's inchoate weekly drag show Trannyshack (which, with the more trans-sensitive moniker Mother, has persisted into the present day). Risk-taking was orthodoxy for Trannyshack in its mid-nineties infancy; then, San Francisco drag was a fringe phenomenon. In one show, the performer RunRig suffered third-degree burns after cooking Jiffy-Pop on a hotplate affixed to his head; in another, Metal Patricia channelled the Reverend Jim Jones, re-enacting the 1978 Jonestown Massacre with a mass-suicide simulation at gunpoint on stage.
By the mid-to-late aughts, however, such stunts would become nearly foreign. A wave of burgeoning tech behemoths washed over the city, the likes of Facebook, Twitter, Airbnb, and Uber at its crest. In the wake of this pall of technocratic nouveau-riche prestige, the city's rents began an unprecedented climb. Soon, the modest but sustainable life to which Heklina, Peaches Christ, and their contemporaries had grown accustomed would become nearly obsolete.
*
Throughout 2015 and 2016, media outlets have ranked San Francisco the city with the highest rent in the nation—a title owed primarily to the influx of the aforementioned multi-billion-dollar tech darlings and the venture-capital firms and enterprising engineers seeking to birth the next unicorn.
In the wake of these conditions, the drag community has been unsurprisingly vulnerable to displacement. "I've lost a lot of people to Los Angeles. I've even lost friends to Sacramento. One had to move back to Chicago to live with his parents. A lot of friends lost their living situation and couldn't find anywhere. One of them answered a Craigslist ad, and the room was actually a kitchen pantry," Heklina says. "A lot of it is about the white-blending of San Francisco. A lot of people of color have had to move away."
"Most of us that have remained—not just drag queens, but I'd say any bohemian creative type—probably have a rent-controlled apartment, because otherwise it's just unsustainable. Thank God for rent control. Thank God those supervisors had the vision to realize that this was something that could happen," Grannell says.
Despite the tenuous housing situation, the precedents performers like Heklina and Peaches Christ have set have encouraged a new generation of queens to move in or near the city. At clubs such as Oasis and The Edge and historic theaters such as The Castro and The Victoria, younger performers foster their nascent careers—but not without the fortunes of a steady living arrangement and income. A considerable portion are Bay-Area or Pacific Northwest natives.
Lavale-William Davis, who moonlights as Coco Buttah, hails from the small Bay-Area town of Pittsburg and now lives with roommates in the neighboring city of Oakland (whose rents have also soared with the migration of priced-out San Francisco denizens). To fund his three-year-old drag career, Davis works full-time in a medical office and forgoes the expense of a car in favor of public transit.
Laundra Tyme and Scarlet Letters, two queens in their mid-twenties, began performing around the same time as Davis. Originally from the Bay-Area city of San Mateo, Tyme owns a wig business and evaluates companies annually for Fortune, while Letters, from Portland, works as a server and coat checker at Oasis. Tyme and Letters live with fellow queens in a rent-controlled apartment in the Sunset district. "I happen to have been struck by lightning," Tyme says of securing the place. "If we got a notice from our landlord saying, 'You have to move out in a month,' there would be zero chance of staying in the city."
"Most of our friends leave the city because they can't afford it. Every month, so-and-so moves away," Letters, who's from Portland, adds. "This is a conversation Laundra and I sat down to have. Do we stay here for the next five years and watch the city gentrify to the point where all of our friends move away? We agreed we'll do the long-haul thing."
Adam Lash, who's been performing as Terri Twatwaffle for a year and a half, has lived in San Francisco for four years. Lash, who started performing "later in life," has an advantage few nascent queens enjoy: he owned a real-estate information company in Oregon prior to his move (which he now operates on a part-time basis), providing him with the funds to live and work in San Francisco.
"Performing absolutely does not pay the bills. Most of us make enough money to pay for our eyelashes, and that's about it," Lash says. "Some of us are riding the Muni trains in drag from one venue to the next."
*
San Francisco drag is venerated for its transgressive history. At one time, it was a realm in which performers ate worms, vomited fake blood, wore dresses made of seaweed and dead fish, and set Christmas trees ablaze. Now, as RuPaul's Drag Race sparks interest among the uninitiated and the city ushers Twitter employees into the seats, many performers enjoy the surge in popularity but bemoan that audiences have grown more tepid and less aware of the city's storied social fabric. Queens have no choice but to compromise.
"There are a lot of different drag scenes depending on what neighborhood you're in. [Scarlet and I] try to do all of them—between the SoMa's art drag versus the Castro's glamour drag versus a corporate event," Tyme says. "In the divey leather bars in SoMa, they let us do whatever we want onstage and we won't get pulled off or arrested. If I tried to do the same thing in the Castro, they would pull me offstage and kick me out of the bar."
To accommodate greener audiences, performers also neuter their pre-existing repertoires. "I take things that are popular and put the irreverent, outrageous spin on them. It's kind of like luring a child in with a piece of candy or something," Grannell says. "We're going to put on a drag tribute to the Spice Girls, but this isn't the drag tribute where a man dresses up as Liza Minnelli and does a flawless cabaret number. This is going to be the Peaches Christ treatment, where Baby Spice wears a diaper and shits in her pants."
Despite the pressure to self-censor, performers are still willing to protest the cultural shifts and economic disparity around them. Queens hold onstage funerals for the old San Francisco or destroy cities made of cardboard, lampooning tech-propelled gentrification. Tyme and Letters play Summer-of-Love-era folk singers, representing a previous incarnation of the city while suggesting a pall of disillusionment with an inexorable 2010s economy. The queen Persia's songs "Google Google Apps Apps" and "Stop Being Poor" satirize the local powers that disenfranchise and drive out queer people of color, echoing chants like "I just want to be white!" and "My wealth is stupendous. You starve? What a bore." Evoking the anti-industrial critiques of the British Arts and Crafts Movement, Lash laments the dreariness of the monolithic gray office buildings and work-centric culture that have come to define the New San Francisco. "Who's going to entertain me when I'm old? What's San Francisco going to be like in ten, twenty years?" asks Grannell. "I worry about it, but amazingly enough, where there's a will, there's a way."
"I see these people in these compartmentalized lives. [One of my goals] is to break them out of that just a little bit. Break out of that and be yourself for a second because what you're doing in your job—being a robotic, monochromatic zombie—is you're killing yourself," says Lash. "Honestly, I feel bad for them. It's such a bland and sad existence. I'm around them all the time."
Perhaps Lash's sentiment is best expressed in a scene from one of Terri's Oasis performances. Equipped with a computer and keyboard while donning a blouse, pencil skirt, and pearl necklace reminiscent of a '60s secretary, Terri channels a local white-collar employee. She examines her rapidly mounting email inbox, Bjork's robotic "Pluto" swelling in the background. As the tally reaches hyperbolic heights, Terri takes a hammer to her keyboard in a fit of rage. She wraps a coil of entwined computer cords around her neck, displaying a sign reading "8 BILLION New Messages." Seconds after pulling the cords from above, she bows her head, standing inert as the song reaches its decayed conclusion.