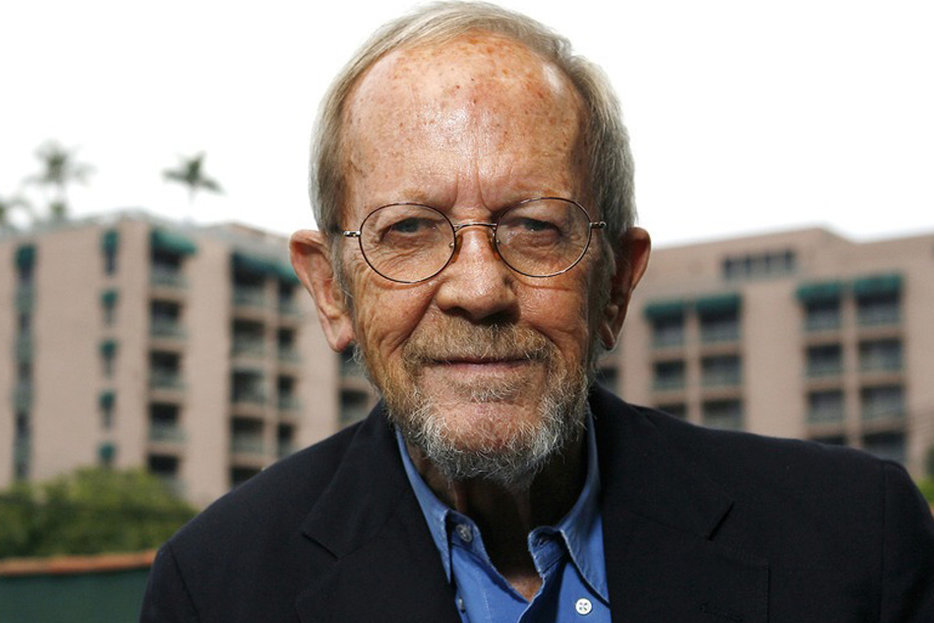 About four years ago, Elmore "Dutch" Leonard was on Charlie Rose's talk show, and mentioned that The New York Times wanted to send him a novel to review for their book section.
"How long is it?" Leonard says he asked. He was told the book was in the neighborhood of 500 pages, and Leonard told them to forget it. He didn't read anything more than 300.
(He must have made an exception when he read The Girl with the Dragon Tattoo, but then again, he reportedly didn't get more than a hundred pages in. He got tired of waiting for something to happen.)
The judgments Leonard made about other novels reflected the standards he set for himself. He wrote tight, entertaining, not overly long crime novels where you could always count on things to happen.
My introduction to Elmore Leonard, who died this week at the age of 87, was the novel 52 Pickup. It was 1982 and I was working the graveyard shift on the city desk at the Toronto Star. Justin, the copy boy, lent it to me. "You'll like this," he said. He was right. On a slow night, it could be a struggle to stay awake on that shift, but not while reading a Leonard novel. I found, and devoured, as many of his books I could find that had been published up to that time. Unknown Man No. 89, The Switch, City Primeval, Swag, Mr. Majestyk.
But some of the Leonard's best books were yet to be written. Still to come were Get Shorty, Maximum Bob, Riding the Rap, Killshot, The Hot Kid.
Elmore Leonard was, quite simply, one of the giants of crime fiction. His legacy is as great as Cain or Chandler or Hammett or Macdonald. But he didn't write like any of them. He wasn't striving for the perfect metaphor. He never tried to dazzle with clever writing. He didn't contrive complicated plots. I'd be surprised if he did much plotting at all. What he did do, in book after book, was throw a bunch of interesting characters together and waited to see what would happen. Sometimes he was as surprised as his readers. More than once, he said, some minor character would steal the spotlight and take over.
Leonard was not a comic thriller writer in the way Donald Westlake was in his Dortmunder novels, but damn, he was funny. One of my favourite lines from any Leonard book comes from his last, Raylan. A thug wants a piece of Raylan Givens, but our marshal has other matters to deal with first. He tells the bad guy, "You practise falling down till I get back."
If there's a more droll way to tell someone you're going to kick their ass, I don't know what it is.
No one—and I mean no one—wrote better dialogue than Leonard. He had an ear for the way people talked. It's little wonder so many of his novels were turned into movies. The script was essentially there. Some of those films were particularly memorable. Get Shorty, Out of Sight, and Quentin Tarantino's Jackie Brown, which was based on Leonard's Rum Punch.
Why are his books such a pleasure to read? Consider his now famous 10 Rules of Writing. Among them: don't start with weather, avoid adverbs, use exclamation marks sparingly, don't use any word other than "said" when somebody says something.
He summed up his rules with this: "If it sounds like writing, I rewrite it."
That's the key. Elmore Leonard's spare writing, his economical use of language, was his genius. Less is more.
Consider the following paragraph, in its entirety, from Riding the Rap: "Raylan got ready."
It's my all-time favourite Elmore Leonard sentence. It follows a long stretch of dialogue from a prisoner, Dale Crowe Junior, who Raylan is transporting to another facility. Crowe is rambling on about how he could end up doing five years for nothing more than a busted taillight.
And then comes that three-word paragraph.
Here's what it tells you. It tells you Crowe's jabbering is intended as a distraction. It tells you he's getting ready to get the jump on Raylan. It tells you Raylan is on to him. It tells you Raylan's waiting for Crowe to make his move, and when he does, he's going to be sorry.
All that, in three words.
Brilliant.
I'm going to miss Elmore Leonard.