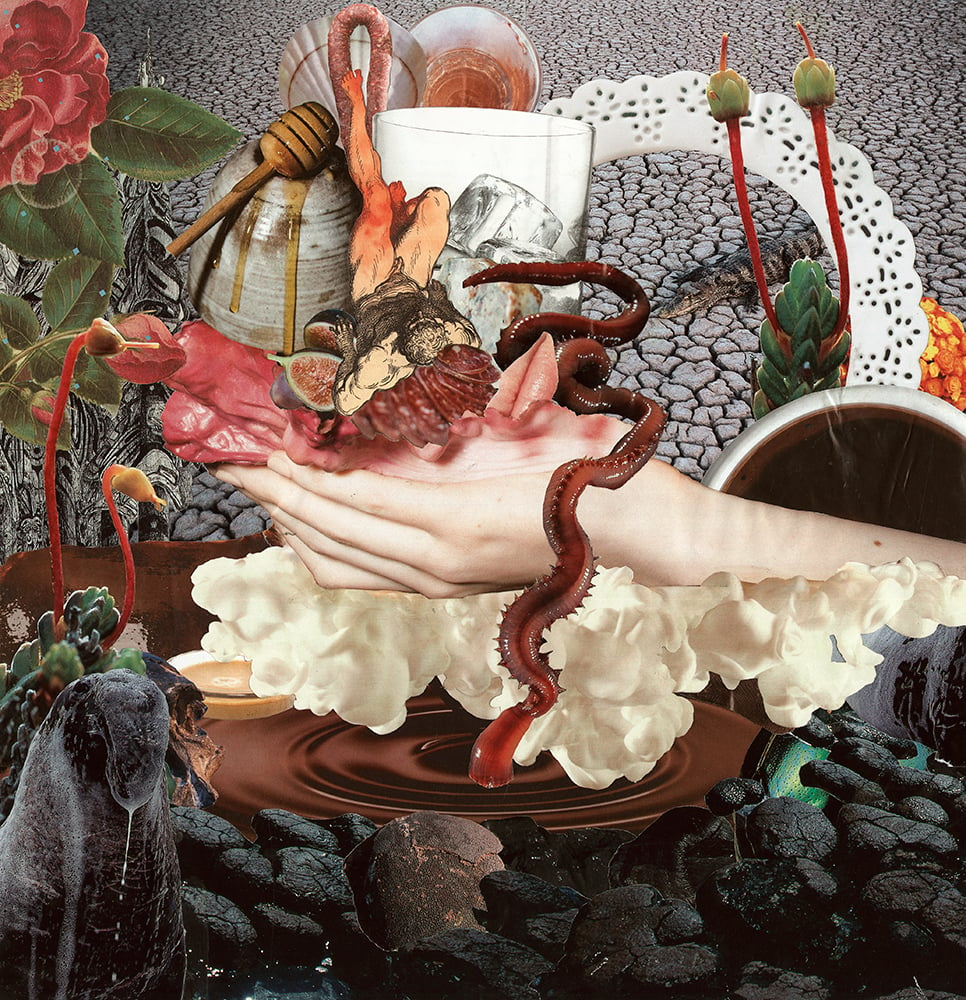 Mouthful is a monthly column about the author's relationship with food, ten years into recovery from anorexia and bulimia.
My husband and I broke up five days into the New Year. Until then, he did most of the cooking in our home. His family is Italian. His red sauce is his mother's, vegetables are an afterthought, and measuring isn't necessary; he cooks by feel. One of his favorite things to do is watch Gordon Ramsay videos on YouTube and try out the modified recipes. This is how he learned some of his best dishes: pork belly; mulled wine; gnocchi with lavender, bacon, and thyme cream sauce. His favorite seasonings are smoked paprika, star anise, and garlic, though he stopped using garlic when I discovered that I have a sensitivity to it. He has happily accommodated many changes in my diet over the five years we've been married. Everything he cooks is delicious. He even did the dishes.
Our relationship revolved around food. At first, beverages. When we began dating, I was living with a long-term boyfriend, and would meet up with my future husband in bars where we could be unnoticed. I was going through a phase of ordering wine, coffee, and water together, something he found adorable (I was working full-time and in grad school). Once established in our relationship, it became tradition to point out these bars when we passed them and say, "Look, that's where we fell in love." We fell in love all over New York City.
The first time we had sex, I invited him over to the apartment I shared with my boyfriend to work on a project we were writing together. It was morning, and I attempted to make him eggs-in-a-basket and home fries, but somehow burned the home fries and undercooked them also; he fixed them.
A little while later, after the sex, I made him a ploughman's lunch, or something like it. It was the first time he'd heard of such a thing. "It's a cold meal," I explained, pointing out the slices of apple, cheese, and meat arrayed on the plate. "It doesn't require any cooking." We laughed.
The day we eloped in Los Angeles, just six months after our romance began, and three months since I'd left my boyfriend, we hiked to the top of Barnsdall Art Park to picnic on the grass. We ate figs and drank wine, and looked out over the golden skyline. For years, this memory was my picture of happiness. Now it's bittersweet.
*
Food isn't the only area in which our tastes align. We agree on music, art, movies, decorating, fashion, and pastimes. Our senses of humor compliment each other perfectly. We sing together. We have great sex. We're the best dance partners. We've lived in the same apartment for five years and have frequented the same handful of neighborhood coffee shops. The main thoroughfare is lined with Indian and Pakistani takeout restaurants. When we first moved in, we familiarized ourselves with these places and picked our favorites. We learned which ones stayed open past midnight, which had the better coffee, which let you sit there for hours on your computer ordering only one cup.
Toward the end of our relationship, we fought often and I'd have to leave our apartment to take refuge in these places. Our fights were loud; we slammed doors, broke furniture, said things we didn't mean. We screamed at each other. We called each other names. It doesn't matter what we fought about. We fought about nothing.
If we fought during the day, I walked to the coffee shop. There are a handful of coffee shops in my neighborhood, but only one became "the" coffee shop. It's the nearest to our apartment and it also serves food. Sometimes I'd order breakfast or lunch. I'd sit there and cry and wonder what to do; text my husband everything I couldn't say while we were screaming; find no relief or resolve in this activity; finish eating; walk home; find him once again calm. We'd go about the day as if everything were fine.
If we fought at night, I'd walk across the street to the nearest Pakistani takeout restaurant. I'd sit in the grey fluorescent light and watch foreign news and wait for the same man to bring me tea, wondering if he wondered why he saw me there so often late at night by myself.
*
My husband moved out so I'm keeping our apartment. Some key items from our kitchen, like the single-serving espresso machine, have disappeared. Others have stayed that I didn't expect, like the coffee grinder. Like the single-serving French press, which I hadn't used in years before I found it in the back of the cabinet above the stove, standing on a chair to clean it out. Now I use the French press three or four times a day. The breakup has set me back weeks in my work, so a few times recently I've skipped a night of sleeping to stay up and write. Once I choose to stay awake, it's easy not to sleep. Without someone else's circadian rhythms to consider, I simply never go to bed. I like the traffic sounds between midnight and three a.m. I like the early morning sounds of my apartment building, people showering and leaving for work. I like the ritual of cleaning the French press, grinding the coffee, pouring the boiling water.
Last week I went grocery shopping for myself only. I was stunned by how difficult this was at first. He's allergic to many foods, so I would always take that into consideration in the produce aisle. I know his tastes. I know what he's able to cook—he would be the one cooking. Sometimes I'd get him a treat, like lemon wafer cookies, because I know he likes them. Sometimes I wouldn't shop for groceries at all because he would do it for us. Or we'd go together. We rarely made shopping lists. This often led us to bicker about what we should buy or not; he hated overspending by even a few cents, while I shopped with my gut. I had walked into the supermarket this time without a plan. Without informing anyone. Without taking anyone else's needs or desires into consideration. I didn't think about it at all. I just noticed one day that my kitchen was empty.
When I first got out of eating disorder rehab in 2007, I followed a meal plan. At the start of each week, I designed four meals per day, 2,000 calories total. I ate on a schedule of every four and a half to five hours, with prescheduled snacks in-between. I worked with a nutritionist at first to include every food group in appropriate servings. This ensured that, even when I didn't feel like eating, I could hold myself to doing it. This ensured that I was never at a loss for what to eat when it came time to do so. It taught me how to make meals, not just eat out of boxes. How I should feel when I'm eating well. How to manage hunger when it arises, or wait out the feeling of being full. How to practice being responsible for my health. How to be independent.
I'm not following a meal plan, but I thought about this as I was wandered between the produce displays wondering what to do. I had gone to the slightly fancier food co-op instead of the less expensive chain supermarket near our apartment, where I would have gone if I were shopping for two. I haven't cooked in a few years, save for a handful of occasions. I only know a few recipes by heart, simple things like stir fry and quiche. I'm not particularly interested in learning how to cook more complex meals at the moment; I don't really have the time. Minimal ingredients and commitment are what I'm looking for in groceries. Little preparation. A range of nutrients. Fresh. Filling.
I walked home with sandwich ingredients, a bag of kiwis, granola, milk, cheese, and arugula. I splurged on a box of date and coconut bonbons. At the deli, I'd ordered a pound of sliced muenster cheese and another of ham, and only later realized that I should have ordered half as much. At present, a half-pound of each remains in my refrigerator, likely rotting inside their paper wrappers after being there for so long, but I haven't gone as far as to throw them away, yet—to dispose of the thing they symbolize. I'd rather not touch them. Maybe now that I've said so I can do it, though. Who knows. Today I took off my wedding ring.
*
Improvement doesn't have to imply a deficiency. Or at least, not a personal deficiency. Toward the end of our relationship, I began to see the areas where my husband and I would never unify. In our responses to stress and conflict. In our attitudes toward work and money. In our sleeping schedules. We're essentially different people, neither more flawed than the other, but neither are we fundamentally able to change ourselves. Not on the timeline we needed. Our shared life had become uninhabitable. Our paths seemed naturally to be diverging—his leading to Los Angeles. Though we love each other, our cohabitation had become an obstacle to our love. Though we believe in each other, and support each other's dreams, by the fact of intertwining our lives, we weren't free to pursue all of our individual interests. To grow the way that we needed to grow. We compromised. At times that bred resentment. Resentment is poison to love.
Tomorrow we're having dinner at our favorite restaurant, to share a meal before he moves across the country. We used to go to this restaurant once a week even when we couldn't afford it. We did this for so long that we learned the names of most of the wait-staff. At some point, though, we decided to stop going. I remember it being a conscious decision "for now," to save money, but the now never came to an end. We never discussed it. We haven't been there in a year now, maybe longer. Likely all of the old wait-staff is gone. We'll sit at the bar and order absinthe and oysters, some east coast, some west. Winter is the best season for oysters. They spawn in the summertime, so their bodies get soft and rank. They lose their flavor. In winter, they're sweet and vegetal like the sea. Plumper. Firmer. We eat them without dressing. They're perfect the way they are.
Collage by Sarah Gerard.