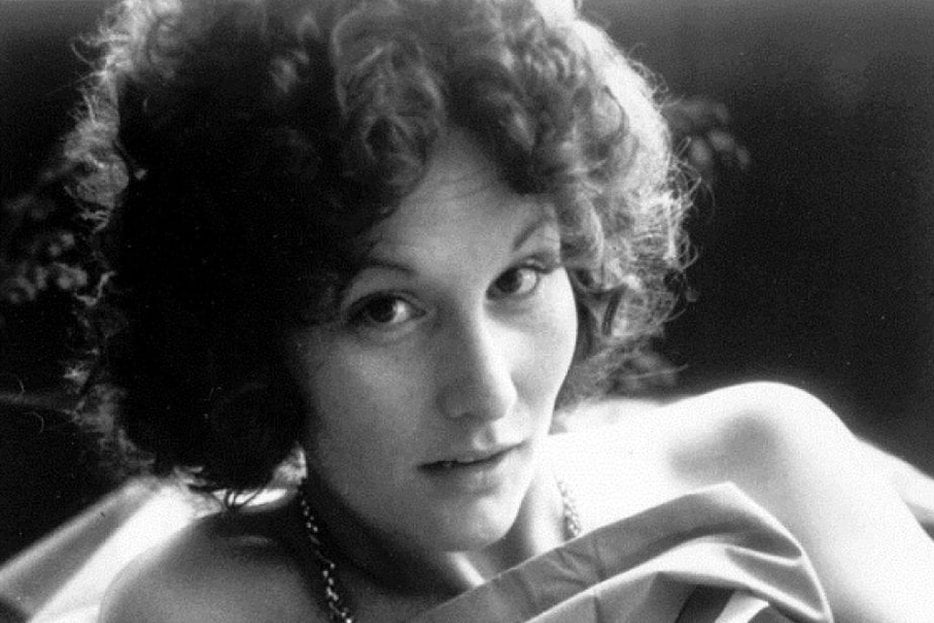 More than any porn star of equivalent fame, Linda Lovelace is an empty vessel. She is a face, a body, and a party trick. Even when she closes her eyes, grins, and mouths "I love it" after taking Harry Reems in Deep Throat, there is something about her that is glassy and hollow. You can project whatever you want onto her.
Linda Lovelace was originally Linda Boreman, and Inside Linda Lovelace, the first of four memoirs with her byline, bears the ominous dedication "to Chuck Traynor—the creator." By all accounts, it was this man, her husband, who turned a quiet Catholic girl into an icon of the sexual revolution. In Ordeal, her most famous book, she would accuse him of slavery, domestic violence, forced prostitution, and a nonstop stream of sexual humiliations. Deep Throat made her the most famous female porn star of all time, but to the Meese Commission, the Reagan administration's investigation into pornography, she famously stated: "When you see the movie Deep Throat, you are watching me being raped."
Lovelace appeared in only one hardcore feature, two softcore comedies, and a handful of loops before leaving the sex industry, but that was enough to merit a series of memoirs that are radically contradictory. Two of her autobiographies are enthusiastically pro-porn, and two against, with the harrowing Ordeal now a touchstone of anti-porn feminist literature. They depict the author variously as a sexual free spirit, leader of the new morality, dehumanized slave, and born-again feminist. All were written with the help of ghostwriters, some more than others. All claim to be the work of a self-possessed woman, swearing to reveal the unvarnished truth.
Lovelace, a new biopic starring Amanda Seyfried, offers both a nostalgic ode to the era of "porno chic" and a feel-good story of a woman reclaiming her agency. The real Lovelace's memoirs show that neither narrative fits.
*
Before Linda Lovelace, there was no such thing as a "porn star." Sure, there were stag films, black-and-white reels shown at bachelor parties and fraternities. There were "marriage manuals" sold under the counter, and "documentaries" about sexual freedom in the Netherlands. In 1970, Mona the Virgin Nymph became the first narrative feature with unsimulated sex, and certain bodies (Rene Bond, John "The Wadd" Holmes) were familiar to those who watched the peep shows on 42nd street.
Gerard Damiano, a hairdresser turned pornographer, was shooting pornographic inserts for a "documentary" about the sexual revolution in 1971 when he met Chuck Traynor and Linda Lovelace at a party. At Traynor's behest, she demonstrated her soon-to-be famous sex trick to the guests, and Damiano decided this girl belonged in pictures. Deep Throat, the resulting 61-minute, $22,500 porn feature, premiered at the World Cinema on New York's 49th Street in 1972, and might have disappeared had it not received a rave from Screw magazine. City police had the theatre shut down for obscenity, and a cause célèbre was born: as the film made its way through the legal system, slumming intellectuals like Truman Capote and Pauline Kael went to see what the fuss was about, and by the end of the year it had grossed over $6 million.
In the midst of this notoriety, the film's 23-year-old star began appearing on red carpets and magazine covers, and giving upbeat interviews to the likes of Women's Wear Daily and New York. "I don't have any inhibitions about sex," she claimed to Nora Ephron, who interviewed her for Esquire. When Ephron said she found the film degrading to women, Lovelace replied, "I totally enjoyed myself making the movie and all of a sudden I'm what they call a superstar." Implicit in Ephron's appalled tone is the question: can Linda Lovelace be for real?
Inside Linda Lovelace (1973), the first book to feature her byline, was an attempt to capitalize on her sudden ubiquity. "I live for sex, will never get enough of it, and will continue to try every day to tune my physical mechanism to finer and finer perfection," says the introduction. Equal parts autobiography, erotica, "how-to" sex manual, and pornotopia manifesto, Inside Linda Lovelace is above all an act of brand management, positioning its author as a movie star for the adventurous. "If I put something in writing, it has to be truth, and I mean the full truth," she warns—squares beware!
By the book's elliptical account of her childhood, Lovelace's ("Yes, Linda Lovelace is my real name") strict Catholic upbringing in Hartsford, New York fostered a deep sexual curiosity and precocious love of masturbation. "I spent about fifty percent of my time thinking about sex, and another fifty per cent of my time thinking about religion and the pure life I would lead as a nun." While her father, a New York traffic cop, was kind and understanding, her mother viewed sex outside of reproduction as sinful. Early sexual experiences leave her intrigued but unfulfilled—like her onscreen persona, she knew there had to be more to life than "a lot of little tingles."
"I want to state this as clearly as I can. There was no pleasure. There was no love, no affection, no normal sex with anyone from the day I met Chuck Traynor until the day I finally got away. I did not have a single orgasm for six or seven years."
In Deep Throat, Lovelace pines for a perfect orgasm ("I want to hear bells ringing, dams bursting, rockets exploding"), and finally achieves it when she learns to deep throat. In Inside, a similar miracle occurs when she meets Chuck Traynor, a commercial photographer and bar owner. Chuck is no mere stud—he's a sexual "teacher," capable of turning any girl into a woman. "That fat, rocklike muscle tore into me like a battering ram, and I nearly fainted from the shock," she says of their first sexual encounter, a night she contends was "the best of my entire life."
Linda has found her calling, and with Traynor as her guide, she embarks on a rigorous training regimen: hypnosis to expand her sexual horizons, meditation to enlarge her breasts, exercises to control her orifices, and a year's worth of breathing rituals to master the ancient art of "deep throat." (Like a sexual Marco Polo, Traynor is said to have learned this discipline from the geishas of Japan). Sometime during this education, Traynor becomes involved in pornography; his 8mm loops with Lovelace catch the eye of director Gerard Damiano, and the rest is history.
At the height of its controversy, Deep Throat was occasionally defended against charges of sexism because, hey, it's about the woman's orgasm, right? Inside Linda Lovelace takes a similar approach to female empowerment. "When I ball, it's with friends only. No one chooses me—I choose them." For the most part, though, Linda derives her pleasure from exhibitionism ("I'm a compulsive flasher") and the satisfaction of her sexual partners. "Women's libbers" are a target of jabs, and many passages are designed to pander to her male fan base: "Size, first of all, matters not a bit"; "I take birth control pills, hate rubbers"; "What I lack in total beauty, I make up for in ways men never forget"; and the unforgettable rallying cry, "If American men insist on getting blown, and I'm an American, then it must be important to learn how to do it, and do it well." Linda is nothing if not a crowd-pleaser.
In 1973, a Manhattan judge ruled that Deep Throat was obscene, and the Supreme Court's ruling in the case of Miller v. California strengthened states' ability to regulate pornography. The book makes some half-hearted attempts to position Lovelace as a political force: "If they close down Deep Throat, I have a hunch it will mark the beginning of a new era of American puritanism. Hooray for Nixon, Shirley Temple, and all God-fearing conservatives everywhere." But don't get the wrong idea: Linda knows her place. "I have become one of the supreme cocksuckers of all time," she says, adding, "everyone wants to be the best in some field of endeavor, and since I'm not exactly material for a Nobel Prize in literature or any other kind of brainwork, I do what I can with what I have."
What is most striking about this ostensibly candid tome is its image-consciousness. Lovelace may be a porn star, but she's a star nonetheless, and the book, like any celebrity biography, is concerned primarily with reinforcing her public image. No mention is made of the child she put up for adoption at age 19, or of the early car accident that left her with a prominent scar down her stomach (strategically hidden throughout Deep Throat). And for all her lip service to sexual freedom, this Linda is not too kinky. Twice she denies the existence of two short films from 1971 in which she is said to have engaged in bestiality, attributing the rumours to a smear campaign by Screw publisher Al Goldstein. The rumours would not disappear so easily.
*
Inside Linda Lovelace concludes with a promise: "I'll be making sex films as long as people will watch them." She would never appear in a hardcore film again. The inevitable Deep Throat Part II (1974) was unwisely released softcore (explicit scenes were filmed, but apparently lost or stolen), and after divorcing Traynor in 1974, she turned down all porn offers. A raunchy comedy, Linda Lovelace for President, was released in 1975 to overwhelming apathy—audiences didn't want a Linda Lovelace who didn't put out. In 1976, she accepted an offerto star in Laure, an Italian softcore film, but once she arrived on set, she would not consent to a nude scene. That was that.
By 1980, life was different. Retired from the entertainment industry, she struggled to raise an infant son in Long Island with her husband, Larry Marchiano, a former cable installer trying to get a drywall business off the ground with limited success. They survived on welfare, and by her account could barely afford a bottle of wine and a full tank of gas.
Haunted by her reputation and in need of money, Lovelace contacted Mike McGrady, a journalist and the mastermind behind the Naked Came the Stranger hoax. (Attempting to spoof Jacqueline Susanne-type novels, he recruited like-minded writers to collaborate on a book so trashy it could only become a bestseller; they were proven right). McGrady and Lovelace wrote Ordeal (1980), which, far from a porno memoir, is a brutal account of a toxic relationship. If Inside Linda Lovelace is one extreme of her public persona, Ordeal is the other.
Yes, there was a bestiality film in 1971—she admits it in the most harrowing chapter of Ordeal. But she was forced into it, she says, under the threat of murder, both by Traynor and Bob Wolf, a prolific underground pornographer.
The details of her childhood are similar to those in the first book, but without the erotic charge: in Inside, she is a high school "tease"; in Ordeal, she gets the nickname "Miss Holy Holy" for refusing to put out. When a car accident at age 21 depletes her savings, she is forced to live with her abusive mother in Fort Lauderdale. Desperate to get out, she finds a savior in Chuck Traynor—reputedly a U.S. Marine, pilot, skydiver, photographer, bar owner, and all-around entrepreneur. She does not love him, and is alarmed by his sexual impotence, but he offers a way out, and she moves in with him.
Everything changes when Traynor turns his bar into a brothel, and suggests she become the madam. When she refuses, he hits her. A few days later, he takes her to a Holiday Inn to meet five "businessmen," and forces her at gunpoint into a gangbang. Similar incidents with similar businessmen follow, until she is forced into prostitution. He assigns her the most violent and humiliating tricks, and watches through a keyhole. Over time, she learns the extent of his criminal record, his background in drug trafficking and prostitution. "Every day I either got raped, beaten, kicked, punched, smacked, choked, degraded, or yelled at. Sometimes, I got all of the above."
Eventually they are married, but only so she can't be called to testify against him in a drug-smuggling trial. Prostitution leads to pornography, which leads to Deep Throat and a Hollywood lifestyle, and Traynor becomes increasingly possessive. He coaches her on what to say to interviewers, including Nora Ephron; when she tries to run away, he threatens to murder her entire family. "There was always a gun pointed at my head. Even when no gun could be seen."
Compared to Traynor, the Deep Throat crew gets off easy—Gerard Damiano is "friendly," and Harry Reems "became an ally"—but her ultimate dismissal of Reems is unfair. "If someone could be involved in public sex, there was something seriously wrong with him […] how could you be sure he wasn't as far-out as Chuck?" In fact, Reems would donate $1,000 to help Lovelace pay for a life-saving liver transplant in 1987. Shortly before his death in March, Reems told the San Jose Mercury that Traynor "was a total A-hole… he didn't die too early."
As for Inside Linda Lovelace, she says that Traynor coached her every night on what to tell her ghostwriter. Most of the sex stories were incidents that actually happened to him. This is not under dispute: in a 1976 interview, Traynor took credit for writing the book, and for "creating" Linda Lovelace. The book is certainly quick to assuage any suggestion of victimization ("He didn't bullwhip me into performing like a circus pony, I was the most willing pupil a teacher could ever have"). From Inside: "I practically wrapped myself in styrofoam to keep the bruises away. Wouldn't you believe that the day before we started shooting, I bumped against a stupid bedpost and ended up with a bruise on my hip that looked like I'd been in a scrimmage?" That Traynor felt the need to even bring this up is even more suspicious, given that bruises are visible on both legs in the film. Lovelace would use this scene as evidence of abuse in her divorce case.
Characters and incidents from Inside reappear, but the sexual thrills have soured into humiliation. "Michelle," a Miami socialite and BDSM enthusiast, was first a kinky curiosity, next an accomplice in Lovelace's brutal "punishment" for an escape attempt. In Inside, Lovelace is "a compulsive flasher"; in Ordeal, Traynor forces her to flash people for his amusement, including her own father. She rejects any suggestion of Stockholm syndrome: "I want to state this as clearly as I can. There was no pleasure. There was no love, no affection, no normal sex with anyone from the day I met Chuck Traynor until the day I finally got away. I did not have a single orgasm for six or seven years."