Ramona Wilson left her house on Railway Avenue just after 9 p.m. It was a hot summer Saturday night in Smithers, a small town in northern British Columbia, and the hazy orange sunset promised another scorcher of a day to follow. Ramona, 16, had spent the evening at home, with her mother and brother, eating takeout lasagna and watching TV. Now she was headed out, wearing pink and white high-tops, to meet some friends at a dance a couple of towns away.
Two major arteries run through Smithers. The first, the line that was once known as the Grand Trunk Pacific Railway, was pounded into the ground right behind the Wilson home, bearing freight trains from Memphis and Chicago and Detroit across the prairies and over the Rocky Mountains, through the thinly populated B.C. interior, to the port town of Prince Rupert on the coast. The second, shadowing it, is Highway 16, a northern leg of the Trans-Canada officially known as the Yellowhead. It diverges from the main route in southern Manitoba and angles slowly north through Saskatoon, Edmonton, and Jasper before crossing the mountains into B.C. There, it zigzags through the area's industrial hub, Prince George, and then travels more than 700 kilometres through farmland into deepening forests and rising peaks before dead-ending at the Prince Rupert ferry terminal.
Winding west from Prince George, Highway 16 links a series of small communities—logging and sawmill towns, mostly, and First Nations villages: Vanderhoof, Fraser Lake, Burns Lake, Houston, Telkwa, Smithers, Moricetown, Hazelton, Terrace and, finally, Prince Rupert. Short hops up and down the highway from town to town are built into the local social calendar—on this night, there were dances and barbecues drawing Smithers residents to Hazelton and Moricetown —and young people without a ride of their own often stick out a thumb to get where they're going. Odds are, the driver who picks them up and drives them deeper into the evergreen-dense hills won't even be a stranger.
The highway was a short walk from Ramona Wilson's house. She had friends expecting her at a dance in Hazelton, 75 kilometres away. But the night wore on, and she never showed. Her friends didn't think much of it: It was 1994, and cellphones were still a Saved by the Bell punch line. Her best friend, Kristal, figured Ramona had changed her plans and been unable to let them know, maybe gone to another dance or stopped to see a friend in Moricetown, the village halfway between Smithers and Hazelton.
No one was too worried when Ramona was still gone the next day. The school year was winding down, summer was quickening, and the bonds of daily routine were fraying. Besides, impromptu sleepovers were common enough along the highway. The 16-year-old was the responsible one among her friends. She'd turn up.
When Ramona didn't make it to school first thing Monday morning, Kristal figured Ramona had stayed over with Dustin, that friend in Moricetown, and had missed the school bus. But by the final bell Kristal was beginning to worry. After school, she went to her part-time job at Petro-Canada and used the phone there to call Smitty's, the chain diner and pancake house where Ramona worked every Monday as a dishwasher. Ramona had failed to show up for her shift.
That's when the Wilson family went to the police. At first, the Mounties seemed reluctant to take action. "She's a teenager," they shrugged. She probably just ran away for a while, needed to blow off some steam. She'd be back when she was ready. Ramona's family and friends weren't buying it: they were certain something had gone wrong. She wasn't the type to skip out on work and school, to leave without telling anyone why. "I know my daughter," her mother, Matilda Wilson, insisted. Days passed. Ramona never turned up.
On June 11, 1994, somewhere between Hazelton and her house on Railway Avenue, Ramona Wilson had vanished. She had joined the ranks of Canada's missing and murdered indigenous women—a list that, today, holds more than 1,200 names.
No one was too worried when Ramona was still gone the next day. The school year was winding down, summer was quickening, and the bonds of daily routine were fraying. Besides, impromptu sleepovers were common enough along the highway.
In April 1995, ATVers discovered Ramona Wilson's remains just a few kilometres from her house, in the woods behind the Smithers airport. In the months that she'd been missing, the bodies of two other young women had also been found near the highway: Roxane Thiara and Alishia Germaine, both 15 years old, had vanished from Prince George before they were murdered. And six months after Ramona was found, 19-year-old Lana Derrick, a community college student in Terrace, vanished from a gas station on Highway 16. She is presumed dead, although her body has never been found.
Sometime in that span of 17 months, Highway 16, the Yellowhead Highway, acquired a new name: People now call it the Highway of Tears.
*
Matilda Wilson doesn't live in the house on Railway Avenue anymore. These days she's north of the highway, in a trailer home by the river. The place is comfortably cluttered with photos of her children, and posters and ribbons from the annual Ramona Lisa Wilson Memorial Walk. Ramona feels very present here.
I arrived first thing on a Tuesday morning, and we sat down to talk while Wilson's tiny Chihuahua, Misty, threaded herself between my feet. I asked Wilson to start at the beginning, and she did.
She was born in Old Hazelton, just down the highway from Smithers, in 1950, the seventh of 14 kids. Like thousands of other native children across Canada, when she was five years old she was taken from her family and placed in a residential school—a government-run boarding school system intended to "kill the Indian in the child." The institutions' purpose was cultural genocide, and rampant, unchecked abuse by the priests and nuns who ran them compounded the harm done by forcibly removing children from their families, and banning and shaming all aspects of First Nations cultures in the schools.
When Matilda Wilson was a teenager, she told me, "they finally decided to let us go home." She married young, had five children, and was widowed by age 23. Seven years later, in a new relationship, she found herself trying and failing to have another child. Eventually the doctors told her that she was no longer able to conceive. But one morning a few years after that, she started throwing up. What she thought at first was a flu bug turned out to be Ramona, her youngest child.
Sixteen years later, that miracle child was gone, with no explanation. Matilda remains gripped by the mystery of her daughter's murder. In January 1995, seven months after Ramona vanished, the RCMP received an anonymous tip that Ramona's body was behind the Smithers airport. The police conducted a sweep but turned nothing up, and they decided that the caller must have been a prankster with a twisted sense of humour. The April discovery of Ramona's body in another area of the overgrown half-wilderness behind the airport proved the tipster right, but there was no way of tracing the call.
"I keep on thinking to myself, it's a local person that could have done this," Matilda told me. The horse trails behind the airport aren't easy to navigate for an outsider: from the highway, it isn't even obvious how to find them. The idea that one of her neighbours murdered her daughter is hard to accept, and part of Matilda still hopes that the whole thing was a tragic mistake. "There have been many speculations about someone running over her by accident, someone that was drunk, and they knew she was dead and they just put her body there," she said. The bodies of the other girls, she noted, were usually left right by the highway, not hidden away in the woods.
"I still have this strong feeling that a drunk driver accidentally hit her when she was hitchhiking," she said. "It's a strong feeling that I can't get rid of. Who am I to say that that's what happened? I'm not an investigator to prove that."
*
When I met Brenda Wilson at her office in downtown Prince George, she was two days away from marking nine years clean and sober. Ramona Wilson's eldest sibling was a social drinker before her sister disappeared. But in the months spent waiting before the body was found, and for eleven years afterwards, she descended into alcoholism. "It just went downhill," she told me in a soft voice, the words nearly swallowed up by the white-painted walls.
She remembered the frustrations of trying to convince the police that something was wrong. She remembered dreams, vivid dreams, she'd have during those ten months in limbo: Ramona bounding in the door one day, laughing. "Oh, I just needed a break, like the cops said!" But then Brenda would wake up, and the joy and relief of the dream would drain away, reality barging back in. She fought dark thoughts, medicating them with alcohol. She never took any time off work to grieve or process her sister's murder, and the family wasn't offered support services by their employers, the police, or local governments.
The sisters had been close, despite the 11-year gap in age. Brenda had been like a second mother to Ramona, and when Brenda had children of her own, teenage Ramona pitched in with babysitting and helping around the house. Brenda had held a good job for eight years as a programming director in the community, and her family—Ramona in particular—had always been quick to volunteer at her events. After Ramona's disappearance, the job became a daily reminder of her sister's absence, and, eventually, a casualty of her alcoholism.
After Ramona's body was found, Brenda and her mother became reluctant activists. "It was like, now what? Well, now we have to start looking for answers. Because if we just let it go then everyone else is just going to let it go," she told me. "To me, it just seemed like they stopped investigating, or putting it as a priority. And that wasn't something that I was going to let happen in my sister's case." In June 1995, the Wilson family led the first Ramona Lisa Wilson Memorial Walk, a five-kilometre march from Lake Kathlyn school, on the highway on the edge of Smithers, to a road by the airport, near where Ramona's remains were discovered. The event would become a yearly gathering not just for the Wilson family and their friends, but for some of the other families whose daughters had vanished along the Highway of Tears.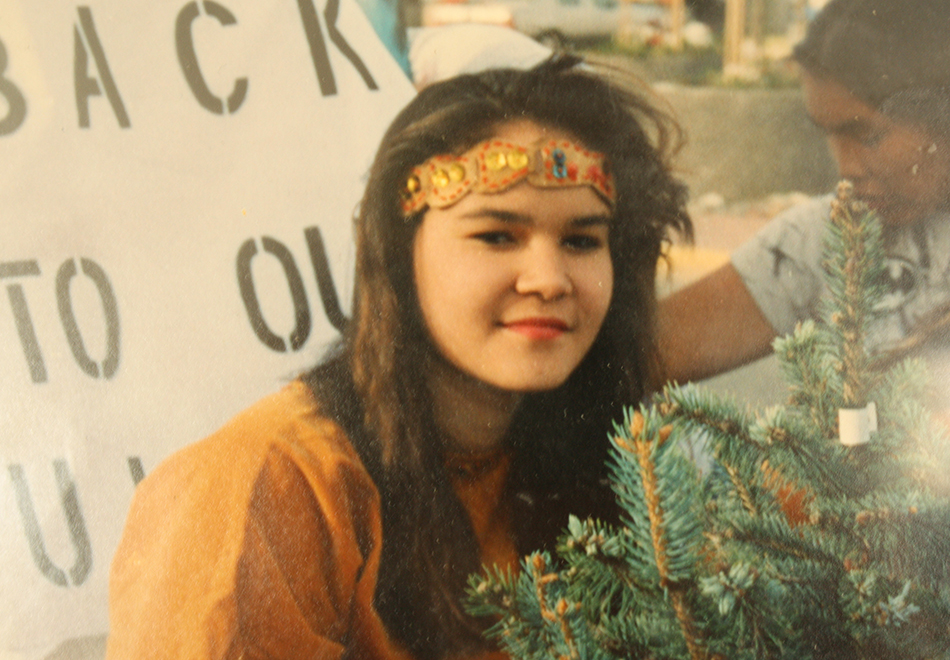 As the years ticked by, Brenda Wilson's own daughter was growing up. Trying to steer a teenager safely through to adulthood is fraught at the best of times, and Brenda's battles with her daughter were intensified by the unsolved murder of Ramona hanging over them. "Her comment was, 'You just care about Ramona. It's not about me, it's about her. You're just keeping me away from my friends because of her,'" Brenda recalled. "I said, even if she hadn't gone missing or even if she wasn't murdered, I would feel the same way, to try to keep you safe."
After the loss of her job, Brenda got work in early childhood education, and it was her experiences with vulnerable children that eventually pushed her towards sobriety. "I could see these children, some of them coming from broken homes, some of them in foster care, some of them coming from all these high-risk homes, and nobody really to look up to," she told me. "And it made me think about the life that I was living and made me think about, is that the same thing? Is this the same road that my children are going to go down? It's not something that I wanted for them." Eleven years after her sister's murder, Brenda Wilson had her last drink.
*
Kristal Grenkie, the childhood friend whom Ramona was on her way to meet on the hot Saturday night she was killed, has also chosen to find whatever inspiration or motivation she can from the loss of her friend. Now in her late thirties, Grenkie is a single mother of four daughters. She describes herself as a troublemaker back in high school, a chatterbox who ran with a misbehaving older crowd. Her friendship with Ramona, she told me, "was probably the first healthy relationship that I had in my life."
Ramona, she said, was the responsible one. "She was the innocent one from the crowd—anything [bad] she ever did came from me. Not to say that she didn't drink, she would drink at parties, but certainly not the wild one, nope." Grenkie remembers her friend as strong-minded, quiet most of the time but unafraid of speaking up when she thought someone was being wronged. Ramona was "completely committed" to becoming a psychologist.
Like Brenda Wilson, Grenkie is upset by the way Ramona and the others have been presented in the press. Last summer, a new Crime Stoppers ad aired about the Wilson case: in it, Ramona was described as "a young girl who skipped school from time to time," and when we talked on the phone, Grenkie was still angry about it. "What a stupid thing to say about my friend," she told me. The frequent focus on hitchhiking strikes her as beside the point, too. "There's another factor here. There's a culprit. There's somebody that did this to her."
Grenkie got pregnant with her eldest daughter during those long months between her friend's disappearance and the discovery of Ramona's body. (The girl's middle name is Ramona.) Raising her in Smithers, she faced some of the same struggles that Brenda Wilson did. "If you interviewed my daughter and asked her, do you think your mom was extra cautious? I was. I needed to know where she was."
She thinks a lot about cell phones. Sometimes, she feels convinced that if she and Ramona had each had one that night, everything would have been fine. She still thinks about the murder every day, she told me. "It'll hit you at the weirdest of times."
*
Today, Brenda Wilson is 48 and the coordinator of the Highway of Tears Initiative run by Carrier Sekani Family Services, an arm of Carrier Sekani Tribal Council, a local First Nation. She moved from Smithers to Prince George three years ago, after her long-time relationship with the father of her children finally ran its course. ("There was a lot of mistrust because of the alcoholism," she told me, "and our children were grown up so there was nothing between us.") Her focus now is on providing support to the families of the Highway of Tears victims, and on continuing to advocate for her murdered sister and the other young women.
A crucial part of that advocacy is a reminder of each woman's individuality. The girls and women who've vanished along the Highway of Tears are brought together by the manner and location of their deaths, but they do not form a monolith. "The situation of each girl is different," Brenda told me. "My sister deserves to be known as she was."
Matilda Wilson doesn't live in the house on Railway Avenue anymore. These days she's north of the highway, in a trailer home by the river. The place is comfortably cluttered with photos of her children, and posters and ribbons from the annual Ramona Lisa Wilson Memorial Walk. Ramona feels very present here.
That's a daunting task. "It's huge. It's hard to individualize each story and each piece. Even with all the other ladies who don't have a voice, their families don't have a voice. Some of the names are already forgotten because the families aren't able to vocalize. They don't have that skill at this time, or they're still feeling deeply due to grief, and it's hard to talk about. I always try to encourage them when we come together that it is difficult but we still need to push forward in trying to bring their stories to life."
Ramona is much more than a victim in need of a voice. She's also a role model, the source of Brenda's drive to advocate for all the murdered young women. She was, Brenda told me, "a really beautiful, responsible girl that really wanted to take care of other people, especially her friends and her family. She really loved life, she really wanted a life for herself." She paused, voice breaking for the first time that afternoon. "Hopefully I make her proud. Because I've really tried to do my best in how she'd want to live. So I hope I've done that."
*
Kristal Grenkie's no longer the troublemaking teen Ramona knew. She moved to Prince George from Smithers in 2010, and in 2013 the Chamber of Commerce listed her as one of the city's "Top 40 Under 40." She credits Ramona for motivating her to live a better life. Ramona, she said, "probably helped countless people. I know she's helped me, but it almost feels greedy to say it."
Grenkie works in B.C.'s credit union system. She started out as a teller at age 20, moved up to eventually become a loans officer and now works as an account manager. The job sends her all over British Columbia, training loans officers on how to sell loan insurance. She logs a lot of highway miles, and she's forbidden from picking up hitchhikers in her work vehicle.
The last time she saw a young girl standing on the side of the road with her thumb out, Grenkie drove past, as required, but she soon had to pull over onto the shoulder—tears were blinding her. She sat at the wheel and cried for half an hour. Then she eased back into her lane and carried on down the highway.