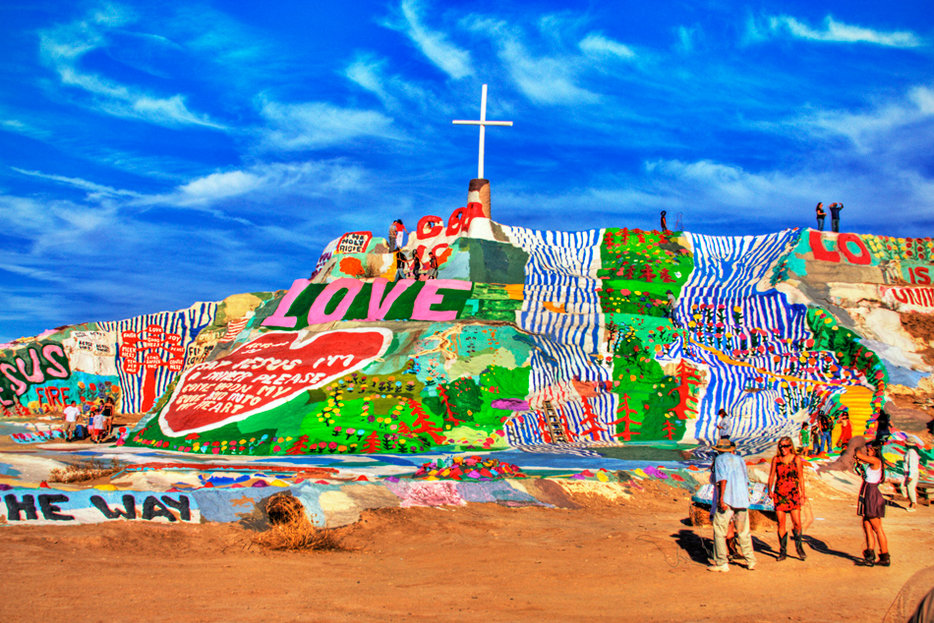 Just underneath the sign that says Salvation Mountain is another one asking for donations of paint. It's not hard to see why: the mountain itself, a handmade version of Calvary, complete with cross, looks like a child's furious scribblings blown into life. Blues and greens and reds splash across the hill, cut through with a snaking yellow—the yellow brick road, according to another sign beside it, upon which you can walk up past the letters that proclaim GOD IS LOVE, and stand under the cross.
South from that vantage, there isn't much but those gnarled, low branches that let the desert surrounding Southern California's Salton Sea pretend that life has any business around here. Every other direction, it looks a bit like a particularly spacious used car lot: old motorhomes, sand-blasted minivans and the odd unreasonably shiny, late-model sedan are sprinkled throughout breaks in the brush. Clothing lines and tents and grills and metal barrels surround them like the vehicles were shaken out before being plopped in the sand.
I only learned after returning within range of roaming-charge-free wifi that this collection of squatters actually had a name: Slab City, after the concrete foundations that used to hold up military buildings, and have since been occupied by some combination of drifters and drop-outs. On the way in, we passed a sun-baked man who appeared to be wearing a sarong riding a no-shit donkey; the only other people who weren't in rental cars walked.
I had only come seeking Salvation, an officially designated (there was a plaque from a national organization and everything) folk art project made by Leonard Knight, a Korean War vet who had a religious epiphany, which led him to park a truck in the desert and make a hill out of adobe clay and old house paint. My girlfriend found out about it online while we were researching things to do in Palm Springs that didn't involve sitting around a pool with a gin and tonic.
The technicolour mountain is maybe 40 feet from its blue base ("the sea of Galilee") to its peak, leftover clay piled on top of pushed-out dirt. Most of the paint has gotten another layer of religious sloganeering, from the GOD IS LOVE, each letter five or six feet on its own, to scaling down tributes to JESUS and THE HOLY BIBLE and FIRE and a frequently repeated screed to let Jesus into your heart. Near the base of the mountain is a half-completed hay-bale-and-telephone-pole "museum," slathered with more paint, littered with twisted limbs, repurposed religious refuse and more slogans. The climate and grit and taupe clay surfaces make it feel something like a Holy Land cave, or anyway what I imagine they feel like from repeated viewings of Jesus Christ Superstar.
Inside, one tattooed twentysomething lay on an outcropping of plastered-over hay bales staring into a knotted mess of branches. Outside, a breathing H&M advertisement of a foursome, wafting hints of pot, took a group selfie in front of the mountain. A woman who claimed to be from Ohio, with a drawl I thought only came out of the South, explained that she was on the upkeep crew, Knight having passed away about a year ago. I could go look at the truck he spent thirty years in, she said, and see his cot through one of the heart-shaped windows. I gather he was a small dude.
Outside of the fanatical devotion that piled clay on top of paint for the glory of God's love, though, he wasn't unique, for the area. There is evidently the odd snowbird in the pack—that's what Ohio was doing, sort of—but they migrate here for the same reason the other people settle in: because there isn't anywhere else they could stop. Some of the people (maybe the sedans) are here by choice, getting off the grid, in their words, but there are plenty—here and in the more permanent dwellings that dot the highway—for whom active verbs rarely if ever apply. We're standing 60 or so metres below sea level; the Salton Sea, the few hundred people who live here and the few thousand dollars they make every year occupy one of the lowest points in North America.
The road back runs past a transformer station and a railroad and a trailer park that seems stubbornly resistant to Knight's message about God and His stance vis-à-vis love. At the corner, a Confederate flag with space on top for a swastika and some lightning bolts flies high and proud. This spot is close enough to Mexico that we actually have to cross a border checkpoint on our way back north. First, though, we get a two-dollar burrito handmade by an abuela at the corner store that appears to be the only business actually open on a Monday afternoon—although the post office that's been repurposed into a recycle depot seems like it might be a self-serve kind of joint.
Past the checkpoint it's about forty minutes and maybe thirty flash-flood-prevention dikes until something green happens, and then the highway becomes a timeline of industry. Date farms give way to private mechanics, restaurants with metal doors and Spanish names, strip malls of insurance brokers and warehouses of parcel shippers. A prison, power centres, a tennis club. A four-lane road that looks like someone tore the top off a high-end mall, fourteen clothing shops selling high-end slate colours and a Starbucks in a building that is at best a decade old but somehow has exposed beams. I finally read about Slab City. Apparently Christopher McCandless stayed there awhile before he went off to Alaska. Alaska, it seems, had more appeal.
I also changed into pants. An hour or so from the squatter's city, we were off to a golf resort in Palm Desert, a city of nothing but golf resorts, near as I could tell, for dinner with some old friends of my girlfriend's family. The only pants I brought were pathetically wrinkled from being stuffed in a satchel—not even suitable for golfing, not that that was part of the invite—which almost led me to drop $89 (American) on some khakis at J. Crew that were apparently wrinkle-free, or at least never need ironing; instead I switched the bottom vent in the car to heat and hoped I might sweat-steam the wrinkles out. That, as it turns out, is not a thing.
That was not an issue for the smooth-khakied attendant (guard?), who walked out of his air-conditioned hut and asked us what we were doing here, in the politest iteration of that kind of phrase. When we explained we were guests coming for a barbecue, he printed out a custom map leading us through the maze of 36 holes of championship golf, seven indoor/outdoor dining venues (one of which was hosting a charity event at which Will Ferrell appeared), and a world-class Spa & Wellness centre to the home of our hosts. We parked outside their three-car garage, in front of the door that was reserved for their golf cart, which I'm told is the preferred method of travel regardless of how much golfing you're planning on doing that day. The chandelier in the entryway was built around a twisting tree branch, hung from a ceiling two stories high. Our hosts were kind enough to push back the retractable glass that made up almost the entirety of the house's back wall, the better to take advantage of being halfway up the mountain on the resort's western edge.
If any of them looked in horror at my pants, I missed them while keeping my girlfriend from walking into the infinity pool. (In her defence, there was a lot of glass on that patio, and there was no wind, even that high up the mountain.) Also, she was more focused on the cactus, a saguaro, which you know as the thing that pops into your mind when someone says "cactus"—green ridges and curving arms and perhaps a bleeding cowboy at its base. They aren't native to this part of California, but they can survive here, so our hosts had some trucked in from a ranch near Tucson. They needed something to balance out the front of the house—this architect-designed home was built before a buyer was found, and they apparently just never do the landscaping on those, even with the golf course down there and everything—but then it turns out these cacti work best in ones or threes, so they got eleven. When it rains, which is apparently about 14 days out of the year, you can practically watch them balloon up, like an accordion.
They made for impressive silhouettes as we ate dinner, chatting about the traffic on Vancouver's Lion's Gate bridge, and the relative affordability of memberships at Toronto's Granite Club vis-à-vis graduation presents. The cactuses's familiar shapes—I know the word is cacti, and I didn't say it right a single time I was there—were a jutting kind of blackness that cropped out the lights from the stretch of cities below, Palm Desert and La Quinta and Indio, which sparkled and glinted and faded to black, somewhere along the highway that leads to the Salton Sea.
Images via Jesse? S! / tuchodi / Channone Arif / Ken Lund / Raymond Shobe under Creative Commons