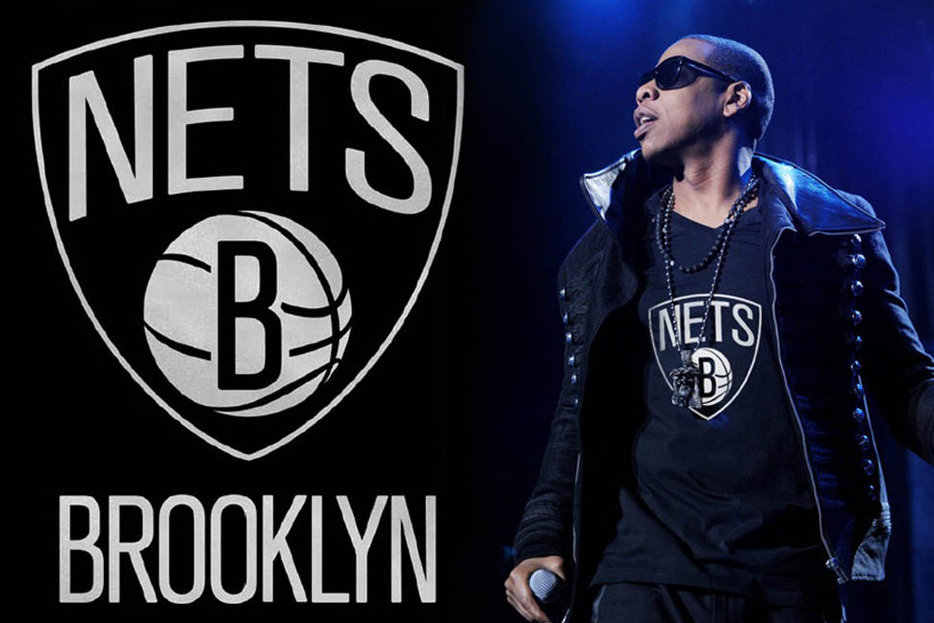 "My final show for The Black Album tour," writes our man Jay-Z in his memoir Decoded, "was at the Garden. Playing Madison Square Garden by myself had been a fantasy of mine since I was a kid watching Knicks games…" And look at him now.
Tomorrow night, on September 28, Jay-Z kicks off an eight-night concert series to celebrate the opening of the brand new Barclays Center, home to the NBA's newly relocated Brooklyn Nets. Pictured above, he is profiling the Nets' updated and redesigned logo. On his album The Blueprint 3, Jay hinted that he "might wear black for a year straight," but it's going to be much longer than that I imagine, given that not only did he help design their black-and-white look, but Jay-Z is also a part owner of these Brooklyn Nets.
So what about Madison Square Garden, then? Michael Jordan himself called the Garden the mecca of basketball. The Barclays Center, however, is the architectural calling-card of an inner-city rival for the Knicks. (The team looks good, too, at least on paper, having spent a fair amount of money during the off-season acquiring free agents). The season starts in just over a month, with the Knicks crossing town to play the Nets at the Barclays Center on November 1. Sure, Madison Square Gardens is rich with historical significance, evidenced by the childhood dreams of Jay-Z (then Shawn Carter). In terms of basketball, in terms of why Jordan called MSG "mecca," this is all because of the greatness of the Knicks. The most iconic of all moments for the Knicks was probably when, in 1970, the injured Kincks' star Willis Reed limped onto the Garden court in game seven of the NBA championship to inspire his team to victory.
The Nets aren't simply going to open up shop in Brooklyn and expect to rival the Knicks' storied history. But the arrival of a second team, sparking a rivalry for the heart and soul of basketball-loving New York, that's all about the here and now. There is something, however, for the Nets to do in order to really step up and seize the rivalry, and it probably requires calling Jay-Z into action.
In Spike Lee the Knicks boast maybe the greatest fan in all of professional basketball. It's not that celebrities make for better sports fans than anyone else, but it's easier to analyze their fandom because they're so much more conspicuous. Spike Lee is certainly as devoted a New York Knicks fan as there is living today. He's courtside at games, he wears Knicks jerseys, he loves to talk about the Knicks whenever given a chance. He has contributed to the greater world of the NBA and basketball in general by weaving the Knicks into the fabric of many of his movies, and even his Nike commercials. When he was editing Doin' Work, his documentary-type portrait of Kobe Bryant, Spike insisted bitterly that the 61 points Kobe scored that day against the Knicks wasn't his fault. Kobe suggested otherwise because he said he wasn't going to sit down in an editing booth with Spike after having lost a game to New York and have to listen to him gloat.
Spike might be sensitive about this because there have been occasions when he's been blamed for Knicks losses. Most notable of course is Spike Lee vs Reggie Miller. Miller, playing for the Indiana Pacers was a hated rival of New York, but it was with Spike Lee that Miller had his real rivalry, much more so than with any of the individual Knick players. From his courtside seat, Spike would taunt and yell at Reggie whenever Indiana was playing New York, with Reggie staring Spike down after every big play he made. Then there was the time when Reggie Miller scored 8 points in 9 seconds (impossible?) to beat New York in the NBA playoffs. Reggie's Knick-killing heroics seemed so superhuman that they could only have been fuelled by his ongoing battle with Spike. The New York media questioned whether Spike's exuberance had fatally wounded the Knicks' playoff hopes that year. But that didn't stop Spike from making the trip to Indiana to watch his Knicks play game six against the Pacers.
Jay-Z, of course, has contributed to the game of basketball in the broader sense. Not only is he a part owner of the Nets, but like Spike Lee, he's part of the culture. He hangs out with Lebron James. He references players and teams in the lyrics of his songs. But will we get to see him in the game? In order to cement New York's identity as a two-team basketball city, and make the Brooklyn Nets legitimate, someone needs to challenge Spike. It might need to be Jay-Z. I think back on that rivalry between Spike and Reggie with wonder and amazement because it's the kind of stuff you just can't script. I vividly remember watching it on TV when Reggie scored those unbelievable 8 points in 9 crazy seconds, I never get tired of talking about that story. And I remember being amazed by the fact that he was yelling with Spike Lee the whole time. This is what I want from the Nets. Brooklyn, stand up.