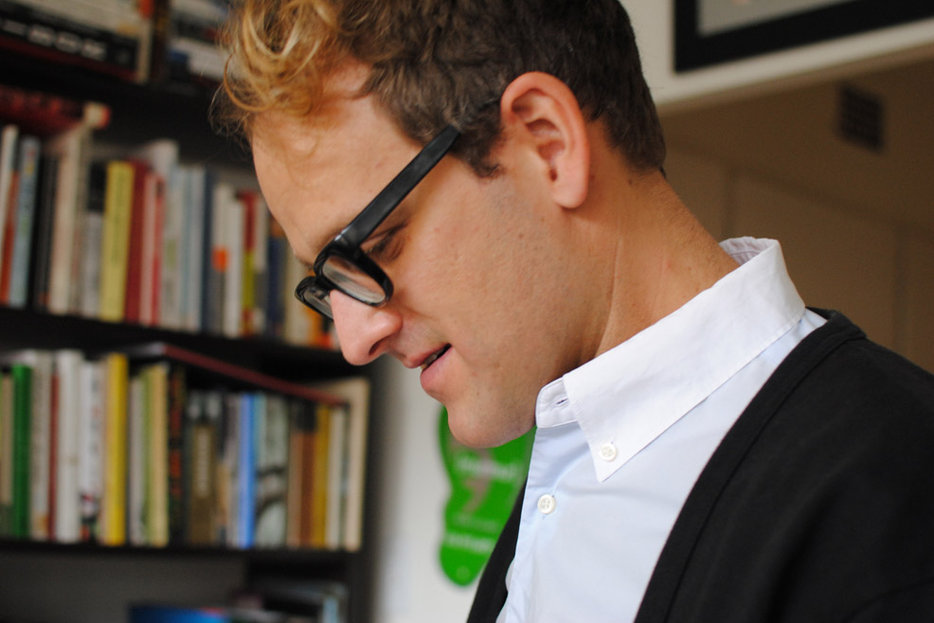 Shelf Esteem is a weekly measure of the books on the shelves of writers, editors, and other word lovers, as told to Emily M. Keeler. This week's shelf belongs to Shawn Micallef, who is a columnist with the Toronto Star, a senior editor and co-owner of Spacing Magazine, and the author of Stroll: Psychogeographic Walking Tours of Toronto. His books are in his very bright modernist apartment in downtown Toronto, which boasts a view of several different kinds of mid- and high-rises. In the middle distance, you can see a construction crane, hovering between two brand new condo buildings.
The books came out of the boxes like that, the last time I moved. Two years ago. And they were unorganized before. They came out of the boxes, they went up where they fit. Though there is a bit of a city section, here. Kind of. I've been teaching a course at the U of T on cities, so I've been trying to put all of the stuff that I would put into the syllabus in one spot. But even that's been kind of mixed up. It's near the bar, too, so that's helpful. The bar was never supposed to be part of the bookshelf, but then I just had too many books, and so they kind of hold down the booze in one way or another.
Ridiculously, I've had this desktop encyclopedia since the early '80s. It came with a Where In The World Is Carmen Sandiego game, like a board game. It wasn't even a computer game. I would fall asleep with it for years, this book was my bedtime reading. It was like Wikipedia before there was Wikipedia. Everything had their proper little indexes, and any one thing would sort of lead to another. Either you would go through them or look up something else. It was small and compact, and you could hold it one hand and fall asleep with it. It's kind of exactly how I fall asleep now, with my iPad. Just kind of tapping around Wikipedia.
I've read Wanderlust, by Rebecca Solnit a few times. She wrote this in 2000. She's a kind of public intellectual from San Francisco, and she writes about a lot of stuff. A lot of city-minded stuff. She has this great historical atlas of San Francisco, which I don't have here. But this, Wanderlust, is sort of like the bible of walking. So, in 2000, when I first got to Toronto, this book had just came out and I got it while I was walking around Toronto, doing my thing. It brings up all sorts of other people who are walking, in the past, and for a bunch of different reasons, and in the present. It's a brilliant book. She continues to be brilliant. We need to bring her to Toronto, somehow.
Didion's The White Album and Slouching Towards Bethlehem, those are books I've read numerous numerous times. The essays that she wrote in the late '60s and early '70s, when I read them I was like, "this is what I want to write like." I mean kind of, but not exactly, but she made me want to write. She probably uses a little bit more of herself than I would. So there are lines in Slouching Towards Bethlehem that are just killer, but what's awesome about this book—The White Album as well, but especially in this one—she invented the idea of Los Angeles, of California. Not entirely invented, but the idea of this place that's a little bit nervous, always on the edge, she really was the one that made that into a visceral thing, a way of life. I've read these essays a whole bunch of times, because they're great.
That LA anthology, Writing Los Angeles, is one of my favorite books. Didion lead to that. Joan Didion was the first person that sold Los Angeles in a way that I thought was interesting. I bought it in 2003. It's just selections of great writing about the place. When I went to Los Angeles a year and a half ago, with four friends, I put together a a reader. I called it a course pack reader—as if we were going down there on a study trip. It was photocopies from different sections of that book, and I gave them each one a few weeks in advance, and I told them they had to read it so that they would understand the city we were rolling through. I think they paged through, but they didn't pass the test at the end. When we would see something that was in the book, I'd say, "did you read the thing where Raymond Chandler talks about this part of Hollywood?", and they'd go, "I, er, I dunno." We had fun, I mean, I wasn't a complete dick about it or anything. It was more of a fun thing.
Thinking about Toronto, and writing about Toronto… Toronto's never been written like that. Well, it has been a little bit, here and there. Ondaatje a little bit, Margaret Atwood a little bit. There's been some more recent stuff. A lot of writing about Toronto happens at the indie level. Coach House Books puts out a few books. But I think that's slowly changing.
Some of these older Toronto books are an interesting way to see how the city's changed, how it was written about it the past. Eric Arthur's Toronto, No Mean City. I have a couple copies of this, because it was eventually updated. So people have been writing about the city for a long time, but for some reason we've never had the same kind of thing that say, Didion had for Los Angeles, because I think the people in Toronto always look at a book about Toronto, and their initial reactions are like, "Why would you write a book about Toronto?"
When I was writing my book, Stroll, about Toronto, a number of people who should've known better asked me why was I writing this book, and who is going to buy this book. But it felt like a good thing to write and it is in its fifth printing now, so I guess I was right.
Being in Toronto, and having established cities nearby, like New York, or even Montreal. Montreal has a literature to it that just sort of came about, it seemed to happen effortlessly, whereas here we have to kind of kick it in the ass and make it happen. Possibly because Toronto was never meant to be what it is, it was supposed to be a working class, provincial town. Hog Town. So it's become this great city and very fast. The infrastructure—subways and so on—literature and myth need to catch up to it. But over the years, I've collected books on Toronto, a totally small set of books, so there must've always been an outpost here. It's just never quite caught up with the people.
For a future project, I want to do something about Windsor. If Toronto's under-mythologized, Windsor is triply or quadrupally so. There are a few books. Lisa Gabriele wrote a novel that takes place in Essex County, around Windsor. There's a number of historical books, and some art books. This is one from the '90s. A bunch of artists put this together, with Mark Laliberte, from Carousel Magazine. He's from Windsor as well. Windsor had a really great scene, and a lot of these people live in Toronto now, of course.
No Great Mischief is great. I read it around when I moved here. [MacLeod]'s from Windsor, but writes about Toronto and Cape Breton. There's great bits about walking up and down Spadina, going to see his brother. I thought about Spadina differently after I read this book, the way I thought about the Bloor Street Viaduct after I read In the Skin of a Lion. Both of these are fictional representations of factual places, and when I walk down those places I still think of them—the stories from the books are still very much a part of the physical place. When you've never read your place, hometown or not, you sort of eat this stuff up. Which is why I think Toronto books, mine and others', are kind of sleeper successes. People do want to read about themselves, to see their lives reflected back at them.