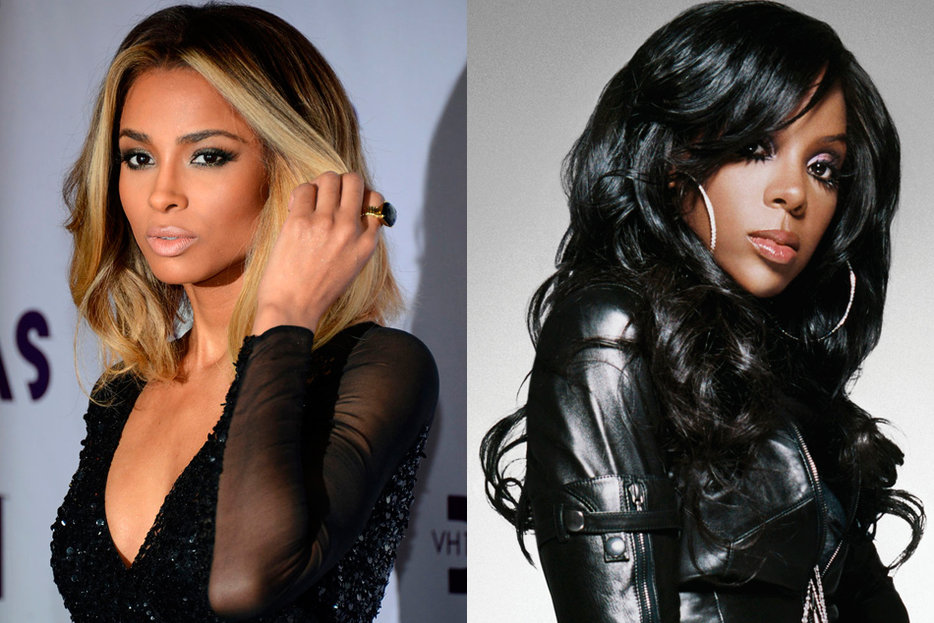 The top echelon of contemporary pop is egalitarian in the sense that almost anyone can triumph, but there's a serious lack of competition within the ruling rank. There can only be one Gaga, one Usher, one Katy Perry, one Bieber. When it comes to black female singers, you're either a singer's singer like Beyonce, a sexpot like Rihanna, or you're not even competing. This isn't necessarily a contemporary phenomenon: Think of contending with gorgeous, perky "divas" past, like Tina or Whitney or Mariah. Too often, black female pop artists are living in the shadow of divas. And this hierarchal mandate is both systematic and consumer-directed.
Take two recent albums, both behemoths benefitting from hit-for-hire help. It's important to note that both Kelly Rowland and Ciara, respectively on their fourth and fifth solo records, have achieved an exceptional level of commercial success with "urban"-oriented listeners. And yet, this is what makes the persistent lukewarm reception and cultural commentary surrounding their personas and music even more bizarre.
Rowland's had a commendable solo career, predicated on the success of Destiny's Child. In 2000, she first hinted at an individual identity with the R&B radio hit "Separated," a collaboration with round-the-way lothario Avant. Around that time, cutesy rapper-diva pop singles were the move and so, after DC temporarily parted ways in 2002, Rowland teamed up with Nelly—then at the height of his career—for "Dilemma," a saccharine, twinkling, mid-tempo Grammy-winning love ditty. To this day, it's her only global number one. Rowland has fared better in Europe, where diva house gets radio play and mainstream audiences seem less preferential of Type-A pop stars. Her performance on French DJ David Guetta's 2009 crossover hit, the "EDM"-road-paving single "When Love Takes Over," was electric; simmering verses stacked against a wind-machine chorus. That song also won a Grammy.
On "Number One," the street single included as a bonus track on June's Talk A Good Game, Rowland declares, "I promise that I won't play second fiddle," and, "If I'm not the one, then I guess you can call number two." She's talking about a waste dude who can't get his priorities straight, but the lady-in-waiting sentiment could also be applied to a career perpetually slighted by her bestie, the incandescent, fembot-esque lodestar, Beyonce. And in May, when the pensive "Dirty Laundry" appeared online, undue emphasis was placed on Rowland singing about "being enraged while her sister was killing it on stage," which had more to do with the not-so-veiled message about living through an abusive relationship. Talk A Good Game is one of Rowland's best records; it's mature and personal, and sonically captures the best of her high-energy European work with expansive, syrupy contemporary R&B produced by a crop of the best, including The-Dream, Boi-1da, T-Minus and Mike WiLL Made It.
The Mike Will template of hallucinogenic, hollowed-out street rap production is at its best when applied to R&B vocals. Arguably, it's the young producer's fresh approach that's boosted anticipation for both of these records. (He's the producer behind Ciara's back-arching, lip-biting, slow-dance-with-yourself single, "Body Party.") Like Rowland, Ciara has long fought sub-diva status, despite relatively steady sales. Her malleability as a singer and performer, evidenced by the elastic dance-pop of breakout singles "Goodies" and "1, 2 Step," puts her more in line with the multi-faceted Aaliyah. And her new self-titled album is a sleeper: on the surface it's packed with power pop song structures and ingratiating allusions to now-over dubstep. Hardly the throbbing, sensual R&B alluded to on "Body Party," but below, there's the same tender-toughness that has always anchored most of Ciara's best work. She raps on "Superturntup," a song with a super corny title, and so it's cheekily billed as "Ciara featuring Ciara." And the Nicki Minaj-featuring "I'm Out" and "Livin It Up," are righteous, inoffensive, celebratory pop tracks reminiscent of the rapper's game-changing, pop-oriented Pink Friday: Roman Reloaded.
Ideas surrounding black femininity have also plagued both artists and their marketability. On his 2010 single "Power," Kanye West rapped: "We rollin'/With some light-skinned girls and some Kelly Rowlands," praising the singer as the benchmark for dark-skinned beauties, whilst invoking the pernicious shadeist dichotomy prevalent in the wider culture, but also endemic in black and brown communities. Lanky in her 20s, Rowland's still-thin body drew attention for being noticeably "thicker" looking at this year's Super Bowl. A significant portion of Ciara's early career was spent dodging "tranny" rumours, stemming from her athletic frame. Credit is due: she hasn't completely abandoned the Goodies-era tomboy shtick—it's part of what keeps her thrilling to watch—but carefully pairs it with slick, hypersexual imagery that even bests Rihanna. (See: the videos for "Ride" and the Justin Timberlake-featuring "Love Sex Magic." Related: Remember how Timberlake continued to profit, repercussion-free, from wanton sexuality even though he's the one who ripped the thing off Janet Jackson's breast at that other Super Bowl?) In some way, the categorization of women's—particularly black women's—bodies lives outside of the beauty hegemony of Beyonce and Rihanna's light bright skin and restrained, but pneumatic, curves.
Both Talk A Good Game and Ciara aren't singles-stacked, but the'yre idiosyncratic pop records that prove there's more than enough space for a variety of "divas" at the top.