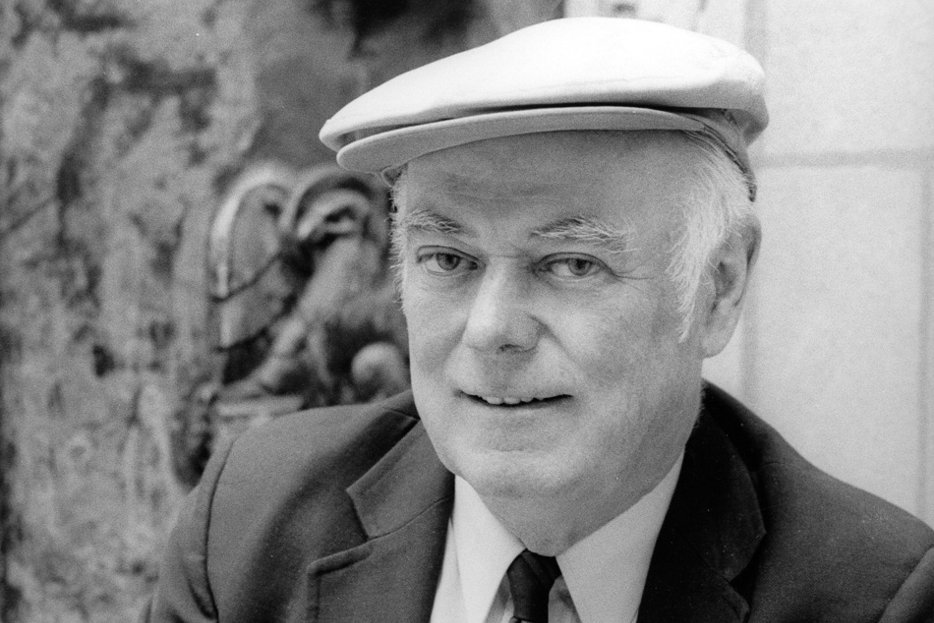 I Can't Say He Never Gave Me Anything, by Michael Winter
I first met Alistair MacLeod in Banff. I was a student there, and when I saw Alistair's car pull up I ran out into the parking lot to meet him. Hello Mr MacLeod, I said. Well hello there, he replied. Can I take your bags, sir? He seemed baffled by this and his eyes involuntarily drifted to the popped trunk. I pulled out his suitcase and told him I was a participant in the fiction program and that I loved his short stories. I carried his bags to his door and was delighted with myself.
I managed to persuade him to look at my stories. He had me into his office. Michael, he said, and he was tapping a bunch of pages. What is happening in this scene?
I explained it was a young man and woman carrying a canoe to the lake and there is a dead moose at the shore. The woman drops the front of the canoe—
He stopped me there. It's his family's cabin, Alistair said. If I invite a woman to my cabin I'm carrying the front of the canoe. The fact that she dropped the front made me have to switch the characters around. You don't want to do that to the reader.
He made me realize that it doesn't matter the lofty ideas you want to plant in your story (the dead moose was a metaphor for something dead in their relationship). If the reader has to reconfigure the scene then you've lost them.
I met Alistair numerous times after that. Once, my book was up for the Giller Prize when he was a juror. The book didn't make the shortlist. The next time I saw him I bought him a drink, and I could tell he felt uncomfortable. A few years later, I was a Giller juror and he really enjoyed that. It's not so easy, is it? he chuckled.
The last time I saw Alistair was at St John's airport in the middle of winter in Newfoundland. He had flown in for the March Hare literary festival. There was a storm and his flight had been rerouted to Halifax and, by the time he'd landed in St John's, he'd been in transit for thirty-six hours. He was tired but game, waiting for his luggage. A car was to drive him the five hours to Gander in a snowstorm. I couldn't believe he was putting himself through this. When his bag arrived I grabbed it and we walked to the idling car. He asked me why I was at the airport and I said I'd come home for the weekend because it was my birthday.
Well happy birthday, he said, and, after I deposited his bag in the trunk of the car, he shook my hand joyfully. Wait. He rummaged in his pocket while a blizzard pummeled him with snow. And he handed me a quarter. Don't say I never gave you anything, he said.
Michael Winter is the author of a number of novels, including Minister Without Portfolio, The Architects Are Here, and The Death of Donna Whalen.
*

Letters From Alistair, by Linden MacIntyre
 News that Alistair was gone was shocking—because his talent was immortal, I guess we thought that he was too. Alistair was a gifted story teller and a master of the written word, which is how the world of letters will remember him. To have known him personally is to recall his modesty and generosity, the quiet sense of humour, and his sure grasp of all that is universal and important in the people and places that were most familiar to him. Celebrity has a way of changing people, but it left Alistair MacLeod unscathed, if anything—amused.
I didn't know Alistair MacLeod well enough in 2006 to feel comfortable approaching him for a book-jacket blurb for my memoir, Causeway, so I didn't. But my editor did, and the result was a bit overwhelming, a selection of glowing endorsements for my book, something to gladden the heart of any author.
But the best was to come. He wrote to me, several letters that amounted to a heartfelt memoir of his own, hand-written testimonials about his father who, like mine, compromised health and life toiling in the Satanic mills and mines of depression-era North America. And he wrote about his revered father-in-law who stayed faithful to the land, struggling to preserve a fragile family economy, a failing culture, a dying language and who helped inspire the faith and values that would sustain the writer and so much that he would write about.
Alistair was a great writer, and a rare one—a human being whose character and literary characters transcended circumstances and found an eloquence that, for those who knew him, was as inspiring as his stories. For everybody else, and for posterity, there are the stories, and through them the memory of a people that he loved, the struggles he respected and, through his words and in his life, never ceased to celebrate.
Linden MacIntyre is the award-winning co-host of the fitfth estate on CBC. He is also the author of three novels, including the 2009 Scotiabank Giller Prize-winning The Bishop's Man, and a memoir, Causeway: A Passage from Innocence.
*

Meeting Alistair MacLeod, by Johanna Skibsrud
I first encountered Alistair MacLeod at the age of twenty, when, as a homesick University student, living in Toronto, I read Island and No Great Mischief. It was not only being carried back to Nova Scotia that I loved (a Nova Scotia that was, as I am sure it is for most of MacLeod's readers, no matter where they come from, at once both familiar and strange), it was being carried away. Like only the best prose writers, MacLeod renders language itself a complete and separate world; a point from which the ordinary as well as the extraordinary—often inarticulable—aspects and emotions of everyday life become articulate, real.
Ten years later, I had the pleasure of meeting Alistair in person, and in the summer of 2011 my family was honoured to host Alistair and his wife Anita, along with Alexander and Crystal, and their family, for a supper at our home prior to the Read by the Sea literary festival in River John, Nova Scotia. There were a number of guests and festival committee members in attendance—all of them as thrilled as we were to be entertaining the MacLeod clan, and each one as eager as the next to talk to Alistair and perhaps in some way try to express what his books meant to them. But Alistair spent the greater part of the evening talking to my step-father (a dairy farmer, and the one person in the room who probably hadn't read his books) about cattle and farming, and the importance of looking after the land.
Last spring, my husband and I bought a little summer place in Cape Breton, near the Margaree Valley so dear to Alistair and his family, and once or twice over the course of the summer we had the pleasure of running into him at the local Co-op. The memory I am most grateful for now, though, is of sitting at the back of the Margaree Forks Library on Canada Day, 2013—it was packed nearly to overflowing and sweltering hot—listening to Alistair read from his short story, "The Boat." I had forgotten, somehow, how utterly transformative MacLeod's language could be. But sitting there, listening to him read that story in his own voice, I felt as overwhelmed as I had over ten years before when I first read those words myself—swept away, once more, by the beauty of the story and the language, and by a powerful feeling, replete with all of its conflicting emotions, of being alive in that particular space, at that particular time.
This is, I believe, the greatest gift any artist can bestow.
Thank you, Alistair, for that gift.
Johanna Skibsrud is a novelist and short story writer. Her 2010 book, The Sentimentalists, won the Scotiabank Giller Prize. She is also the author of This Will Be Difficult To Explain.