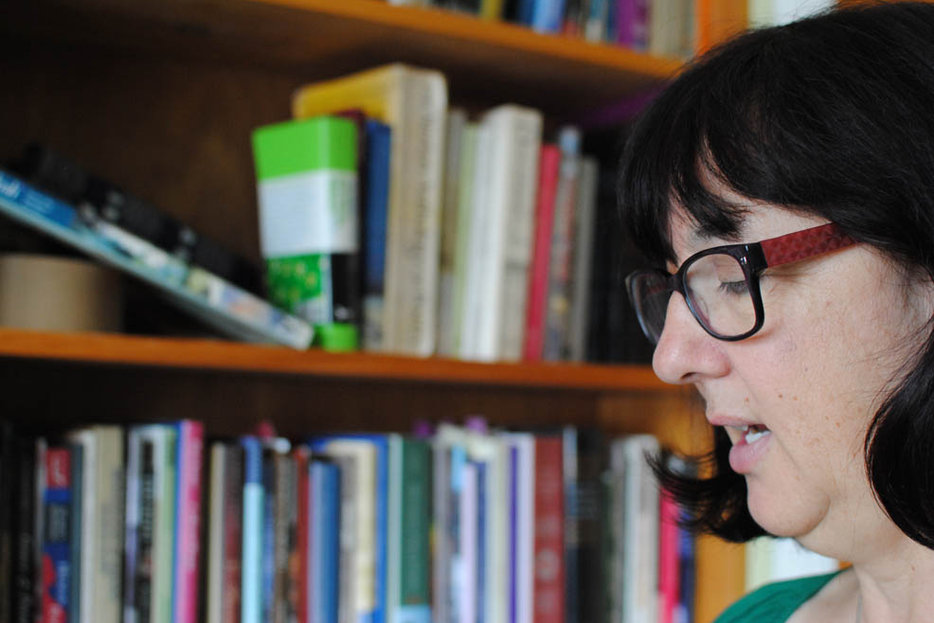 Shelf Esteem is a weekly measure of the books on the shelves of writers, editors, and other word lovers, as told to Emily M. Keeler. This week's shelf belongs to Nadine McInnis, who is a poet, short story writer, and essayist. She is an instructor of creative writing at Algonquin College and the author of seven books—most recently, Blood Secrets, a collection of short stories out this year from Biblioasis. McInnis's books are spread around her house in Ottawa, but they mostly sit in her living room and in her bright office, where a big picture window lets in wintery light softened by falling snow.
There are all kinds of books. My husband is completely frustrated that I don't organize them. Some of them are books that I've published in, some are books I use for teaching. Some of these are poetry, I just pull them off the shelf and read them. There's just kind of a mishmash, I have to confess.
I sort of know where the books are that I haven't read yet. I tend to keep track of those. I sort of keep everything in clusters—y'know, these are ones from my book club, these are ones I'm gonna read next. I get rid of a lot of books, but I save the ones I probably couldn't get again. Like, I've gotten rid of most of Atwood's. I just have a few, because they're so easy to find. But I save all of Munro's, because they're just so amazing and I take them down all the time.
I just have a really wide variety. I guess I mostly read Canadian and American, but in a way my shelf isn't really reflective of what I read, because I do give books away to people that I know are gonna like 'em, because there's just too many books in the world. I still have maybe a thousand books.
Quite a bit of nonfiction as well, but a lot of it is on my iPad. I find nonfiction works really well on an iPad. I developed a bit of a love affair with ebooks. I have a ton of books on my iPad, but lately I've gone back to paper. I find you can share them, paper books, with people, and I find that I forget books I read digitally. So, for about a year I read a lot on my iPad, but I think I'm moving a little away from it again.
I just finished reading Something Fierce, which was just excellent. It's about the woman who was raised as Chilean Revolutionary. It's a really interesting book. Her style! I'm not sure if she has more books to write, this may have been the material she needed to write about. It's a very gripping book, I must say. It's amazing.
I just read Paul Theroux's The Lower River. I've been reading a lot of Paul Theroux. His travel books, but also this, his latest novel. It just came out six months or so ago. That was one I really enjoyed a lot. It's about traveling to Africa. It's funny, looking at my books now, it's like there is a little bit of a theme. I have a lot of books about strange voyages. The Lower River falls into that, The Book of Negroes falls into that, Survival, Into the Wild, Barry Lopez…it's interesting. I hadn't realized I have this bias, but looking at these books through your eyes, I'm thinking like, "Oh yeah, Moby Dick, definitely Something Fierce is very much a travel book in a lot of ways…
In the office there are more Arctic explorations. I'm very into that. People that take journeys. I think that might be my next theme, actually. I've just finished another book, which is also about death. It's poetry. But then I'm done, I'm done with death. I'm totally changing tacks. Something else will come to me. My books are speaking to me too, they're telling me what I'm interested in—I'm interested in strange turns. In people going off and their lives go in a different direction.
I really love Brick. Brick is the most beautiful magazine. Gorgeous. The design, it's just absolutely gorgeous. This is what book and magazine publishing is about! It's about that melding of excellent content with excellent design. It has a great feel in the hands, and they include really interesting visual arts. It's a nice balance between visuals, nonfiction, some poetry, some fiction—but not a lot. I sent some poems to them from my last book. It's photographs from the women in the Surrey County Lunatic asylum, and with poems based on them. But anyway, I sent them poems from this book, with some of the photos and the essay that's at the end. The essay was just to give them context. They said, "Well, we never ever ever accept unsolicited poetry, but we liked your essay, and we liked the photographs!" So they published those. I must have it here somewhere. They only take unsolicited nonfiction submissions.
Oh, I should tell you about Arc Magazine. This one and Brick are the two most beautiful ones in the country. They have the same blend of really beautiful production values and excellent content, but this one focuses solely on poetry and it comes from Ottawa. They're really eclectic, they publish language poems, narrative poems, lyrical poems. It's changed editorial hands over the years, and sensibilities too. They have an editorial board. I was involved very early on in Arc, but it didn't look this great.
I love that book, Otherwise, by Jane Kenyon. She's an American poet who died, about 15 years ago, and she's just excellent. Such interesting poems. She's like the antithesis of contemporary writing, because she's so spare and so lyrical. It's just like, one observation and she'll just make a poem—a beautiful luminous poem—out of one observation. There's not enough of that.
We save a lot of the ones we really like, and my husband's a big fan of Joyce Carol Oates. She's so skillful. I was just teaching a story of hers the other day. But we've still got rid of a lot of hers. We don't have Black Water, which is too bad; it's my very favourite. It's a perfect melding of form and content. It's about the drowning of—Edward Kennedy drove off the bridge with a campaign worker next to him, Mary Jo Kopechne. Do you remember this? He basically vanished that night, he didn't report that he had driven off a bridge, and that this young woman, 28-years-old, had drowned in the car. It ended him politically, it was a huge scandal. Could he have saved her? Was he drunk? You know, all these things. So Black Water is a novella that takes the exact amount of time to read as it took for her to drown. Forty-five minutes, or so. And it's just this perfect melding—her life in American politics, men of privilege. And he kicks her on his way out, and she has his shoe in her hand, and she keeps returning to this image, to this shoe. It's just a beautiful novel.
It's a little overwhelming these days, isn't it? There's just so much to read.