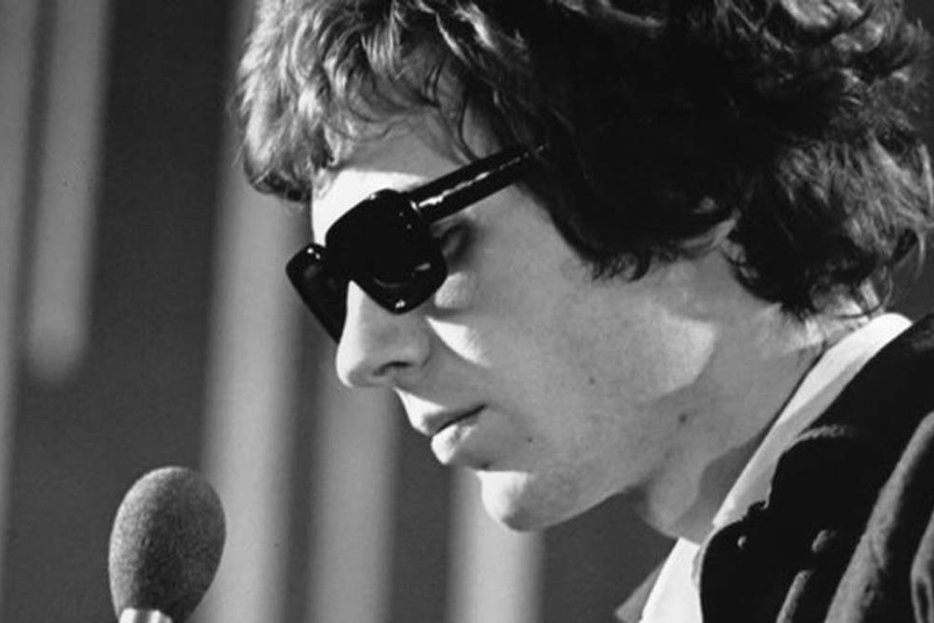 I wanted to write about Scott Walker because I think you'd find him interesting. He's a great artist with a great story and he has a new album out today: Bish Bosch, which is incredible and terrifying. Also, I'm a big Scott Walker fan. I think he's a genius. A lot of people are potential geniuses, but not a lot put in the work required to realize their genius. Suffice to say, Scott Walker is not someone who deserves to be masturbated on by some hack.
That's what makes it difficult to write about Scott Walker. I thought about this while reading No Regrets: Writings on Scott Walker, a collection of essays edited by Rob Young, a former editor of The Wire. Not all of the essays are masturbatory—some of them are excellent—but some definitely are. The thing about music writing is what can you really do for your subject? Generally speaking, people hear music and either like it or don't. It's not the same for film or visual art. Half the time, when I look at a painting, I don't know what the hell I'm looking at. I need Peter Schjeldahl to tell me it's a painting about paintings.
Writing about music leaves you feeling impotent. Nothing you write can approximate the power of a song, because song-logic and verbal logic are not the same. I think that's why so many music critics often take the "lyrical" approach, which occasionally works, but usually amounts to the reviewer crying, "Give me that song, I'm gonna fuck it!" At its most benign, it's like describing cloud formations. I prefer music writing that tells a story and gives some context. Scott Walker is a good subject for that because his story is a good entry point to his music, which can be daunting.
Not that his story can make sense of his work. Each listener has to find her own on-ramp to his sensibility and all I can do is tell you mine.
*
Noel Scott Engel was born in Hamilton, Ohio on January 9, 1943. (The back cover of an early Walker Brothers compilation calls him "Canadian-born," which is sadly untrue.) He was an only child and his parents moved around a lot—his dad was a geologist for an oil company—but loneliness suited him fine, and from an early age he loved going by himself to the cinema. He preferred the European stuff; it had a "dreamlike" quality that was missing from Woody Allen's work.
His parents divorced when he was six. He and his mom moved to Denver, then to New York, where he landed a role on Broadway and, as Young writes, hung out with gangster types. When he was 16, they relocated to California, where he recorded an EP called Meet Scott Engel. According to Young, the sleeve calls him "the gonnest gasser of all gassers." I have no idea what that means. He played bass as well, for recording sessions and in bands around LA. He was disturbingly good looking.
In 1964, he started a band with two fellow hired guns, John Maus and Gary Leeds. They adopted extravagant hairstyles and changed their last names to "Walker," becoming The Walker Brothers. Originally, John was supposed to sing, but during an early recording session, the producer—Jack Nitzsche—suggested Scott step up to lead. It was a good suggestion.
They moved to London in February 1965, stormed the offices of Melody Maker and hustled for a manager. By September, they had a number-one hit in Bacharach/David's "Make It Easy On Yourself." The following year, they had another: "The Sun Ain't Gonna Shine (Anymore)."
Both are great, enduring songs that could have been hits even if the singers hadn't been incredibly good looking. But they were incredibly good looking. Girls thronged their concerts and rushed the stage like zombies. They tipped over a van the boys were travelling in, cracked John's head open on multiple occasions, chased Scott into a bathroom stall and tried to break down the door. Once, a girl of about 12 latched on to John's hair: "I was screaming, Let go! Let go! Because the whole crowd was surging and it was getting to the point where everything was going to collapse," Gary told Anthony Reynolds, the Walkers' biographer and a contributor to No Regrets. "So I finally hit her in the face—she screamed but she still held on." Mounted police were brought in to patrol their concerts; teenyboppers chucked marbles at the horses' hooves.
Mounted police were brought in to patrol their concerts; teenyboppers chucked marbles at the horses' hooves.
"It was fun at first," Scott told the Guardian in 2000. "It's like everybody tells you: it turns. After a while, it's all these people going"—he makes crazy eyes and claws at the interviewer—"and then you have nightmares of people going"—same gesture. By the Walker Brothers' second album, Scott was troubled. That he seemed "troubled" only made the girls nuttier. He told interviewers that he didn't care about money, talked about existentialism, skipped Swinging London for late-night recording sessions. He went to a monastery on the Isle of Wight to study Gregorian chant, a stay cut short by hoards of stalkers. He was 23.
In 1967, Scott visited the Playboy Club ("why, I don't know," he says in Stephen Kijak's 2006 documentary, Scott Walker: 30 Century Man) and went home with a German bunny who drank Pernod and played him Jacques Brel records, which he asked her to translate. A week later, his friend Andrew Loog Oldham slipped him a demo of Jacques Brel songs recorded in English; this effectively launched his solo career. The Brothers broke up that year, and Scott became the first English-language interpreter of Brel's music.
As Gavin Friday points out in 30 Century Man, Brel and Walker were very different characters: Brel passionate, sweaty, alive, allowing his lyrics to contort his face; Walker sullen, immaculate, composed, miming the words with hand gestures and the odd eyebrow lift. But their similarities might have trumped their differences. Scott was a crooner in the mid-to-late '60s and a young heartthrob preoccupied with death. It must have been lonely out there.
Walker recorded four solo albums (Scott, Scott 2, Scott 3, and Scott 4) before decade's end, each with a higher ratio of originals to covers, each better than the last. His songs evolved from romantic ballads to poems and character studies; the arrangements, written by Angela Morley (then Wally Stott) interact with the lyrics more than punctuate them. The strings are sometimes discordant and the subject matter is sometimes morbid, but the music is never not beautiful. You could call it adventurously beautiful. This explains why the first three records charted so well.
Then came Scott 4. To quote Derek Walmsley, in his essay for No Regrets:
"Scott appeared on the front of the 13 December edition of the New Musical Express in the image from the front of Scott 4—a white stand-up collared shirt, black jacket and a gold chain dangling, giving him a faint priestly air. But there was no album title, just a quote (uncredited) from Albert Camus: 'A man's work is nothing but this slow trek to rediscover, through the detours of art, those two or three great and simple images in whose presence his heart first opened.'"
The album begins with "The Seventh Seal," a five-minute summary of Ingmar Bergman's The Seventh Seal. It is credited to Scott Engel, who, having recently fired his manager, was not available for interviews. The album failed to chart and was quickly deleted from its label's catalogue.
*
You might assume that Scott was glad to have finally alienated his screaming girl fans—plenty of them assumed as much. This was not the case. It was the '60s, and Walker was beholden to his record label; his artistic license was conditional on his selling power. He worried he'd be barred from recording his own work, or cut loose altogether. His producer, John Franz, suggested they dumb it down for a while and then work back up to the challenging stuff.
"I snapped," he told Sean O'Hagen in 2008. "The pressure was everywhere and, in my crazy imagination, I thought, 'I'd better keep doing this just to stay in the game.'" He'd hired a new manager, Ady Semel, whose big act was Esther and Abi Ofarim, the Israeli husband-and-wife duo responsible for "Cinderella Rockefeller." He started drinking too much.
His '70s records, and there are five of them, were recorded mostly out of contractual obligation and for cash—from 1971, he had a daughter to support. You can hear the jowls starting to form (figuratively; he remained very thin). He refers to these years as his period of "bad faith." At club engagements, Amanda Petrusich writes in No Regrets, he told his audience: "I hope you're well-loaded tonight. You've got to be to watch this show!"
The other Walker Brothers hadn't fared much better. Gary had released a psychedelic record under the name Gary Walker & the Rain. John Walker was living in the States and nearly out of money when he called Scott to suggest a reunion. They reunited, happily at first. The cover of 1975's No Regrets shows them barbecue-ready: all in denim, smiling in the light of an artificial sun, Scott shirtless, covering his face with one hand and clutching a tall can with the other.
The eponymous single, a Tom Rush cover, charted well, but the album didn't; neither did the follow-up, Lines, in 1977. And touring was not much fun. "[We were] taking the highest permitted dose" of Valium, Gary told Reynolds. "Everything was fine until the tablet started wearing off… as in the sixties, [Scott] was terrified of the Valium wearing off on stage and had panic attacks while performing."
They'd scraped the dregs of their former stardom and their label was losing interest; it was also going bankrupt. With nothing to lose, Scott suggested they write their own material for a final album, Nite Flights. It features four tracks by each brother, and opens with Scott's "The Electrician," an erotic dialogue between a torturer and his victim. "If I/Jerk the handle/You'll die/In your dreams," Scott moans. "If I/Jerk the handle/Jerk the handle/You'll/Thrill me/And/Thrill me/And/Thrill me." Then there's "Fat Mama Kick," which sounds like a panic attack. The words are abstract and the vocal tracks layered disharmoniously, creating a warped effect like a disembodied bellow in a dream.
"That reignited everything for me," Scott told interviewer Graham Reid. "Then I thought I wasn't ever going back, I was going to keep going forward."
*
In 1984, Scott holed up in a cottage to write what would become Climate of Hunter. It was recorded piecemeal, by musicians who were barred from hearing the songs' melodies. The album has some '80s cliches—it's a bit reverb-sauced, with a few big, whining guitar solos—but it takes off with the oblique approach kick-started on Nite Flights.
Upon its release, Walker was interviewed on Channel 4's The Tube. "Do you think with the album coming out you'll get the same sort of response as the Walker Brothers had then?" asks the host, Muriel Gray. "Oh no, no. No, I hope not," says Walker. "I'm carrying on really with what I was doing in my solo thing… and hopefully picking up some pieces." Gray cues the video for "Track Three," which would be the album's only single. Scott glances at her, tugs at his coat, and says either "This it?"—as in, this is my video?—or "That's it?"—as in, are we done?
It had been six years since Nite Flights, but his cachet had grown in the meantime. Julian Cope, former Teardrop Explodes frontman and self-made impresario of the unsung, had put together a compilation of Scott's solo work called Fire Escape in the Sky: The Godlike Genius of Scott Walker. Brian Eno offered to produce his next album, and took him into the studio with Daniel Lanois. "I just couldn't get along with that guy," Scott told the Independent in 1996. So he walked away, and his label dropped him. He doesn't seem to regret it.
Brian Eno offered to produce his next album, and took him into the studio with Daniel Lanois. "I just couldn't get along with that guy," Scott told the Independent in 1996. So he walked away, and his label dropped him.
In 1993, Scott approached Dave Bates, the head of Fontana records, about a new album. Bates, a fan of his, was enthusiastic. "Do you have any idea of what sort of an advance you'd want?" he recalled in a later Independent feature. "'Advance? What, money?'" Walker replied. "'No, no, no—I'm not really into the money… Money sort of tends to create problems.'" The result was Tilt, more refined and ten layers more opaque than even Climate of Hunter. It's bleak and operatic—with a "febrile quality," as Scott put it to The Wire —and entrancing once you crack it open after a dozen or two listens. The lyrics consist of image fragments and shreds of lament, with lines from the Adolf Eichmann trial ("The Cockfighter") and songs sung in character as Pier Paolo Pasolini ("Farmer in the City").
"A few concessions, though, and you could be King of Las Vegas," nagged a reporter for the Times of London.
"Precisely," Scott replied. "You said it."
He wouldn't release another album for eleven years: The Drift, which came out in 2006 on the (sizable) indie label 4AD. It batters the nervous system more than Tilt, and it's less tuneful, with "big blocks of sound"—sudden blasts from a 36-piece string ensemble, a percussionist punching a side of pork—all corresponding somehow to the lyrics, which are just as abstruse, but maybe more vibrant, than on Tilt. "Jesse" is Elvis Presley addressing his stillborn twin as he watches the twin towers collapse. ("Skyscrapers don't have any reflective spiritual qualities," Scott told Robert Webb. "There's no mirror effect. It's the same with the dead twin brother. Presley used to talk to him: a dead past.") "Clara" is about the hanging bodies of Mussolini and his mistress, Clara Petacci, an image reproduced in newsreels Walker saw as a child. The song "Cue," which has at least something to do with hemorrhagic fever, took him nine years to write.
*
In the studio, Scott knows immediately, intuitively whether a sound is right or not, and he directs a team of session players with a feel for how his mind works. "There are times where he'd say, 'I'd like a donkey,'" says his longtime co-producer, Peter Walsh, in Kijak's film. "Donkey sounds were a major part of my life last year. Trying to find"—he laughs, then stops laughing abruptly—"the right mule. I mean, it sounds mad. But it works."
This is to say that Walker knows how to do his work. Everything starts with the lyrics, which come to him, he says, after long periods of waiting; after that, he "dresses" them. Each sound on the album somehow realizes the words, which don't make sense by the standards of normal logic. They work in dream logic, and Walker—I mean this literally, not trying to be clever—has always suffered from nightmares. He says that his music is an attempt to say the unsayable, to use "language to discuss things that are beyond language," as he put it to Young. Partly, I think, he's talking about human atrocity—his lyrics often refer to fascism—and partly he's speaking about forms in his unconscious, those blurry things you can sketch a likeness of but never touch.
So you get lines like:
"THAT RIBBON CRACK/LIKE THIS ONE AND/THIS ONE CRACK LIKE/THOSE OVER THERE AND/THOSE OVER THERE CRACK/LIKE THESE TWO"
(From "The Cockfighter," on Tilt)
And:
"At the birth of a vermin Holy Ghost/Stars led to sky/lash led to eye/herpes to clit/then stopped"
(From "Cue," on The Drift)
"Scott," an interviewer once asked, "Do you know what you're—"
"Do I know what I'm talking about? Oh yes," he answered. "I'm not someone who puts down a line for the sake of it… I've honed and honed those babies down."
An artist, of course, is not his work. Interviewers often talk to him as though he's bananas, but his records tell us very little about what he's like to have a beer with, or how he spends most of his days. "Ultimately, your work is your Self," he told Kijak, but he meant "Self" in the essential sense—the goo beneath our identities. In interviews, he seems polite and funny; just a guy, with friends and hobbies and a longterm partner.
His latest album, Bish Bosch, is disgusting; I mean that in a good way. There are long blades sharpened percussively, an oinking tubax (a massive tuba/saxophone combo), squealing ram's horns, and a spread of farts—not a typo—on the song "Corps de Blah." Songs evoke disease and squalor, animal slaughter and bestiality, as well as the execution of Nicolae Ceauşescu; the first single, "Epizootics!" was released with a beautiful, hypnotic, and stomach-churning video by Olivier Groulx. The Drift was shrill and terrifying, while this is rumbly and disturbing like a tummy annexed by worms. He's not trying to put us off; this is only what came to him.
In 2006, Rob Young told Walker how much he admired The Drift. "Well, thank you," he replied. "It's so unusual for people to just say that out to me, I [usually] feel like I brought in the plague or something. If people just said they liked it upfront, it would make me feel so much better."
*
I started with the '60s stuff. I'd heard it was important, and it didn't hurt that he was handsome. It seems disrespectful to hang on the looks of an artist you admire, but in this case, I think, it's relevant. I mean, if he'd been a squishy-faced guy who always wore a beanie, or a former junkie who cleaned himself up for an accidental daughter, that'd be relevant, too. You want to know who's singing your love songs.
The first album I ever picked up was Scott 2. It sounded, to me, at first, like Christmas music, which brought on some cognitive dissonance: if I liked Scott 2, then I'd have to admit I liked Bing Crosby. The difference seemed mostly thematic: Bing Crosby sang about Christmas, while Scott Walker sang about prostitutes, adultery, and VD.
The thing about Christmas music is all those punishing waves of sentiment. It's like being kissed by a parent in public. But what I got from Scott 2, and even more from Scotts 3 and 4, was romance without guilt: big, rapturous arrangements and dramatic vocals, evoking a worldview in which feelings are a given, not a sign of weakness. Listening through earbuds in downtown Toronto, the album seemed completely mismatched to my surroundings, which made me nostalgic, and Scott's darkness made that OK. The darkness never leapt out at me—I knew it was there because I knew about Tilt.
I was working in a record store when The Drift came out (a coworker there had told me about Tilt in the first place), and we listened to it over the speakers until our superiors told us to quit alienating the customers. The Drift is more bombastic than Tilt, which means you don't have to work to understand how frightening it is. The more work you do, the more frightening it becomes.
Thing is, I might not have done the work had I not known who Scott was: stylish teen idol who never quite took to celebrity; maverick who spurned hysterical fame to do things his own way; artist who spent the greater part of a decade wrestling with a need to be himself. I'm naming off tropes here, of course, but attractive ones.
Scott Walker's music is not autobiographical. That's mostly true of his '60s output and truer of his work today. He's never released any songs about his tragic fall from grace or his slow, agonizing emergence as a Real Artist; his music has nothing to do with his past. You don't need to know anything about him to understand where he's coming from. More accurately, you could know everything about him and still not have a clue.
I need a tune and a beat. I like human harmonies. If the work is difficult, I need some assurance that it's worth the effort; I'm not commuting to the suburbs to hang out at Tim Horton's. So Scott's biography is important—to me at least, and I can't imagine I'm alone here—because if it weren't for his biography, I would never have given him the benefit of the doubt.
Critics argue that Scott's later work is more authentically him. Not more personal, obviously, but a purer expression of what's inside him, the bile of his psyche. He has said that, in the '60s, he could write songs in a night. Now his songs can take years to write, because composing melodies is easier, presumably, than clutching at the wiggly tail of your unconscious. The lyrics come to him; his job is to wait, and then to render them faithfully in studio. His early obsession with mortality is significant, I think, because if there's nothing after death, it becomes that much more important to leave some impression of yourself in the world of the living. And that much more important to render yourself appropriately.
To tell you the truth, I'm not sure I understand latter-day Scott Walker. "When I see the page and the lyrics, I see soldiers in a field," he told O'Hagen in the Guardian. "There's a lot of white space which represents me in a sense." I think I understand what he means. As in, I get how a task can feel like an analogue of itself when you're engaged. But I can't totally empathize, the way I could if he'd said he was writing about sex. Scott writes his lyrics in a state I've never been in, because I am not him, and his work is radically his.
Most music is somewhat practical: you're supposed to interact with it, to relate; it's about the stuff we all have in common. The artist is there with you, of course, but you are, to varying degrees, in conversation. Someone like Neil Young is a beautiful, broken-in chair; Scott Walker is an eight-foot granite spike in the middle of a room. It's up to you to find a way to appreciate him.
Someone like Neil Young is a beautiful, broken-in chair; Scott Walker is an eight-foot granite spike in the middle of a room.
Take "SDSS 1416+13B (Zercon, a Flagpole sitter)," from Bish Bosch. It's a song about a Moorish dwarf in the court of Attila the Hun, who sees his milieu as "an immense toilet"—plenty of animal sex going on—and flies up through space and time in an attempt to transcend the morass of human filth. He makes it to the 1930s, where he becomes a flagpole sitter, then up beyond our galaxy, where he becomes a sub-stellar object—a brown dwarf—and freezes to death, alone in space. This is silly nonsense as much as it is crazy genius and I only get it if I don't think too hard—if I avoid getting caught up on lines like "Janus head/its said,/will give good door." (Lines like "I've severed/my reeking gonads,/fed them to your/shrunken face" are lower-hanging fruit.)
The song is 20 minutes long and I've listened to it several times since receiving the album. Here's what I've taken from it: nothing has any true meaning; everything we consider meaningful is actually disgusting; our bodies are full of reeking slime; we're borne of each other's excretions; the only way out is through death; death is like being alone in space forever. It's hard to get into Scott's records, but it's just as hard to get out of them.
But do I really get it? It's hard to know whether this is just suspension of disbelief. The songs follow patterns that don't exist in the real world, and Scott's not helping—not that he could. I don't think he knows what his songs mean, exactly, because they have no exact meanings; and he's probably never totally sure that he's gotten them right. I suppose that's true of any artist. Like any listener, I believe because I want to.