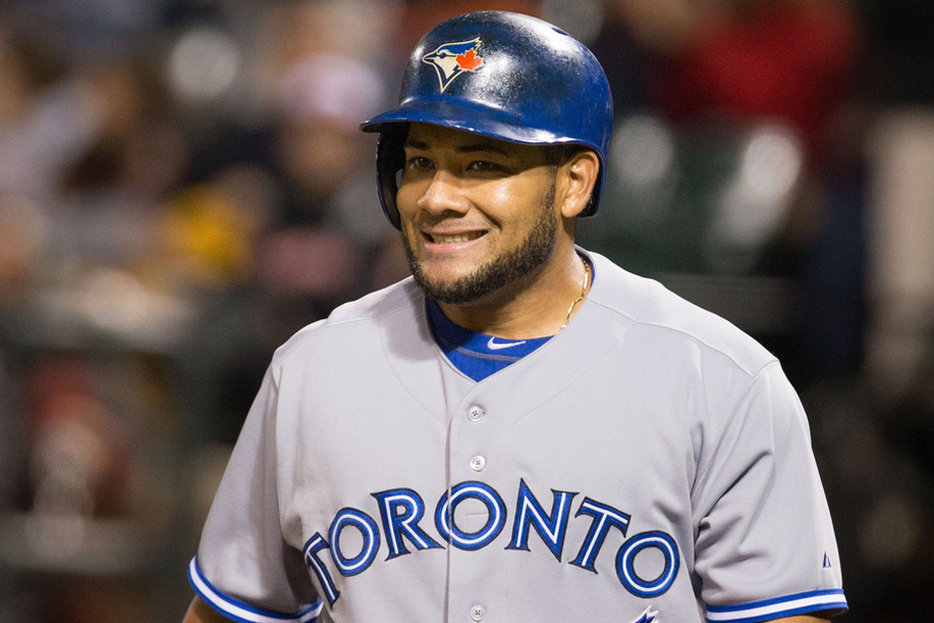 They booed Melky Cabrera in San Francisco this week. They booed him when he came to bat in the first inning, and booed him harder when he hit a leadoff single. By the time the Blue Jays left fielder came to the plate in the ninth inning this past Tuesday, with a runner on base and the chance to tie the game, the stadium was jeering Cabrera with the special passion of fans who have seen more than their fair share of lies, cheats, and hormone-powered home runs. He flied out.
Just a year earlier, Cabrera had been a San Francisco favourite, finishing an historic May with a record-breaking 51 hits and inducing fans—grown adults—to dress up as old-fashioned milk men and brand themselves the "Melkmen" in honour of the Dominican-born outfielder's offensive prowess. Then came August, when Cabrera tested positive to performance-enhancing drugs, got a fifty game suspension, and was unceremoniously dropped by the team on their way to the World Series.
Before his return Tuesday, Cabrera was apologetic.
"I feel very sorry for what happened," he told reporters. "I regret what happened. It's in the past… That was 2012. Now, it's 2013 and I'm focused on playing baseball."
Indeed. 2012? That was literally months ago. Does anyone even remember what happened back then? Did we ever end up catching Kony? Wasn't there some sort of controversy about Olympic badminton, of all things? Who knows. We're not about to go digging through some dusty old encyclopedias to find out.
Coincidentally, while Cabrera was being welcomed by San Francisco fans, reporters from ESPN's Outside the Lines were hitting "publish" on a report that could basically explode all of Major League Baseball. According to the report, MLB had finally reached a deal with Tony Bosch, the founder of the Miami-based Biogenesis Clinic that allegedly supplied dozens of baseball players with performance-enhancing drugs, including Cabrera.
Bosch, the sleazy, rather pathetic figure at the centre of all of this, is a strip-mall pseudo-doctor who peddled anti-aging drugs before finding himself with a client list of millionaire ball-players—a client list he, amazingly, decided to keep on paper in handwriting. Now Bosch is reportedly broke, couch-surfing through his remaining friends' homes, and trying to hold off a punitive lawsuit MLB filed against him for interference in the league's business. After months of the kind of pressure that only a vengeful, incredibly wealthy professional sports league can provide, Bosch folded. ESPN says he'll name names.
The reported suspensions are huge. There could be 100-game bans and action taken against more than twenty players. The players involved include big-shots like Alex Rodriguez, National League 2011 MVP Ryan Braun, and Cabrera (who could possibly face yet another suspension). It would be the biggest drug scandal in American sports history. If you care about the sanctity of baseball, the cleanliness of the sport, surely this is good news.
Baseball writers, for their part, have largely greeted the news with a yawn, their vitriol reserved for the officials who brought this messy business back into the public eye, not the players who may or may not have gone to a Florida quack to have themselves pumped full of synthetic testosterone. In a piece in the Globe, Jeff Blair attacked Commissioner Bud Selig for pursuing a vendetta against players and bringing unwanted attention to performance-enhancing drugs: "He has put PEDs at the forefront, even though there is little indication that television executives, sponsors or fans are all that interested," Blair wrote. "The game is flush; if anything is on steroids these days, it's baseball's finances." (As if the two were mutually exclusive.) At Deadspin, Tim Marchman wrote "no one gives two tugs of a dead dog's dick about what elixirs, potions, salves, balms, solutions, injections, and serums players do or don't use." Will Leitch concurred: "Fans have made abundantly clear their views on players who have been connected to PEDs: They don't care."
The baseball scandals of the past—the Bash Brothers and the Sosa-McGwire home run races and Barry Bonds' enormous cranium—have left us cynical in ways that make it difficult to get overexcited about a few, or even twenty, new cheaters. The idea of living through months of this kind of investigation yet again, with all its messiness and ugliness is, more than anything, immensely wearying. Do we really have to go down this road again? Do need another season of late-night comics making A-Rod jokes? We'd rather ignore it.
When Cabrera returned to San Francisco this week, grumpy Dodgers legend Tommy Lasorda happened to be in town. He approved of the way the fans had booed Cabrera.
"They should," Lasorda said. "What he did to the team, what he did to baseball. It's just not right to get involved in something like that. It's just hurting baseball. It is the greatest sport in this country and we've got to keep it clean and decent forever."
With all due respect to Mr. Lasorda, the opportunity to keep baseball "clean and decent forever" is long gone. Lasorda's ideas about what may or may not hurt baseball, after a generation of steroid-powered dingers and 98-mile-an-hour fastballs, seem quaint. For better or worse, when it comes to slavishly holding players to lofty moral ideals, Lasorda seems to be in the minority. Today, most of us seem to agree with Melky. 2012? That's ancient history. Let's move on.
–
Find Hazlitt on Facebook / Follow us on Twitter
Photo: Melky Cabrera by Keith Allison via Flickr