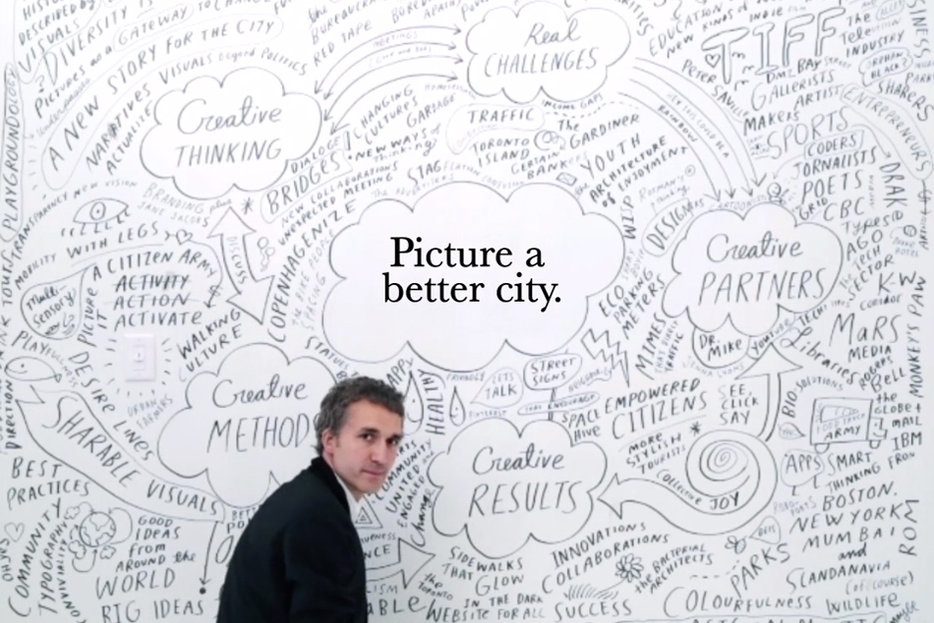 When I first moved to Toronto from Montreal, I was mildly obsessed with talking about how badly the city needed a makeover. I arrived in 2001, a year or so after my sister who'd been spending time here for business, and we indulged the same conversation on repeat: Where were the coffee shops? Why weren't there delicious delis all over the downtown core serving up quality take-away? Why did everything look so drab and close so early? Street parking that expires at midnight—a municipal cash cow or a puritanical conspiracy against house parties and sexy-time sleepovers? (Probably both.) Then there was the city's much bemoaned legacy of rule-bound puritanism: Why could you only buy beer from the most highly regulated and unimaginatively named place ever, The Beer Store? Every third business seemed to be named for a pun, the tangled mess of streetcar wires lacerated my sightline, and the ubiquitous wrought-iron railing work was like a never-ending proscenium for menagerie upon menagerie of unironic lawn ornaments.
Sure, I'd grown up drinking the terroir Kool-Aid produced by Canada's fairer city where the food has always been better, the architecture more Ruskinian, the culture more avant-garde, and the hockey blessed by a force from on high. My 25-year-old snobbery was entirely unoriginal. But the criticisms weren't without merit.
Cut to 2014: Not only has Toronto blossomed, it's thriving. TIFF has become one of the most important film festivals in the world. The ROM, the AGO and OCADU have all had top-dollar architectural facelifts. Nuit Blanche is a citywide, bank-sponsored, all-night art rager, Marina Abramović is a household name thanks to Luminato, and the wildly popular monthly multi-arts mainstays, Long Winter and AGO First Thursdays, perpetually push capacity. And that's to say nothing of Toronto's booming culinary scene, disproportionate wealth of talented musicians, destination-worthy neighbourhood street parties, and delectable farmers' markets.
As a recent Globe and Mail article by Quebecoise journalist Lysiane Gagnon asked: "Toronto the good time—who knew?"
Psst, Lysiane—we knew. What Toronto doesn't know, however, is how to own it. Perhaps it's because we've got whiplash from our breakneck cultural growth spurt? I'd have a hard time believing it has anything to do with feeling stultified by our collective mayoral shame. There will always be those who'd blame it on a case of the Canadian humbles. Or maybe the reason Toronto has become so certifiably great is precisely because we don't shout it from our rooftop gardens? (Of which we still need more, by the way.)
Cue Jason Logan, the man behind a new big-idea campaign, "Toronto Needs a Creative Director," an open call to the 2014 mayoral candidates to establish an Office for Creative Direction for the City of Toronto (CDTO). Founding Art Director of The Walrus, acclaimed writer and illustrator, and former editorial creative director for Rogers Publishing, Logan became hooked on the idea of a municipal creative director after he got involved with residents in his west-end community to protest what he describes as "a really terrible and imposing design" for the revamping of a police station right near his house. He took it upon himself to research and share a dozen images of what he deemed to be "good-looking buildings that were around the same size as our police station" with the various interested parties, and ended up playing a pivotal role in reorienting the design process. "It was a visually driven solution that also involved community and lots of stakeholders, and it worked," he said, getting increasingly animated. "And it made me think, wow, there should be a process in place … that allows for a back and forth between community activists, regular citizens, police, architects. There should be shared visuals when you get into shared vision. And it can really work in an exciting way."
Logan's ultimate goal is to install a municipal office—it would actually operate more like a collaborative lab for incubating ideas and executing projects than an office office—that is devoted to designing "a more livable city," which to Logan means "a more beautiful, more fair, more environmentally friendly, more workable city." There are already two successful precedents for municipal creative directors: TED fellow, artist, and curator Gabriella Gómez-Mont currently heads up the Laboratorio para la Ciudad (City Laboratory) in Mexico City, and Peter Saville, famous for his album art for Joy Division and Roxy Music, served as a consultant creative director to Manchester's City Council from 2004 to 2011.
The first step toward realizing Logan's vision is to get his campaign (#CDTO) on the radar of all concerned citizens—and, further to that, be taken seriously enough by one (or more) of Toronto's current roster of mayoral candidates that they include his proposal in their platform(s). "It's a moment in time when mayoral candidates are talking about vision," Logan says, "but they're not talking about visuals." He wants to capitalize on what he sees as a huge opportunity in the wake of the Rob Ford saga: "We're in a historic election. I mean The New York Times is following us. All eyes are on Toronto because of Ford. And frankly all eyes are on the Toronto story. Ford actually gave us a tiny little leg up in that Toronto has a story. It's just not a great story right now. But he's given us that little piece to start thinking about our story."
When Logan came to me with the idea back in early February and proposed we run an After School event to help launch his campaign, I thought it was forward-thinking, fun, fresh, but maybe also something people—myself included—could perceive as gimmicky or even exploitative. I was wary of whether this city's progressive-minded but sometimes over-protective tastemakers would potentially knee-jerk at the thought of having Don Draper descend upon Toronto, brand it in a fog of Canadian Club (with Peggy's help, of course), and turn it over to Pete Campbell and Harry Crane to sell to business moguls and tourists for mass consumption.
Logan shrugs off the Draper comparison. "There's a kind of creative director that people think of that's all about the flash. And I'm just not that guy. I'm interested in clarifying and activating the great stories of the city, not in imposing my own story on the city."
If Mad Men has taught us anything, though, it's that successful ad campaigns either sell nostalgia or aspiration. The paradox is that even aspirational ads are fundamentally nostalgic in structure; they peddle an idealized future perfect that's perpetually out of reach but, if effective, will haunt us like a memory. There's no question that the task of a creative director is to tell better stories and build better visual identities so that people will take notice and ultimately buy—or buy into—something. But Logan's campaign isn't born out of nostalgia—he's not interested in promoting some essential or vintage version Toronto, or in commodifying the creative classes. He seems genuinely interested in highlighting, coordinating, and further actualizing what we've already got going on so that Lysiane Gagnon et al aren't all so surprised when they discover that Toronto is maybe just, as Logan puts it, "the best beta city on the planet."
For more on his campaign and Toronto's enviable beta status, see Nicola Spunt in conversation with Jason Logan in the latest installment of After School, a salon-style speaker series sponsored by Hazlitt, on Wednesday June 18 at The Theatre Centre, 1115 Queen Street West. Joining Logan is Gabriella Gómez-Mont (Mexico City's Creative Director), Shauna Levy (President of the Design Exchange), Alexander Josephson (Co-Founder of PARTISANS), and Zahra Ebrahim (Founder of archiTEXT). Music by Jeremy Laing. Drink and food experiments by BevLab and The Atlantic. Doors at 7:30pm. Tickets $20.