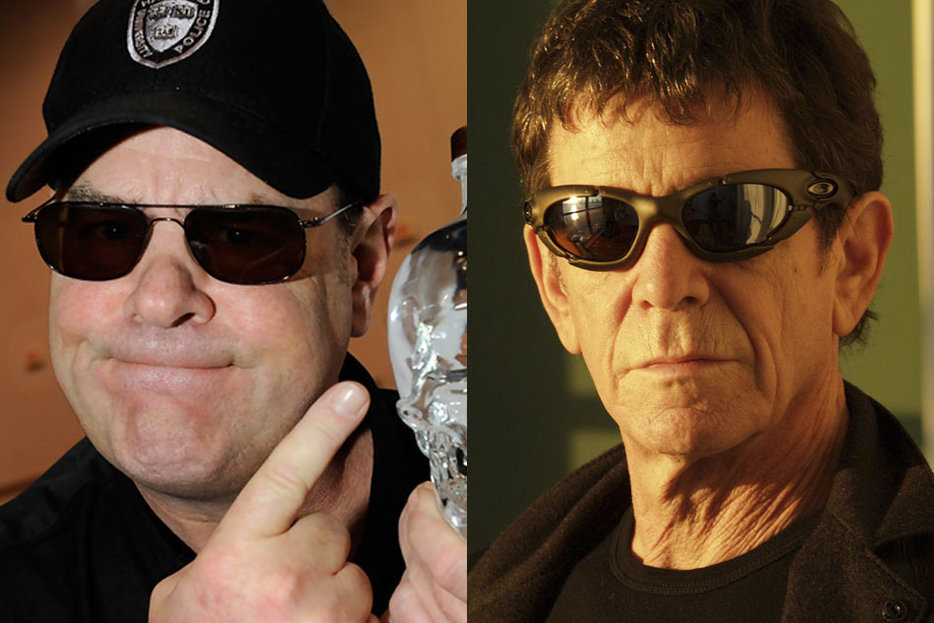 What a whirlwind week it's been for today's top stars. Jean Stapleton passed away, Michael Douglas unwittingly added to cunnilingus' PR woes, and the usually elegant Patrick Stewart admitted he's addicted to, of all things, pizza pie. But the two biggest bombshells came from world of music and the world of, uh, Dan Aykroyd. First, rock 'n' roll animal Lou Reed took a walk on the wild side of organ transplantation when he went and got himself a new liver. Talk about gritty New York cool! Next up, Canadian blues fan/vodka peddler Dan Aykroyd momentarily found himself on the wrong side of the law when Calgary police saw footage of him in what appeared to be a snuff movie. Just when you thought that genre couldn't sink any lower, hey? So, without any further ado, let's put Lou Reed up against Dan Aykroyd and see which of these two aged superstars wins this week's Culture War.
Lou Reed's Livers
Lou Reed officially joined the Rock Stars Who Destroyed Their First Livers And—Oops!—Had To Buy A Second One Club last week when he underwent a liver transplant at a Cleveland hospital. It seems that Lou's overindulgence in drugs and booze—not to mention his legendary weakness for creamy salad dressing—finally took its toll on his liver and the little party pooper just stopped showing up for work one day. By all accounts, the surgery went smoothly and Lou is in good spirits. Doctors say he should be up out of bed and writing songs about the horrors of urban life, dirty sex, and pigging out on heroin in a matter of weeks.
What I want to know is, what will happen to Lou's old liver? Will the doctors toss it in the trash? Will the U.S. military try to weaponize its toxicity for use in future wars? Or will it simply live out its golden years in a group home with David Crosby's and Gregg Allman's old livers, sort of like the Golden Girls but with retired livers instead of comedians? Seeing as the transplant happened in Cleveland, I think they should put Lou's liver on display at the Rock and Roll Hall of Fame. Charge people five bucks to pose for pictures with it or poke it or give it a little kiss.
Dan Aykryod: Snuff Superstar?
It's not every day you hear the words "Dan Aykroyd" and "snuff movie" spoken in the same breath. But that's precisely what everyone was doing last week after a Calgary man found an old filmstrip of something resembling a snuff film at a garbage dump. He took it to the police, who noticed that the blood-covered man standing over a body in the film looked an awful lot like former Psi Factor host Dan Aykroyd. Upon further investigation, it became clear that the film strip was just a scene from Aykroyd's 1990 buddy-cop comedy Loose Cannons, which, although nightmare-inducing, isn't technically illegal.
To recap, Dan Aykroyd did not appear in a snuff movie. And thank God. I'd hate for anyone to associate snuff movies with something as revolting as Dan Aykroyd.
The Winner
This week's winners are Lou Reed's livers! One is coming, the other is going, but they're both starting exciting new chapters of their lives. I just hope Lou takes better care of liver #2 than he did #1. After all, livers don't grow on trees, Lou! (They grow in humans.)