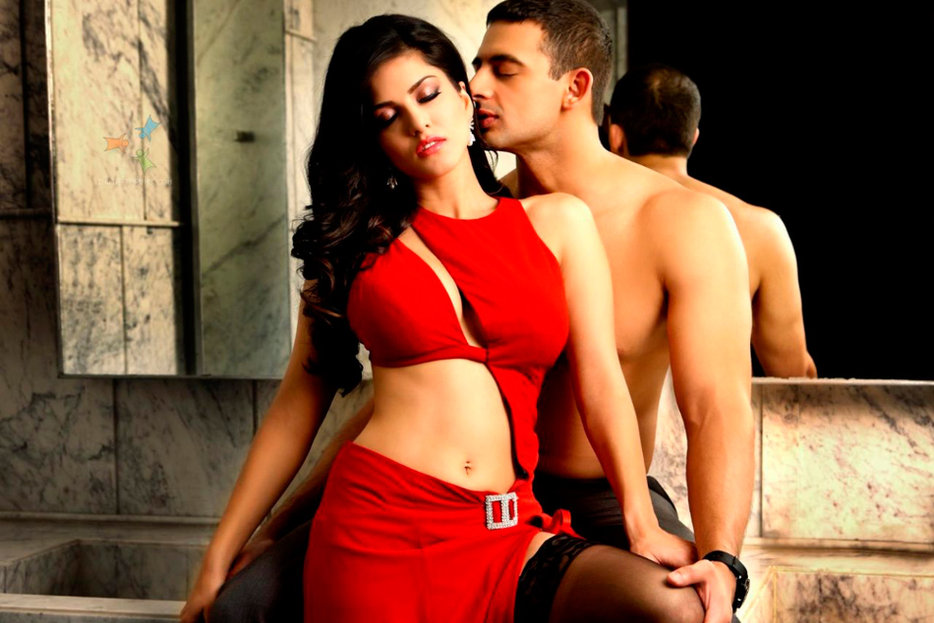 India, if you'll excuse the pun, cannot seem to get its fill of porn stars. Now that performer Priya Rai is soon to join Canada's own adult star Sunny Leone in mainstream Bollywood, it appears that Indian film's tumultuous relationship with sexuality is entering a new phase.
To the outside observer, it can seem like a radical change. Leone rose to fame in India after appearing on reality show Bigg Boss, prompting complaints that the show was promoting pornography. Soon after, however, she was cast in a major Bollywood picture, which, despite some protests, went on to do well at the box office. For an industry in which many actors still refuse to kiss onscreen, let alone engage in sex scenes, this open embrace of hardcore porn stars can seem stark. While Bollywood's films have hardly shied away from sexuality, they've often come at it obliquely, preferring suggestion over the obvious or explicit. Now, what was once only talked about in private is being spoken of more openly.
Inevitably, then, a question lingers: is there any way to think about Bollywood's recent fascination with porn stars other than through the lens of Westernization? It's actually a query more complicated than it seems. Both Leone and Rai are of South Asian descent; Rai was abandoned by her parents in Delhi before being adopted by Americans, while Leone's original name is the very Punjabi-sounding Karenjit Kaur Vohra. They both thus occupy an oddly liminal space: they are both "desi,"—i.e "of home"—and not, somehow native to India but also exotic foreign imports, and like so many Indian women, their bodies are used as a kind of signifier for something else.
At the same time, Indian film has been steadily becoming both more sexual and more Westernized, though those two things aren't necessarily one and the same thing. As Arnab Ray argued in the New York Times, Bollywood's changing approach to depictions of sex is the result of new economic and social realities within India itself, rather than the influence of evil foreigners. As for becoming Western, one need only look at the output of Y Films—the new, youth offshoot of massively influential Yashraj Films—to see that overtly Western films, filled with clubbing, high-end vodka and abundant use of the word "dude," aren't particularly salacious at all. Teasing out a line between internal cultural change and external influence is almost impossible as India's long history of hybridity only gets more and more intricate.
What complicates things further, however, is our lack of vocabulary for these sorts of cultural shifts. If right now you were to open up a word processor and type the word "Easternized," it would have a squiggly red line underneath it. It is quite simply not a concept that exists. Global cultural exchange is seen as an inevtiably one-way street, and whether it's a woman taking off her hijab in Iran or new sexual attitudes in India, almost all upheaval in non-Western countries is thought of as a direct or indirect effect of the West.
So whether or not Leone and Rai are symptoms of Westernization, tools for Bollywood's hype machine, or simply two hard-working women who made it big, it becomes almost impossible to think about their newfound Bollywood fame outside a discourse of inside and outside, native and foreign, East and West. We have no other way to talk about these things, and it's a situation that is at once perfectly understandable and completely untenable.
Because, beyond everything else, Leone and Rai's arrival in India seems to be a way for some nationalistic, puritanical Indians to have their cake and eat it too. The doubled nature of the imported-but-Indian porn star seems to be a way to sneak in salaciousness and the attendant box office buzz, all the while claiming the comforting distance of foreignness. To wit, we want the money, but we don't want to deal with the sexism of our cultural attitudes. Significantly, it comes at time when India's long-standing troubles with misogyny and sexual violence have become all too obvious. The highly publicized and horrific examples of the Delhi gang-rape case or the death of a 5-year-old after her sexual assault highlight a deep, often ignored problem in Indian society. Clearly, history and culture are chafing against a new social and economic climate, and it is easy for some cultural commentators to use the idea of "foreign influence" to cover over a pre-existing problem.
Yet, at precisely the same time, perhaps the dialectic of native and foreign is just the kind of jolt needed to tackle a problem as deep and as complex as sexism in India. If in the harsh glare from within and without that has been cast upon the country's approach to both gender and sexuality there is some good to be found, it is in challenging how women and their bodies are spoken about publicly. That figures as overtly sexual as Leone and Rai can attain public stature can have the doubled effect of placating conservatives, as it changes the mind of the young. What is also clear, however, is that there is no simple way to extricate the Western from the Eastern, the native from the foreign, or even the misogynistic from the feminist. They are all hopelessly bound up in each other.
Perhaps it is that very troubled translation, however, that is the answer. The film that brought Leone her fame in the subcontinent was Jism 2. To people familiar with North American slang, it sounds like a too-on-the-nose joke: wait, seriously, a porn star debuting in a film called Jism? But in Hindi, jism simply means body, and many privileged young Indians were perfectly at ease with both meanings, with both the hilarity and the ordinariness of the words. And maybe it is in the refractions of how cultures reflect off of each other that change lies—that only in the forever-receding, impossible-to-articulate space between languages and systems of understanding are we to find any real newness, and with it, any sense of hope.
–
Find Hazlitt on Facebook / Follow us on Twitter
Photo: Sunny Leone in Jism 2.