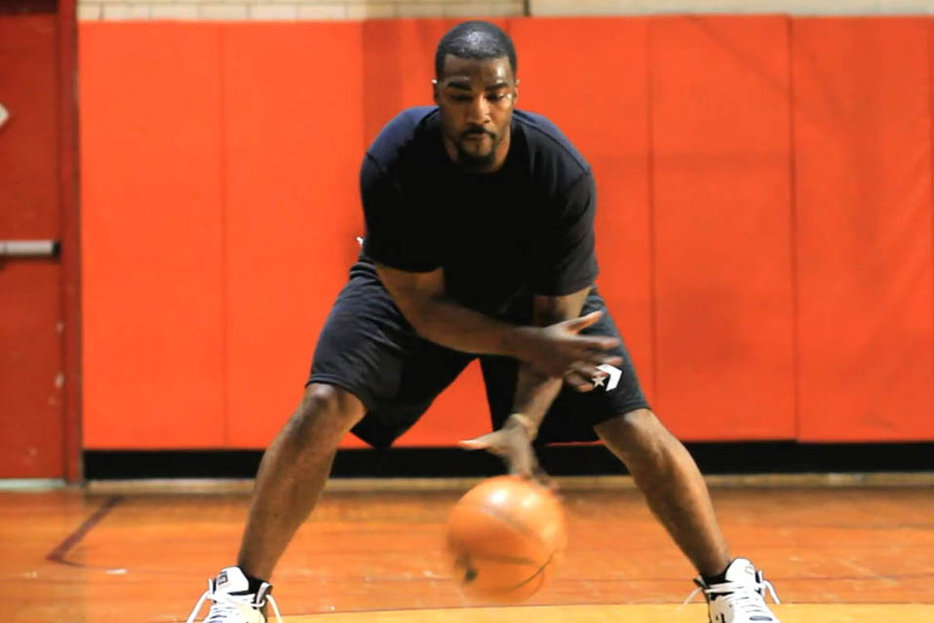 You remember Tracy McGrady. You might remember Stephon Marbury. But you shouldn't forget about God Shammgod, pictured above demonstrating his trademark, streetball-savvy, cross-over dribble. I have long been a fan of the basketball player named God Shammgod, and I'll get to talk to discuss him here, by way of China.
You see, the influence of the Chinese market in the NBA is a bit of a wild card. China's influence goes as its interest does, and it's been tied to the presence great NBA players like Yao Ming and emerging star Jeremy Lin, but also to the Chinese economy and the sheer size of China as a market. A fairly unimportant game played between Yao Ming's Houston Rockets and the then New Jersey Nets, whose roster at the time included another Chinese player of note named Yi Jianlian, boasted television ratings so high that it remains one of the most watched basketball games in history.
Tracy McGrady is no stranger to the phenomenon of the enthusiasm for the NBA in China. Yes, McGrady was an all-star player, but for a while his jersey sales soared above those of other, comparably talented players due just to the fact he was a teammate of Yao Ming.
The Chinese shoe company Li-Ning is making major inroads in the NBA by signing Dwayne Wade to an endorsement deal, which means he is no longer going to endorse, or wear, shoes from any of the big American companies like Converse or Nike (Wade had most recently been signed to a deal with Jordan Brand, which is a Nike subsidiary). To get a major NBA star, not to mention two-time champion, to wear their shoes and endorse their brand means a very generous amount of money has been apportioned to Mr. Wade.
Right on the heels of the Dwayne Wade/Li-Ning announcement, Tracy McGrady issued a statement that he is signing a one-year contract with the Qingdao DoubleStar Eagles in the Chinese Basketball Association (CBA).
In part, Tracy McGrady is going to China because he is past his prime as a player, due largely to injuries he's suffered, but there's his age (33) as well. In part, he's signing in China because of money. He gets a guaranteed contract, probably worth more than a million dollars for a short season. This is a much better deal than going to an NBA camp and competing for a roster spot with no guarantee. It can't be said that there is a traditional route towards success as a non-national basketball player in the CBA. But McGrady fits interestingly into a certain lineage.
McGrady's athleticism and raw talent made him an all-star in the NBA. He was clearly about to flourish when he left Toronto, and did exactly that in Orlando when he scored 42 points in a first-round playoff series game. In Houston he did some unbelievable things, such as provide one of the greatest endings to a game I can remember, scoring 13 points in 35 seconds. At an all-star game he dunked the ball by throwing it off the backboard to himself. But he suffered through some serious injuries, as did Yao Ming when they were teammates, so the Rockets never achieved as much as was hoped for. I also can't help but think that McGrady's career in the NBA could have been extended, or at least gone differently, if it hadn't been for the exasperating way it seemed he was sometimes sleepwalking.
There was a moment when he almost retired (at age 24) because he found zone defenses too hard or maybe simply too annoying to play against. One of his coaches in Houston, Jeff Van Gundy, claimed that he wanted McGrady to have someone like Kobe Bryant to go up against, because that might remind Tracy to play some defense. Since his most recent comeback from injury, however, McGrady has played for teams that are hardly the league's elite, like Detroit and Atlanta. This is interesting because he hasn't been looking to join a championship-ready team in order to just win a championship. He's gone to teams where there have been legitimate opportunities for him to contribute. He has wanted to play.
Everything might go very well for Tracy in China. He's already known as an all-star, plus he has extra name recognition in China thanks to playing with Yao Ming. He's proven himself capable of greatness on the court, at least at times. Some competition that's not quite at the level of the NBA might be just what is needed in order to see that greatness again.
It happened to Stephon Marbury, after all. Stephon Marbury showed great enough promise when he came into the NBA to proudly be called Starbury. But despite some seasons with impressive numbers, no greatness befell Starbury. He talked a lot. A teammate of his in New York once said that every year they heard about how Steph was ready for the best season of his career, how he'd spent the offseason training as intensely as imaginable, but then training camp comes and he can't even finish the wind-sprints.
Starbury wasn't all bad though. He started a line of basketball shoes priced as low as possible so that kids anywhere playing basketball could wear them. Then he wore them himself to prove that they're good enough shoes to be worn at any level of play. When he ended up playing in China he flourished, despite being a player once thought of as selfish and almost cancerous to any team. He led the Beijing Ducks to a championship in 2012. They made a statue of him. He seems to love playing in China, and the Chinese fans love him there.
God Shammgod got to China before Starbury did. He's played in all sorts of places around the world. Most successfully in China he played for the Shanxi Zhongyu Brave Dragons. His formula of going with the chance to play and a contract of guaranteed money over trying to scrape his way onto an NBA roster has given him a long career. Basketball fans with an eye for detail might remember God Shammgod (partly because he has the greatest name ever to show up in an NBA boxscore) for his killer play in the NCAA tournament when he played for Providence, and put on a bewildering dribbling display that upset the Duke Blue Devils in the second round.
Known as Shammgod Wells growing up, once he got to Providence he had to use his real name, God Shammgod. God is a prodigious dribbler. His skill controlling the ball is incredible to watch, he's one of the greatest ever. His game was never very well-rounded though, he never had enough overall skill-set to impress coaches or scouts in the NBA to win him more than a short stint in Washington. But the enigma of this streetball-playing point guard from New York was attractive to the Chinese market. And since it seemed to NBA audiences that this ball-controlling, Duke-killing legend simply disappeared, his legend has only grown as one of the most thrilling, if one-dimensional, players ever to watch.
His skill-set is so strangely skewed towards one particular aspect of the game (he was scouted as a player who couldn't really even shoot) that he's destined to become a teacher of his unique skills to other players. It makes sense that guards might seek him out in the off-season to learn from him the way that big men in the NBA have done in recent years with Hakeem Olajuwon. It's rumoured that Shammgod has already taught his cross-over dribble to Kobe Bryant, and he's worked with Ben Gordon too. And not that he's the first NBA player of any calibre to go to China but he might be a kind of pioneer for a certain sort of NBA player who can succeed, as seen with Starbury and maybe now with McGrady, while having been, at least at times, a puzzling mismatch with the NBA.