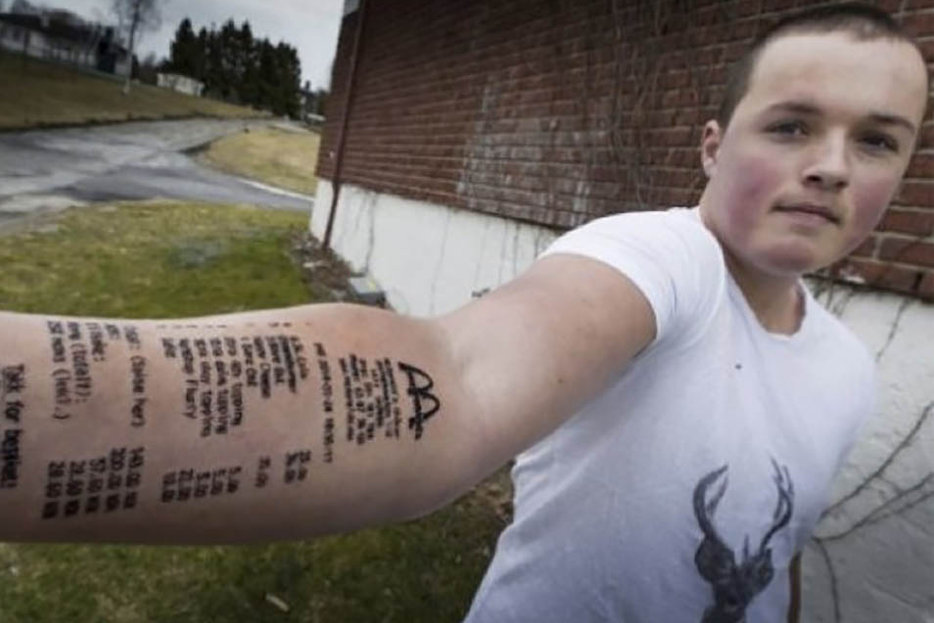 "He's an 18-year-old from Lørenskog, and he'll always remember exactly what he ate on Monday' because it's inked on his right arm." A Norwegian teenager got a McDonald's receipt tattooed on his arm. It was a punishment from his friends "for being too active with the ladies."
"They didn't want to change the law, that is; they wanted to circumvent it, and so demonstrate that, in the face of the president's wartime powers, the law didn't matter." Considering Dick Cheney, and the world he bequeathed us.
"Used as an epithet, the word 'clickbait' presents a tautology as a criticism. You published something, and want people to read it, too." Deadspin editor Tim Marchman would like you to shut up about "clickbait," please.
If Canada decriminalizes physician-assisted suicide in the near future, it will likely be thanks to Steven Fletcher, a Conservative MP from Manitoba who's been quadriplegic since 1996.
There are worse ways to spend an hour than listening to Rookie founder and editor-in-chief Tavi Gevinson on the Longform Podcast.
"Picture a bucket. No, picture an old-ass bucket, a real piece of shit. Now imagine it had a better handle and a spout and stuff. It's still a bucket, but as the customer interacts with the bucket the familiar fades away and something new is left over. The customer is delighted by this bucket that is no longer a piece of shit." The mysterious Dick Wisdom on what happens when social media app barons buy books but don't read them.
The richest hoodie wearer of all time bought out the makers of an experimental toy for tier zero nerds. Welcome friends to Planet Facebook! Unless you funded the toy back when it was a mere powerpoint, then scram.
Someone with far too much time on their hands and questionable taste in TV shows has created a supercut of every cultural reference made in The Office, organized by the year of the thing being referenced, suitably called The Office Time Machine.
While the world (or the world as represented by Twitter) mocks Chris Martin and Gwyneth Paltrow for their decision to 'consciously uncouple,' this woman is laughing all the way to the bank.
[Photo via]