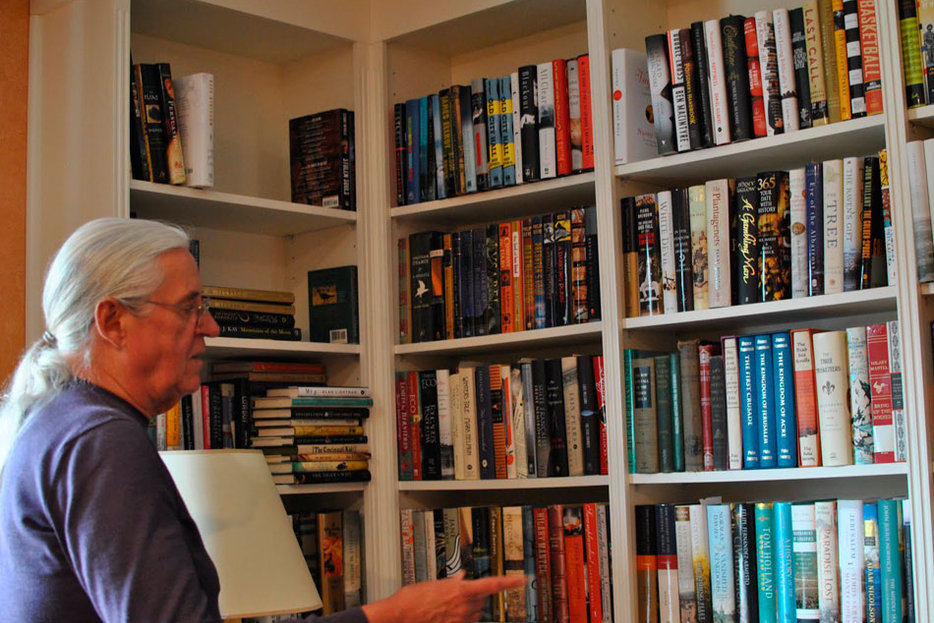 Shelf Esteem is a weekly measure of the books on the shelves of writers, editors, and other word lovers, as told to Emily M. Keeler. This week's shelf belongs to book seller and publishing lover Ben McNally. McNally's books live all over his house: on the stairways, lining closets, in boxes in the basement, even behind the couch. An attic bedroom seems representative of his family's affection for the beloved things; they spill out of shelves into waist-high stacks on the floor. While McNally gave me the tour of his still-growing collection, his wife Lynn and teenaged son Yeats stood by, occasionally interjecting to show me their own favourites—and there were many. At times, McNally's voice would fall into a reverent whisper—the closer we stood to the books on his shelves, the quieter he would get.
We have books all over the place, so I don't know how intensive you really want to get. This is stuff in transit. Stuff comes in… we're always bringing things in. We have a bookstore, so we're always getting stacks of galleys. And Lynn does buying (for the store) here at the house, so sometimes people will just drop by and bring a ton of them. Some of them we throw out immediately. The ones at the store, it kind of depends who gets them first. What happens with galleys is sometimes you'll read three or more pages and think, This is unbelievable shit, and you'll throw it out. Or you'll think, Okay, maybe I'll get to that, and other times you'll read them and think, Oh! This is really good. We're going to run with that.
I read differently than Lynn does. I read books to sell them. I mean, she sells books she likes, and she reads books she likes. And I read books because I think that they have promise, commercially. I'm always trying to find books that don't already have a profile in the marketplace. They're really futures in a lot of ways. That's what we always do, that's what makes independent booksellers valuable. As the market gets more and more divided up… for the longest time, independent booksellers could sell bestsellers—you know, Stephen King, things like that. And then with discounting and online stuff, and Costco, all of that, all of the easy stuff sort of got taken away from us. So we were just talking about Dan Brown with a guy from Random House the other day, and it doesn't matter how big the book is going to be for everybody, for us it won't be a big book. The number one bestselling book in the country right now is apparently S.E.C.R.E.T., and I think we might've sold a copy. So for us, that stuff doesn't matter at all. It doesn't even matter if we like it or not, because it's just a total waste of time for us. When people come in and ask, What should I read, we're always trying to sell them something that we know is good, and isn't on everybody else's radar. That's what we do.
For my birthday last year, Lynn got me some new bookshelves in the living room. It was awesome. We still haven't gotten around to totally filling them up. At Christmas time we put the tree up there, which means that this couch is usually moved from there to here, and we haven't put the couch back. So I'm not sure what's blocked down here [on the bottom shelves] at the moment. There might be some space down there! What's happened is we're all now very selective about what goes in here, because it's such a nice bookshelf. Every now and then, [my son] Yeats will come along and organize things in some reasonable fashion, but they're divided for now mostly into fiction and non-fiction.
What's interesting is that this is not firm here—the books get changed around. You want to have a little thematic unification. I guess over Christmas Lynn pulled out this book about the history of publishing. It's a really great book. So when she was reading that, I thought I should have another look at this book, which is a great one, and also a book about publishing. It was in another place in the house. So then I went and got that, and I started reading it. It's fantastic. And I'm reading this book now, which won't be out until August—it's the story of Farrar, Straus and Giroux. If I do have a weakness—even if I won't be able to sell this book to more than three people on the face of the earth—I can't resist reading about the history of publishing.
This is where everything of importance used to be. This used to be where things that we thought were fairly important would live. So you can see, there are all kinds of things. Yeats goes through now, and he'll say we just have to get rid of some these. These shelves are on the verge of disintegration. And if you look at the back, you'll see it's just falling apart.
The first book launches I ever went to in my career was for these two guys, signing their books. And you know what's funny? I always thought that my copy of The Lives of Girls and Women was signed, but I noticed just the other day that it isn't. I went and talked to Alice but I was such a hot shit that I couldn't be bothered getting the book signed.
Back when Hilary Mantel was having problems getting distributed in this country, I pestered the shit out of Harper Collins to have them represent her book. So she sent me this.
And Rupert Thomson. I think he's just fantastic. Unbelievable. He's got a book, Soft, about a person who volunteers for a sleep experiment. A woman, she's a waitress, and she discovers very gradually that she's been brainwashed into being a shill for a soft drink that's being marketed. There's a book about a guy who gets shot in the head on page three, and is blind for the rest of the book. This one is a book about a guy who goes out get a pack of cigarettes and is kidnapped and held as a sex slave by three women. It's one of the most amazing books ever.
Before you go, I have to show you this—one of my favourite books of all time. It's one of a kind. When I opened the store we had a party, and this was given to me by Camilla Gibb. Isn't it beautiful? One of my most cherished books of all time.