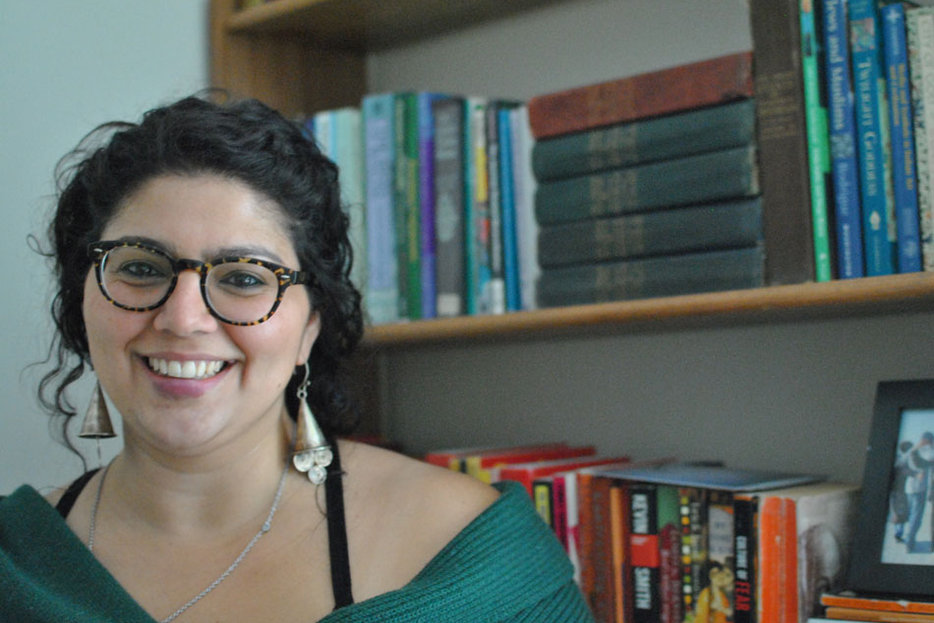 Shelf Esteem is a weekly measure of the books on the shelves of writers, editors, and other word lovers, as told to Emily M. Keeler. This week's shelf belongs to Arianne Shaffer. As a writer, performer, and love letter archivist, Shaffer works mostly with true stories—both as a listener and teller, she's invested in the way that words can make us better understand each other and ourselves. Shaffer has also organized and facillitated peace building and storytelling workshops internationally, in Poland, Turkey, Israel, and Palestine, among other countries. Her books are all over her small and beautiful downtown apartment. They are piled up under the coffee table and in the corners. The light leaks in from the southeast, and fades slowly while she walks me through her personal library.
So, out here it's mostly a cook book section. And behind the nettles, is Michael Jackson. It's the uncensored Michael Jackson—my friend got me that. He's a teacher and he stole it from his school library.
Cookbooks are some of my favourite books to have. I don't know if you know MFK Fisher? I wrote my master's thesis (which was terrible drivel) about the use of food in interfaith dialogues. And this was some of my favourite research, which didn't even make it into the thesis. This Claudia Rodin book is a real favourite. And this one too, the Jewish Book of Food. She's somehow a distant cousin of ours—my family's from Egypt and all Egyptian Jews are kind of related. I've bought this book for a few people. It's really definitive and has amazing stories as well, of the culture behind different dishes. I really like it. I sometimes read cookbooks while I eat breakfast, but I very rarely use them to cook with.
I have a really hard time getting rid of magazines. These are the ones I just can't… these are the ones I've kept. Some of them are Michael Jackson special issues—I'm a big fan. And there are some issues of Bidoun, which is a publication I really love. Bidoun is a magazine of Arab arts and culture that's produced out of New York. This one's old, it's from 2010. They're kind of hard to find in Toronto. I also have an issue that was about the uprising in Egypt, it's wonderful. They do really, really good interviews. And it's designed beautifully. It was one of my favourite things that came out, that we got to see here in print, about what was happening in Egypt. Is it already two years ago? It's still happening.
Storage is a real problem in my little house, and so I keep my favourites out here, in the living room. The reason why I'm literate is because of Roald Dahl. Truly. I remember being in grade school and they were like, "You need to read something else!" Seriously, you need to do a book report in something else. I still read Roald Dahl all the time. I'll show you in the other room, my favourite book is his adult stories. Have you ever read them? I'm going to lend it to you. As whimsical as his kid's stuff is, his adult stories are creepy and twisted and haunting. And when I can't read anything else, I'll read them. It's one of the best books. I just gave me nephews a whole bunch of Roald Dahl books. But who knows if they'll read them, because they have iPod Touches.
This book is a new favourite. I bought it in New York, and this bookstore in Brooklyn. It's an encyclopedia of all things exquisite. And I've realized, interestingly enough since Occupy Wall Street happened, and some people I know who are so committed to the movement… and I'm not. That's not true, exactly. I'm committed, but I realized in opposition that what I'm most committed to is pleasure. So if I were to have an encyclopedia of my life it would probably be something like this, that's like—look, theres a whole little chapter on lighting. I mean, these are the things that occupy my truest mind. For sure social justice does, but exquisite pleasure a little more.
I love this book, Alain de Botton. A friend of mine had a brain tumour some years ago, and when it was removed she had to have this really intense, like eight-hour surgery. And when I went to visit her while she was recovering… she's such a badass. She insisted that people read to her all the time because there were a lot of words that she had forgotten. She wasn't reading magazines, this is what she wanted people to read to her. Afterward, she loaned me this book. And I never gave it back. We're still friends though.
I've also been reading a lot of autobiography lately. Female-authored books. I'm working on this—I don't know if it's a one-woman show. I hate the term "one-woman show," because I think it makes me sound… annoying. Also, I don't know if that's quite what it is. But an evening-length storytelling performance of true stories, mostly about womanhood and feminism, so I'm trying to read all the big female authors out right now. Caitlin Moran is really really great. I've only made it through about half of How to be a Woman, and then I got sidetracked by other things, but she has this really great chapter about feminism, about asking us to reclaim it in a really brazen way, which I enjoyed.
Miranda July. I'm a big fan, a really big fan. When I read this book I was really annoyed that I hadn't written it. I got to speak to her on the phone this year, which was a big moment. The organization I work for, we gave her an artist award this year. It was really nice to honour her because I think she's making a really special contribution. She's whimsical without being too light, or ephemeral, which I really like.
Memoirs of My Melancholy Whores is the only Marquez book I've ever been able to get through, and I've read it four times. It's reallllllly good. I have A Hundred Years of Solitude just sitting over there, and I've never read it. I've tried so many times. I've tried many times. But this book! It's so male, which I really like. For all of this very female stuff I read, my favourite books, I'm realizing, the ones I go back to, are very male. Like, Italo Calvino is one of my favourite authors, and that book of his, The Baron in the Trees, is so incredible. I've read that one a few times and I keep giving it away, so it's not here.
Oh, and in the Miranda July vein, I read How Should a Person Be? this summer, and I was so excited about it. I know it got a lot of really mixed reviews, but I loved it! I think it's really hard to write about sex, particularly from a women's perspective, without using words like "thrust." And she did it! And she did it in a really truthful way. And she wrote about great internal complexity in a way I didn't find annoying or too narcissistic. Or maybe it was, but I just really liked it. This is the first book that I've read all the way through over just a few days in years. Who doesn't need that book all the time? I loved it! Why did it get such weird reviews sometimes? I'm almost shy about it, because so many people have so many big opinions about the book and I get kind of protective of it, and almost don't want to talk about it anymore.
So I tried to colour-code the bedroom bookshelf, because it's so pretty. The top shelf is mostly religious studies. I just can't get rid of them. And then last year, when I was invited to speak at the What We Talk About lecture series, the topic that night was parents. So I gave a lecture about the concept of God in the Old Testament in the Hebrew bible, and how that was the template for the main family's dad in Beverly Hills 90210. It was really fun. And actually, I went back and read through all of my old notes in my Oxford Annotated Bible, and it was awesome. I was so happy that ten years later they came in use.
This is my mom. She's really beautiful. That was her a long time ago, and she is hiding some of the books that I don't want to see all the time. Like this giant Holocaust book. I don't need to see The History of Israel and the Holocaust every day, I really don't. But I love seeing my mom.
It's bananas. Some people really only read about one thing. I mean, I have a lot of books about religion, but I don't really go back to those, at all. Lately I've been reading a lot of nonfiction, and I miss fiction. And that's why that Sheila Heti book was so exciting! It's so hard to find something I really will sink my teeth into. I think it's because of the internet.