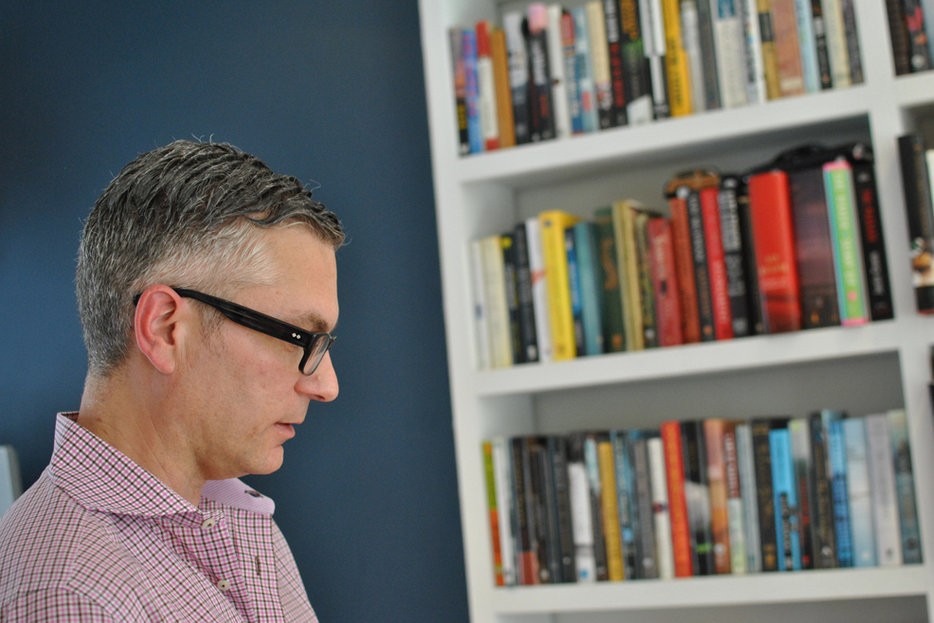 Shelf Esteem is a weekly measure of the books on the shelves of writers, editors, and other word lovers, as told to Emily M. Keeler. This week's shelf belongs to Andrew Pyper, who is the author of six novels, most recently The Demonologist. Andrew's bookshelves are all over his West Toronto home, which he shares with his wife and their two young children. He showed me his library on a sun-shiny Sunday that begged to be called the first one of spring.
When we moved into this house we didn't do any of the renovations, that was great, but it didn't really have anything in the way of bookshelves. It was very clean and modern, so we added this. Just because a living room without books feels like a set for some kind of California thriller where people just die on the marble floor. So we had this installed. When we moved there was a book cull. There were just so many boxes and boxes and boxes. This is just one segment of where the books that I have now are—there are a bunch in my office, there are a lot in the bedroom, and then there's a whack of paperbacks in the basement. Without having to give it much thought, I guess this is the kind of the favourites. Of hardcover fiction, at least. And cookbooks.
I asked my wife to marry me—gosh, what would it be… ten years ago? She'll kill me for not remembering it exactly, but roughly a decade. We were canoeing down the Yukon River. In part it was my researching a book, but in part I was just diving into camping and outdoors stuff. It was amazing. We didn't know what the hell we were doing, but it was an amazing trip. I got this little bag of Yukon creek gold, and popped the question on day 11 of our, by that time, pretty stinky, furry canoe trip. And it was in a red canoe. So my mother- and father-in-law got us this little gift. The red canoe is Canadian, yes, but also particularly symbolic of a big decision. A good decision.
By saying that they're kind of favourites, I'm suggesting that there's more logic than there actually is. I mean, some of them are books that kind of trigger a thought in my mind, and I think kind of subconsciously that's why, when we were unpacking two years ago—this hasn't really been touched since moving day. That sorting has not happened. But I think there was a subconscious element at work.
For example, I don't have a major collection of first editions. But those are my I Probably Should Get Them Insured books. That's a first edition of James Dickey's Deliverance, it was a gift. That book was—continues to be an influential book in terms of the marriage of action and visceral descriptions of violence with the abstract, the philosophical, and the psychological. And then there's a first edition The Europeans, by Henry James, which was a wedding gift. And then a first edition Conrad, which is a gift from my first British editor. I was still kind of under a Conradian spell, then. So those are the books of a particular value, not just in terms of open market but I like to—I put them there, I guess in the hopes that a dinner guest will be like, "Oh what's that?" "Ahem! Well, I'm glad you asked!" [laughs]. Though I'm probably moving out of the Conradian spell. But I've always been under a Jamesian spell when it comes to is ghost stories. His gothic tales, The Turn of the Screw… I think I sometimes try to write Jamesian sentences, i.e., long and snaking and trying to map out the entirety of a human mind in a hundred words. Those are the sentences that typically get pulled out.
Frankly, the books that get the most pulled down from here, these days, would be the cookbooks. I like to cook, and there were more but those are the ones I use the most. Classic, simple ones. And Nigella, because she's just so hot.
I'm pro-randomness. So like, if you're so inclined you should just drop the book you're currently reading and pick up another one. There's a very anarchist non-law at work. I like to pick a book just off the shelf and start reading it in the middle, while standing. And I can do that for three quarters of an hour. When I teach creative writing workshops, I'll say that if you're feeling stuck you should just go to your bookshelf and pick a book. As long as it's good. That's the only rule, a book that you've read before and that you think is good. Pull it off the shelf and read it, starting from page 162. I find it's amazing how just sampling a few lines of someone who does it really well can help you get back to your own work. There's a sort of, Oooh, I want to do that, you know?
So probably if I were coming down here for that kind of therapy, you just couldn't go wrong with McEwan's Atonement. It's basically 340 pages of perfect sentences. Or William Trevor. The people who maybe, no matter how you feel about the book itself—like, does Felicia's Journey work entirely as a novel? Probably not, I have reservations—it doesn't really matter for the purposes of inspiring you to write well. Because that's just what he does. My daughter will pick Atonement up all the time. She's fascinated. Why is that little girl sad? And I tell her, well, she lied about something important and she feels tremendous regret over it. And she loves that. Then you go down the rabbit hole of, But why, but why, but why?
Here in the office would be the immediate research area. A lot of demons, and witches dictionaries. Sometimes I'll get picture books, coffee table books that have a setting or tone that suits the book I'm working on. There's a few books here that are about Muskoka, like, old Muskoka inns. Histories, that kind of thing. But it's the pictures. Looking at something like this here on Bigwin Island…It's an old observation tower that they built for the hotel. It's still there, but it's abandoned. If you're setting a scene there, that's useful. But also, you can't look at that and not think, Okay, that's creepy. Something is going to happen there. It's just so suggestive of a narrative, just an old black and white photo. So again, it's research, but more of a vibey kind, as opposed to harder, "taking notes" research.
That's me and Margaret Atwood, pushing her car. I went to law school at the University of Toronto at the time, and there was a little parking lot out front, it was supposed to be just for faculty. Atwood was having lunch with one of her longtime friends, who's now on the Ontario Court of Appeals. So that's her car, and behind it there's a Chevy. The Chevy's a faculty member's and he was angry that she had parked there, so he jammed her in. So I was crossing the lot, and Atwood saw me and a friend, and she said, could you help us move this car? I recognized her as Margaret Atwood, and—this was before cellphones, no one had a camera on them all the time—there happened to be a guy with a camera across the lot, so I was like, hey, get a picture of me moving a car with Margaret Atwood.
I'm a fan. Talk about good sentence makers! I really like her genre experiments, I guess. I admire too the way she's gotten away with it. No one's really pegged her for being a genre writer, she's strictly literary. Maybe that's an intimidation thing—you don't want to upset her. You wouldn't say something that you suspect she wouldn't want you to say.
There can be different motivations for choosing a book. Sometimes it can be a pretty tactical, cat burglar-like—There must be something in here I can use, or, How is she doing that? I've heard people saying she does this thing with craft, and alright, the time has come to crack the safe and find out the secret. So that's a very writerly impulse. To learn and to steal. Other times it can be strictly pleasure-driven, just a sense of, This is going to be good. There's a third category, though I find myself less and less likely, almost to the point of it never happening anymore: the duty read. Where it's like, Alright, okay, everyone's been talking about this book. It's won every award in the land. It's supposed to make you a better person. So I'll bite. And I almost never do that anymore. Those are the books too where I'll do a little bookstore trial read. It's amazing what you can take from the first page. Obviously, it's not terribly fair to the entirety of the book, but I think it's one of those things where you get a depiction or a reading of the DNA. The first page doesn't tell the whole story, obviously, and the book can improve or change, but…let's say you meet someone at a party. You look at them from across the room, and you can probably know, correctly, that you'll never sleep together. You're typically right about that. I think books are like that, too; if you're not getting along after the first paragraph it'll never work.