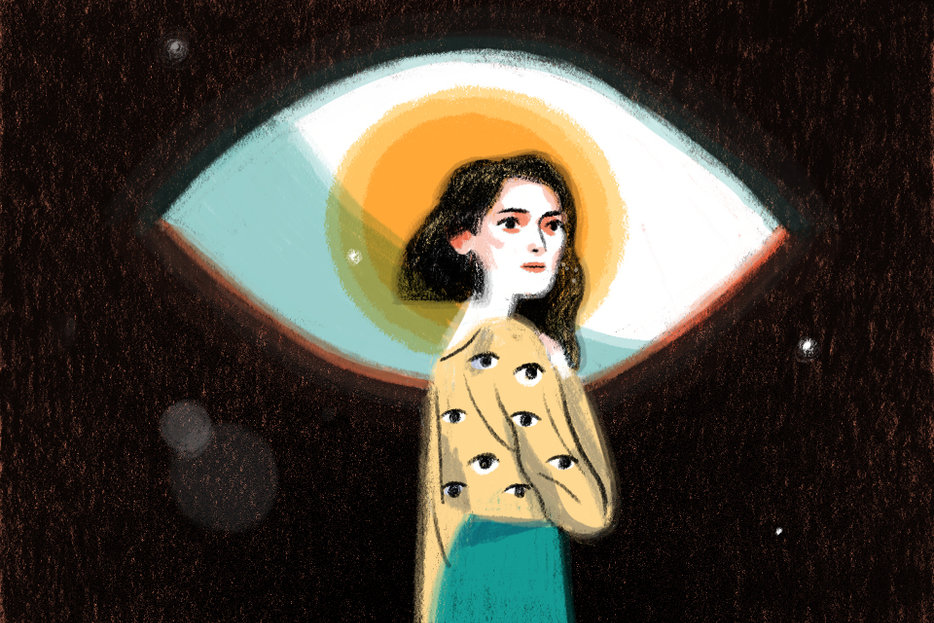 Illustrations by Richie Pope
 "The goddam movies. They can ruin you. I'm not kidding."
At 17, Winona Ryder underlined those words by Holden Caulfield in one of two copies of The Catcher in the Rye she was carrying with her. "Me and Holden are, like, this team," she said. Ryder has since referred, more than once, to J.D. Salinger's magnum angstus as her bible, and has since mentioned, more than once, that she has read it about 50 times. When she was 19, her boyfriend11Johnny Depp was her boyfriend at the time. gave her an auction-bought Christmas card with Salinger's signature on it. At 20, Ryder still took Catcher in the Rye wherever she went as a kind of adult pacifier. She even wrote Salinger a fan letter, though she never sent it. "I kind of said, um, that I, uh, just how much it meant to me, and thanked him for it," she told Premiere. Ryder did, however, send him a note in 1994, along with the Christmas card. "Dear Mr. Salinger," it read. "I received this as a gift because I'm a big fan, but I want to return it to you because I respect your privacy." The only god she really believed in sent her a "thank you" in return. "It was amazing," she told Esquire. "I mean, it's possible that his publisher just typed it and had him sign it or something, but it was the greatest thing ever."
At 27, Ryder was still praying at the altar of the prep school hero. That year she showed Vogue magazine a Tiffany frame she had received as a gift from a friend. One side held a picture of her in 1990 at age 19, black clad, sunglasses, slumped on a couch, giving the finger. The other held a page from Catcher in the Rye, the one in which Holden sees "Fuck you" on the wall of his 10-year-old sister's school ("I think, even, if I ever die, and they stick me in a cemetery, and I have a tombstone and all, it'll say 'Holden Caulfield' on it, and then what year I was born and what year I died, and then right under that it'll say 'Fuck you'"). Two iconic teenagers, 40 years apart, side by side. "I was in Paris promoting Mermaids and I was a total insomniac and going nuts and having the worst time of my life," Ryder explained. "It's a very adolescent me, but it reminds me of that time so much…"
For many of us, though, Winona Ryder is all the reminder we need. "There's something of an expectation for young actors not only to play young, but to have that intuition of what their generation is going through and to be on that wavelength," says Timothy Shary, a film scholar who has published multiple books on teen cinema including Generation Multiplex: The Image of Youth in American Cinema Since 1980 and Teen Films: American Youth on Screen. "For girls of my generation who were awkward or a little bit strange, Winona Ryder was both relatable and aspirational," wrote Alana Massey in BuzzFeed last year. Though Ryder was often described as the ingénue, this implies a passivity Ryder eluded in every one of her teen films—in Square Dance she beats up a woman who takes advantage of a mentally handicapped man, in Beetlejuice she sacrifices herself to save a pair of ghosts, in Heathers she encourages her boyfriend to blow himself up (then uses his body to light her cigarette), in Edward Scissorhands she falls in love with a goth anti-hero, in Welcome Home, Roxy Carmichael she spurns the local hunk and in Mermaids she propositions him. These were films in which she didn't so much play a character as perform her own. "Winona is an actress who works directly from primal instinct," her Alien: Resurrection director, Jean-Pierre Jeunet, said. "This instinctual way of working is a rare quality usually only found in children."
That her acting—that she herself22"She has made a choice to be innocent, and that's not to suggest there's anything false about it," Beetlejuice writer Michael McDowell told Life. "She's innocence through and through."—is childlike is understandable considering she reveres Caulfied, a character who reveres children.33She also exalts children and has only ever been willing to give signatures to "under-thirteens."
 Like him, teen Ryder was the smart, ambivalent outsider searching for a place in a society that opposed those very things. Even into her twenties, in Reality Bites and Girl, Interrupted, she was more of a delayed adolescent than an adult. Ryder was unable to move on because of what moving on meant. And we weren't either. Our Nonistalgia keeps her cloistered to this day in adolescence, alongside then-boyfriend Johnny Depp, before he cashed in on his eccentricity. But despite our attempts to resuscitate the past—Beetlejuice 2, Heathers: The Musical, Marc Jacobs—and as young as Ryder continues to look, she is no longer that '90s ingénue. In that sense she and Holden really are a team. "[Caulfield's] central dilemma is that he wants to retain a child's innocence, solipsism, and clarity," wrote Harold Bloom, "but because of biology he must move into either adulthood or madness."
*
She was named after Winona, Minnesota—her place of birth—which took its name from a Dakota Sioux legend, in which the goddess Winona chose to leap off a cliff rather than marry a man she didn't love. Her friends call her Noni, as in "no knee." Her last name is Horowitz (well, Tomchin, but that's another story44The Horowitzes adopted the name of the family they travelled with from Eastern Europe to Ellis Island.). She considered the name unphotogenic so, for her career, her dad chose Ryder instead (perhaps while listening to a Mitch Ryder album) after they briefly paused on October (her birth month) and Huxley (one of her favourite authors). Her parents are counter-culture intellectuals—they created the Fitz Hugh Ludlow Memorial Library, the largest cache of psychoactive drug literature in the world—who raised her in a California commune. Growing up, she was inundated with old movies and older books. At seven, she saw Greer Garson in Random Harvest. "I wanted to be like her," Ryder told Seventeen. "Nothing could compare with Garson's face, her expressions […] All those old movies affected me; they gave me a tingling feeling when I watched them. I wanted to be part of them, even the ones with tragic endings." But she wasn't sent to San Francisco's American Conservatory Theater (ACT) until she was 12 after a bunch of kids at school saw her dressed in a suit—her gangster movie phase—called her a "faggot" and beat her up. She enrolled to meet more people like her and got in by performing a monologue she adapted from J.D. Salinger's Franny and Zooey. "I'm marvellous now. I just never felt so fantastically rocky in my entire life."
A year in, Ryder auditioned for filmmaker David Seltzer. He was casting his new movie, Lucas, specifically the role of Rina, a young teen lovesick over the titular character (Corey Haim) who is lovesick over a cheerleader (Kerri Green) who is lovesick over a quarterback (Charlie Sheen). Seltzer was making his choice based on one scene in particular, outside a school dance where Lucas has failed to take his crush. Sitting by the water contemplating a bottled dragonfly nymph, Lucas is joined by Rina, who observes its ugliness..

Lucas: It turns into something very beautiful, Rina.
Rina: Is that possible?
Lucas: Can you imagine that? Turning from something ugly into something beautiful?
Rina: No, frankly I can't.
"I read the scene with her and she broke my heart because she was maybe speaking a truth from deep down," Seltzer says. "I thought probably Winona would be relegated to the unattractive friend for the rest of her career." Watching the scene, that's difficult to see. Though only 13, Ryder, with her stillness, her serene delivery, her ability to bewitch just by looking and listening, is an island of charisma. Perhaps all she needed to hear was Seltzer's direction—"The camera will read your mind"—or perhaps she simply came out that way. Regardless, she dominates her few scenes, the mature poised foil to Haim's agitated youth. (Seltzer admits, "it was not a great match because she seemed to be so much older than he was.") At the end of the shoot, the young actors took turns sharing what Seltzer had taught them, each one fawning over his technique—except Ryder. "David taught me how to peel an orange in one piece," she said, Seltzer recalls with a laugh. "She was not gonna play that game. It was pure Winona."
Her first starring role was only her second film appearance ever and the first of many in which she played younger than she actually was.55Her breasts were reportedly bound for the role. "She had a beautiful figure at 14," says co-star Jane Alexander. "She was already quite mature." In the family drama Square Dance, 14-year-old Ryder plays 13-year-old Gemma, a farm girl who falls in love with a 21-year-old mentally disabled man (Rob Lowe) after leaving her grandad (Jason Robards) to live in the city with her estranged mom (Jane Alexander). Alexander, who also co-executive produced the film, says that director Daniel Petrie auditioned hundreds of girls, "and then Winona walked in." She only had one credit, but her presence was legion. "She had her own very strong personality—very authentic, very observant, forthright," Alexander says, "she radiated a kind of naturalness not only on screen but off as well." Ryder has credited Alexander with teaching her patience between shots and Robards with teaching her to be more natural. "If I hadn't worked with people like Jane and Jason, I probably would have blown a lot of roles," she said. She referred to both Robards and Alexander as her mentors, though the latter denies she taught Ryder much at all. "If I did anything it was just to say hold on to whatever emotion you have," Alexander says. "Emotion was very readily available for her."
Tim Burton sensed it after only watching her once. And he remembered it while casting his new movie about a pair of ghosts who haunt a family and befriend their young daughter, Lydia Deetz, a Wednesday Addams type. "I had asked about Winona Ryder because I had seen her in Lucas and she had a really strong presence," the director explained in Burton on Burton. She also looked the part. "A lot of those clothes were my clothes," Ryder told Vogue in 1989. "My skin was actually that pale." And from the first scene, reclining on a couch, she descends like an anemic Cleopatra into the moving bustle, the eye of the storm. "My whole life is a dark room," Lydia says beneath a black veil. Then: "It says live people ignore the strange and usual. I myself am strange and unusual." Ryder felt a kinship to Burton, who was an outsider like her ("I am utterly alone," Lydia writes in her journal, the first of her many Salingeresque narrations66She also journals in Heathers and Girl, Interrupted, and has a voiceover in Mermaids.). "Tim talks my language, you know?" she said at the time. "We have the same sensibility."
It seemed the rest of the world did too. Beetlejuice opened on April Fool's Day, 1988, and earned $32 million in its first two weeks, followed by an Oscar for Best Makeup. As Mark Salisbury wrote in Burton on Burton, "Weird was good, weird was acceptable, weird was successful." And so was Winona Ryder.
Winona Ryder's weirdness was appreciated less off screen. "She was very observant of the meanness of teenage girls," Alexander says. "Heathers was a real story as far as I could ascertain from what Noni told us about her school life." But that film didn't come around until two years later. First-time screenwriter Daniel Waters sold New World his jargon-stuffed jet-black comedy about four teenagers—three Heathers, one Veronica— who form a popular clique at fictional Westerberg High. With the help of Jason Dean—a homicidal variation on the rebel without a cause—Veronica Sawyer kills off the most popular Heather and frames it as a suicide, setting off a deluge of copycats. Waters was inspired to write the script by the rising number of teenagers who were killing themselves in America in the '80s. "The movie definitely came out of the sanctification of not only teen suicide, but teenagers in general," he said. According to John Ross Bowie's book Heathers, Waters envisioned Veronica Sawyer as "Travis Bickle in a Molly Ringwald package." He wanted Jennifer Connelly for the role. The studio wanted Justine Bateman. No one wanted Winona Ryder.
"I read Heathers and for the first time ever I thought, 'I've got to play this,'" Ryder told British magazine The Face in 1989. "It wasn't a question of wanting to or thinking I should, it was a case of nobody understands this like I do." She had gotten the script from Beetlejuice's screenwriter, but her agent had begged her not to do it. She didn't listen. Producer Denise Di Novi remembered the actress sitting in her office at New World (with her mom) saying, "I'll do the script just for $1. I'll do anything, I don't care how much you pay me." But even though Waters thought she was a "great actress," he didn't think she was "attractive enough." It wasn't the first time Ryder, whose first four characters were described as "homely," had heard that.77In 2013, Ryder told Interview magazine that when she was around 15, mid-audition a casting director told her: "Listen, kid. You should not be an actress. You are not pretty enough."
 So she popped into Macy's, got a makeover and, according to Waters, "She threatened to kill herself or us if she didn't get the part."
"I am looking for someone in this world to relate to."
She was the part: Veronica was semi-goth, Ryder was too. Veronica was less feminine than her big-haired friends, Ryder was too (minus the monocle). And both of them had thoughts beyond the lunchtime poll, thoughts they put in their journals ("I wanted to tie into that tradition of the girl's book," Waters said). Ryder also had a personal connection to the story: a goth outcast at her high school had been venerated post-suicide by the very people who had alienated her while she was alive. "It just really struck me because I was so disgusted by the behaviour of my school," Ryder said. Then there was the J.D. Salinger connection.88Not to mention The Replacements: Westerberg was named after the band's lead singer, Paul Westerberg, because Waters was a fan (though it's unclear if Ryder's fandom preceded the film). The original draft of Heathers used Catcher in the Rye as Heather Duke's suicide sign off. But Salinger "balked at the idea," so it was replaced by Moby-Dick. Holden was thus left to infuse the story more abstractly, through Veronica's alienation from her parents (and adults in general) and Ryder's equation of adolescence with battle99The Catcher in The Rye is considered by some to be a war novel in disguise.: "What kids do to each other in high school is as bad as what adults to do each other in war."
In the end, Waters transformed Veronica Sawyer from Travis Bickle into the "Albert Speer of Westerberg High," a.k.a the sorry Nazi. He told John Ross Bowie he "softened" the character because of Ryder's "wobbly" approach (a word he no doubt borrowed from Pauline Kael's New Yorker review: "Winona Ryder is lovely looking, but her role is too wobbly and 'real' for the mock outrages that surround it"). Ryder and her character were continuous, her performance transcending mere charisma. One scene in particular has her laughing with J.D. at the funeral of two football players—Veronica shot them both—but then a little girl, presumably a sister of one of the deceased, turns around, crying, to look at them. The way Ryder's laugh slowly dissolves, the way she tilts her head like an empathetic puppy, anchors the satire. She is the moral center. "It's just like they're the people I work with and our job is being popular and shit," Veronica tells J.D., and you believe her. It's not her intention to kill the Heathers, just to mature beyond them. As she puts it, "I say we just grow up, be adults and die."
Heathers heeded her advice and succumbed at the box office, making only a third of its small budget back. Film professor Timothy Shary compared its release in 1989, after a spate of suicides, to releasing a movie about school shootings a year after Columbine. But then came home video (and then came cable), and suddenly it was a cult classic. "I think that Heathers just got young people thinking about hypocrisy," Shary says. "It got young people talking about the ironies of behaviour and of course it's an indictment of the clique and the caste system of high schools, which so many teenagers hate and yet participate in." To this day, Veronica Sawyer is Ryder's favorite character.
There was nowhere to go but down. In the late '80s Karen Leigh Hopkins wrote a dusky magic realist ensemble on iconography that she likens to Francois Truffaut's Day For Night. The original script for Welcome Home, Roxy Carmichael had no role for Winona Ryder, but then Hopkins conceived Dinky Bossetti, a 15-year-old girl who thinks she's the long-lost daughter of a long-lost local celebrity. Dinky dyes her clothes charcoal, barb wires her room, writes raunchy poetry1010Dinky recites the following poem to a decidedly uncomfortable class full of junior high schoolers: From a deep, immaculate kiss she spread her two ripe, dripping limbs and then I happened. And the moon throbbed and fought with an angry sun all that day and all that night. Until it forced me out. Now I scald here… alone. Touch me. With your white words and your dead hands. Now before I freeze. And become one of you. and, like Ryder, is ostracized by her classmates, who use her for target practice. She prefers "books to dolls, boots to ballet slippers," and proclaims, "Who understands anybody, really? Who wants to? It's hard enough trying to understand yourself." Says Hopkins of Ryder, "She was so the character. She's so smart and unusual and daring."
Released in October 1990 around Ryder's 19th birthday, Roxy Carmichael suffered from flat direction—save the odd Burtonesque flourish—and made only a small fraction of its budget back. But it was intriguing enough for a financing company to have recently approached Hopkins about directing a remake. "I think we need the movie right now more than we did 20 years ago," she says. Hopkins is referring specifically to the film's familiar theme of isolation. "For me the movie was about, I relate to no one," she says. "I am looking for someone in this world to relate to." Ryder admitted in Premiere in 1989 that Dinky "is sort of a lot like me," though Hopkins didn't realize it initially. "I think that she really understood Dinky's intelligence and the difference between who Dinky was and the rest of the world," Hopkins says. "Not that she wanted to be different, simply that she was and she owned it."
Ryder's next role was sort of a lot unlike her. In Edward Scissorhands she plays the kind of girl she always complained about: a strawberry blonde cheerleader. "Kim was like the girls in eighth grade who called me a weirdo and threw Cheetos at me," she said. The plot—a man with scissors for hands is introduced into a suburban community—came from a drawing Tim Burton had made years earlier, the culmination of his teen years. "It was the feeling that your image and how people perceive you are at odds with what is inside you," he said in Burton on Burton. The director saw Johnny Depp—a teen idol on the outside, a hippie on the inside—in a similar struggle. And while Ryder wasn't Kim, she found a piece of herself in the character. "Physically, my role in Scissorhands was everything I'd been anti throughout my whole life," Ryder told the UK magazine Select in 1991. "But the reason she fell in love with Edward was because she felt different." The pale Hayley Mills wig made Ryder's eyes—the feature anyone who knows her can't help mentioning—pop even more, turning her into Margaret Keane with a pulse. "Both these actors have a great sort of silent movie quality, you know, people able to say something with their eyes without having to speak," Burton says on the film's DVD commentary.
The last time teenage Winona Ryder played a teenager, she reverted back to being an outsider. In Mermaids she was Charlotte Flax, the religious daughter of a sacrilegious single mother (Cher). Based on Patty Dann's 1986 novel, it's another nostalgic coming-of-age drama, this time set in 1963. "I've always been intrigued by mermaids being half fish/half woman," Dann explained via email. "The Flax women seem like mermaids—all of them, half child/half grownup." While her mother wears body hugging polka dots, Charlotte dons a tunic and cross and tries to pray away impure thoughts about the local convent's caretaker (Michael Schoeffling, famous for playing perfect guy Jake Ryan in Sixteen Candles before chucking Hollywood for a woodworking career in Wilkes-Barre). Her behaviour recalls Ryder's old testament, Catcher in the Rye. "Ambivalence, the simultaneous presence of positive and negative feelings in almost equal degree, dominates Holden throughout the book," wrote Harold Bloom. It was a theme Ryder would revisit in Reality Bites and Girl, Interrupted, but in Mermaids it was underscored by Charlotte's voiceover.1111Ryder, who claims to "work from the inside out," loathed this aspect of the role. "I'm used to being told what to say, but not what to think," she told Harper's Bazaar, "that's usually left up to me." "I loved the fact that she was completely inconsistent," Ryder said. "I'm completely inconsistent."
*
Winona Ryder arrived at the perfect time. Film scholar Timothy Shary characterizes the teen genre as "cyclical." Ryder's first film, Lucas, was released at the end of the hyper-hormonal Porky's era (AIDS and teen pregnancy ruined it for everyone), five years before the release of Boyz N the Hood. In the period between 1986 and 1990, during her teen career, there were about 250 American films about adolescents, the most memorable being nostalgic thefts of innocence such as Dirty Dancing (1987), Hairspray (1988) and Dead Poets Society (1989). Three of Ryder's films—Great Balls of Fire, 1969, Mermaids—adhered to this theme. She was in a sweet spot: post sex-crazed, pre-violence crazed—the ideal landing pad for a wide-eyed alien.1212This may explain why John Cusack's oddballs in Say Anything, Better Off Dead and One Crazy Summer fluorished at this time too.

"You'd be hard pressed to say who was an average girl in teen movies after the mid-80s," says Shary. The Brats had moved on, and so had John Hughes (his last teen film, Some Kind of Wonderful, came out in 1987), though no one forgot about them. "[Hughes] showed that you could make sensitive teen films that didn't have nudity that didn't pander to the supposed teen sex urge," Shary says. He thinks this was "a contributing factor in helping set up an actress like Winona Ryder who could come along in the later '80s and be taken seriously as a teen actress." While Hughes muse Molly Ringwald pined for the rich guy, Ryder merely pined for herself. "Molly Ringwald was embraced as something of an American sweetheart," explains Shary, "and I think Winona Ryder took on roles that she thought would be a little more cynical, a little bit more hardened." And she wasn't shy about it. "Those kinds of films are so corny," Ryder said of the Hughes cannon. "I couldn't believe how teenagers didn't mind getting those labels slapped on their back." Heathers was held up as a counterpoint—Waters told Entertainment Weekly, "there's a whole other wing of the high school they weren't going into"—and Ryder was proud of that. "There are a lot of really smart kids out there who don't want to be insulted by John Hughes," she said. Perhaps it is not just a coincidence, then, that in Edward Scissorhands Tim Burton turned Hughes regular Anthony Michael Hall into a psychopath while in Mermaids Ryder fucked '80s ideal Jake Ryan after Molly Ringwald only dared kiss him.
"She has just about the most perfect face I've ever seen." 
Though most of her films were not hits, Ryder was critically lauded, most notably with an Independent Spirit Award nod for Heathers and a Golden Globe for Mermaids. "By the time she got into her early twenties in the early '90s, she could have the clout to do movies like Dracula and Age of Innocence and be taken seriously," says Shary. But that's not why she became so iconic. According to Ty Burr's Gods Like Us, that was also the decade that brought us the fan magazine boom. Entertainment Weekly, Premiere, InStyle, People and Us Weekly "revitalized an interest in the triangulation of women, fame, and personal style," wrote Burr. "The magazines confirmed personas, created public narratives, represented public judgment in times of scandal, and dispelled the primal movie mystery by replacing it with an illusion of access and knowledge." Though Shary concedes that gossip magazines "kept [Winona] in the public visibility," he argues that Ryder was actually getting her "greatest critical reviews" ever in the '90s (her first Oscar nomination, for The Age of Innocence, came in 1993, followed by another Oscar nod for Little Women in 1994). But that's not what we remember about that time. What we remember about that time is Winona Forever.
*
They saw each other for the first time two months after Heathers came out, on June 16, 1989, at the Ziegfeld Theater in New York City. She was 17, he was 26. It was the premiere for Great Balls of Fire and Winona Ryder arrived in a rosy Cadillac wearing a ghost-coloured figure-hugging Giorgio di Sant'angelo. She had gone from voluminous black to voluptuous pale ("Even though Heathers didn't make a lot of money, I really was able to transition into a situation where people thought I could play an attractive role because of it.") Her lips were raspberry and her eyes were peach and she looked delicious. Johnny Depp, the 21 Jump Street-born Bop regular who a year later would send up this very image in John Waters's Cry Baby, appeared in a brown suede jacket, jeans and black shirt looking equally delicious. They had the same hair—short, dark, swept off their faces—and they were similar in other ways too. Depp was also unconventional, a Beat disciple and fan of Ryder's godfather Timothy Leary, not to mention Salinger. His beauty was atypical like hers, too. "Your Johnny Depp kind of beauty was almost an alternative to Tom Cruise,"1313Tom Cruise would be named People's Sexiest Man Alive in 1990 and Michelle Pfeiffer Most Beautiful. explains Lainey Gossip's Elaine Lui.
By the end of 1989 they would be engaged, and by the following December Depp would brandish his infamous Winona Forever tattoo. No longer was Ryder the vestal virgin. "I've had a lot of propositions in the last year," she said before meeting Depp. "I'm really naive about stuff like that." Depp, already divorced by 22, enlightened her. "It was a complete identity change," says Lui. "She went from awkward girl to the most beautiful girl in the world with the most beautiful boy in the world and the most beautiful love in the world." And they couldn't shut up about it. "I love that girl. I love her," Depp was quoted as saying at the time. "I love her almost more than I love myself." Ryder was less emotive, but no less frank. "When I met Johnny, I was pure virgin," she said. "He changed that. He was my first everything. My first real kiss. My first real boyfriend. My first fiancé.1414Though she was asked once before, when Lucas wrapped, according to director David Seltzer. He says Corey Haim developed a huge crush on Ryder during the shoot and bought her a diamond engagement ring, to which she responded, "Are you crazy?" (When I interviewed him in 2008, Haim downplayed his affection, calling it "puppy love.") The first guy I had sex with. So he'll always be in my heart. Forever." The press couldn't get enough. The paps hounded them at airports, the tabs hounded them in print. By May 1991 they were living together and the press hounded them at home. "We were both very young and pretty open about our feelings," Ryder told The Daily Beast this past October. "We hadn't learned yet to not share everything with everyone." But she was a quick study. "When I was young, I was the sweetheart of the press," she told Harper's Bazaar in 1990. "Then I became engaged to Johnny and it's been bad ever since."

Her transformation can be traced through Vogue. In June 1989 Ryder appeared for the first time in the fashion bible in a vintage men's suit—characterized as "part Annie Hall, part Holly Golightly"—while six months later, for her second issue, she posed in bed topless.1515Lying on her front, of course—she has always had reservations about nudity and sex, despite her family's permissiveness. "My parents leaned to the conservative side, and hers leaned to the liberal," ex Dave Pirner told Life magazine in 1994. "We're both overcompensating." Around that time Ryder read a "disgusting" article in another publication that counted her among a number of actresses who had unexpectedly large breasts. "It was the first time I read something that referred to me that way, and I thought, 'They don't think of me as a child actress anymore,'" she said. "I felt very violated." Still, Ryder, once considered too ugly for Hollywood, became a regular face in fashion magazines. She didn't dress the part, though, avoiding couture shows and doing her own hair and makeup for events, wearing (and re-wearing) vintage frocks on the red carpet and otherwise being matchy-matchy with Depp—oversized T-shirts, leather jackets, jeans.
She had the perfect style at the perfect time. Grunge was shuffling in and non-conforming Noni, who was teeny tiny despite her curves, fit the heroin chic decade to a T. But she didn't officially transform into a style icon until 1993—the year she went pixie. "Winona Ryder's new pixie cut recalls Audrey Hepburn's gamine chic," Vogue announced and, just to make the trend stick, the magazine also ran a "return of the gamine" spread. "Fashion people love that shit," says Lui of the actress's haute couture cachet. "But, really, it's the face. Those eyes. That's boner face." As proof, late celebrity makeup artist Kevyn Aucoin told Allure in 2000 that he never spent more than 15 minutes on Ryder's makeup. "She has just about the most perfect face I've ever seen," he said, "like a porcelain doll."
"There's an obligation to commercialize something when you have a movie star in it."
She didn't feel too gorgeous, though. At 17, Ryder had started suffering "horrible" anxiety attacks. A year later she pulled out of The Godfather: Part III in a tab-fuelled furor after developing sinus and bronchial infections on the set of Mermaids. "I didn't take any time off," she told Vogue. "When I did, I was really stressed out." By 19 she was worse. "I was acting like everything was okay—smiling," she said. "I was being watched all the time." But she wasn't sleeping again (she's had insomnia since childhood) and was "miserable" filming The House of the Spirits. She admitted the press "took its toll" on her relationship with Depp, but it was more than that. "I was trying to have this life I wasn't comfortable having and trying to be this person that I was reading I was," she told Rolling Stone. "I was Winona! I was precocious! I was adorable! I was sexy!" She called it an identity crisis. "If you spend your most crucial adolescent years being watched by millions of people being told what's good and what's bad, you have no sense of who you are," Ryder explained. She saw a therapist who diagnosed her with "anticipatory anxiety" —feelings of dread over anticipated events—and, quaintly, "anticipatory nostalgia." (In the Times, psychologist Dr. Constantine Sedikides recently described this lesser known "condition," which could be considered our current era's raison d'être, as the drive to "build nostalgic-to-be memories.") She was prescribed sleeping pills, to which she got briefly hooked. She then "tried to be an alcoholic for two weeks" but packed it in after falling asleep with a lit cigarette. Then, in April 1993, two years after canonizing their romance in a spread for UK Vogue, Winona Ryder and Johnny Depp broke up.
*
At one point Winona Ryder owned 12 guitars. "I never felt like a physically beautiful girl, but I've always felt like I was unique, and that mattered way more to me," she told Vogue in 2007. "Getting into the music I was into was so much more about individualism than beauty." Her house was populated with posters of The Clash, Patti Smith, The Runaways and The Replacements, and in 1990 she told Seventeen that the latter band's frontman, Paul Westerberg, was her idol, which seemed to determine her future relationships. The Replacements are considered pioneers of alternative rock, and Ryder's dating history reads like an encyclopedia of the genre. It's as though she was trying, paradoxically, to assert her individualism through her relationships.
Less than a month after breaking up with Depp, who originally wanted to be a musician himself, she started seeing Dave Pirner of the grunge band Soul Asylum. In addition to Pirner (who reportedly wrote "Just Like Anyone" about her), Ryder has been linked, in no particular order, to: Ryan Adams (he reportedly wrote "Cry on Demand" about her), Beck (he reportedly wrote "Lost Cause" about her), Conor Oberst, Pete Yorn, Rilo Kiley's Blake Sennett, and Dave Grohl.1616She has reportedly been dating eco-clothing entrepreneur Scott Mackinlay Hahn—basically, Alexander Skarsgard with grey hair—since around 2012. She also inspired The Catcher in the Rye-referencing "Rollerskate Skinny"1717"She's quite skinny like me, but nice skinny," Holden says of his sister, Phoebe, age 10. "Roller-skate skinny." by the Old '97s—Rhett Miller told Nerve he wrote the track after Ryder broke up with Matt Damon and developed a crush on Miller during which she constantly spoke to him about her ex. "I wrote the song to mean, like, 'Are you seriously complaining about your life? Come on,'" he said. Then there was Matthew Sweet's "Winona," a title suggested by a friend because Sweet liked the movie Heathers.
It didn't take long for her to become a punchline. According to Rolling Stone, on stage Courtney Love quipped, "Kurt is leaving me for Winona," while a Sassy reporter theorized that men were starting alternative bands solely to meet Ryder. But the biggest joke of all was Reality Bites. Ryder's 1994 film glamourized the grunge-wearing, literary reference-spewing, musician-fucking lifestyle she seemed to be living. It was a delayed-adolescence version of the coming-of-age movies1818Producer Michael Shamberg wanted a Big Chill for the 20s-set. she was famous for. She played Lelaina Pierce, a university valedictorian turned "unemployed waif," who tries to eke out a living as an independent documentary filmmaker and inadvertently becomes a sell-out instead. "It's about people trying to find their own identity without any real role models or idols," Lelaina says of her film, which also serves as an apt description for Catcher in the Rye1919"[H]olden scarcely is able to learn anything in the course of his book, because he cannot invest his trust in anyone who is not an image of innocence and he knows that only the dead and the very young are innocent," wrote Harold Bloom. "That makes survival very difficult for Holden, as he has no guides or teachers whom he can accept." and Ryder herself. No wonder Helen Childress wrote the script with her in mind. "There just wasn't anyone like her," she said. Ryder was sold. "It was the first time that I laughed and smiled and really enjoyed a script that was funny since Heathers," she said.
How could she predict the film would morph into little more than a Gen-X Greatest Hits mix tape—a pastiche of Big Gulps, greasy hair, vintage clothes, pop culture references, and smoky coffee houses? As Ryder told The San Francisco Examiner, "the script for Reality Bites was very different from how the movie turned out, and most of us were feeling as if what was happening to my character's documentary was also happening to the movie." She took the blame, telling Life, "There's an obligation to commercialize something when you have a movie star in it."
*
Ryder was a reluctant movie star, and she was about to become friends with a quintessential one. Initially, Gwyneth Paltrow was favoured to play Janeane Garofalo's character in Reality Bites. Then, three years after its release, People reported that Paltrow was recuperating at Ryder's Manhattan apartment after splitting from Brad Pitt. Veronica is supposed to hate Heather, but at that point, she was best friends with one—Paltrow was the blond conventional star who was about to win an Oscar for Shakespeare in Love. Ryder and Paltrow showed up hand in hand at the Cop Land premiere in  summer '97 and, even though by the end of fall Paltrow was dating Ben Affleck, she was photographed holding hands with Ryder once again at the Golden Globes in January. It was she who introduced Ryder to Affleck's best friend.
Matt Damon and Winona Ryder were an odd pair. On the eve of his Oscar win for Good Will Hunting, Damon was nowhere near the outsider Ryder usually went for. Elaine Lui thinks that was the point. "This was the only time in her life she's been mainstream," she says. "Matt Damon was her one shot at being a Heather … I think for a girl like Winona Ryder, who has been not normal forever, and always sees herself as not normal," Lui explains, "it would've been intoxicating to just be normal."
Her relationship with Damon lasted two years, her relationship with Paltrow even fewer. For decades the rumour lingered, like a smudge of lipstick on a crisp white polo, that Paltrow had stolen Ryder's Shakespeare in Love script.2020Paltrow recently swore to Howard Stern that this didn't happen. 
"I think of her as a true silent movie actress."
But that Paltrow went on to become a lifestyle guru implies a fundamental disconnect that would have no doubt inevitably led to their uncoupling. Born to director Bruce and actress Blythe Danner, Paltrow was Hollywood pedigree, just like Angelina Jolie, who would win an Oscar after co-starring with Ryder in Girl, Interrupted. Jolie is now one of the most famous women in the world, even more so than Paltrow, though the two of them are united by their activities off camera, which keep the aging actresses shielded from Hollywood's stubborn sexism. "Those two were way more prepared to exist in fame and figured out how to thrive," Lui says. "Winona has never been able to figure that out and I don't think she has it in her … It's not enough to just perform and produce, you have to play that game. And the difference between Winona and Gwyneth and Winona and Angelina is that she doesn't know how to play that game. She never did and she never will."
She's been that way from the start. "I've gone to a couple of parties in LA to try to enjoy them," Ryder told Premiere in 1989, three years after her first film. "But it really scared me and grossed me out. I see star fuckers and people who do stuff to be seen. It's kind of ugly." She was only 17 at the time and, by 18, her feelings hadn't changed. "Now that I've had my first experience with the tabloids," she told the Times, "if I'm in a limousine I'm afraid to talk to the person I'm with because of the driver." She didn't talk much in general. She kept her interactions with the press to a minimum—her first live audience chat was with Oprah for Mermaids—and for the longest time her only late night interview was with Charlie Rose. When she did speak, she was called out for rambling.2121"Digression!" She knew the "protocol" but considered it "lame," so she chose her life over her career. "To a true artist the career stuff shouldn't matter," she said. "But it matters to too many of those people who call themselves actors but are really just posers." The distinction was an important one, if only because her bible said so. "If there's one thing I hate, it's the movies. Don't even mention them to me," Holden says. Ryder was torn—ambivalent as usual—between loving movies and loving Salinger. "For a long time, I was almost ashamed of being an actress," she said. "I felt like it was a shallow occupation." So it was less a boast and more a statement of fact when, after a series of flops (How to Make an American Quilt, Boys, Celebrity) and one hit (Alien: Resurrection), she told Vogue in 1999: "I am as famous as I ever will be. I will never get more famous than I am." 
* 
"I have a feeling that you're riding for some kind of a terrible, terrible fall."      
                                                                                          —The Catcher in the Rye
One morning Winona Ryder woke up—she was around 21 at the time—and felt "too sensitive to be living in the world," so she checked herself into a psychiatric hospital for a week. No one spoke to her (except to medicate her). Still, she got a therapist out of it. That and Girl, Interrupted. "Someone who acts 'normal' raises the uncomfortable question, what's the difference between that person and me? Which leads to the question, what's keeping me out of the loony bin?" Susanna Kaysen wrote in her account of her own institutionalization. The book was just what the doctor ordered (or should have) for Ryder, who wished she had read it as a teenager. "I realized that what happened to me is not unusual," she told Vogue. "It was like, 'Oh, my God, my whole life I've tried to say that and I've never been able to.'"
It took six years to adapt the 1993 best-seller, by which time Winona was 27 playing 18. Kaysen had several conversations with director and co-screenwriter James Mangold, but didn't meet her alter ego until the film actually started shooting in winter 1998 (30 years after the events of the book had unravelled). She travelled to Pennsylvania to watch the shoot for a day, then spent a couple of hours with an exhausted, hungry Ryder in the evening. But the author found the encounter too short to divest the star of her celebrity. "You're not really meeting a person, you're meeting an artifact," Kaysen says. "I didn't feel we spent enough time together for me to get beyond my own reaction of meeting someone who isn't really a person to me." She did, however, glean that Ryder didn't want to "model" Kaysen's behaviour, but instead rely on her own. "I think she did a pretty good job of figuring out how to play a confused desperate girl and that may be because she has been that," Kaysen says. "She didn't have to meet me to figure that out."
"To us, Winona Ryder is a bona fide icon."
Girl, Interrupted is the last film regularly associated with Ryder. It is also the last film in which she retained the persona she was famous for: dark, intelligent, unconventional—a persona for which she was celebrated in her youth, but institutionalized as an adult. Despite being way past the coming-of-age period, here she was on screen once again figuring out where she fit in, which, really, wasn't anywhere. Like Susanna, like Holden, Ryder was again stuck in limbo, something Mangold noticed on set. Observing her inability to make decisions, he called her "ambivalent," to which she replied, "I am, aren't I?" She was forever out of place, both on screen and off, but by 1999, when the film was released, everyone else had moved on. And Mangold knew it. "I think of her as a true silent movie actress," he said, "and I think she's a real rarity, maybe even an anachronism, in today's talkie film world." It was, after all, Angelina Jolie's scenery-chewing sociopath who eclipsed Ryder and her glaringly prophetic opening line: "Have you ever confused a dream with life or stolen something when you have the cash?"
*

Two years later, the answer was "yes." On December 12, 2001, Ryder was arrested while shopping at Saks Fifth Avenue in Beverly Hills. She had broken her arm two months prior and was on oxycodone, later telling Vogue that she had gotten to a "weird point," taking the meds without knowing if she needed them. "Have you ever taken painkillers?" she asked. "It's just confusion." Ryder thought that things had been taken care of, as they had been in the past for people like her at stores like this. She had even left her credit card on the counter. "She spaced out. That's all that happened," her dad said. "They could have simply said, 'You could have put it on the credit card.'" Instead, as she walked out with more than $5,500 worth of clothes and accessories, they called security. While detained in the store's offices, Ryder agreed to reimburse them. She was then arrested. "I never said a word," she said later. "I didn't release a statement. I didn't do anything. I just waited for it to be over." She retreated to her hometown of San Francisco and made a "conscious decision" not to work. A year later, in a very public trial, she was convicted of grand theft, shoplifting and vandalism and sentenced to three years of probation and 480 hours of community service, fined, and ordered to get counselling.2222Her probation concluded in December 2005

Even without "the incident," as Ryder referred to it, Elaine Lui thinks her career decline was imminent. And after the release of Alien: Resurrection in 1997, she had little to work with. "The stuff I was being offered was like: The Rookie Cop!" Ryder told Vogue. "And I was just, like, 'I'm not The Rookie Cop. I can't be The Rookie Cop.'"2323Though compared to Autumn in New York and Lost Souls, The Rookie Cop might have been an improvement.  
At the time of the crime, she had just turned 30. "I was definitely at a point where I was trying to figure myself out and figure out how to have a life when I'm not working or in a relationship," she said. No one cared. It was three months after 9/11, that's what they cared about. "She was a target for all of those feelings in that moment," says Lui. "'Well, of course a fucking celebrity doesn't know how good she has it and has to walk in and just take things and take things.'" TMZ wouldn't arrive until four years later, but already on the Internet2424No doubt one of the reasons the Free Winona T-shirt, created by L.A.-gift shop owner named Billy Tsangares, became so popular it ended up on the woman herself on W Magazine in June 2002 (not to mention me). Ryder's trial unrolled minute by minute, hour by hour, day by day.
*
After the fall, Winona Ryder got back up slowly, almost imperceptibly (an unfunny role in Mr. Deeds here, a part as an uncredited psychologist in The Heart Is Deceitful Above All Things there). She was more visible in her first major fashion campaign, in part because of its satirical meta-take on her offence. Designer Marc Jacobs, famous for weaving through his couture the kind of pop-citing mash-ups that now hegemonize the web, noticed Ryder's trial "look" and chose her as one of the faces of his spring/summer 2003 campaign.2525It probably didn't hurt that one of the items she reportedly stole was a  $760 cashmere sweater by Marc Jacobs. "I asked Winona to do the campaign because I thought she looked so beautiful in all these pictures that we've seen recently," he told Hello!, "regardless of whether they were from the trial." The ads show a crazed Ryder surrounded by newly purchased items, a pair of scissors nearby (one report stated she had cut some tags during the incident). Ryder popped up once again in Jacobs' recent fall/winter campaign in an apparent throwback to Beetlejuice,2626Savvy marketing once again, Tim Burton told IGN at the end of 2014 that the Beetlejuice sequel was "closer than ever." blunt bangs and lengthy black-watch tartan skirt included (Wes Gordon's Spring 2016 fashion show also alluded to the film, according to Vogue, via its "dark, swampy" reproduction of Lydia's 'do).
In December 2015, Jacobs revealed that Ryder's first-ever cosmetics campaign would be the spring 2016 collection for Marc Jacobs Beauty. He announced it on Instagram, a medium that, in the words of The New Yorker,  emphasizes "photography as an elegiac or twilight art, one that rushes and fakes the emotion of old photographs by cutting out the wait for history entirely, and giving something just a few seconds old the texture of time." This is the Internet's answer to Fredric Jameson's nostalgia for the present,2727Though in his case the past becomes present, where here the present becomes past in which we curate our lives with filters and frames to form a false life worth remembering. On Jacobs's, Ryder's eyes were painted with a monochromatic swoosh and he wrote, "I am reminded of one of my all time favorite films: The Last Year at Marienbad. The flawless cool, elegant and timeless chic of actress Delphine Seyrig has long been a reference of mine."2828For the short film supporting the campaign, he was reminded instead of his mother. "She took a piece of black velvet ribbon and she'd scrape it with a knife so that she could take the pile from the black velvet and make the lashes even thicker," he says in voice-over as Ryder acts out his memory. Alain Resnais's new wave nod to the silent era presents Seyrig as a latter day Louise Brooks who may be little more than the memory of a dream, because nothing is clear —neither fact nor fiction nor time nor space. Everything here is as fluid as the images that swipe across our screen, as the liquid liner that swipes across Ryder's eyes. But Seyrig's fluidity is not Ryder's. In 2014, the latter appeared in Rag and Bone's fall/winter campaign, her shaggy crop reminiscent of her Reality Bites days. "To us, Winona Ryder is a bona fide icon," designer Marcus Wainwright said. "She also has this beautiful timeless quality." But it's actually her timeliness that gives her value—she is a human incarnation of '90s nostalgia.
We cannot see Ryder without seeing the grunge era. In the New York Times Magazine in 2011, Carl Wilson riffed on the "20-year cycle of resuscitation" that had finally turned to Gen-X nostalgia.2929Define irony: an anti-nostalgia generation becoming nostalgic "In intimate terms, nostalgia is a glue that reinforces bonds of solidarity and shared experience," he wrote. "And it's a reminder that it matters not only that an idea or an image was created, but when—that things speak most fully in chorus and counterpoint to other events and concepts of the same era." As Tavi Gevinson told Entertainment Weekly in 2014, "how I feel when I see pictures of teen Winona Ryder and Johnny Depp holding hands in leather jackets, like, nobody can match that." The only person that can come close is Winona Ryder now, because embedded in Winona Ryder now is Winona Ryder then. She carries her past with her. The teen actress who sought to make her own life nostalgic before it had even passed her by peeks out from within the woman Marc Jacobs3030The most recent of which adds another layer of nostalgia in the guise of Resnais' 1968 film, which itself references the '20s and so on… now imbues with nostalgia—she is a Russian nesting doll of reminiscence. That Winona Ryder's image makes more of an impression than her current performances—in The Ten, The Last Word, Stay Cool—confirms our culture's chronic desire to preserve the past rather than accept the present.
*
Back in 1991, when Ryder was not yet 20, Rolling Stone praised her for finding the "strong roles for women" that so many other actresses couldn't. "See, the thing is, that hasn't been a problem for me yet, because I haven't really played any women yet," she astutely pointed out. Beyond the adolescent angst canon, Ryder had as much trouble as everyone else. Last year, The Journal of Management Inquiry released a study which stated that female stars' earnings peak at 34. For men, it's 51. "Men's well-worn faces are thought to convey maturity, character and experience," it read. "A woman's face, on the other hand, is valued for appearing young." This could explain why, at 52, Johnny Depp, once on par with Winona Ryder, is leading a franchise and being paid $30 million a film while, at 44, Winona Ryder's entire net worth is reportedly half that, with the media throwing her crumbs of praise for looking ageless. "He's still an Oscar contender in his early fifties and unfortunately she probably never will be again," Shary says, recalling that Ryder's most high-profile role in recent years was as a "has been" in Black Swan. "That is symptomatic of the way the industry treats male and female performers." You could argue that "the incident" is to blame, except that her old 1969 co-star Robert Downey Jr. has been arrested many more times than she has and is currently the highest paid actor in the world (oh, and he was recently pardoned for a 1999 drug conviction). Women aren't allowed to make mistakes, older women even less so.
There's a reason J.D. Salinger, who is celebrated for his realistic depiction of anti-conformity, almost always writes "about very young people." While Johnny Depp has profited from his quirks as an older leading man—Pirates of the Caribbean, Sweeney Todd, Alice in Wonderland—Ryder has not. The same way they aren't permitted to err, women aren't entitled to be outsiders, and older women are barely tolerated at all. What older women, which Ryder is considered now, are authorized to be is wives (The Iceman, Experimenter), girlfriends (Homefront) and mothers (Netflix's upcoming Stranger Things). Ryder must thus settle for supporting roles, which do little more than highlight how much more watchable Lydia Deetz, Veronica Sawyer, and Charlotte Flax were, and why we can't forget them. As she told Interview, "you get used to thinking that things are going a certain way because of something, but then you just kind of grow up."
But grown up is not how we remember her. "The true Ryder heroine is a gentle soul in tremulous transition to maturity," wrote Richard Corliss in a 1994 TIME article about the twentysomething "Winona Generation." And though last year Vogue made claims of a Winonaissance, the actress herself acknowledged it was based on her past, that the images on Instagram were largely "of this waifish, big-eyed girl." "Nostalgia is holding onto our youth in relation to what we enjoyed at the time, when we were young, but also the people we remember being young with us," Shary says. "You have to have a memory of the thing that happened in order to have nostalgia. In another generation or so what was once so affirming and heartening about Winona Ryder's late '80s roles will have dissipated."  Our memory of Winona Ryder is muted youth, a soft face, a remote voice, a patient performance. Winona Ryder now is sharper, her face angular, her voice piercing, her approach aggressive. "Terrified," is how Lui now describes the eyes that once made her famous. It's as though, no longer getting roles that she can simply be rather than perform, she is acting out. Ryder recently told The Daily Beast that when she joined HBO's Show Me a Hero, creator David Simon warned, "Better not show those Winona eyes." It was the opposite of what her bible had always told her, which was to be honest, innocent, pure. And in response, Ryder—never unable to be real—cut off her eyelashes. It's virtually impossible not to make the connection to Samson, the Biblical hero whose source of power was his hair. Like Holden said, "Certain things they should stay the way they are. You ought to be able to stick them in one of those big glass cases and just leave them alone."