Mermaid princess Ariel has dreams of somewhere else. Though she's the belle of the ocean, with a doting and muscular mermaid king for a father, six fashionable older sisters, a beautiful singing voice, and the undivided attention of a wry, musically gifted crab who risks his life and livelihood to protect her from harm, Ariel is consumed by ill-informed notions of walking on land. She wants to eat with a fork, hang out with humans, and live happily ever after with a wide-eyed terrestrial prince. This is such an obviously bad idea that the other sea creatures try to discourage her with a carefully choreographed musical number. So who will help a horny teenage mermaid in search of a transformation guaranteed to horrify her loved ones? The aggrieved and scheming sea witch Ursula, of course.
Even the witch's name evokes a sinister glamour. Inside her lair of fish bones, hidden in a dark patch of ocean, the corpulent cacaelia exploits Ariel's dreams—swiftly, surely, and almost successfully. This master manipulator offers the princess a deal: I'll give you a shot at landing your prince, the witch tells the princess, if you give me your voice.
Though Ariel is sweet and naive and in love, she worries that, without her voice, she's got little more than a clamshell bra and a dream in her heart. "You'll have your looks," Ursula assures the young mermaid in her husky snarl, "your pretty face. And don't underestimate the importance of—" the witch shakes her hips lustily as she swims past—"body language."
Like Ursula's tentacles, the stakes spread out before us:  this is a first-rate scam and Ariel is out of her depth. Among the coterie of evil queens, stepmothers, and sorcerers who terrorize out of jealousy and greed, Ursula is unique. She's the only one who actually gives a young princess what she wants.
But witches want stuff, too. And, until that inevitable moment when heroes destroy them and restore order, witches have the upper hand. 
Although the sea witch is singular among Disney villains, there is a person behind this character. She is a real-life Ursula with a crimson mouth, eyebrows sharp as switchblades and a homicidal gleam in her eye.
She is Divine.
*
This is the story of how Glenn Milstead, a big-haired, poo-eating Charm City drag queen named Divine, came to inspire a Disney villainess.
That an indelible character in a children's cartoon is a composite of 1980s gay life, bold women with gravelly voices, the AIDS crisis, independent film, Hollywood, Baltimore, and the tragic premature deaths of two exceptionally creative men shouldn't surprise us. The best characters originate in artists' complicated lives. And Ursula was surely one of the best. 
Before Glenn Milstead became drag's most famous maniac he was a shy, overweight boy who wanted to be a movie star. Growing up in the 1950s, Milstead loved to dress up in his mother's clothes and pretend to be Elizabeth Taylor. Doctors told his mother her son was more feminine than masculine, according to I Am Divine, a documentary about Divine's life by filmmaker Jeffrey Schwarz.  On a good day, a boy who loved dolls, mom's lipstick, and musical theater was pitied and called "nelly," on a bad one, bullies left Milstead covered in bruises.
In high school, Milstead had a girlfriend. He did her hair for the prom. Otts Munderloh, who went on to become a successful Broadway sound engineer, remembers hanging out at Milstead's house after midnight when they were teenagers. "Glenn would put a towel around her head and say, 'we're having a party, 'cause your sister Barbara can still throw the best party in town!'"
"It's a very Baltimore thing.…These are big bold ladies who lead with their chests."
It was illegal to be gay in Baltimore during the 1960s. Milstead wasn't out to many people, but he was still coming into his own as a hairdresser and very funny queen. At drag balls in Washington, DC, where gay men in gowns and flawless makeup competed for the title of queen, Milstead was too overweight to shine and too funny to take the other drag queens' studied versions of glamour seriously. He derided the aspirations and presentations of these studied, serious queens, calling the balls "ridiculous."
But there was a place, deep underground, where Milstead could reign. At a bar called the Pepper Hill, Milstead and his friend Pat Moran, who is now an Emmy-winning casting director, would perform as Ginger and the Snaps. Here, Milstead was embraced for his queerness and his profane sense of humor. His neighbor, John Waters, a long-haired wannabe filmmaker, who would later gain mainstream recognition for 1988's Hairspray, was equal parts intellectual and juvenile delinquent. He cast Milstead's terrorist drag persona in his low- and no-budget movies.
In those early days, starring in Waters's movies allowed Milstead to channel his rage from years of abuse and bullying. Off camera he was sweet and shy, but on screen he relished the role of a busty criminal in a crop top and pedal pushers who goes on a killing spree after being raped by a giant lobster. For these roles, Waters named Milstead Divine. The persona was angry, vain, and emphatically amoral—an aggressively sexual striver. Divine was always over-the-top, but amidst all the gross humor and rage ran a current of something authentic and sincere.
The films were a reflection of the freaky and weird spirit of Baltimore during the 1960s. A small city at the center of its own universe, equal parts provincial and fantastic. John Waters said that at airports, even today, he can tell immediately which crowd is headed to Baltimore. "A lot of people that have come from Baltimore seemed to be larger-than-life, but Glenn was definitely the center of attention," says Munderloh.
Even though he was making fun of drag, Divine was committed. For the 1972 film Pink Flamingos, Milstead shaved his hairline to the top of his head so there would be more room for eye makeup. As Babs Johnson, he strutted through downtown Baltimore in heels and a platinum wig. Glenn Milstead's version of a Hollywood starlet was as entertaining and charismatic as any movie star. In the film's final scene, Babs, out to prove that she is the filthiest person alive, eats freshly shat dog poo. Across the country, people lined up to see Pink Flamingos at the midnight movies, then puked in the aisles.
Divine was no longer a big queen in a small town, she was a star of the underground. She went on to masturbate with dead fish, stuff her bra, hit her kid, and curse out her parents. As part of a show called "Journey to the Center of Uranus" Divine, dressed like a crab, sang "a crab on your anus means you're loved." Playing big, fearless, impolite women who do and say whatever they want, Divine's growing popularity proved that Glenn Milstead wasn't the only person at home in a nasty hedonistic world.
Larger than life characters give voice to our own rebellious impulses. Divine was funny, sure. But, as anyone who's smiled after realizing Ursula stole Ariel's voice in order to bag Prince Eric for herself knows, it can feel really good to watch someone behave this badly.
Like Ursula, who has an eye on King Triton's throne, Divine and the roles she played are equal parts aggrieved and aspiring. As teen mom and misanthrope Dawn Davenport, in John Waters's Female Trouble, she runs away from home when she doesn't get "cha-cha heels" for Christmas. Later, she crows, "I'm a thief and a shit-kicker and I'd like to be famous."
*
Though the evolution of Divine to Ursula—from midnight movie anti-heroine to cartoon villainess with a shock of white hair, eye shadow to her forehead, and a garden of shrunken mer-people—seems predestined, it relied on a shared cultural connection.
Howard Ashman, a playwright and lyricist from Baltimore, had been hired by Disney after his hit off-Broadway play, Little Shop of Horrors, attracted the attention of executives hoping to bring the animation studio back to life following a series of flops. At Disney he functioned like an executive producer, weighing in on casting, dialogue, and character development for this contemporary interpretation of the classic Hans Christian Andersen story. He was uniquely suited to the job. Like so many creative people who'd grown up in Baltimore during the 1950s and 1960s, the intersection of raunchy drag queens and fairy tales was Howard Ashman's sweet spot.
As a child, Ashman had immersed himself in drama and classic children's stories at the Children's Theater Association (CTA). Run out of a carriage house in downtown Baltimore by a woman named Isabel Burger, whom everyone called "Dearie," the CTA taught creative dramatics to a diverse crew of kids who might have been outcasts and freaks in the wider world. The goal wasn't to put on a beautiful production, but to see things from other points of view. Imagining they're at the mouth of the mine waiting to hear if an uncle or child has been killed in an accident, for example.
Howard approached CTA with a grown-up intensity. A group of kids grudgingly agreed to paint sets, but Dearie insisted that Howard Ashman do it. "Only Howard cares enough," his sister Sarah Ashman Gillespie remembers her saying. When 10-year-old Ashman played a lost boy in The Baltimore Actor's Theater (BAT) production of Peter Pan, he was "so serious," according to BAT founder Helen Grigal.
Munderloh, friend of Divine and John Waters, was also part of CTA. Several years older than Ashman, Munderloh would sometimes drive the younger kids to New York to see shows. "We had musicals ingrained in our brains in '63," he told me. They performed Sleeping Beauty, Beauty and the Beast, Aladdin, and Rip Van Winkle. It was a safe space for an effeminate boy whose grandfather had exhorted him to "act more like a man."
Despite anxiety about his masculinity, Ashman's family took pride in his acting and singing. He received the quantity and quality of love reserved for the only grandson in a 1950's Jewish family. His Nana would drag him across the city to perform for her friends. He once sang at the foot of a sick elderly woman's bed, while she, moved by his voice and performance, "clutched her tissues and cooed," Ashman Gillespie wrote in 2013.
Ashman was kind, but he could also be biting and sharp. He and his sister would compete to do the best impressions of their grandparents and mother. Shirley Ashman often reminded her children that she'd given up a life as a singer—a one-month tour with long-forgotten Lester Cole and His Debutants—to marry their father. As a wife and mother she would elbow her way into any spotlight, however dim. Munderloh remembers her playing mood music on the piano for some of Ashman's Children's Theater productions.
After high school Ashman left Baltimore to study writing and directing in Maine, and then got a graduate degree at the University of Indiana. Among theater friends and classmates, his sexuality became an open secret. In Indiana, he got together with Stuart White, a handsome dancer, actor, and director, and began telling people close to him he was gay.
Many gay men in New York City embraced the sexual and social freedom of the 1970s as a reward for years spent in a cramped and suffocating closet. Ashman and White moved there in 1974 and White, in particular, fell in love with the scene. The couple rehabilitated an old theater called the WPA with an artistic director named Kyle Renick, while Ashman worked furiously with composer Alan Menken on a play about a poor, nerdy flower shop clerk who names his miraculous (and homicidal) plant after the girl he's in love with.
In 1982, Ashman called his sister. White was sick with "something called the gay cancer," Ashman Gillespie wrote that he told her. "They thought maybe it came from poppers…By the time Stuart died in the summer of '83 his illness had a name." He was 34.
Ashman and White had broken up by then, but he was devastated. He wrote a song called "Sheridan Square" about the small park in the heart of New York City's gay village. The lyrics convey the sadness and loss that permeated the gay world during the 1980s:
Some of the boys have panic, but none of the boys leave town—
We're on the good ship titanic, we're gonna sing till the boat goes down.
Just before Stuart White died, Little Shop of Horrors opened off-Broadway. The show is both strange and utterly conventional. Strange in that Audrey II, Seymour the shop clerk's new plant, fails to thrive until Seymour pricks his finger and feeds her his blood. Conventional because, in a wishful number, what Ashman described as an "I want song," Audrey, the plant's platinum blonde namesake, dreams of a life with Seymour "together at last" in a tract house "somewhere that's green."
Her largeness is presented as evidence of her evil nature. But in this case, that evil nature is also liberating.
Little Shop played in New York for five years and during that time Ashman, a perfectionist, would go back frequently to give notes to the actors and stage manager. He especially hated when the performers camped up the roles for laughs. A lovesick nebbish store clerk, a sadistic dentist, and a man-eating plant may seem like comic characters, but "these people believe it, and they believe it wholeheartedly," Munderloh recalls Ashman insisting. "They're not trying to be funny."
His sister concurs. "If you look at the director's note, one of the things [Howard] says very clearly is, there's humor in this, but these characters are sincere," she told me. "The thing that made Divine work, and I think it made a lot of what Howard did work too, was his awareness of the freakishness of it and this utter sincerity."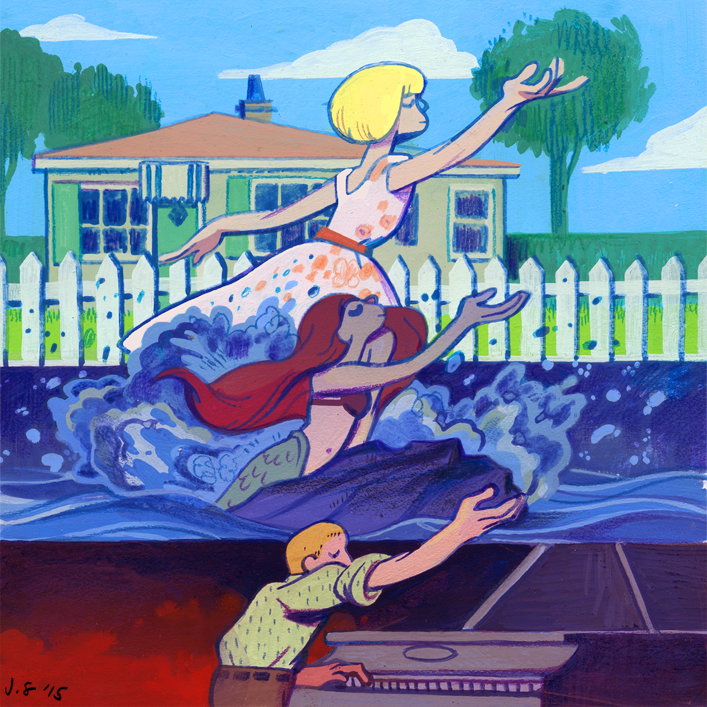 The Little Mermaid became a colossal hit. Since its release in 1988, the film has earned five times its $40 million budget and Ashman and Menken won an Academy Award for "Under the Sea." The film ushered in a new era of massively successful movies that married contemporary humor with classic stories.  Divine never saw the movie.
Glenn Milstead died from heart failure in 1988, three weeks after Hairspray premiered. He'd been struggling to find more serious and challenging roles and had just been cast on the TV show Married With Children as Uncle Otto—a part he was elated to be playing out of drag.
But, had he known about Ursula, "he would have wanted to play the part himself," said Jeffrey Schwarz, the documentarian who chronicled Milstead's life. John Waters agreed. What filthy anti-hero wouldn't relish such a plum role? "When I was young, all I wanted to be was a Disney villain," Waters told me. "My idol was the stepmother in Cinderella."
Ursula is a plum role because as Glenn Milstead, Howard Ashman, John Waters, and generations of queers and drag queens know, being ostracized, fat, and sick can  bring its own strength and power. Jeffrey Schwarz doesn't think it's strange that Divine, a delightfully filthy drag legend, inspired a children's movie. He thinks, rather, The Little Mermaid is a pretty queer film. "You have these people that named their little girls Ariel because of this romantic view of that girl, and people who look at this movie and say, 'this is totally subversive,'" Ashman Gillespie said.
Sometimes people tell stories that are so imaginative and so fully representative of themselves they manage to become a part of other people, too. There can be tidy plots that end in racial integration, weddings to princes, or sex with crustaceans, but mostly in stories like these there is no convention. There are only relationships. Deep, firmly felt connections between strange, gross, gorgeous, and utterly authentic characters. What's subversive about Ursula, Audrey II, and Divine is that they cannot be contained. Or, as Sarah Ashman Gillespie put it, "it's  something larger than life taking over the world."