What were we obsessed with, invested in and plagued by in 2018? Hazlitt's writers reflect on the issues, big and small.
Gritty is the dumb and ugly hockey mascot revealed by the Philadelphia Flyers on September 24 of this cursed year. Nothing was expected of it (of him?), beyond some local news coverage, some local outrage on Sports Twitter. But the world took notice, because Gritty is the visual and physical embodiment of the epic troll: weird on purpose, both frightening and idiotic, at turns lovable and violent, so "on brand" as to be stubbornly memorable even when you'd rather forget.
At seven feet tall and with a head made of wild orange hair dotted with googly eyes, Gritty is an epic troll. The Era picks its heroes and icons, and the people tasked with typing these "The Year In …" think pieces are left to come up with excuses for our society's failings, the rapid de-evolution of Western Civilization, the lowness of our culture. And it doesn't matter. Gritty will win because Gritty already won. That feeling you had when you first saw Gritty? That's what it felt like when people first saw Elvis Presley on TV, or Darth Vader in a movie theater, or Joan of Arc leading the charge on Orléans in 1429, or when a sin-jowled Nixon punched his stubby V-sign fingers into the air before a helicopter hauled him away from the White House. Dread, love, fear, wonder, disgust. Whatever the emotion, it comes with the mark of things forever changed.
Does Gritty look and act like the meth-lab offspring of Doug Ford and Donald Trump? Yes, this is undeniably true. Is Gritty vulgar and foul-tempered? Watch the monster in ecstasy as he fondles his huge belly, or driven into a rage by a Mites On Ice child player during intermission. (Gritty picked up that kid and threw him in the penalty box, the same penalty box that Gritty destroyed in a separate fury on October 23.)
With each wantonly fireable offense—viciously bodychecking the goalies, shooting Flyers' promotions staff in the back with the T-shirt gun, beating up Rangers fans after dumping popcorn in their hair, threatening to murder the Pittsburgh Penguins' mascot—Gritty's fame and influence grows. It is here where the Ford Nation/Deplorables parallels are impossible to deny.
Yet Gritty's vile behavior is evidence not of privilege or fake populism, but of True Grit. It doesn't matter that he's the mascot for a $750-million NHL franchise. Gritty immediately transcended his late-capitalism brand origins. As the socialist quarterly Jacobin announced just days after the mascot's debut: "Gritty is a worker."
The inevitable Philadelphia protests timed for Trump's visit on October 2 witnessed the birth of Gritty as an anti-billionaire working-class street brawler. If Trump finally allowed the racists and nationalists to start saying the quiet parts loud, Gritty gave the New Left permission to wear guillotine T-shirts they'd previously only "liked" on @dasharez0ne's Twitter feed, and the gall to demand and fight for a Green New Deal, to free the American left from asking permission anymore. Not for health care, not for good-paying jobs, not for free college, not for justice. Of course Gritty can take down the soft boys of the Alt-Right, but his ultimate goal (beyond eating Zamboni snow) is a joyfully chaotic destruction of Late Capitalism and its long-protected vulture class.
Of course the mascot belongs to Philadelphia, the monster's personality being the beloved stereotype of the chip-on-the-shoulder loud-mouth drunken Flyers' fan (or player) living off Fireball Cinnamon Whiskey and cheese steaks and pills stolen from grandma. Brian Allen, a commercial artist and Penn State alumnus with a retro comic-book style, was contracted to come up with the mascot and presented 20 sketches. Flyers' management "picked a big dumpy monster I had drawn as the starting point," Allen said.
Of course it was the starting point. Gritty was born of a Jungian vision. The artist is the weapon of the muse.
And, as designed and intended, the instant revulsion shown for this "ghastly empty-eyed muppet" on global social media made him instantly and forever embraced by his hometown, a city where the trash is never picked up, a city that bombed itself, a city that calls itself the birthplace of liberty.
Within weeks of his birth, or unearthing, there was an official proclamation from the Philadelphia City Council: "WHEREAS, Gritty may be a hideous monster, but he is our hideous monster." The tattoo parlors were already doing a brisk business in garish Gritty designs. The jack o'lanterns hurled by Philadelphia's street urchins this past Halloween were mostly carved with variations of Gritty's death grin. But the city now shares their deranged hockey monster with the world, with the rise of the new global left.
The faux-populist horrors of recent years have seen occasional calls for the leftist and socialist opposition to adopt Trumpian behavior, to elevate cretins and scumbags to positions of leadership. Human disasters such as Michael Avenatti—who insanely believed his legal representation of one of Trump's adult-actress mistresses made him eligible for the Democratic presidential nomination—are evidence of why out-Trumping Trump or out-Fording the Fords never works when your cause is the Good Cause, the moral one, the one that will prevail if we as a species will continue our civilization here on this landfill-covered melting planet.
Gritty gives us an out: We don't have to be monsters, but we can have a monster as our god. A god of justice, a god of righteous vengeance, a god of fire and fury, a god of Saturnalian fun.
This is why Gritty stirs something deep within the souls of people long divorced from the old religions, which have weakened and splintered into identity camps of mealy-mouthed do-gooders or dumb extremists, a realm where nobody actually believes any of it. Gritty asks for nothing but Total Faith, faith that this spirit of chaos and working-class strength and wild ceremony can be channeled into action, everywhere. You can't say you want to see Trump on the block without having bad-faith fascists getting you banned on Twitter, but you can get a tattoo with Gritty throwing Trump in the penalty box (which contains a guillotine). You can put a laughing, manic, fist-waving Gritty on your protest signs and then use those signs (in self-defense!) to smash the neo-Nazis on the street and the Koch brothers at the ballot box.
Like the Viking berserkers of old giving themselves over to the Mystic Bear Warrior before fearlessly going to battle, for all of those today fighting the Oppressor, the spirit of Gritty is there.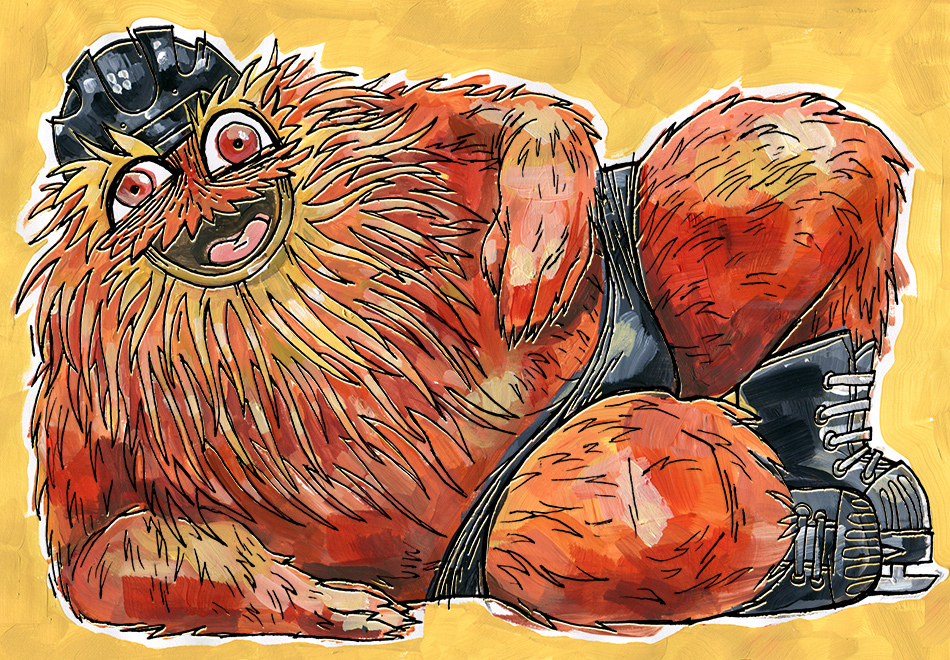 ***
Thank you, as always, for reading. Hazlitt will return in January.