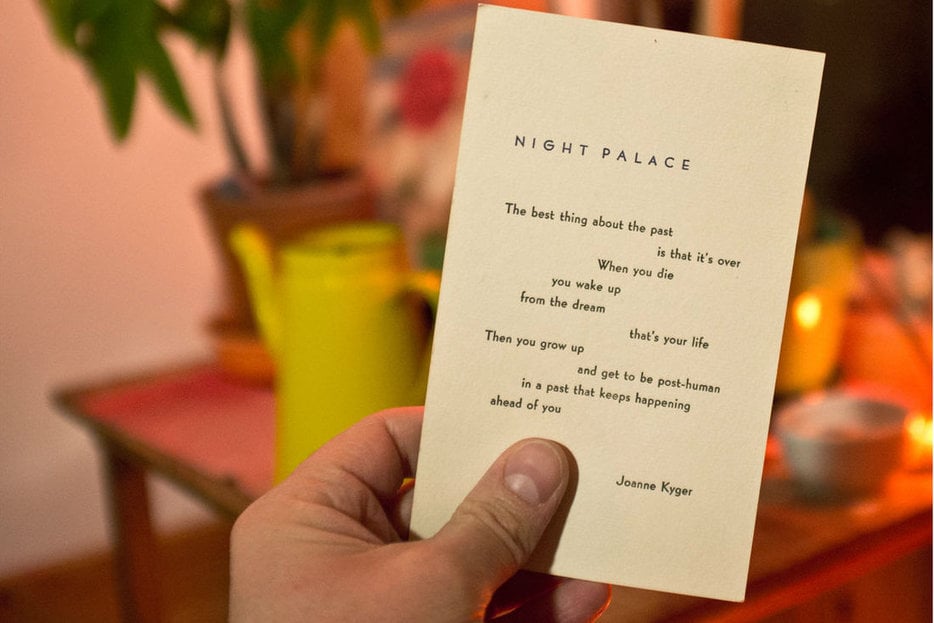 From the cover of Mount Eerie's elegiac album A Crow Looked At Me
On July 9, 2016, thirty-five-year-old cartoonist and musician Geneviève Castrée died. She had lived with pancreatic cancer for a year. Her illness began shortly after she and her husband Phil Elverum had a daughter. Before 2016 was over, Elverum, who records as Mount Eerie, would write A Crow Looked at Me, an album about his wife's death.
In the record's liner notes, dated December 11, 2016, Elverum discusses his motivation for writing the album: "I am open now … I make these songs and put them out into the world just to multiply my voice saying that I love her." A Crow Looked at Me was written and recorded in the room where Castrée died and feels like a private, sacred ritual, at once a celebration and a cleansing. It is almost too painful to listen to and it must have been far more painful to create.
The arrangements are skeletal: the two constants are Elverum's steady, low voice and his yearning chord changes, played on Castrée's acoustic guitar. It feels like Elverum limiting himself to black-and-white after the kaleidoscopic syncretism of the past few Mount Eerie records, finding beauty in diffuse gray and inky black.
Elverum's lyrics are uniquely brutal. He has always been an idiosyncratic writer: chasing poetry as he sings, his words often straining against the song's meter, circling images and ideas as if we are meant to see exactly what he sees, to think as he thinks. On A Crow Looked at Me, his plainspoken expressions of grief, of love, loss, joy, and loneliness are all the more potent for their lack of artifice. The songs are impressionistic rushes of images and places and things, flickering by like strips of 8mm film. Castrée is the center and Elverum twists and churns around her.
"Emptiness pt. 2" finds Elverum revisiting the sentiment of the organ-driven "Emptiness," from 2014's Sauna, and judging it harshly: "Conceptual emptiness was cool to talk about/Back before I knew my way around these hospitals," he sings. And: "There is nothing to learn/Her absence is a scream." Everything is painfully raw, a bright fresh wound. At the end of "My Chasm," Elverum's voice gives out, only for a second, as he sings the record's mantra, "Death is real."
Each person's loss is their own, a private bundle of memories—the last time you and your partner kissed; your mother, sitting by a window in the early dawn light; your daughter's first word—that we carry with us until it is our turn to die. If we are lucky enough to live long, healthy lives, the bundles pile up. Elverum intends this record as a remembrance, a document of his wife and their love and the end she had to face. It feels almost taboo to intrude upon, like sitting in on a stranger's funeral. But that anxiety melts away; the record is not voyeuristic but openhearted. It holds nothing back. It invites you in, and asks you merely to bear witness. It can strike the listener as an uncommonly intimate look at someone else's grief—though, as the way we talk about death changes, perhaps not as uncommon as it once might have been.
*
Mortician Caitlin Doughty is the figurehead of The Order of the Good Death, a collective of likeminded artists, academics, and fellow death industry professionals founded in 2011 to change the way American culture thinks about death. The ideas behind the Order were furthered in Doughty's 2014 memoir Smoke Gets in Your Eyes. Her upcoming book, From Here to Eternity, is a travelogue and compendium of death rituals around the world.
The tenets of the Order follow on Doughty's assertion that the funeral industry cheats people out of a "relationship with death" by feeding death anxiety and intentionally obfuscating the journey a corpse undergoes from death to burial. To the Order, the idea of a "good death" means that when it is our time to die, we should be as prepared as possible in every way. In a 2011 post about home death care, Doughty says, "Grief is not easy. Facing your own mortality is not easy. But it is right." The "good death" does not whitewash the pain of loss; it equips you to find closure in your own way.
A healthy attitude toward death, Doughty acknowledges, is not new so much as it is new to American culture. In Smoke Gets in Your Eyes, she writes, "There has never been a time in the history of the world when a culture has broken so completely with traditional methods of body disposition and beliefs surrounding mortality." There is no denying that America desperately fears death and decomposition: go look up the words "anti-aging." Silicon Valley is hard at work chasing immortality; a 2016 article in Nautilus quotes physician and hedge-fund manager Joon Yun slinging the typical rhetoric. "I essentially made a wager to myself that aging is a code. If aging is a code, that code could be cracked and hacked."
In her book, Doughty ascribes this phenomenon to "men who have lived lives of systematic privilege, and believe that privilege should extend indefinitely." Indeed, Yun's distance from the typical American is perhaps best summed up in his inane assessment of "the healthcare system" as "doing a good job of helping people live longer and stronger lives." Most people, Doughty says, who "linger into extreme old age" are in tremendous pain, living in overcrowded, underequipped nursing homes. Trying to outrun death will not end this epidemic; we have to alter how we think about death while we're still alive.
The Order of the Good Death is not the only organization empowering people to approach death on their terms. Practically minded startups such as Willing, an estate planning service, Parting, a funeral home shopping service, and Grace, which turns the period before and after a death into a series of discrete tasks, were profiled in a recent New York Times piece. Taking these traditionally walled-off aspects of death planning and putting them into the hands of individuals is invaluable for shifting cultural attitudes around death. Having more options when planning funerals means we can choose what feels most right to us. The planning process can be part of the grieving process; it can suit the particular person whom we have lost. We can mourn and heal on our own terms.
I attended my grandmother's funeral early last year. She spent over a decade lost in the depths of Alzheimer's and by the end was reduced to a shade of who she once was. What has stuck with me more than anything is the rabbi at her funeral. He was wearing an Apple Watch; his hair was dyed jet-black. How much money did he make, to take my grandmother's name and fill it into the blank spaces on his boilerplate eulogy? Perversely, he knew her about as well as she did by the end. It felt cloistered and stiff. We were acting out a script of grief; we knew it was supposed to be sad and so it was.
Public mourning, like Phil Elverum's intimate eulogy for his wife, can help others navigate grief. But as grief becomes more public, so does death itself. In May 2016, a French woman named Océane livestreamed her suicide on Periscope, stating before she jumped in front of a train, "The video I am doing right now is not made to create buzz, but rather to make people react, to open minds, and that's it." She was not the first to use the internet in this way. Little about death, and the traditional death industry, remains a mystery for those determined to look, not since Jessica Mitford's 1963 consumer-minded expose The American Way of Death, which shed light on all the dirty tricks funeral homes would use to milk their customers. Mitford revised the book prior to her death in 1996, cataloging the ways in which the death industry, by then consolidating under massive international conglomerates, had revised its tactics.
Yet actually being a mortician remains tantalizingly transgressive; Caitlin Doughty's tongue-in-cheek "Ask a Mortician" videos play with this allure, as did HBO's arch, blackly comic series Six Feet Under. The upcoming videogame A Mortician's Tale, from Laundry Bear Games, aims to educate players about what it is that morticians actually do with as little fanfare as possible. When I spoke with the game's designer and artist Gabby DaRienzo, she credited Doughty and the Order of the Good Death with putting a name to the way she had always conceived of death. "Being okay with talking about death and accepting my own mortality got me over that death anxiety I had, and now it really allows me to truly appreciate life and the people in it," DaRienzo said.
The game is rendered in lavender hues and stylized low-poly art; it strikes a balance between specificity (DaRienzo mentioned the sound designer nailing the "bone-crunching noises of the cremulator") and tastefulness. Writer Kaitlin Tremblay told me that it was important to her to show "how dynamic the mourning process is;" the game's protagonist is silent, so she does not talk with mourners when she attends funerals. Instead, she listens. Witnessing the spectrum of grief is as core to the game—and mortuary work—as the details of preparing bodies. "It's always struck me how differently people feel and deal with grief," Tremblay said. "No matter how overwhelming the sadness is, we still feel other things along the way."
*
In Joan Didion's 2005 The Year of Magical Thinking, a memoir of the year following her husband's fatal heart attack, she writes, "Grief turns out to be a place none of us know until we reach it." The death of a loved one will always be a devastating experience: to form some kind of relationship with death is not to desensitize yourself to the pain of grief. It strips away the baggage, the fear, the anxiety until you are left with the simple hard core of it all. Someone you love is no longer alive. Art that reckons directly with death assures us that we are not alone. It can't offer the definitive route through grief; nothing can. It can only show you that there is a way through.
Mount Eerie's A Crow Looked at Me is a document of grief in progress. It doesn't progress in neat chronological order; it retraces its own steps, reels in pain, grasps at tiny moments of beauty. At the end of the record's second song, "Seaweed," Phil Elverum pours his wife's ashes atop a hill next to a chair and watches the sunset. "The truth is I don't think of that dust as you," he says, and then, as the music resolves into a warm, blooming major chord: "You are the sunset."