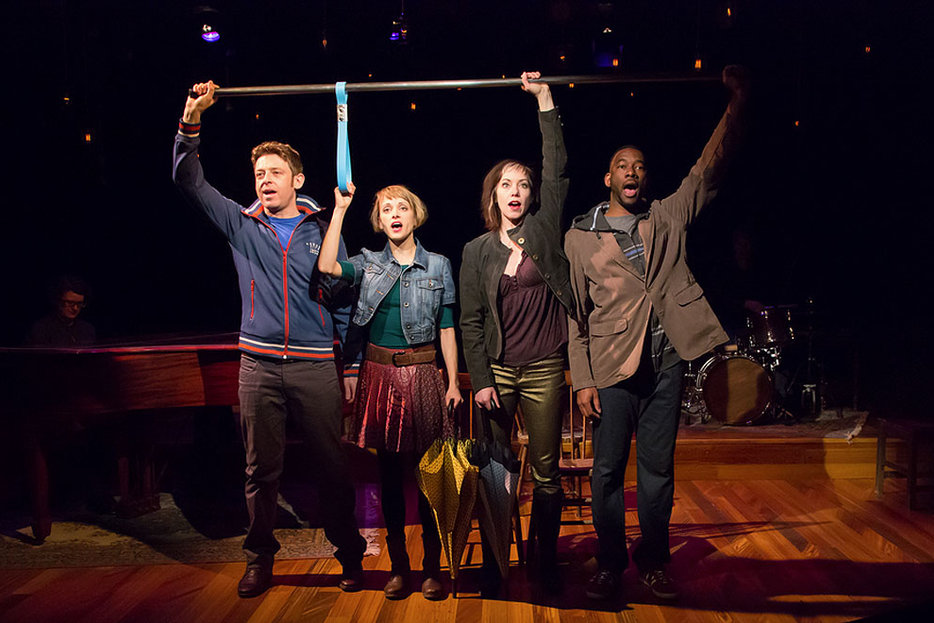 It could be the first instance of the Web musical. Acidly entertaining and satirical, the text of Do You Want What I Have Got? A Craigslist Cantata excerpts actual posts from the online classifieds board looking to sell stuff, connect with an intriguing someone they saw "throw up on the streetcar," or realize sexual fantasies—even inviting a stranger to be watched while sitting in a bathtub full of noodles. The sorts of stories Craigslist cruisers can find multiplying by the second. Created by the singer Veda Hille and author/radio host Bill Richardson, the show premiered to raves last year at the PuSH International Performing Arts Festival in Vancouver and is running at Toronto's Factory Theatre until March 3.
In Craigslist Cantata, the blizzard of verbiage that is online media has sparked memorable songs such as "RIP Steve," a hymn to Steve Jobs. His final six syllables provide the refrain: "Oh Wow. Oh Wow. Oh Wow." "Log On," an inventory of bizarre needs and bittersweet longings, is a chorus of voices looking to reconnect ("I was the girl your wife was going down on") chiming the double entendre, "Do you/ Do you/ Do you."
Already friends, Hille began collaborating with Richardson on the show in 2009. Hille is a much acclaimed Vancouver-based performer whose song cycles have ranged over such diverse subjects as pine trees, Emily Carr, the history of False Creek Flats, and travelling in the Yukon—a writer who has evidently never seen a text she couldn't put to music. The Winnipeg-born Richardson, meanwhile, has written lyrics for composers Rodney Sharman and Cameron Watson and has long been a popular CBC radio host (Richardson's Roundup, Saturday Afternoon at the Opera). Richardson is also the author of more than a dozen books, including the Stephen Leacock Award winner, The Bachelor Brothers Bed and Breakfast.
Hazlitt sat down with Hille just after the show's well-reviewed opening in Toronto, while Richardson joined them on the phone as he was weathering the flu in Vancouver.
How did you two connect—in the real world—and find a way to collaborate?
Veda Hille: We had talked on the radio a lot. Then Bill commissioned me to write a song about Bunny Watson (the librarian played by Katharine Hepburn in the movie Desk Set, and the name of Richardson's radio show). That was our first collaboration. This show came out of a project to write twenty-minute musicals. I commissioned myself and Bill. Originally, Bill was going to work with John K Samson of the Weakerthans but John got too busy. So Bill and I realized this is our chance.
Bill Richardson: Veda is such a great writer, I felt a little intimidated in a way.
Veda: That is both flattering and ridiculous.
It seems as if you found an uncommonly good kind of synergy. What was the common ground?
Veda: We're both interested in things that are funny and sad.
How did you work together?
Veda: Separately. Back and forth rather than in the same room. Bill did all the hard work of going on Craigslist and finding great things. The concept for the show was his. But since then we've found a lot of cultural work about Craigslist: Gabriel Kahane's Craigslistlieder out of New York; the movies Craigslist Joe and The Craigslist Killer. It's sort of nice. Because when Bill suggested it, it seemed quite radical to me, which is the way it is when you're right on the pulse of things.
Neither of you had ever written a play before. How did Do You Want make it to a stage?
Veda: The third collaborator is [Vancouver writer/director] Amiel Gladstone. Without him, it would be just a song cycle. He did a lot of dramaturgical work, picking out things that were central themes, assigning me more lines to make bridges. We are a very good trio.
Describe how you put a song together.
Bill: After Steve Jobs died Amiel said he thought we should have a song about him, because he was so germane to the medium. On Craigslist we found a guy who was going out as Steve Jobs on Halloween and was looking for the round glasses for the costume. So I wrote a text and then gave it to Veda and she and Amiel went over it. Veda took up the text and wrote the music.
Veda: We had this beautiful hymn from Bill about angels, I just wrote the ending. Some of the lyrics are based on the obit that Steve Jobs' sister wrote in the New York Times. That's where we read what his last words were. It's so phenomenal.
Bill, do you write music?
Bill: Not at all. No, no, no. It leaves me with sadness. Did I tell you, Veda, I bought an accordion?
Veda: Are you torturing the cats? What have you been playing?
Bill: Oh you know, "Moon River." It's pretty grim.
Veda: You don't compose, but you would sing me things. Your knowledge of music is so complete. I could often tell you were hearing music in your head. And I could often tell what the rhythm was when I read your texts. If I was wrong then you would correct me and suddenly the words worked so much better.
Bill: I'm always writing to a tune.
Veda, like the sung-through lines in Do You Want, most of your songs are adapted from real speech or found texts. You even managed, in Songs of the False Creek Flats with Annabel Vaughan, to turn archival material into uplifting music.
Veda: I'm really interested in speech patterns being translated into music patterns—what happens when a spoken thing becomes song and how you can retain a sense of naturalism in this really unnatural way.
You must have done a lot of re-invention of Craigslist posts to turn them into song.
Veda: You'd be surprised at how little fictionalization is going on. Anything that's in verse was filtered through Bill. The verbatim ads are pretty close to verbatim. If you want to retain the sense of the original poster's language, you let the music turn it into a song form. Adaptation forces you to make more interesting music.
Does writing songs come from a different place than writing, say, a novel?
Veda: I can't imagine writing a novel. I had been trying to write a rock opera or musical theatre piece. I kept saying I wanted to. That was why I came up with the idea of twenty-minute musicals, to have a less daunting task, but also to get some help. I do find that unfathomable, how people write books. But you've done it, Bill…
Bill: Yes, but with the exception of two books for children After Hamelin and Waiting for Gertrude, nothing has been plot-driven. I'm not good at plot. I don't like plot. It's not what drives me. Character, that's the thing.
On the evidence of the show, you find humour and pathos in the kinky or the bent. One song quotes a casting call for a porn film: "A lookalike for Sarah Palin. No anal."
Veda: That's just trade talk. No anal required—it's a bonus!
The show is edgy, un-censored, sexy. How have audiences reacted?
Veda: Some [reviewers] have found it too tame.
Bill: It was interesting to observe people who really use Craigslist for hook-ups, but sometimes you don't know quite where to look. I don't find anything redemptive in scandals or people looking for someone to use as a human toilet.
Is Craigslist an index to the loneliness of the urban dweller trying to make human contact on the Internet?
Bill: I'm not sure if it's loneliness. People are looking to fill a gap and I guess the name for that gap can be loneliness, but I think there's an equal measure of—I think it's entirely irrational, but—optimism.
How did you cast Do You Want for Toronto?
Veda: This was my first time attending a real audition. Normally in my world you know who you want and you call them and say, "Do you want be in this piece?" For this show, the trick was to find people who could be subtle, because we are not trying to mock people too much. Occasionally it's irresistible, as with the Flamingo Boys [who feature in the song "Flag Me For Removal"—some Florida guys trying to trade pink flamingoes for a seedeater or some booze].
How does Vancouver nurture this kind of theatrical collaboration?
Bill: I don't know that it does, specifically. The Arts Club was very generous in the number of workshops they were willing to front and sponsor over three years.
Veda: People here are saying it's a very West Coast show. Both Amiel and I were lovingly mocked for our West Coast style. I think of you as more middle Canada, Bill. Amiel and I are basically both hippies.
Bill: (Coughs chestily) I'm kind of old and conservative.
Veda: But I keep inviting you to those cabin raves!