I learnt how to spell "Guadagnino" after I watched Io Sono L'Amore ("I Am Love") on my twentieth birthday, eight years ago. The film—so strangely pallid, and, yet, so bright in its essence, the greens spirulina green, and the pinks cantaloupe to salmon—gutted me. In a fit of hysterical tears as the credits sprawled mercilessly, I held myself like I was in an emergency on a plane, my face to my knees, my heart to my thick thighs.
Back then, I was enraptured by stories of difficult love, having recently familiarized myself with its steely taste. I was forlorn and obsessed by romance that was both fated yet impossible, the modern incantations of Romeo and Juliet. This movie, with its tension and grasp of how love mutates and becomes an obdurate, impossible thing, like a tongue, rapturous, but trapped, gravitated me to a standstill. There has always been something melancholy about the way Luca Guadagnino tells stories, and I knew that I had to remember how to spell this round Italian name to explain to others his evocative pull on my sensations.  
In A Bigger Splash, Guadagnino's fourth feature film, Tilda Swinton plays Marianne, an ex rock-star, a Bowie-esque femme nymph,11So, almost Swinton IRL. who, in her offtime, wears broad skirted sundresses in pale, pale white, mod-style tunics like Twiggy, shirts that are a sweet, crisp periwinkle blue, attire that is unlike the grunge of her music. After a surgery for the loss of her voice, Marianne has been ordered not to speak, and is instead to rest her vocal chords and relaaaaxxxx. So, along with her boyfriend, filmmaker Paul, played by Matthias Schoenaerts, she escapes to an isolated villa on the little Italian island of Pantelleria. Here they have mud soaked sex that's so visceral, you can feel the earth beneath your feet shake as the wet dirt dries into an opaque cream, blistering their bare bodies in the sun, momentarily unburdened by the satiation of desire.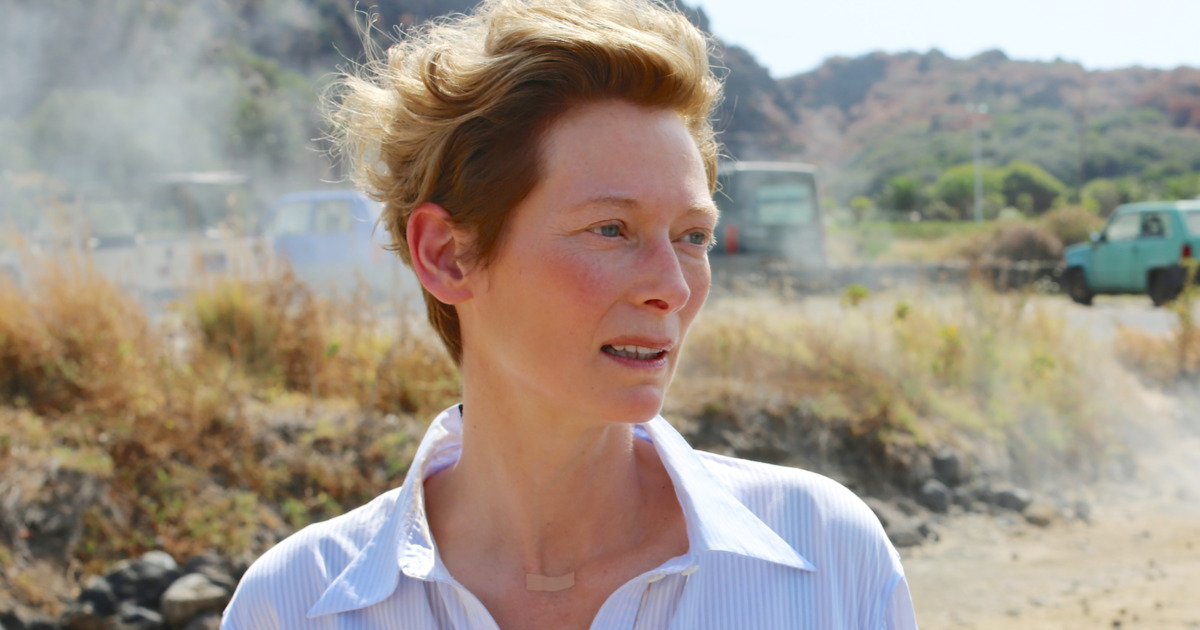 Guadagnino describes sex with acuteness: in the passing throes of it, the mechanics of bodies and limbs, breath heavy and agonized, he also adds in such humanity, such consequence, that it's relatable for both its passion and bleakness. The way a body fumbles in rapture is the most endearing quality, whether well versed or not, our rawest senses remember pleasure.
In Io Sono L'Amore, when the Russian turned Italian Emma (also played by Swinton) finally embraces the love she feels for the young chef Antonio (Edoardo Gabbriellini) there's such a state of urgency that you feel her piercing delirium, the sounds of love that can so easily turn crazy, bordering on fanatical. When they have sex, their love-making is arrested into a state of sexual oblivion, and c'est finit—the sensations pass into a tantalizing dome of erotic fulfillment. They're hooked, and that's that. In the end Emma sacrifices one love for another, the love of a child for that of a lover, because the mirage of Antonio's love is so oceanic that she's reduced into the embrace of him and her. There's no more room for the outside, for her past life. It's both bold and devastating, a relatable weak human flaw.
In his Oscar-nominated 2017 film Call Me By Your Name, Guadagnino describes love-making through specific detail. When Elio (Timothée Chalamet) yearns for his Oliver (Armie Hammer), desire is no longer mundane, it has a purpose, a directive. So, he pants and awaits his man, and when he does not arrive, he meditates on a peach, its skin fuzzy and taught, and pulls it forward, deciding to transform it into another vessel of sexual satisfaction, using its juices as leverage. The awkwardness—and yes, it is awkward—is a Guadagnino quirk, his ability to bring a satisfying relatability to even a triumphant feat of making love to a peach is surpassed by the scene's tenderness. Good sex, if anything, is an awakening, yes—but it's also the recognition of yourself, or selves, plural, as Elio languidly becomes Oliver and vice versa in a sexual role play that alludes to both the namesake of the film, but how lovers often mirror their beloveds with cadence, grace and exceptionality. Here, Guadagnino brings us back to our foundational selves. He creates, so perfectly, a situation of addiction, as well as withdrawal. In his orbit, one forgets the premonitions of pain, especially when one is caught in the glimpses of love. Colors are full, even if they're not, and even peaches are tempestuous. 
*
A few years back I googled Luca's home. I had heard he lived on a 17th-century palazzo in Crema, and I longed to see it. An avid reader of European design magazines, I loved seeing where my favorite artists live22Related: Apichatpong Weerasethakul's home is wild.and was moved by the classical images of Luca's sanctuary. Once having belonged to a countess, the filmmaker spent months renovating the palazzo, finding frescoes underneath musty, rotten wallpaper and original terracotta bricks under 1950s ceramic tiles. The palazzo is now lined with distressed mirrored panels, a collection of plants in the loggia, as well as a narrow room filled with dainty modern Danish tan recliners, framed with ferns and fig trees. Carpets are cerulean blue, and armchairs are Kelly green, the walls of each room are customized with their own paint—including one as specific as the shade of the middle of a date—and most rooms are embellished with the Lombardian Baroque designs.
A 2016 profile of the filmmaker in T Magazine opens with Guadagnino saying, "I hate the concept of beauty for the sake of it. It is overrated." A lay-person would be forgiven for confusing style with a lack of substance when glancing at a Guadagnino film, but upon further inspection, everything, even the style, is a story within a story. 
In Call Me By Your Name, the details are such: the Mario Merz and Peter Gabriel posters that frame Elio's bed, the Aqua di Parma cologne that sits, centrefold, on the dining room inside, and the aquamarine blue of the bathroom that stands between Elio and Oliver, a reminder of the distance between them, how the re-energizing heat and chemistry in the space between their bodies is the third character. Everything is said in the stationary stills, in the immovable objects of their lives, and it's intentional. (In André Aciman's source novel, a stolen decoration from Elio's room travels with Oliver back to America and through decades of separation to rest on the wall of his office.) Later in the interview, Guadagnino declares: "Environment is essential. I like anything that has to do with form and space. But I am also a humanist [with] a very strong love and attraction for character. That's the mixture." 
In Io Sono L'Amore, the shots of Swinton walking are expansive and large, taking in the geometry of her surroundings, whether it's a staircase, or patterns of a street, it frames her, as well as giving context to the business of her soul, how she is burdened by the grandness of her privilege, and how if she chooses her lover she'll have to sacrifice so much. It reminds me of what Alain de Botton writes in Essays in Love, "Because the body is predominant and vulnerable, the mind becomes an instrument of silent, uninvolved assessment."
* 
The heightened awareness of Guadagnino is such that he makes even the most grandiose or awkward scenes relatable, simply because the stories are always about people. People who are in a lot of pain. The pain isn't always examined, and most days it's subtle, but it lingers in the background of a shot of Swinton as Marianne, against a blue clay wall, her eyeliner black, swift like the lines of a feather, contrasted against the consuming, sloping Italian hills, or the pool where she lies and reads her trashy magazines. Marianne is depressed. We see it in moments, but we hear it too, how Paul attempted suicide before coming to this Italian palatial dream. And, so, they are both reclaiming their time. From the outside it looks like they're villa-ing, drinking copious amount of Italian wine, but inside, you can hear the thick pumping of their blood, ringing simultaneously, the way it roils and fears its end. They are victims to their depression, to their circumstance, but perpetrators too, perpetuating their demise. We are not asked to forgive them, though, or even pity them. But we are asked to stop and see. Maybe even consider? To sit and linger, and question the detail of their lives.
This is perhaps why Guadagnino's work leaves teeth marks wherever it goes.
Many have pointed out how beautiful it is that, in Call Me By Your Name, neither Elio nor Oliver are shamed for their actions, only embraced. I was left breathless by that actuality. My own conversations about my sexuality with my parents were anything but romantic and free, but I felt excited for the future, for both our social and filmic futures, where love is love, and it's embraced for all of its possibilities, not just highlighted for its pejorative histories and religious connotations. But there's so much more to the film then just Oliver and Elio, embraced together. In many ways, it's about Elio's parents, and how love mutates and shifts. How love is as spectacular as it is confusing, and not everyone has the end that they crave, though that doesn't make the journey unworthy.
Call Me By Your Name has changed audiences because it asks nothing, but it shows us so much. As the film ends, Elio is crying, delirious, by the fireplace, his family getting ready for Hannukah behind him, and he, lost, is still hopeful for what's to come. In a way, I see Guadagnino as Mr. Pearlman, Elio's dad (played by the wonderful Michael Stuhlbarg) who laments with Elio at the very near end of his story with Oliver, declaring: "Remember, our hearts and our bodies are given to us only once. And before you know it, your heart is worn out… Right now there's sorrow. Pain. Don't kill it and with it the joy you felt."
With this, Guadagnino proves that all kinds of human emotions are valid, as well as important to meditate on. Sometimes it's the pain of an impossible, heartbreaking love, as in Io Sono L'Amore, where it's all sacrifice, ending with a Faustian pact. Sometimes it's the love that's codependent and messy, struggling for truth, or reliability, like in A Bigger Splash. Or sometimes it's glorious, indulgent, fulfilling and crazed. Short, courageous and redolent of the great loves in literature. Elio and Oliver are every summer romance, but more epic, more fluid, perfectly delicious.
In the breadth and entirety of his work Guadagnino has proven that the gamut of human emotions are enthralling for their specificity, for their purity. That nothing is as glorious as how we feel and who we feel for. So, I wasn't gutted by his last film. No. I was immersed—and then I was relieved for its very existence. I walked away considering how better my life was with it there, singing his Italian name, like a prayer, again.