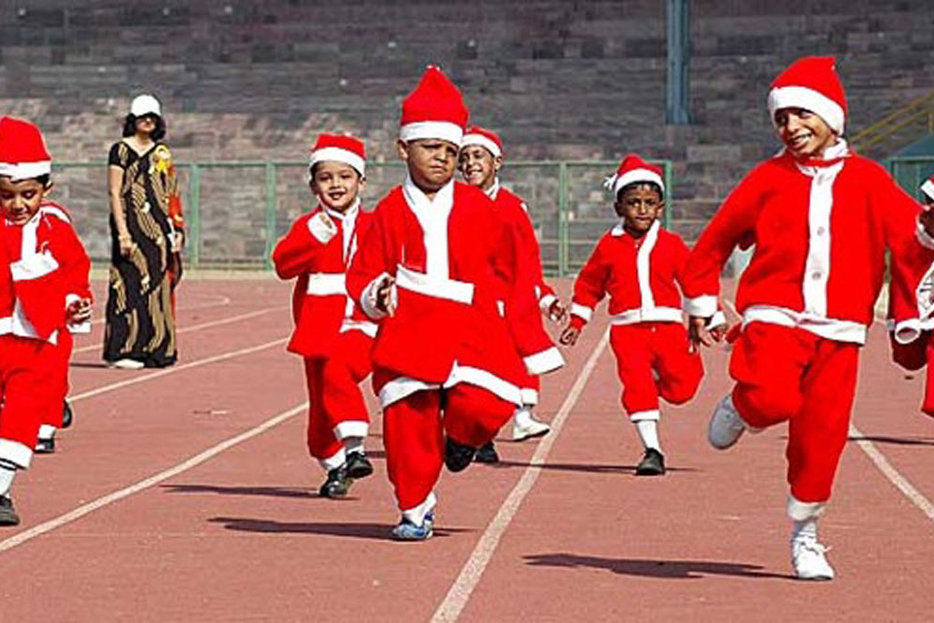 As Hindu-Indian immigrants, my parents have never bothered much with Christmas. My brother and I celebrated it briefly when we were kids, spending a few forgettable years believing in Santa Claus for the sake of assimilation. Our family's attempt at a Christmas tree was pitiful: just a green pole with the paint peeling off, thin plastic branches sticking out with the interior wire exposed, practically looking for an eye to gouge out. By the time I was 10, it was thrown out along with all the ornaments my brother and I made at school—the trinkets, the star. No one was sad.
That changed when my brother had his daughter: a blue-eyed, half-white baby monster. Her parents set up a majestic Christmas tree with twinkling lights; her mother displays a nativity scene in the living room, which my brother messes with, for the hell of it, often leaving the baby Jesus facedown in his manger. Leaving his wife horrified to find that her two-year-old is more mature than her husband.
My niece—who calls me Boo and whom I call Raisin—is two and a half, but she already knows the holiday better than I do. She corrects me when I get Christmas-related terms wrong: when I referred to a cookie as boot-shaped, she huffed and rolled her eyes. "It's a stocking, Boo."
It's a lot of attitude from someone who can't even hold her pee.
Watching my dad try to interact with Raisin over Christmas is laughable, and it proves how woefully uninvolved he must have been during my early brushes with the festivities. "You know what you'll get for Christmas if you're bad?" he tells Raisin. "Clay." I whisper in his ear that it's coal; that, he says, is farfetched.
Meanwhile, my mother has gone all-in. She made gingerbread cookies for Raisin, something I always wanted but never asked for. She bought advent calendars, picking one up for me about fifteen years after my initial request. She actually reads Raisin's book about the first Christmas without scoffing at the concept of a Jesus—as she does in private, adding that a half-elephant god is perfectly reasonable.
"Santa isn't real, you know," my dad told Raisin this year. "He's part of the right-wing conspiracy." Then he winked at her, not realizing that finding out Santa doesn't exist can be a devastating experience, especially for someone too young to understand why parents lie. Luckily, she is stubborn. "Papa, don't say that," she said, wiping her runny nose on his leather couch. He resists our attempts to make her whiter than she is by nature, but he still shows up on Christmas Day to open the gifts that come from Grand Falls-Windsor, Newfoundland to Jammu, India. The holiday itself means nothing to him, but seeing her happy makes him happy in a way none of us have ever seen before.
Most of my Christmas memories were built around this baby. We've started traditions just for her—this year we made gingerbread houses, and she sang "one for me, one for you" while gluing gumdrops to the roof and then popping them into her mouth. We pretend for her sake that Christmas is an important time of year for us. We fix the nativity scene so that the animals aren't smelling each others' butts.
Raisin hasn't shown us the "meaning of Christmas," as she might were we all characters in one of the Christmas specials I watched as a kid at 1 a.m., once my parents had gone to bed. We're not enthusiastic about celebrating another arbitrary holiday—frankly, we can barely muster up enough enthusiasm for Diwali, which requires little more than lighting a candle and praying for a delayed death.
But Christmas is teaching her valuable lessons. She's grasping that she needs to share, that it's nice to give a gift, and that it might come back to you. That you can't bite or pinch people when you disagree with them. The value of tradition—something my parents always wanted their kids to appreciate but never actually demonstrated in any meaningful way—is something she understands inherently.
And we're all learning the value of suffering through traditions for someone else's sake. Standing in line with screaming babies so that she can greet a stranger who is paid to let little kids sit on his lap. Having arguments with dad over whether Rudolph was a reindeer or a flamboyant horse. Doing things we hate.
And for me, Christmas is an excuse to see her, an opportunity for a discounted flight to Calgary.
Making a gingerbread house this year, Raisin was the most excited I have ever seen her—she kept screaming, "Look, we're doing it!" She sat with me for an hour and a half, chatting and decorating, and actually thanked me for my help. Once we'd finished, my dad came by for a look. "When do we get to eat it?" he asked.
Her eyes bulged out in horror, imagining the death of her creation. I explained that you don't really eat gingerbread houses.
"So what's the point?"
Raisin ignored him. She gazed lovingly at her house, petting the candy canes on the roof. She asked when we could make another one.