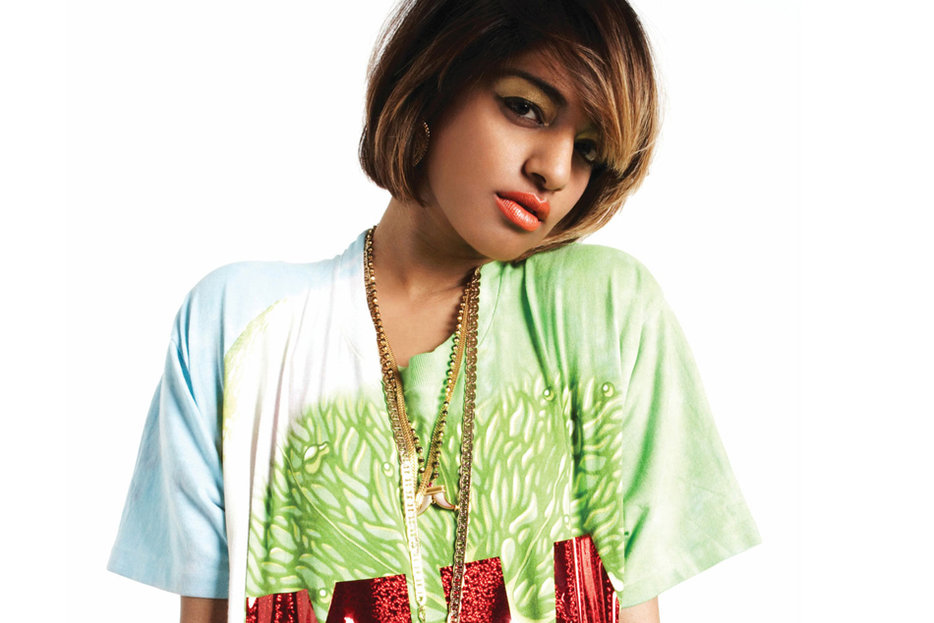 Forget KanYeezus: if there's a poster child for desultory pop music today it's Maya Arulpragasam, b.k.a. M.I.A. Last week, she released a music video for "Bring The Noize," a song in which she raps like heavy artillery—alternating quadruple-time phrasing for a chorus that pops off like shots: "d-d-d-d-d-d-dem!"—about freedom and being rich and still pissed off at the banks.
Rage, filtered through visual and sonic pastiches of contemporary subaltern life, has anchored much of M.I.A.'s work since 2005's still-perfect Arular. The London-born musician began her career as an artist (she attended London's famed Central Saint Martins), and visual style and statement is crucial to her performance. Arular was plastered with stencils of tanks, AKs, bombs and palm trees; a ribbon of text reading "Fight On!" encircles the dictatorial-style portrait covering Kala. Long before Rihanna performed in front of a Windows 98 screensaver on SNL, M.I.A. was incorporating clip art and digital ephemera into her promo material (most prominently for 2010's /\/\ /\ Y /\ and Vicki Leekx). And in October, months after middle-fingering America at the Super Bowl, Rizzoli published a volume tracking five years of her flamboyant, Indo-kitsch, collage-style art. Maybe that was M.I.A. trying to remind us that she's an Artist.
In Illuminated Mythologies, showing at the Mark Christopher Gallery on Queen Street West, Toronto artists Rajni Perera and Mia Sandhu present pieces that, like M.I.A., confront ideas of neo-exoticism and inherited legacies. Like the musician, they're young, brown, female artists taking cues from lives affected by immigration. All three explore the complex identities and inherited traumas of third culture kids., taking artistic cues from lives lived across genetic, national, generational and pop cultural lines. Also like her, they personally and creatively transcend the themes associated with and the dominant narratives of the lives of women of colour. Unlike the pop star, however, artist statements accompany their work, which adds an important layer of context and resolution to work that depends heavily on cultural iconography. As brown girls, they'll innately check for M.I.A.; as artists, they want to share stories that go deeper than the Third World chicanery of her music.
M.I.A.'s new video isn't necessarily telling a story, unlike last year's "Bad Girls," where veiled women and men in long, white dishdasha's cruise and race vehicles through the desert, and 2010's ginger genocide story "Born Free." (Both were directed by Romain Gavras.) Aesthetically, it recalls hip-hop visionary Hype Williams in his hypercolor prime, and it's also been compared to the black light-lit, club mysticism of NYC crew GHE20G0TH1K. Thematically, it's Maya at her most #spiritrill.
The video opens on a rearview shot of a young man tying a turban from a room in a high-rise housing estate before he joins a polycultural crew—including M.I.A. with her hair braided into a veil—headed to some kind of mystic rave. Men in kufis and turbans make up M.I.A.'s crew of stoic revelers; everyone's dressed in mourning white and, as they would in a mosque, gurdwara or temple, removes their shoes before ascending to the party. The camera cuts to shots of a fuschia-haired M.I.A. rapping about goddesses waving nails painted that saturated yellow of Indian gold. Some partiers kneel to waft clouds of a smoky-something over their head (invoking the Hindu purification ritual of aarti), and the camera cuts to a glowing, "sacred cow" being led through the warehouse halls. True to her mash-up ethos, M.I.A.'s doing a lot of different things at once, but to what end? While visually potent, "Bring The Noize" highlights M.I.A.'s career-long drift from focused rage—the global poor, conflict zones and Internet politics are faves—toward something more sprawling, conspiratorial and tepid.
"I don't see there being any difference between what she's doing and what we're doing, or what I feel that I'm doing," says Sandhu, a graduate of the Nova Scotia College of Art and Design, seated on the gallery floor next to Perera. "Both Rajni and I are creating 'exotic'-looking work, and the idea of the Western viewer being amazed by the 'elaborate detail,' etc., still stands."
The painted portraits and figures Sandhu shows in Illuminated Mythologies are embellished with cultural and religious decals that explore the tensions and historicity of being a multi-racial Indo-Canadian. "My father is Indian and lives in Lindsay, ON. He's the only Sikh man in his community and has been heavily discriminated against," she explains. As a very fair-skinned biracial woman, Sandhu is concerned with the idea of "something being a part of you but you not being a part of it." Long braids and floral entrails line her portraits: "My maji talked about how cutting off her hair (when she arrived) was like losing a limb, and that's a real tension I can never understand."
Perera, a Sri Lankan-born OCAD grad, who moved to Canada as a child, is more averse to the idea that she's operating within the same paradigm as M.I.A.. "We are in enough of an immigrant shit show here in Toronto to not have to feel so othered," she says, pointing to the descriptor "exotic" that's often used to describe her work. "Angst will show up, especially in immigrant work, but if it's pointless you have to take it out."
Perera says that unlike M.I.A., her own rapidly growing body of work—including this series of mixed-media portraits, titled "Maharanis"—acknowledges and is in defiance of, what she calls, the "Caucasian gaze." Grayscale photographs of regally posed female friends and family members are painted over with cosmic, divine and and quirky motifs, in a nod to the last maharanis of India and the kitschy, turn-of-the-century practice of photo enhancement in India. "I'm very interested in the body politics, agency and media representation of ethnic women." Much of her art—which includes researching ethnic pornography—involves flipping ideas of sexuality on its head.
Perera doesn't buy what M.I.A.'s very clearly trying to sell. "She's trying to be daring and her message is unresolved—actually, I'm not even sure if there is a message in her work anymore. She really markets and polarizes and oversimplifies her politics, which aren't always factual. She's an amazing pop star, but there's no longer any revolt in her work. What's the end point? I believe her interpretation of conflict, particularly Tamil Eelam, is a Western representation. We don't need someone else marketing coloured people with guns; there's enough of that."
Sandhu counters that the symbolism-stuffed "Bring The Noize" video falls in line with much of M.I.A.'s "non-linear style."
"She's creating a visual collage," Sandhu says, "and that obviously speaks to a lot of people. I think she's pulling from what she's seen, and I wonder how that differs from any other commercial visual artist who is producing for an audience."
–
Find Hazlitt on Facebook / Follow us on Twitter
Photo #1: Self, Watercolour and Gouache on Paper, 30" x 44" - Artist: Mia Sandhu

Photo #2: Nagina, from the series Maharanis, 22" x 33" Mixed Media on High Quality Inkjet Print - Artist: Rajni Perera