Shelf Esteem is a weekly measure of the books on the shelves of writers, editors, and other word lovers, as told to Emily M. Keeler. This week's shelf belongs to Sarah Liss, who is an editor at The Grid and the author of Army of Lovers, a community history of the beloved activist, artist, and legendary party-thrower Will Munro. Before agreeing to be featured in the column, most of Liss's books were in boxes in an upstairs room in the house she shares with her partner, their two dogs, and one slightly feral cat. When I arrived the whole house smelled like baking. Liss offered me fresh banana bread as she admitted that the books on view were selected specifically for our chat, and that she had stories about every volume in the bookcase. So, we sat on the floor and she told me some stories.
These are totally fake, staged bookshelves. I've been writing and working in cultural journalism for, oh my god, I don't even know how many years now. Since I was 19, so a while. And my partner is also primarily in culture, over at the CBC. So we have amassed a collection. I'm also really compulsive about buying new books, so I can't even blame it on getting review copies. I should preface all this by saying that my point of pride when I was a kid was being known at the Don Mills Library. I was known for going to the library with a garbage bag and filling it up with books. I was really compulsive; I had to get a hundred books each time. But there was a vast range of what counted as a book—I'd get a whole bunch of Archie Comics, a lot of Sleepover Friends and Babysitter's Club, and all of the really good series from that time. But I'd also always get some heavy, issue-based young adult fiction—I really liked books [and] YA fiction about some kind of pathology. Then I would choose one or two adult books. I had a system in my room for the order in which I had to read them, and I always had to finish all one hundred before I'd return them. I'm still quite similar today, where I won't let go of books, and I like having a lot of them around. Sadly, they're not all displayed.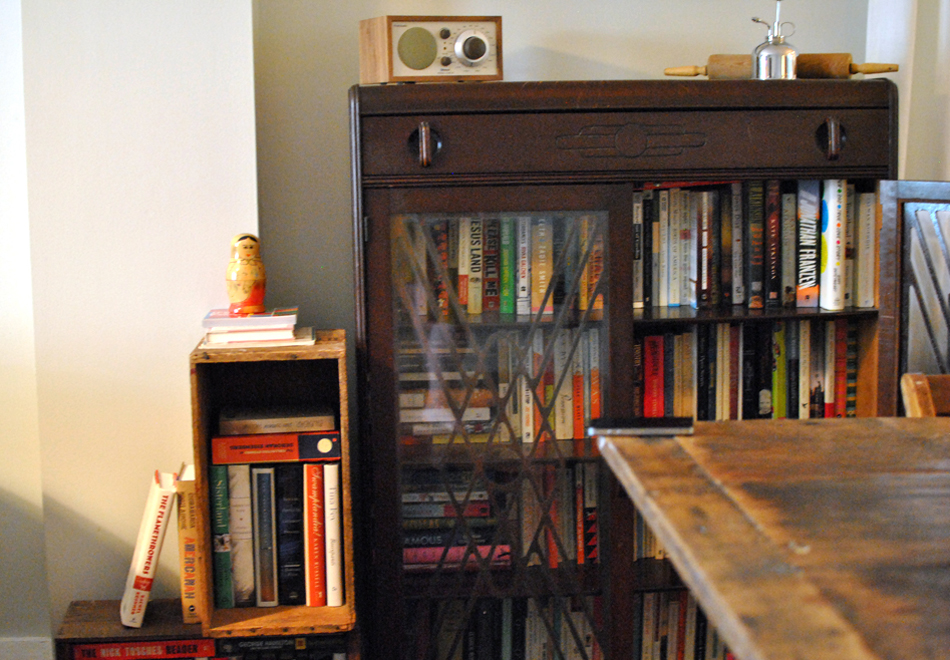 Let me show you my favourite kids' book: Make Way for Ducklings. I feel like this is a perfect book. I worked at a children's publishing company for a while, and I feel so sad that we don't make children's picture books like this anymore. There's a whole narrative, and you don't get there for a while. It's really set in Boston, and when I was little I had this sense that I knew what Boston looked like because of this book, because there were the mallards looking for a home. It's so cute. It just goes on and on. And look, they're out in traffic and it's terrifying, but then, this nice police officer comes, and he tells everyone to make way for ducklings. And yet that is not even the end of the story, which is the best part! They make it all the way home to Mr. Mallard on the rock. It's a beautiful story.
Shelf Esteem appears every Tuesday.