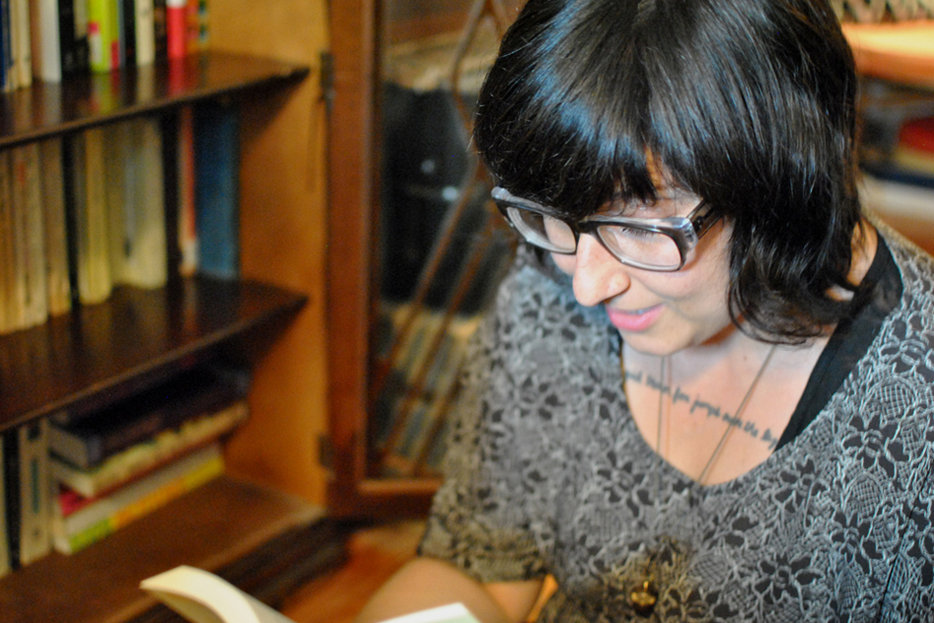 Shelf Esteem is a weekly measure of the books on the shelves of writers, editors, and other word lovers, as told to Emily M. Keeler. This week's shelf belongs to Sarah Liss, who is an editor at The Grid and the author of Army of Lovers, a community history of the beloved activist, artist, and legendary party-thrower Will Munro. Before agreeing to be featured in the column, most of Liss's books were in boxes in an upstairs room in the house she shares with her partner, their two dogs, and one slightly feral cat. When I arrived the whole house smelled like baking. Liss offered me fresh banana bread as she admitted that the books on view were selected specifically for our chat, and that she had stories about every volume in the bookcase. So, we sat on the floor and she told me some stories.
These are totally fake, staged bookshelves. I've been writing and working in cultural journalism for, oh my god, I don't even know how many years now. Since I was 19, so a while. And my partner is also primarily in culture, over at the CBC. So we have amassed a collection. I'm also really compulsive about buying new books, so I can't even blame it on getting review copies. I should preface all this by saying that my point of pride when I was a kid was being known at the Don Mills Library. I was known for going to the library with a garbage bag and filling it up with books. I was really compulsive; I had to get a hundred books each time. But there was a vast range of what counted as a book—I'd get a whole bunch of Archie Comics, a lot of Sleepover Friends and Babysitter's Club, and all of the really good series from that time. But I'd also always get some heavy, issue-based young adult fiction—I really liked books [and] YA fiction about some kind of pathology. Then I would choose one or two adult books. I had a system in my room for the order in which I had to read them, and I always had to finish all one hundred before I'd return them. I'm still quite similar today, where I won't let go of books, and I like having a lot of them around. Sadly, they're not all displayed.
I've gotten a lot better. Once we moved in here, my girlfriend made me get rid of a lot of my chintzy chick-lit, but I have a real fondness for it. You Don't Know How She Does It. I also really like "tell-all nanny"-type books. What else do I have here? Shakespeare's Imagery and What It Tells Us. I don't think I'm ever going to read this again, for many reasons. I think I stole this from my high school. I used it, but it's like, this is a book from like 1935. I really like to hold on to things.
But I did try, even though it pained me, to bring down not my most impressive books, but ones that are fairly representative. I've tried to put these in some vague kind of order. Over here are sort of memoir-y books. I have a lot of really beautiful memoirs, but I also have a lot of pathology memoirs. I moved from YA fiction about pathology to memoirs about pathology. Here's Marya Hornbacher, whose first book—I can't find it, it's somewhere in a box—is called Wasted, and it is amazing. There are many eating disorder memoirs, but Hornbacher's is by far the best. This, Sickened, which she wrote much, much later, is her memoir of being bipolar, and not having been diagnosed super early. It's not as good as Wasted, but I still like finding out where the pathology people have gone.
And then up here is "good fiction"—literary fiction, I probably should call it. I was rereading Mark Medley's Shelf Esteem, [and] I just wanted to show that I too have a signed Junot Diaz—but not only am I not here, I'm missed. It's because when he was here last year, I was supposed to interview him, but then I abdicated the interview to my dear colleague Danielle Groen, because she had these amazing questions to ask him. I was like, you know, you need to go and talk to him, I think it's time. And so she told him, and that's why I'm missed.
My favourite Ann Patchett book is actually her memoir, Truth and Beauty. I don't have it here. It's a memoir about her friendship with Lucy Grealy, who was an amazing, amazing, amazing poet. Autobiography of a Face is such a good book. It's her memoir of growing up. She had osteosarcoma, I think, and so she had to have her jaw removed. So she grew up with this sort of distorted looking face, and later she went to Sarah Lawrence and became this amazing poet, and then became a heroin addict and died in, I think, 2002. But she and Ann Patchett were roommates, which is what Truth and Beauty is about. I think I might have lent it to a friend of mine. I picked up Truth and Beauty because I liked Ann Patchett, and I was like, oh my god, it's kind of a sequel to Autobiography of a Face!
If I had to choose a favourite fiction writer it would probably be Lorrie Moore, but only her short stories. I started reading Lorrie Moore, weirdly, because I had this amazing psychiatrist when I was a teenager. She'd recommend books to me, and her recommendations weren't based on any work we were doing, they were usually really beautiful literary books. I remember she waxed rhapsodic about the most depressing story in this book, "People Like that Are the Only People Here." It's told from the perspective of the parents of a child who dies from cancer, and I remember my psychiatrist saying, I really think that you would like that. She was totally right, I fell in love with Lorrie Moore. It was probably the best recommendation I've ever gotten in my life.
What else can I tell you about these shelves? I started just throwing all the books in here, because that's kind of the way that I do, even though I have dreams of having really beautiful curated shelves. And then once I started thinking about how I was going to have to talk about my bookshelves, I figured I should implement some kind of organizing principle.
I have a bunch of Anne Carson, not all of which I've read, although I constantly aspire to read all of it. All through university I wrote about Autobiography of Red; five different major papers were based on it. And then I wrote about Anne Carson again, for The Walrus this year, and I had to go and excavate all of the Carson from boxes so I could refer to it. These are my two copies of Autobiography of Red, and you can see they were used for different papers, because one has—I think it might be Kleenex?—book markings, and this one is all dog-eared. I think I have another one somewhere with tape flags.
I did a double major in Semiotics and English, and my girlfriend did Women's Studies, so we felt it was a good idea to have some representative queer theory and feminist-y books here. Like that Judith Butler. And Manifesta. I got really obsessed midway through my undergrad, because Jennifer Baumgardner was dating Amy Ray, of Indigo Girls. I thought that was so cool. But it's actually good. I remember it being a fairly well-written pop-feminism text that I could use in school, and that it also seemed to have some consciousness of intersectional oppression, which isn't in all of the women's studies stuff.
I love this books so much, Never Let Me Go. I kind of hated the movie—they fucked it up, just like Fried Green Tomatoes, which is a book I also loved. Never Let Me Go, is, for my girlfriend and I, our book. You know how people have a song? This is our book. Weirdly, it reminds me a lot of the high school I went to. A friend I went to school with was like, oh, you should really read it, they're so strange and precocious. She didn't spoil it, but she left me with the impression that it was a lot like my high school. Which it wasn't, because we were not being used to clone things, but, there was an ominous institutional atmosphere.
I really enjoy collecting celebrity memoirs. I've found some really good ones. My two favourite finds are the Rue McClanahan and Betty White memoirs, which I have to tell you are shockingly good. I didn't realize how much I love Rue McClanahan. Betty White, whatever, she's easy to love—she's America's Grandma. But Rue McClanahan has had such a life! Look at this. Look at this! That's fucking amazing. Buster Big Balls is the name of her cat. God. She's a really beautiful human being, and she really really loves animals. I could not recommend this book, My First Five Husbands and the Ones Who Got Away, more. It's a fantastic read.
Let me show you my favourite kids' book: Make Way for Ducklings. I feel like this is a perfect book. I worked at a children's publishing company for a while, and I feel so sad that we don't make children's picture books like this anymore. There's a whole narrative, and you don't get there for a while. It's really set in Boston, and when I was little I had this sense that I knew what Boston looked like because of this book, because there were the mallards looking for a home. It's so cute. It just goes on and on. And look, they're out in traffic and it's terrifying, but then, this nice police officer comes, and he tells everyone to make way for ducklings. And yet that is not even the end of the story, which is the best part! They make it all the way home to Mr. Mallard on the rock. It's a beautiful story.
Shelf Esteem appears every Tuesday.