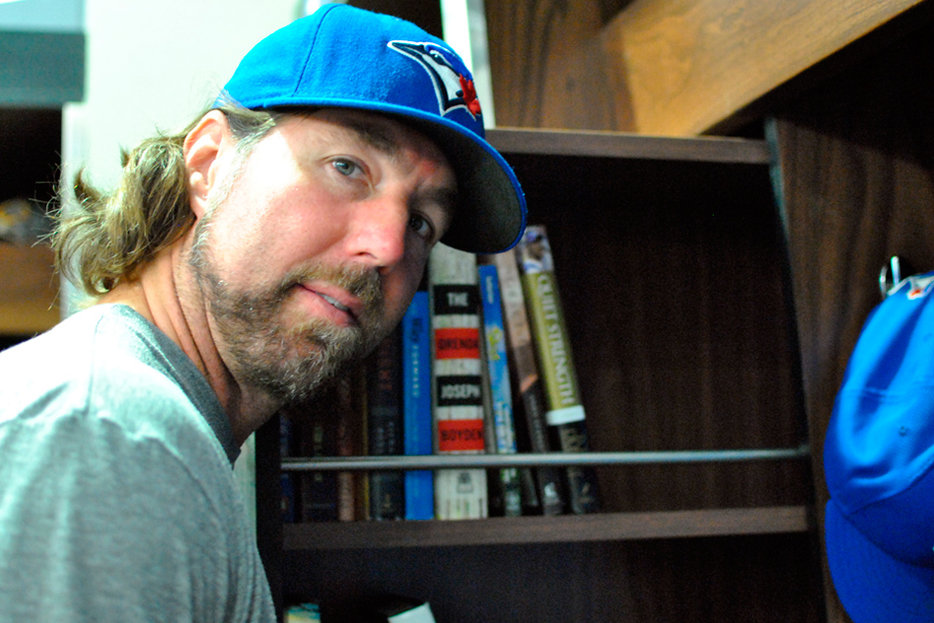 Shelf Esteem is a weekly measure of the books on the shelves of writers, editors, and other word lovers, as told to Emily M. Keeler. This week's shelf belongs to R.A. Dickey, the Blue Jays' beloved knuckleballer. Dickey is the co-author of Wherever I Wind Up, and his first children's book is forthcoming in the spring. Dickey's shelves, or at least two of them, are in his locker in the Blue Jays Club House inside the Rogers Centre. We spoke just before the game this past Saturday, surrounded by his teammates as they geared themselves up to play.
Basically, see this pull-out over here? That's my bookshelf. This is our home away from—you know what I mean? It's all we have. Most guys use it for storing other stuff, odds and ends, or extra gauze, or whatever.
These on the bottom shelf are the ones that I've read or am reading, and these up here are the ones that are gifts that I'm getting to. I've got to have 'em separated. Every year I try to re-read a classic. This year it's Anna Karenina. I read it first in college, so I'm getting reacquainted with it. I saw the movie recently—did you see the movie when it came out? You'll love the book. It's a love story. But anyway.
I do not have a Nook or anything like that. I still only have hard-copy books, paperback books. There's something to flipping a page for me, still. I can't do it yet, the iPads and the Nooks and the Kindles. I just can't do it, I haven't done it. I say to my friends, You know, you can't really write in the margins, you can't dog-ear a page. And they're like, Yeah you can! I feel like such a caveman because they know how to make notes and annotate, how to make perfect files. I can't just scribble in there, though!
This is a fantastic book. Have you ever seen this book? It's great. The protagonist is the narrator of the book and he grows up on an Indian reservation. Really, I think it's probably a snapshot of what it's like for a full-blooded Indian living on a reservation, what the life is like. And it's hilarious—it's tragic, but hilarious. He does a great job, and it's hard to write both tragedy and comedy in the same vein.
I'm reading And the Mountains Echoed right now. I like it. I liked The Kite Runner, so I was interested in reading something by the same author. But, you know, the one thing that's tough about reading a writer's multiple books is that I feel like the way the stories can be written—and that's why you get them—you become familiar with the language, contextually how they write, so on and so forth, but sometimes it can get kind of repetitive. But he's great.
Arrows of the Night by Richard Bonin is next, he's one of the producers on 60 Minutes. He went to Afghanistan and Iraq, and it's about the US's relationship with the person who was supposedly going to take over for Saddam Hussein. I would classify it as incredibly interesting political nonfiction. I've thumbed through it. But the thing that I'm hoping to get from this book is to see how much goes on behind the public eye. What kind of strings are being manipulated, and who are the puppets and who are the puppeteers? It's really, really interesting. And it's kind of sentimental in a way, because I did a 60 Minutes segment, and the guy that produced it is the author of this book. So I got some real good verbal background, we talked about this stuff.
This Joseph Boyden book was a gift from somebody at the stadium here. Most of these books were given to me—fans will send me books because they know I've written one, so they think that things like this might be interesting to me. And so they very selflessly will send me a book. This book is a history of Wycliffe College. Earlier on this year, I got an honorary doctorate from there, and this came with the packet. So I'm kind of doing my research, post-fake degree.
Being a fairly spiritual person, I've got a lot of spiritual books and whatnot. I'm a big fan of Tony Dungy and Andy Stanley, people know that and they sent these to me. And this one, Betrayal and the Beast, was written by a guy who was sexually abused. He sent it to me, connected with the story of my own narrative. Then there's this guy, I. J. Schecter, who's doing a book on baseball and what makes people unique and good at doing what they do (regarding baseball). He came to interview me for that book, and he gave me this one that he's already written.
100 Years of Solitude. Aw, what a great book. I love Márquez. He's very good.
A lot of my books, I sent back in the first wave of things I sent home. I usually have a book of philosophy, whether it's Plato, or—I just really enjoy that. One of the things I learned from a real dear English professor, a good friend, is that the more that you learn about philosophy the better you enjoy a lot of books. Especially classics. For instance, Fitzgerald's the Beautiful and the Damned. If you know Nietzsche, you'll really be able to enjoy that book more. If you know philosophy, I feel like it really makes the reading experience a lot richer.
I sent a lot of my books home. I have a lot of books. Let's put it this way: When I did a renovation in my home, one of the things I made sure to build in my office was extra bookshelves. At home I have books of philosophy, and poetry. I'm a big fan of Robert Frost. Poetry books are great because I'll pick one up and snack on it before I go out for batting practice. There's usually something you'll read that you can reflect on, and we have a lot of downtime here.
Shelf Esteem runs every Tuesday.