Shelf Esteem is a weekly measure of the books on the shelves of writers, editors, and other word lovers, as told to Emily M. Keeler. This week's shelf belongs to R.A. Dickey, the Blue Jays' beloved knuckleballer. Dickey is the co-author of Wherever I Wind Up, and his first children's book is forthcoming in the spring. Dickey's shelves, or at least two of them, are in his locker in the Blue Jays Club House inside the Rogers Centre. We spoke just before the game this past Saturday, surrounded by his teammates as they geared themselves up to play.
Basically, see this pull-out over here? That's my bookshelf. This is our home away from—you know what I mean? It's all we have. Most guys use it for storing other stuff, odds and ends, or extra gauze, or whatever.
These on the bottom shelf are the ones that I've read or am reading, and these up here are the ones that are gifts that I'm getting to. I've got to have 'em separated. Every year I try to re-read a classic. This year it's Anna Karenina. I read it first in college, so I'm getting reacquainted with it. I saw the movie recently—did you see the movie when it came out? You'll love the book. It's a love story. But anyway.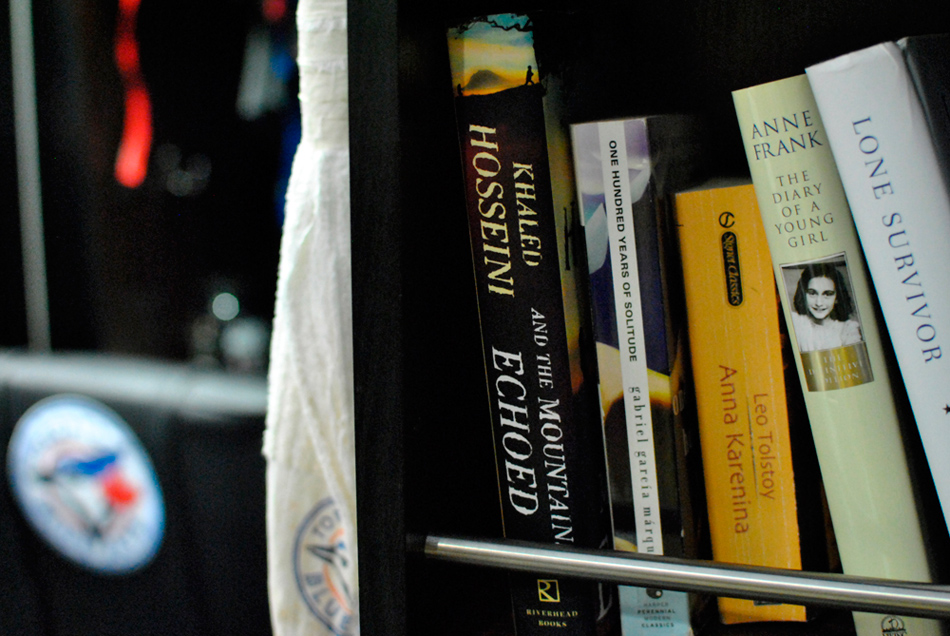 100 Years of Solitude. Aw, what a great book. I love Márquez. He's very good.
A lot of my books, I sent back in the first wave of things I sent home. I usually have a book of philosophy, whether it's Plato, or—I just really enjoy that. One of the things I learned from a real dear English professor, a good friend, is that the more that you learn about philosophy the better you enjoy a lot of books. Especially classics. For instance, Fitzgerald's the Beautiful and the Damned. If you know Nietzsche, you'll really be able to enjoy that book more. If you know philosophy, I feel like it really makes the reading experience a lot richer.
I sent a lot of my books home. I have a lot of books. Let's put it this way: When I did a renovation in my home, one of the things I made sure to build in my office was extra bookshelves. At home I have books of philosophy, and poetry. I'm a big fan of Robert Frost. Poetry books are great because I'll pick one up and snack on it before I go out for batting practice. There's usually something you'll read that you can reflect on, and we have a lot of downtime here.
Shelf Esteem runs every Tuesday.