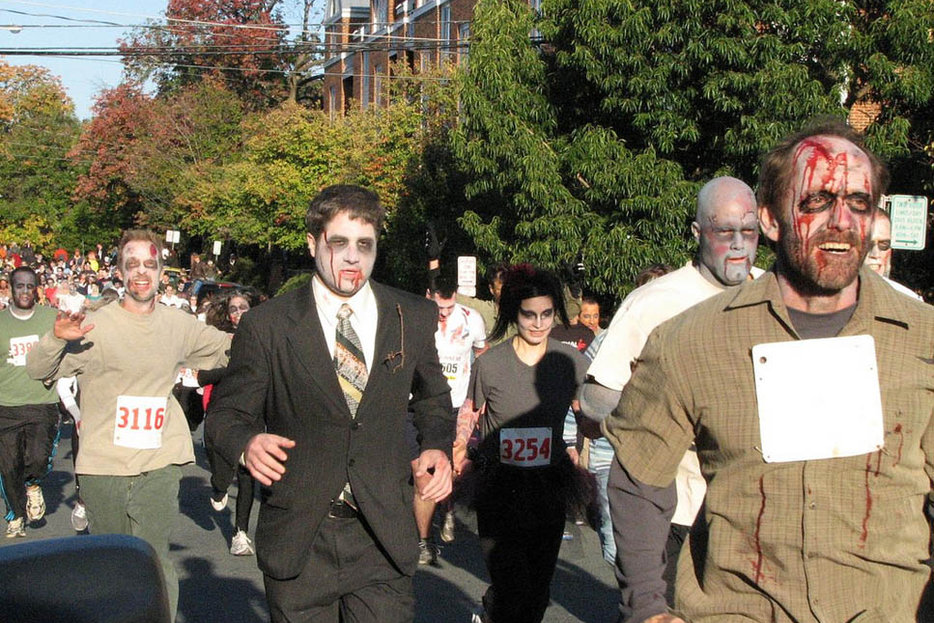 I was just diagnosed about three weeks ago.
I have SOED, Sudden Onset of Everything Disease. It's a poorly understood condition that has yet to get the respect it deserves. As such, I've taken it upon myself to bring this disease to the attention of the public in the hopes that greater understanding and funding for research into this mysterious illness will lead to better treatments, and perhaps one day, a cure.
Obviously, the first place to start is with a Zombie Run. I have contacted actress Natalie Portman and am hoping that she will agree to be one of the Zombies in my Run For The Cure. I am just waiting for her people to get back to me. Fingers crossed.
Until then, as a PSA, I have asked some friends and family to describe how my battle with SOED has touched their lives.
Annie Cassin (Niece, aged 9)
I noticed that his fingernails got all weird and gross looking and that he never wanted to play soccer anymore. Sometimes when the family all gets together for a big dinner and we're saying Grace, he just starts to cry. Like he's a little, very old girl. I don't like it.
Joseph Macdonald (Friend from school)
We were playing ping-pong one day and I was beating him 11 to 3. It was at this point that the SOED descended. Apparently, it's not progressive like many conditions, but just manifests out of the blue. At first he started to complain that his vision was blurry. I told him to clean the lenses on his glasses because they looked really greasy, but then he said that his right arm had frozen and that his ears were ringing. He was unable to continue with our ping-pong game. This SOED, it completely ruined our afternoon.
Anderson Morse (Member of the same UFO Watchers Club)
We were on a late night Sky Watch down by the lake when it hit him. He said that his feet were cold and then there seemed to be a kind of cascade effect. Immediately after that, at 02:20 hours, he got hungry and tired, too tired to eat, I remember him saying. He felt very light-headed and began to exhibit symptoms of anxiety and fear, believing that he heard a bear swimming towards us. He had to go to the car and lie down. It was almost like some external agency had taken control of him.
Alice Murray (Mother)
Michael was a pretty sickly boy. He was finicky with his food and scared of ghosts, although I don't think he ever saw one. Anyway, he's always had digestive problems, so maybe that's related to his SOED. We had to keep him in diapers until he was 8 years old.
Chris Parsons (Poker buddy)
Michael's always had a lot of nervous energy. I often wondered if there was a trace of autism to him as he was so twitchy, restless and distracted. Personally, I think stress might be a trigger for his condition, because one night he got in over his head in a hand and lost. It was at this point that he thought he was having an asthma attack. He actually took his shirt off at the poker table, saying that he needed some air. After he'd calmed down a bit he started to complain that his neck felt swollen and insisted that we all check to see if the nodes in it were getting larger. We thought he was stoned, but he wasn't.
Rachelle Maynard (Wife)
I can tell when Michael's SOED sets in because he starts to say, "Ouch," all the time. He starts out in a tiny, little voice, like the cheep of a fledgling. He'll reach for his chest or his temple, sometimes his side, and depending on how attentive I am to his yips, he'll increase the frequency until I ask him what's wrong. At this point, he'll tell me that he thinks he's allergic to the dog and is worried that he might be coming down with Dengue Fever. (He got diarrhea when we took a vacation in Cuba.) He will then take his temperature and always seems disappointed if it's not a fever. This SOED is a real problem. WebMD has not been a beneficial research tool for him.
Geena Bouchard (Coach of Jesus Cobras floor hockey team)
Well, Michael is only able to make about half of our games, as his disease prevents him from attending the ones that are later at night or far from his home. One game he turned his ankle when he stepped on the ball and he was convinced that he was having a stroke and that his eyes were getting smaller. It was quite disturbing and our team just kind of mailed it in after that.
Jillian Dickens (Friend)
I saw SOED take hold of Michael when he was feeding a squirrel a lozenge he had in his pocket. Unexpectedly, the squirrel jumped out and latched onto Michael's arm and he started to flail about trying to get the squirrel off of him. For some reason (I think Michael hit himself in the nose with his arm as he was spinning about) his nose started to bleed. He thought that he had rabies and an emergent brain aneurysm, so we had to go into the local church so that Michael could pray.
–
Photo by mebrett