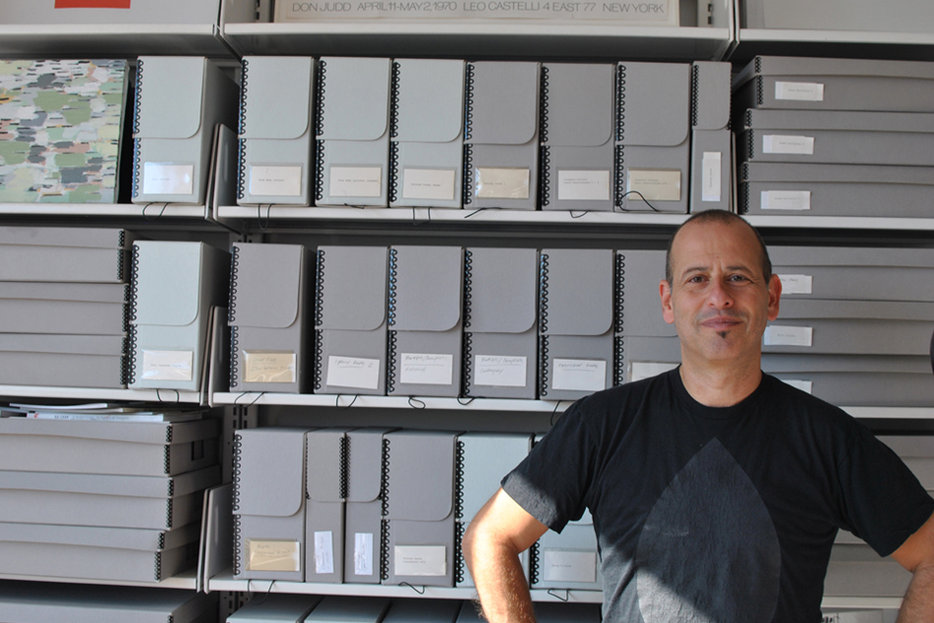 Shelf Esteem is a weekly measure of the books on the shelves of writers, editors, and other word lovers, as told to Emily M. Keeler. This week's shelf belongs to Micah Lexier, the Toronto-based artist whose retrospective recently opened at the Power Plant. Lexier frequently works in collaboration with writers, and his pieces with Colm Tóibín, Derek McCormack, and Christian Bök are included in the show, One, and Two, and More Than Two. Lexier has a famously dynamic practice, and much of his art takes its inspiration from books and their formal contents. I spoke with him where his books—and bookworks—live, in his Queen West apartment.
I have three categories for books. The first is monographs, things organized alphabetically by artist. A to Z by artist in here. I've lived in different places, and when I moved to Toronto, the dilemma was, do I leave my books out so that I can see them and interact with them, or do I put them away so that I can protect them a little bit? I've ruined the spines of books, living in a house that had a lot of light in it.
So I went to Ikea and I found these shelves so I could store them away. The extra great thing about them is that they have the tabletop part, and that opened up this whole world of display. They hold books, but even more than holding books, they're a surface area for my collection of found things.
So that's section one. And then there's fiction and resource books. My library. It continues on, general art stuff, fiction, some nonfiction.
Section two is over here, and this has a few different things. But the middle section here is smaller pamphlets, conceptual art things. I have all these weird little categories. Some of it's historical; some of it's contemporary. Special books. I know it's weird to have a section called "Special Books" when they're all special. I also collect some artists' ephemera. So these are invitations, and then there are invitations that include envelopes. So there are sections and subsections.
Y ou know I'm part of that group called Book Club? Here's a section for things I've collected since the last Book Club. We meet every few months, so instead of having to dig something up, thinking, What am I going to show at Book Club?, I just put in things I've picked up since the last time I presented at Book Club. I can go through here and make a selection.
These are pretty standard archival boxes. They're made by this family in the States, called Hollinger—these are the Hollinger boxes. And what's really nice is sometimes you'll call them up and it'll be like, "Joe Hollinger here." It's still a family-run business and you have to love that kind of thing. So that's number two, for categories of books.
And then section number three is a little less glamorous. I don't know if you know that I'm doing a project with Michael Dumontier? The project is called Call Ampersand Response, and it's probably one of my favourite projects in the world. I send him an image; he responds. Mine was the call, his was the response. And then his response becomes the call. We've done it for quite a few years now, and this bookwork is the manifestation of that.
The starting image was a circle on a rectangle, and we decided we'd stop when we got to a circle on another rectangle. But we were having way too much fun, so we kept going, until we came around to another circle on a rectangle. So that's where the bookwork ends. But! What people don't know is that we've continued it, we're on round three. These books down here are the books that I look at to find images for that project.
They're a little unruly. So we're up to image 121 now, and I try not to use a book more than once. A lot of these boxes are full of books with images still to come. I find these books in lots of different places. The Monkey's Paw [in Toronto] is a great one. Used bookstores, flea markets.
I've always been into books. One of my first jobs was at Art Metropole, in 1986 or 1987, when I first moved to Toronto. I guess between art school and Art Metropole, I've always been very sensitive to the physicality of books. It's hard to trace that back.
So those are my three book sections. Monographs, smaller editions, ephemera, bookworks, pamphlet-y type things, and research material. I'm doing something kind of cool right now. I'm working on a big project called the Double Page Spread Calendar, so I'm buying books for their spreads. For instance, I just got this one yesterday. I've collected quite a few. They're in a box here. The idea for this project is one double page spread a day. It will eventually be a sculpture, or maybe a set of drawers, and on the first of every month it'll be one spread, the second of every month, another one. I'm still collecting the spreads.
This is a stack of books I picked up in Winnipeg. Some of them are just lovely. This one is pretty special. Simplified Scientific Ephemeris. But look at the little note that was inside it: correction! Isn't that beautiful? So I bought this book for that correction. One of my favourite things to look at when I look for these books is when there's more than one numbering system, like a page numbering system and a separate illustration number. I really like the way those things interact.
And then there's my cardboard box collection, which is different from the book collection. They're so subtle and sculptural, you couldn't make them if you tried. The only problem is that some of them have been used for meatpacking, so once in a while you're bringing bloody boxes home. I just walk around, and they present themselves to me. Sometimes I'll be jogging and I'll see one and think I'll get it on the way back. But sometimes I'll be so afraid I'm going to lose it that I'll carry it with me for the whole jog. I've done that a few times.
I found this one on the street. You know what it was? There was a larger box, and they must have been packing something, and they wanted people to know that this box here is just to occupy a lot of space so the thing won't shift. Don't bother opening it, there's nothing inside, it's just an empty box. It's amazing. I feel like I'm the luckiest guy in the world because I find these incredible things. What are the chances of seeing a box that says empty box? And it's real! That's the best part. It's not art. It's just an empty box.
Shelf Esteem runs every Tuesday.