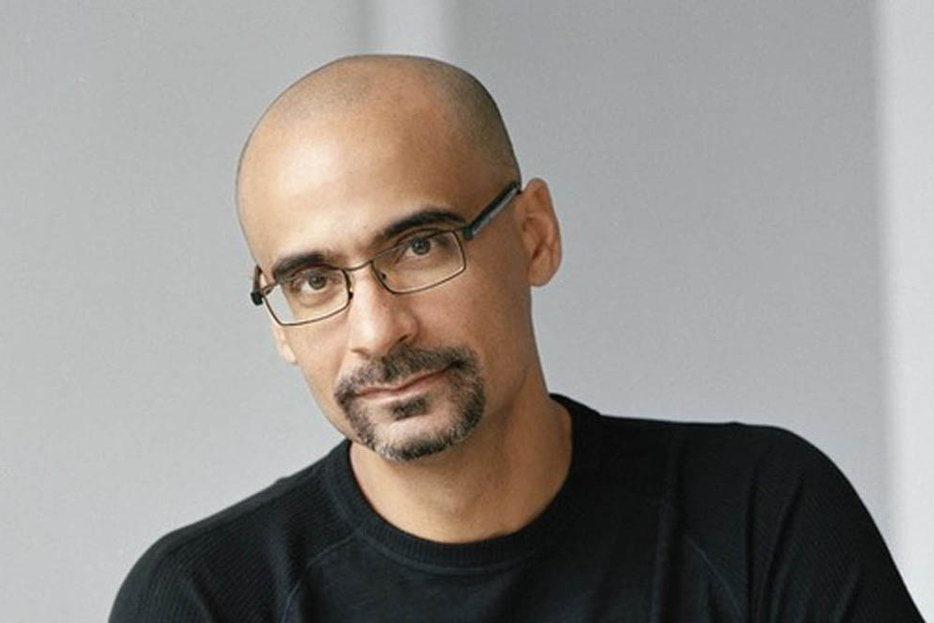 Friday, October 19
Junot Díaz & Michael Chabon, interviewed by Siri Agrell
Standing around, waiting for the doors to open, I see a friend. She says that it's so seldom two writers she really adores share a bill, and I agree. Chabon and Díaz are a dream ticket. The excitement swells. Once inside, my friend hands me a piece of candy and our host Siri Agrell asks the crowd, "Are you ready for some literature?"
Both men read short selections from their latest books, and both do it very well. Chabon tells the crowd he's thrilled to read with Díaz, adding that "I thought he was awesome before you guys did." Díaz begins by thanking the IFOA volunteers, for "the invisible work that gets shit done." He says he's really jazzed to read with Chabon, whom he categorized as one of those writers that other writers read and think, "We're in fucking trouble."
Agrell starts the interview off by cracking a joke about the seating arrangement. After finding herself in a chair opposite the men she's interviewing, she laments, "I thought I would sit in the middle, as a kind of Pulitzer sandwich." Díaz volleys with a stage whispered "We could arrange that," then looks up into the crowd. "That was weird," he deadpans.
Because Díaz and Chabon are familiar with each other's stories, and because they both write with an eye toward genre fiction, and on the topic of masculinity, there are a lot of questions they can share. Things appear to get a little testy on stage when Agrell asks Díaz about the women he asks to be his first readers, a measure he takes whenever he has written female characters into his work. They get even tenser when she turns to Chabon and asks if he had black people read his work similarly, on account of his black characters. Both men handle the delicate terrain with aplomb, Díaz talking about the different kinds of structures that mark the different qualities of being for men and women in our society, and Chabon describing how he reads a lot of black American literature, and how he was most afraid of making a fool of himself once he had stopped the act of writing.
The evening's high point comes during the audience Q&A. After fielding questions about voice, and about the responsibilities of representation, Chabon and Díaz are given this gem: "This question is mostly for Junot. In one of your stories you use the word 'fierce' in such a distinct and powerful way. It seems to jump off the page. I'm wondering if you could talk a bit about finding the right word, like you did in that story." Díaz takes this as a starting point for describing the power of literature, and the incredible communion a reader can feel with a book or a line of text. He says that he felt that way with a line from Michael Ondaatje's The English Patient, where one of the main characters is on a ship and looks down the banquet table, seeing only white hands. His face glows as he recalls the quotation out loud, and the audience starts yelling "He's here! He's here!" And there in the crowd Michael Ondaatje waves at the stage. Some of the colour drains from Díaz's face, which contorts into an expression of disbelief and followed by shock. "It is an honour!" he says, bowing slightly.
After the Q&A ends and the crowd fills the lobby, Michael Ondaatje pushes past me with This is How You Lose Her tucked under his arm. He's making his way to stand in line and have Díaz sign his book.
*
Saturday, October 21
Jonathan Goldstien, Nora Young, and Jian Ghomeshi, interviewed by Sook-Yin Lee
Because I'm sitting close to the stage, I'm privy to some of the last-minute anxiety on the part of the organizers. The two women on my left offer me some candy, and I reflect on my good fortune at IFOA. Candy makes everything better.
Sook-Yin Lee quickly sets the terms of engagement for the event, telling us in the crowd that she's most interested in these writers—her colleagues at the CBC—for their double lives as authors and radio personalities. Young reads first, from her recent book The Virtual Self, followed by Goldstein, from his latest collection, I'll Seize the Day Tomorrow. During his reading, about his nephew's birth and bris, the crowd can't stop laughing. The woman on my right—who is totally strange to me, might I add—grabs my arm tightly; she's laughing so hard she nearly falls out of her chair. "He's so funny!" she gasps, tears squeezing out of her eyes.
Ghomeshi had the misfortune of following Goldstein. "Oh for fuck's sake," he jokes, stepping up to the podium. He reads a section from his memoir, 1982, about using the telephone in that year—when phones were plugged into the wall and had curly cords connecting the mouthpiece to the base. There is some polite laughter.
Lee asks a handful of provocative questions, and there's a unique intimacy to the proceedings. These four broadcasters are of a generational piece, and the conversation feels a bit like watching the archetypical cool kids cajole each other into saying surprising and interesting things. Lee asks each of the writers about self-revelation and exposure, and Young confesses that she's a shy and private person. She feels the biggest risk she took in The Virtual Self was including a thread of inquiry predicated on the role that yoga and meditation play in her life. She worries she's opening herself up to being criticized as flakey. Ghomeshi tells the crowd that he hadn't thought the book was very revealing until one particular scene was edited out of the manuscript. The scene detailed some early sexual fumblings under the stairs of his junior high school, and his editor crossed it out, appending a note that simply said "TMI." Goldstein, for his part, worries most about how he represents his family members. "I do my best work behind people's backs," he says. The first time he ever read aloud the section he had shared with us, he had been informed at the last minute that his sister would be in the audience. He told us that he rewrote the entire thing before going on stage. He also adds that he didn't think the food stains on his shirts, or even his hemorrhoids, were particularity private.
The rest of the questions, from Lee and eventually the audience, seem to focus more intently on their roles as broadcasters, how each person on stage negotiates the balance between being a CBC personality and doing other work in the public sphere that may even contradict the kind of work they do on their shows. Lee reads a comment that had been left on her public Facebook wall, wherein the commenter expresses distaste for interviewers who approach their subjects with the fullness of their own personalities. It's a loaded comment.
Young says that she expects both fairness and perspective from journalists, and Ghomeshi describes the pride he takes in his notable skills as an interviewer. As if to prove the point, he turns the question onto Lee, and their roles reverse; she becomes the subject for a time. "It's a difficult journalistic landscape right now," she says. "The field is changing in small increments." And so it is.