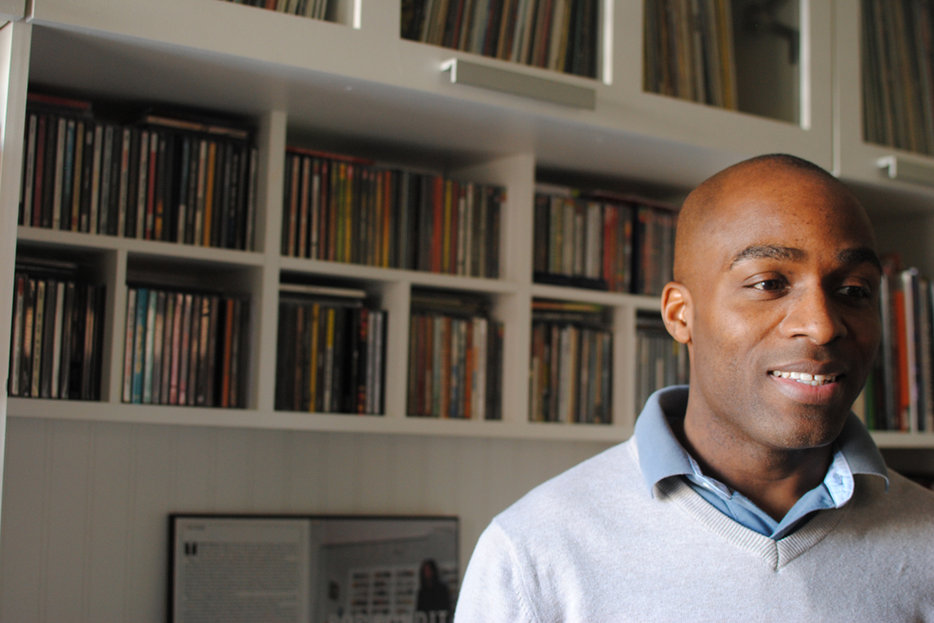 Shelf Esteem is a weekly measure of the books on the shelves of writers, editors, and other word lovers, as told to Emily M. Keeler. This week's shelf belongs to Dalton Higgins, the author of five books, most recently Far From Over: The Music and Life of Drake. Higgins is also a critic and broadcaster, as well as a music programmer and publishing professional. A man of many interests, his bookshelves are stuffed full of books, DVDs, magazines, LPs, CDs, and photos, and are spread out over several rooms in his west Toronto home, which he shares with his wife and their two children.
So this is the only section that I think is kind of curated, and it's because these are the books I wrote. To be honest—yeah that's it! Everything else is just really random. It's like, okay, remember Dalton, you wrote that book. So you have to kind of put them together. And so these are the books I wrote, Far from Over, about Drake, that's the new one, it came out a couple months ago. Fatherhood 4.0, that's about the new generation of—I call myself a hip hop pop. It's about a newer generation of fathers that are equally attuned to hip hop culture, as equally attuned as their children. So like with my daughter, it's Janelle Monáe or Nikki Minaj, they're alongside me, whereas my parents had no idea. They were just like, Turn off that noise! What is that?! So yeah, this is the only part of the book collection in our house that's really curated, so I can remember what I wrote.
This is the first book I ever contributed anything to. Taste of the Danforth Cookbook. The reason I keep it is more like as a learning tool. It was part of a—well, I don't want to rip them up, but it was part of a publishing program that I took at a community college that shall remain nameless. But yeah, so the students in the graduating year, it's an assignment to put together a book. We said, Yeah, Taste of the Danforth is a hugely popular street festival, it's kind of in the neighbourhood, and we could sell a lot of copies. I worked on a couple of recipes, worked on copy, and it got published. But the names of the students and contributors aren't in here. It's uncredited. So you know, it's kinda like those musicians of yesteryear, where you co-wrote a song, and then it comes out and it's a big hit, but you're uncredited. Maybe you got a little money one time, but you know…So this is kind of a reminder to me to take care of my business. I'm pretty good with contracts, book contracts, copyright, that kind of thing after this experience. Especially if you're not going to be paid, you got to get the credit.
Oh boy, I'll show you some other stuff. You want to walk over here? So this would be my main work space. This is it. I've been thinking about this, and I've got like, the bookshelf of the future. It's hybridized, it's got a kind of hybrid identity. It's not a purist bookshelf. That's not how I arrange my books. I have to have music near by. Now that I think about it, it's sort of like an intermingling of the worlds. Yeah. It's like a bookshelf of the future. When writers are—when you're not so focused on literary endeavours, cranking out the copy all the time, you're thinking about DVDs, and CDs and vinyl. So for example, in Hip Hop World I talk about the hip hop scene in Japan, I talk about the hip hop scene in Cuba, the hip hop scene in First Nations communities… so to accompany that I have these DVDs, documentaries, right? And also music too, you know what I mean? Yeah, that's kind of what it's about. I have to keep it all together. I have to. They're inextricably linked, it's like I have to have it around to keep—maybe to keep the inspiration. It's hybridized. That's maybe how I think, or work.
This book here, oh boy, this book's fantastic. This book here is about one the most legendary rappers, Grandmaster Caz. And it's a book called Written, 'cause rappers used to write out their rhymes, quite literally. So it's a book of all of his rhymes that he'd written out on foolscap.
Black Noise, this is the first book I ever read about hip hop culture, when I went to York University. I was blown away. She's a feminist educator, Tricia Rose. She broke down the culture, with analysis around gender, body image, political situations—you know, civic engagement, history, certainly diversity. She broke it all down, you know? So that's the first book where I was like, whoa there's some deep stuff. A huge influence, yeah. And Tricia Rose was nominated for this award, hip hop scholar of the year, in 2010, in Washington D.C., and I was one of the nominees. So it was like, your icon—your idol! And she didn't show up, man! So I'm still pissed, y'know? We were both nominees, and I was like, cool, I'm not going to win this thing 'cause I'm the lone Canadian person there, and hip hop and these other writers were rooted in the American experience, you know what I'm saying'? But she was nominated as well, so I was like, Yeah! I'm going to get to meet Tricia Rose! The woman who set me on my path! And uh, she wasn't there.
Over here, these are books that I maybe go back to frequently, that I've read many times over. The Black Experience in Rock and Roll, this is a fantastic book. You know, like, Slash from Guns 'n' Roses, he talks about his black identity. You know, Lenny Kravitz, Bad Brains—just all these rockers that happen to be of black culture, or whatever. And They just talk about their experiences. It's really good. I do a lot of work in educating people around the history—about historically black musics, you know? So I'll talk about the origins of Rock and Roll, Chuck Berry, Bo Diddley, Little Richard. It's black music, or it was. It was invented by black folk. But now if you say that, like Rock and Roll is a bunch of black dudes, it'd be jarring. But they invented the music, and that's how music goes. You could be like, it doesn't matter, prog rock, just something—you invent it and then all of a sudden it's kids in Asia. They take it over and then they own it.
What I read—poetry, prose, fiction and non-fiction. To be honest, it's all over the place. All over the place. There are things like, Junot Diaz, The Brief Wondrous life of Oscar Wao—that's a ridiculously good read. It's part in the Dominican Republic—and also, too, I like to read across cultures. I like reading different—I guess living in Toronto, which is arguably the most multicultural city on the planet, and it's the city I live in, y'know? Often times what that means is reading works by, and collaborating with, or working with authors from different cultures. That's important to me. It's what I grew up with, it's what I know. Globalization, yeah, I get that.
This is about all of the aboriginal hockey players. It's a really good one, They Call me Chief. This basically recounts every First Nations pro hockey player that ever played, and some of the adversity, their struggles, to get to into the NHL, stuff like that. Sports I love, I'm a sports junky, yeah? So I have a bunch—I can read forever about sports. I just read this book about a football player, Stone Thrower. He basically learned—he threw a football with such pinpoint precision because growing up poor in the US, he would basically throw rocks at trains. You know, if you lived close to like, train tracks? He would just try to hit the train as it rode by, like how some kids skip rocks. That's how he became a quarter back. Stone throwing! He got so good at it, and he's like Boom! So yeah, that's his story.
And here's a great one about Arab rappers, The Diatribes of a Dying Tribe. So it's about the Arab rap scene, you know what I mean? It's like the United Nations here, you know? No honestly, looking around my household, it's the United Nations. I got to be honest, that's what it is. I take a lot of inspiration from the different cultures around me. I sample—hip hop culture's about sampling. So if I hear something interesting, a violin, a cello, some interesting electronics—I'ma sample that. So I think I'm like a walking talking sample machine—it's like patchwork, a quilt, yeah? I write like patchwork. I just take ideas and interweave all these things into my own identity.