"The goddam movies. They can ruin you. I'm not kidding."
At 17, Winona Ryder underlined those words by Holden Caulfield in one of two copies of The Catcher in the Rye she was carrying with her. "Me and Holden are, like, this team," she said. Ryder has since referred, more than once, to J.D. Salinger's magnum angstus as her bible, and has since mentioned, more than once, that she has read it about 50 times. When she was 19, her boyfriend11Johnny Depp was her boyfriend at the time. gave her an auction-bought Christmas card with Salinger's signature on it. At 20, Ryder still took Catcher in the Rye wherever she went as a kind of adult pacifier. She even wrote Salinger a fan letter, though she never sent it. "I kind of said, um, that I, uh, just how much it meant to me, and thanked him for it," she told Premiere. Ryder did, however, send him a note in 1994, along with the Christmas card. "Dear Mr. Salinger," it read. "I received this as a gift because I'm a big fan, but I want to return it to you because I respect your privacy." The only god she really believed in sent her a "thank you" in return. "It was amazing," she told Esquire. "I mean, it's possible that his publisher just typed it and had him sign it or something, but it was the greatest thing ever."
At 27, Ryder was still praying at the altar of the prep school hero. That year she showed Vogue magazine a Tiffany frame she had received as a gift from a friend. One side held a picture of her in 1990 at age 19, black clad, sunglasses, slumped on a couch, giving the finger. The other held a page from Catcher in the Rye, the one in which Holden sees "Fuck you" on the wall of his 10-year-old sister's school ("I think, even, if I ever die, and they stick me in a cemetery, and I have a tombstone and all, it'll say 'Holden Caulfield' on it, and then what year I was born and what year I died, and then right under that it'll say 'Fuck you'"). Two iconic teenagers, 40 years apart, side by side. "I was in Paris promoting Mermaids and I was a total insomniac and going nuts and having the worst time of my life," Ryder explained. "It's a very adolescent me, but it reminds me of that time so much..."
For many of us, though, Winona Ryder is all the reminder we need. "There's something of an expectation for young actors not only to play young, but to have that intuition of what their generation is going through and to be on that wavelength," says Timothy Shary, a film scholar who has published multiple books on teen cinema including Generation Multiplex: The Image of Youth in American Cinema Since 1980 and Teen Films: American Youth on Screen. "For girls of my generation who were awkward or a little bit strange, Winona Ryder was both relatable and aspirational," wrote Alana Massey in BuzzFeed last year. Though Ryder was often described as the ingénue, this implies a passivity Ryder eluded in every one of her teen films—in Square Dance she beats up a woman who takes advantage of a mentally handicapped man, in Beetlejuice she sacrifices herself to save a pair of ghosts, in Heathers she encourages her boyfriend to blow himself up (then uses his body to light her cigarette), in Edward Scissorhands she falls in love with a goth anti-hero, in Welcome Home, Roxy Carmichael she spurns the local hunk and in Mermaids she propositions him. These were films in which she didn't so much play a character as perform her own. "Winona is an actress who works directly from primal instinct," her Alien: Resurrection director, Jean-Pierre Jeunet, said. "This instinctual way of working is a rare quality usually only found in children."
That her acting—that she herself22"She has made a choice to be innocent, and that's not to suggest there's anything false about it," Beetlejuice writer Michael McDowell told Life. "She's innocence through and through."—is childlike is understandable considering she reveres Caulfied, a character who reveres children.33She also exalts children and has only ever been willing to give signatures to "under-thirteens."
 Like him, teen Ryder was the smart, ambivalent outsider searching for a place in a society that opposed those very things. Even into her twenties, in Reality Bites and Girl, Interrupted, she was more of a delayed adolescent than an adult. Ryder was unable to move on because of what moving on meant. And we weren't either. Our Nonistalgia keeps her cloistered to this day in adolescence, alongside then-boyfriend Johnny Depp, before he cashed in on his eccentricity. But despite our attempts to resuscitate the past—Beetlejuice 2, Heathers: The Musical, Marc Jacobs—and as young as Ryder continues to look, she is no longer that '90s ingénue. In that sense she and Holden really are a team. "[Caulfield's] central dilemma is that he wants to retain a child's innocence, solipsism, and clarity," wrote Harold Bloom, "but because of biology he must move into either adulthood or madness."
*
She was named after Winona, Minnesota—her place of birth—which took its name from a Dakota Sioux legend, in which the goddess Winona chose to leap off a cliff rather than marry a man she didn't love. Her friends call her Noni, as in "no knee." Her last name is Horowitz (well, Tomchin, but that's another story44The Horowitzes adopted the name of the family they travelled with from Eastern Europe to Ellis Island.). She considered the name unphotogenic so, for her career, her dad chose Ryder instead (perhaps while listening to a Mitch Ryder album) after they briefly paused on October (her birth month) and Huxley (one of her favourite authors). Her parents are counter-culture intellectuals—they created the Fitz Hugh Ludlow Memorial Library, the largest cache of psychoactive drug literature in the world—who raised her in a California commune. Growing up, she was inundated with old movies and older books. At seven, she saw Greer Garson in Random Harvest. "I wanted to be like her," Ryder told Seventeen. "Nothing could compare with Garson's face, her expressions […] All those old movies affected me; they gave me a tingling feeling when I watched them. I wanted to be part of them, even the ones with tragic endings." But she wasn't sent to San Francisco's American Conservatory Theater (ACT) until she was 12 after a bunch of kids at school saw her dressed in a suit—her gangster movie phase—called her a "faggot" and beat her up. She enrolled to meet more people like her and got in by performing a monologue she adapted from J.D. Salinger's Franny and Zooey. "I'm marvellous now. I just never felt so fantastically rocky in my entire life."
A year in, Ryder auditioned for filmmaker David Seltzer. He was casting his new movie, Lucas, specifically the role of Rina, a young teen lovesick over the titular character (Corey Haim) who is lovesick over a cheerleader (Kerri Green) who is lovesick over a quarterback (Charlie Sheen). Seltzer was making his choice based on one scene in particular, outside a school dance where Lucas has failed to take his crush. Sitting by the water contemplating a bottled dragonfly nymph, Lucas is joined by Rina, who observes its ugliness..

Lucas: It turns into something very beautiful, Rina.
Rina: Is that possible?
Lucas: Can you imagine that? Turning from something ugly into something beautiful?
Rina: No, frankly I can't.
"I read the scene with her and she broke my heart because she was maybe speaking a truth from deep down," Seltzer says. "I thought probably Winona would be relegated to the unattractive friend for the rest of her career." Watching the scene, that's difficult to see. Though only 13, Ryder, with her stillness, her serene delivery, her ability to bewitch just by looking and listening, is an island of charisma. Perhaps all she needed to hear was Seltzer's direction—"The camera will read your mind"—or perhaps she simply came out that way. Regardless, she dominates her few scenes, the mature poised foil to Haim's agitated youth. (Seltzer admits, "it was not a great match because she seemed to be so much older than he was.") At the end of the shoot, the young actors took turns sharing what Seltzer had taught them, each one fawning over his technique—except Ryder. "David taught me how to peel an orange in one piece," she said, Seltzer recalls with a laugh. "She was not gonna play that game. It was pure Winona."
Her first starring role was only her second film appearance ever and the first of many in which she played younger than she actually was.55Her breasts were reportedly bound for the role. "She had a beautiful figure at 14," says co-star Jane Alexander. "She was already quite mature." In the family drama Square Dance, 14-year-old Ryder plays 13-year-old Gemma, a farm girl who falls in love with a 21-year-old mentally disabled man (Rob Lowe) after leaving her grandad (Jason Robards) to live in the city with her estranged mom (Jane Alexander). Alexander, who also co-executive produced the film, says that director Daniel Petrie auditioned hundreds of girls, "and then Winona walked in." She only had one credit, but her presence was legion. "She had her own very strong personality—very authentic, very observant, forthright," Alexander says, "she radiated a kind of naturalness not only on screen but off as well." Ryder has credited Alexander with teaching her patience between shots and Robards with teaching her to be more natural. "If I hadn't worked with people like Jane and Jason, I probably would have blown a lot of roles," she said. She referred to both Robards and Alexander as her mentors, though the latter denies she taught Ryder much at all. "If I did anything it was just to say hold on to whatever emotion you have," Alexander says. "Emotion was very readily available for her."
Tim Burton sensed it after only watching her once. And he remembered it while casting his new movie about a pair of ghosts who haunt a family and befriend their young daughter, Lydia Deetz, a Wednesday Addams type. "I had asked about Winona Ryder because I had seen her in Lucas and she had a really strong presence," the director explained in Burton on Burton. She also looked the part. "A lot of those clothes were my clothes," Ryder told Vogue in 1989. "My skin was actually that pale." And from the first scene, reclining on a couch, she descends like an anemic Cleopatra into the moving bustle, the eye of the storm. "My whole life is a dark room," Lydia says beneath a black veil. Then: "It says live people ignore the strange and usual. I myself am strange and unusual." Ryder felt a kinship to Burton, who was an outsider like her ("I am utterly alone," Lydia writes in her journal, the first of her many Salingeresque narrations66She also journals in Heathers and Girl, Interrupted, and has a voiceover in Mermaids.). "Tim talks my language, you know?" she said at the time. "We have the same sensibility."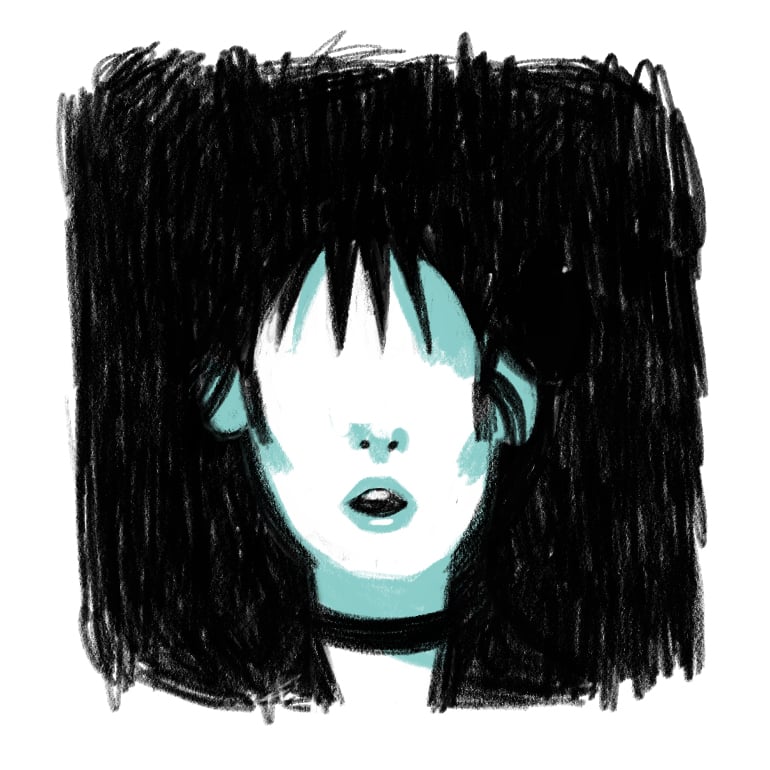 There's a reason J.D. Salinger, who is celebrated for his realistic depiction of anti-conformity, almost always writes "about very young people." While Johnny Depp has profited from his quirks as an older leading man—Pirates of the Caribbean, Sweeney Todd, Alice in Wonderland—Ryder has not. The same way they aren't permitted to err, women aren't entitled to be outsiders, and older women are barely tolerated at all. What older women, which Ryder is considered now, are authorized to be is wives (The Iceman, Experimenter), girlfriends (Homefront) and mothers (Netflix's upcoming Stranger Things). Ryder must thus settle for supporting roles, which do little more than highlight how much more watchable Lydia Deetz, Veronica Sawyer, and Charlotte Flax were, and why we can't forget them. As she told Interview, "you get used to thinking that things are going a certain way because of something, but then you just kind of grow up."
But grown up is not how we remember her. "The true Ryder heroine is a gentle soul in tremulous transition to maturity," wrote Richard Corliss in a 1994 TIME article about the twentysomething "Winona Generation." And though last year Vogue made claims of a Winonaissance, the actress herself acknowledged it was based on her past, that the images on Instagram were largely "of this waifish, big-eyed girl." "Nostalgia is holding onto our youth in relation to what we enjoyed at the time, when we were young, but also the people we remember being young with us," Shary says. "You have to have a memory of the thing that happened in order to have nostalgia. In another generation or so what was once so affirming and heartening about Winona Ryder's late '80s roles will have dissipated."  Our memory of Winona Ryder is muted youth, a soft face, a remote voice, a patient performance. Winona Ryder now is sharper, her face angular, her voice piercing, her approach aggressive. "Terrified," is how Lui now describes the eyes that once made her famous. It's as though, no longer getting roles that she can simply be rather than perform, she is acting out. Ryder recently told The Daily Beast that when she joined HBO's Show Me a Hero, creator David Simon warned, "Better not show those Winona eyes." It was the opposite of what her bible had always told her, which was to be honest, innocent, pure. And in response, Ryder—never unable to be real—cut off her eyelashes. It's virtually impossible not to make the connection to Samson, the Biblical hero whose source of power was his hair. Like Holden said, "Certain things they should stay the way they are. You ought to be able to stick them in one of those big glass cases and just leave them alone."